Our customers have been hired by:
Did you fall in love with Olive Garden for their classic breadsticks, so much so it made you want to work there? Maybe you're after a job at any other restaurant or hosting gigs to make some quick cash.
Regardless of what exactly drives you on, all roads lead to the same place—You need a well-written, comprehensive hostess cover letter.
In this guide, we'll teach you how to write an amazing hostess cover letter, give an example cover letter for hosting jobs, and include high-performance tips to increase your chances even more.
Want to write your cover letter fast? Use our cover letter builder. Choose from 20+ professional cover letter templates that match your resume. See actionable examples and get expert tips along the way.
Sample cover letter for a resume—See more cover letter samples and create your cover letter here.
You might also find some of our other guides useful. Check them out here:
Hostess Cover Letter Sample
Amanda Cameron
Hostess
4781 Terry Lane
Orlando, FL 32810
321-297-5029
AmandaJCameron@dayrep.com
Linkedin.com/in/amandajcameron99
Orlando, 4/4/2021
Ms. Jane Joshua
Restaurant Manager
Fine Diners
4002 Medical Center Drive
Venice, FL 34285
Dear Jane,
Over the several years I spent as a server/hostess at Big Eats, a very popular spot in downtown Orlando, I've learned a lot about the skills, attitude and dependability needed for a position like this. Now, 2 years later, I would be glad to put all of my experience to the test once again at a first-rate establishment like Fine Diners. I've always been up for a challenge and am ready to meet this one head on.
I'm well aware Fine Diners has a reputation to uphold, and requires its staff to present in a most courteous manner while serving guests. I am certain I can live up to this standard, while remaining a valuable team-player to the rest of the staff as well. You might be interested to look at some of my credentials that may convince you I'd be a fine addition to your staff:
Provided excellent customer service as a hostess in a 2200 sq ft restaurant, maintaining an open and friendly attitude.
Trained 7 other staff members in accordance with company guidelines.
Helped Big Eats acquire the 2019 Hospitality Stars Award.
Fine Diners exudes a certain unmistakable, unique atmosphere for its guests (I've had the pleasure of visiting many times myself), and I have to admit it, working with you would be like a dream come true.
I would love to have a chance to talk to you some more in person about how my experience would help increase the prosperity of Big Eats even more.
Sincerely,
Amanda Cameron, Hostess
321-297-5029
AmandaJCameron@dayrep.com
See what the example above does? Pleasant, welcoming, and friendly, much like the attitude of the perfect hostess. Keep reading and you'll learn how to write exactly like this.
But before you do, make sure to read up on our resume writing guides to ensure you'll get that call back. Lucky for you, we have one for hostesses right here: Hostess Resume Example
Hostess Cover Letter Template
This is how you can write a job-scoring hostess cover letter in no time:
1. Use the right format for your hostess cover letter
Choose a modern cover letter template to accompany your resume. Make sure it's ATS-friendly, though.
Read more: Best Cover Letter Formats
When making a resume in our builder, drag & drop bullet points, skills, and auto-fill the boring stuff. Spell check? Check. Start building a professional resume template here for free.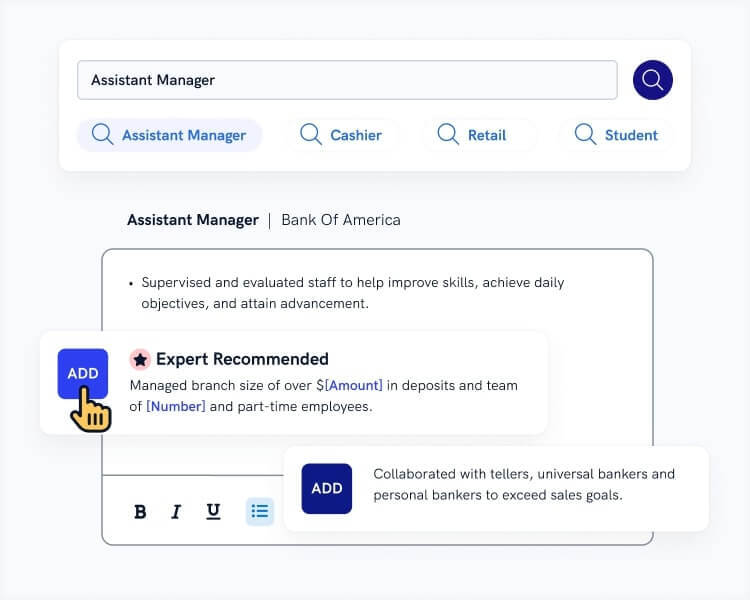 When you're done, our online resume builder will score your resume and our resume checker will tell you exactly how to make it better.
2. Greet the recruiter with the perfect hostess cover letter heading
State your full name, contact information, and mailing address in the top left corner of your cover letter.
After leaving some space, write the city name and the current date.
Leave another blank line.
Include the addressee's contact information (their name, job title, and address).
And if you're not sure who will be reading your cover letter and resume, use sites like Google, LinkedIn, or even the venue's own website to look for that information. Phoning them directly is also an option.
Read more: Cover Letter Header Examples
3. Start your host cover letter with a professional salutation
Lead off with a simple, but professional cover letter salutation, like "Dear [Name]".
Don't address your cover letter "To Whom it May Concern". That usually ends poorly.
Clearly mention the job title to show them you know what you want.
Reel your reader in by writing a strong opening, and include some of your biggest achievements or fortes. They'll be sure to keep reading.
Read more: How Best to Open a Cover Letter
4. Prove you are the best candidate for the job
Using the language from the advertisement to your advantage, talk about how you would implement your experience on the job.
Demonstrate how this experience would translate into their success. To accomplish this, use hard numbers to back your claims.
According the Bureau of Labor Statistics, hosting jobs are going to grow by quite a margin in the near future, making an effective cover letter a must-have for your budding career.
5. Show you care about the position
Try to craft your letter in such a way that confidently shows you want this job and none other.
Include tidbits from the company's history, or some details from their website to prove you're invested and actually know where you're applying to.
6. Ask for a meeting and include a call to action
Summarize your cover letter succinctly, in 1–2 sentences.
Request to meet the manager and discuss your recruitment in person.
Include an offer at the very end to exemplify what they would get by hiring you.
Read more: How to Close out a Cover Letter
7. Make sure to end your cover letter properly
Repeat your name once more at the end.
If you have a way of doing so, provide your digital signature.
Remember to attach the cover letter enclosures, if any are required.
Remind them how they can reach you.
When considering cover letter length, it should not go on for longer than about a page. Sometimes, less is simply more.
Plus, a great cover letter that matches your resume will give you an advantage over other candidates. You can write it in our cover letter builder here. Here's what it may look like: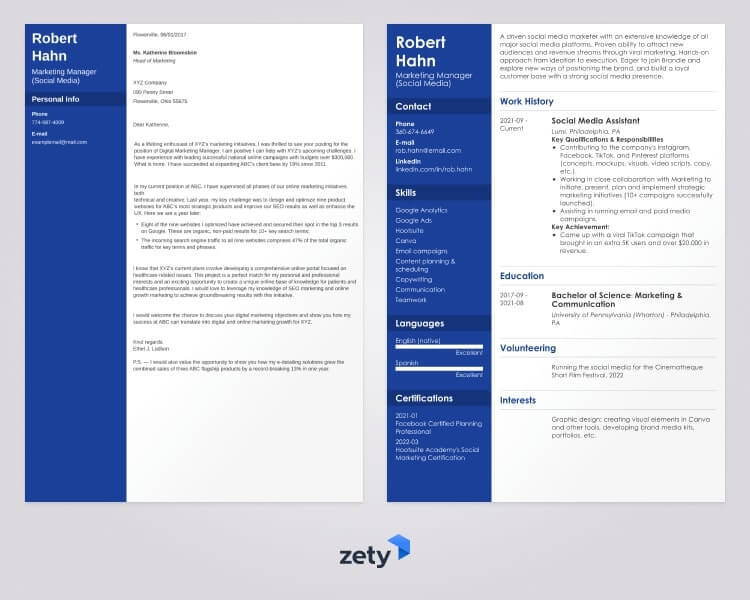 See more cover letter templates and start writing.
And you're done! Thanks for reading. What are your thoughts on this guide? Is there something we forgot to include? Share your comments below!
About Zety's Editorial Process
This article has been reviewed by our editorial team to make sure it follows Zety's editorial guidelines. We're committed to sharing our expertise and giving you trustworthy career advice tailored to your needs. High-quality content is what brings over 40 million readers to our site every year. But we don't stop there. Our team conducts original research to understand the job market better, and we pride ourselves on being quoted by top universities and prime media outlets from around the world.
Sources