Want to show the waitstaff manager you're the one for that hostess job? Make them feel you're like the genie from Aladdin, fulfilling all their wishes before they even voice their requests?
That's going to take one hell of a hostess resume. Competition is fierce. You must choose the right qualities to list, use the right layout…
… or just follow a great hostess resume sample. Read our tips, and the interview will drop into your lap!
This guide will show you:
A hostess resume example better than 9 out of 10 others.
How to write a hostess resume that gets more interviews.
Tips and examples of how to put skills and achievements on a host resume.
How to describe your experience on a resume for a hostess to get any job you want.
Want to save time and have your resume ready in 5 minutes? Try our resume builder. It's fast and easy to use. Plus, you'll get ready-made content to add with one click. See 20+ resume templates and create your resume here.
Sample resume made with our builder—See more resume examples here.
Not sure if you should write a hosting resume? Think you might want other restaurant jobs? For waitress resume examples and more, try our other guides:
Haven't had a job yet? Need first resume examples? Try these guides:
1
Hostess resume example
Kary Belecci
Hostess
123-456-7890
karrybelecci@email.com
linkedin.com/in/kary.belecci
Summary
Highly motivated, organized, and experienced hostess with 5+ years of experience in providing first-class customer service. Eager to apply my excellent communication and problem-solving skills at Elegance Events Hostess Services to help guests enjoy a pleasant and memorable event experience. Earned two consecutive 'Hostess of the Year' awards (2018 & 2019) at Charming Greetings Hostess Agency.
Experience
Hostess
Charming Greetings Hostess Agency, Kenosha, WI
January 2017-Present
Key Qualifications & Responsibilities
Greeting customers in a professional and friendly manner while offering assistance as needed.
Answering inquiries regarding events, activities, services, and rules of conduct on site.
Collaborating with the management team to ensure a smooth flow of event operations from start to finish.
Assisting guests with seating arrangements so they can enjoy their time at the event without any hassle or difficulty.
Managing a variety of administrative tasks such as registering vendors and collecting payments for admission fees/tickets.
Maintaining high standards of cleanliness within the venue by regularly disinfecting surfaces and making sure all areas are tidy before guests arrive.
Key Achievement:
Received two 'Hostess of the Year' awards (2018 & 2019).
Hostess
Charming Events Group, Kenosha, WI
June 2012–December 2016
Key Qualifications & Responsibilities
Ensuring all areas were clean prior to guests arriving by setting up tables, chairs, decorations etc., as needed for each event or activity taking place at the venue.
Liaising with catering staff to ensure all meals are served on schedule according to the expected level of quality standards set by the management team.
Providing assistance with setting up audio-visual equipment such as microphones and projectors for presentations or speeches hosted at the venue during an event or activity taking place there.
Preparing welcome cards for each guest upon arrival which included providing them with information about our services along with directions on how to get back home after leaving the premises safely and securely.
Key Achievement:
Increased guest satisfaction ratings by 10% by implementing improved customer service strategies, such as promptly responding to complaints or concerns raised by guests.
Education
Bachelor's Degree in Hospitality Management
University of Wisconsin – Milwaukee, Kenosha, WI
August 2008 – May 2012
Relevant extracurricular activities
Member of National Honor Society (2010–2012).
Volunteered for an annual literary festival organized by the university (2008–2012).
Academic achievements:
Graduated top 3% in class (2012).
Awarded 'Best Project' prize in Hospitality Management course (2011).
Skills
Excellent communication skills,
Strong problem solving and organizational abilities,
Leadership qualities,
Ability to work in a team environment.
Proficient with Microsoft Office Suite (Word, Excel, PowerPoint),
Familiar with event planning software such as Eventbrite and Cvent.
Certifications
First Aid, American Red Cross, 2015
Awards
Hostess of the Year,Charming Greetings Hostess Agency, 2018 & 2019
Memberships
Member of the National Association of Professional Women since 2019.
Hosted an online seminar on 'The basics of providing excellent customer service' which gained 3000+ views in a short span of two weeks.
Languages
English–Native
Spanish–Fluent
French–Advanced
Interests
Writing poetry
Painting
Reading literature
Playing the piano
What's the Best Format for a Hosting Resume?
Nightmare time.
The waitstaff manager—we'll call her Tara—knew she wouldn't hire you with a single glance.
How?
It's the layout of your hostess duties resume.
If you don't use the right hostess resume format, you'll look sloppy and disorganized.
Tara doesn't want to hire that.
Pass the first test with the reverse-chronological resume format. It serves your most recent achievements first.
Show Tara you'll make her life a breeze. Use the best resume fonts, big headings, and plenty of white space so she doesn't have to squint.
Check your spelling. Then re-check it. One typo can mean the difference between hired and in the food waste dumpster.
Last, save your hostess responsibilities resume as a PDF. Today's PDFs are machine-readable. They won't turn to spaghetti when you send them.
Check the job ad first to see if it says, "no PDFs." If not, you're in the door.
Hostess Definition: A front-of-house restaurant employee who meets, greets, and seats new guests. What does a hostess do? She may also handle phone reservations, bussing tables, and general dining room organization.
Pro Tip: Is this your first hostess job? Use the combination resume format. It welcomes experience from other jobs into your hosting resume.
Check the other options for your hostess resume format. See our guide: 3 Resume Formats: How to Choose the Best One [Examples]
2
Hostess Resume Summary or Resume Objective
Let's get back to Tara, the waitstaff manager.
She's got a stack of hostess duties resumes up to the sprinklers.
You need to stand out like a 40,000 candlepower Open sign.
Do that with a hostess resume objective or resume summary.
Not your first ribeye rodeo? Then use a resume summary. It uses your experience to make the manager want to hire you.
Is this your time dealing drinks? Use a resume objective. It makes your passion the centerpiece.
Here's the secret:
Load either to the rafters with achievements.
These first two restaurant hostess resume examples clear the clutter.
Hosting Resume Examples [Resume Summaries]
The first of our senior host resume samples is messy:
wrong
High-energy hostess with 2 years of experience. Handled all host duties at a fast-paced restaurant, including meeting, greeting, seating, cleaning, and organizing. Skilled in customer service and restocking.
That's not as bad as a dropped tray, but it won't usher in a busload of interviews.
Instead, do like our next fine dining hostess resume example:
right
Energetic hostess with 2+ years of experience. Seeking to wow customers at Steve's. At Pizza Hut, seated guests 25% faster than average and scored 100% on menu knowledge and customer service tests. Commended 5x by management for efficiency and friendly personality at The Weathervane Inc.
Mouthwatering. See those achievements with the numbers? They'll make managers want to hug you.
But what if your experience is still out in the parking lot? See the junior host resume examples below.
Two Entry-Level Hosting Resume Objectives
If your hostess experience still needs setup, try a hostess resume objective.
That used to mean showing passion and excitement for hosting jobs. The next of our hostess resume objectives does that:
wrong
Physically fit hostess with a passion for customer service and high-level people skills. Very hard worker and excellent communicator. Eager to train and start working.
As long as you're the only applicant, you're hired!
But what if someone else's hosting resume has passion plus experience?
Oh-oh.
Don't run for the exit yet. You can still get the interview if your hostess duties resume shows achievements.
The next of our entry-level host resume examples does it right:
right
Enthusiastic hostess with proven interpersonal skills, seeking to wow customers and management at Pizza Hut. Have filled in as hostess several times at Lobster Trap, at 4 sports dinners during high school, and at 7 charity dinners.
Pow. The manager just dropped her breadstick basket. Your stellar hosting resume objective blew her apron off.
Even though you've never had a hostess job.
Pro Tip: Don't know what to put in a restaurant hostess resume summary or resume objective? Write it after the rest of your resume. It'll almost write itself.
When making a resume in our builder, drag & drop bullet points, skills, and auto-fill the boring stuff. Spell check? Check. Start building a professional resume template here for free.
When you're done, our online resume builder will score your resume and our resume checker will tell you exactly how to make it better.
Want to bring in interviews like diners on a Friday night? Use the sample hostess resume up top and see our guides:
Professional Resume Summary: 30 Examples of Statements [+How-To]
20+ Resume Objective Examples - Use Them On Your Resume (Tips)
3
A Hostess Job Description for a Resume Like No Other
Got hosting experience? Great! But—
You're not hired yet.
Showing experience the wrong way will make you blend in like a floor tile.
Fix that problem fast.
Use measurable achievements to get attention like Justin Bieber in an Applebee's.
Put your most recent job first. Add 3-5 resume bullets.
Follow the next of our professional hostess duties resume examples.
Hostess Resume Examples [Experience]
These two sample host resume experience sections are as different as IHOP and Olive Garden:
right
Pizza Hut
Hostess
2017–2018
Seated guests 25% faster than average for our restaurant.
Assisted with setup of new seating app, resulting in 30% higher customer satisfaction scores throughout the restaurant.
Scored 100% on menu knowledge and customer service tests.
Zing! The waitstaff manager just stopped watching Give 'em the Pickle. Your professional resume for hostess jobs melted everything in the walk-in.
But trash those achievements, and:
wrong
Pizza Hut
Hostess
2017–2018
Responsible for meeting, greeting, and seating all guests.
Assisted with setup of new seating app.
Participated in customer service and menu knowledge training.
Bland! That host duties resume example couldn't get you a job at a lemonade stand. Why not?
Because it says you "did" things but it doesn't say how well.
Now—what if you have no experience at hosting jobs?
See these entry-level hostess resume examples.
How to Write a Resume for Hostess with no Experience
It's easy.
You don't need hosting experience to get hostess jobs.
You just need to show accomplishments that fit hostess jobs.
Get them from:
Non-hosting jobs
Volunteer work
School achievements
Do this right and your first resume for hosting jobs will turn heads like a 40-gallon chocolate sundae.
The next entry-level host resume samples lead the way.
Two Entry-Level Hostess Resume Samples [No Experience]
The first of these two entry-level hostess resume examples is like a pound of broken crayons:
wrong
Hostess Experience: No official hosting experience yet, but I'm willing to learn on the job and I'm a fast worker.
Other Experience:
Washing dishes.
Volunteer work
Whoops. The waitstaff manager just tossed you in amongst the compost.
But add details and get this host resume example:
right
Hostess Experience
2017–2018
As dishwasher at the Lobster Trap, hosted during busy times.
Hosted 4 swim team dinners in high school.
Worked as hostess for 7 charity events at Warren Shiro's.
Wow. Looks like you'll be busy Friday nights.
Pro Tip: A hostess should be cheerful and efficient. Can you show you've worked with the public in a friendly way? Even helping out at a festival or other event looks great on a resume for hostess jobs.
Don't make the manager fall asleep in her shrimp salad. Energize her with action words. See our guide: 240 Resume Action Words & Power Words to Make Your Resume Shine
4
Is Your Education Section Undercooked? It Might Be
You're a hostess. Why would you need education?
It's simple:
Every resume needs education. Even hosting resumes.
The real trick?
Don't just list it. Use it to prove why they should hire you.
If you don't, it's like having a comfy pair of Skechers and just wearing them to watch TV.
Start with:
School Name and Location
Years in School
Degree
But add accomplishments that fit the job like a baby's bottom fits a booster seat.
Our next host resume examples will get you where you need to be:
Hostess Resume Examples [Education]
Both these host resume samples are for a job that needs (1) customer service skills, (2) a strong work ethic, and (3) a positive attitude.
right
Sandhills High School
2012–2016
(1) Worked with the public as member of school Red Cross club.
Excelled in home economics classes because of (2) strong work ethic.
Received praise from 7 teachers for (3) sunny personality.
Pow. The employer's picturing you making her life easy.
Now the children's menu:
wrong
Sandhills High School
2012–2016
Yuck. That applicant could be anyone, including The Annoying Orange.
Pro Tip: Do you need a good GPA for a hostess duties resume? No, but if it's high, show it. It can prove you're a hard worker. Otherwise, scrape it in the food waste bin.
Make your hosting resume education section shine like a newly waxed floor. See our guide: How to Put Your Education on a Resume [Tips & Examples]
5
How to Put Skills on a Resume for a Hostess
"We'd love to hire you."
If you convince the waitstaff manager you've got the skills, she'll say those magic words.
So—how?
Not by listing a zillion hosting skills. That won't impress her.
Pick the few she wants and prove them.
If you can, she'll read your hostess resume and picture Diana Prince.
The professional host resume examples below show how.
Hostess Resume Examples [Skills]
Let's say Tara put these skills in the hostess job description for resumes:
Required Hostess Skills: (1) Speed, (2) Customer Service, and (3) Cleaning Skills.
Put them in your hostess resume skills list. Add a couple so you're not just pandering.
Then write bullet points like this:
Commended 5X by management for (1) speed and friendliness.
Maintained 95% positive guest comment average because of strong (2) customer service skills.
Part of team that won Chamber of Commerce (3) "Clean Restaurant" award.
Do that, and the interviews will roll in like baked potato orders at a Texas Roadhouse.
The host skills for resumes below will get you moving:
List of Skills to Put on a Hostess Resume
Need hostess resume skills and resume keywords to start?
Use the host resume skills list below. Add to it from online hostess job descriptions.
Hostess Resume Skills

| | |
| --- | --- |
| Soft Skills | Hard Skills |
| Customer Service | Greeting Guests |
| Interpersonal Skills | Monitoring Dining Room |
| Efficiency | Resolving Complaints |
| Communication | Seating Guests |
| Listening | Taking Phone Reservations |
| High Energy | Cleaning Tables |
| Teamwork | Cleaning Greeting Area |
| Professionalism | Menu Knowledge |
| Organized | Training |
| Flexible | Stocking |
Pro Tip: You can't actually skills on a hosting resume. But you can prove employers ought to interview you. Don't lie or they'll catch you when you sit down for the interview.
Make your host resume skills section sizzle like an Outback steak. See our guide: +30 Best Examples of What Skills to Put on a Resume (Proven Tips)
6
Add these Things to Your Resume and Get Seated Fast
You're great to work with.
Let's prove it.
Add "other" sections to your hostess resume most people don't know how to write.
See the two sample hosting resume sections below.
Restaurant Hostess Resume Examples [Other Sections]
The first of our host resume examples will make you wait forever:
wrong
Running
Collecting Vinyls
Shopping
Fun—but what does it have to do with hostess jobs?
The other sections on your hosting resume should make the employer's arm hairs stand.
right
Additional Activities
Take weekly dance lessons for focus and efficiency.
Volunteer 2x per year for Red Cross blood drives.
Volunteer monthly at Robidoux soup kitchen.
Winner, Lake McConaughy scavenger hunt, thanks to high energy.
Courses
GoSkills online customer service class, A+.
Give 'em the Pickle online class A+
Alison online customer service training class A+
Interests
Basketball pickup games as self-care.
Collecting vinyls to practice organization.
Regular podcast guest because of enthusiastic personality.
See that? Everything there shows you'd be the best hostess in the world!
Don't have enough extras for your resume for hosting jobs? Take a couple online classes. Sound hard? It's not!
Most are free. They take an hour or two. You watch a video, take a test, and the manager knows you're motivated. Here are a few:
Pro Tip: Don't have many extras for your hostess duties resume? Tie unrelated hobbies to the job offer. For instance, don't just say, "dancing." Say, "Take dance lessons for focus and efficiency."
Not sure what appetizers to add to your restaurant hostess resume? See our guide: +20 Best Examples of Hobbies & Interests To Put on a Resume (5 Tips)
7
What About a Hosting Cover Letter?
Do you need to send a cover letter with a hostess resume?
Only if you'd like the job.
Most hiring managers won't read a host cover letter. But almost half won't glance at your hosting resume without one.
Here's how to do it right:
Don't say, "Here's my host resume—the end."
Show you know the restaurant's needs and that you'll meet and greet them like a pro.
How can you do that in a hosting cover letter?
Do it like this short example hostess cover letter:
I loved hosting at Pizza Hut, but Steve's restaurant offers more. Steve's has a more complete dining experience that I think would fit perfectly with my higher-level hostess skills.
It's not an accident that I kept a 95% positive guest rating average at the Weathervane, or that I scored 100% on customer service and menu knowledge tests at Pizza Hut. At Steve's...
Always end a cover letter with an offer.Try, "Can we set up a time to talk about how I pitched in to raise customer satisfaction by 30% across our entire restaurant?"
Pro Tip: Follow up on your hostess resume and cover letter three times. Do the first in three days, the second in a week, and #3 in 2–3 weeks.
Plus, a great cover letter that matches your resume will give you an advantage over other candidates. You can write it in our cover letter builder here. Here's what it may look like: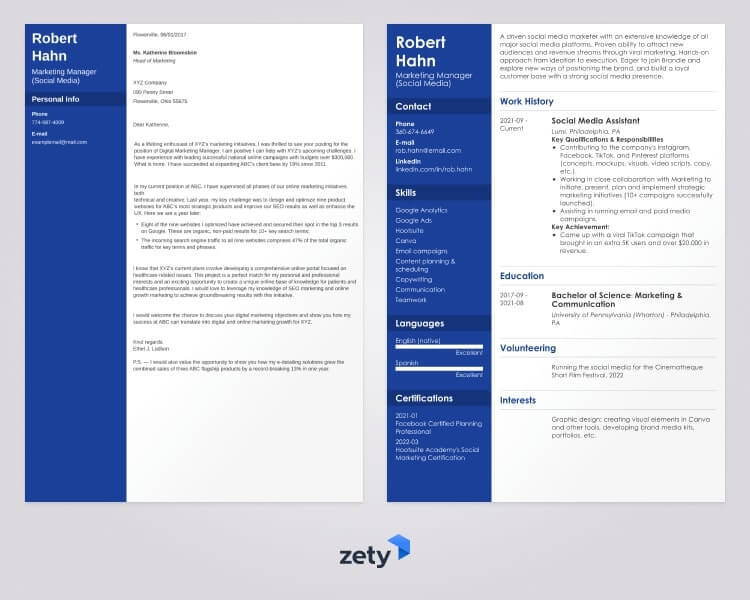 See more cover letter templates and start writing.
Want your hostess cover letter to whet the employer's appetite? See our guide: How To Write A Cover Letter in 8 Simple Steps (+12 Examples)
8
Do This Before You Add Contact Info to a Fine Dining Hostess Resume
Isn't it easy to add contact info to a hostess resume?
You just list:
Full Name
Updated Phone Number
Professional Email Address
Like this:
Katie Limekiln, Hostess, katie.limekiln@gmail.com, 308-627-7083
Well, yes, but—
Check your online presence first. That's as important as not seating someone in the restroom.
Why? That Mardis Gras pic on Facebook from three years ago might cost you the interview.
We've got you covered with our guide to check social media accounts.
Pro Tip: Should you put your picture on a restaurant hostess resume? Not in the U.S. Pictures mess with applicant tracking systems and can get your resume tossed out. Instead, have a LinkedIn profile and put it on your hosting resume.
Want your resume for host jobs to make 'em drool? See our guide: How to Make a Resume: A Step-by-Step Guide (+30 Examples)
Key Takeaway
Here's a recap of how to write a hostess resume:
Write a host resume objective or resume summary. Garnish each with measurable accomplishments to give the waitstaff manager the hungries.
Read the hostess job description for resumes closely. Match your hostess resume bullets to it to prove you're the next Pepper Potts.
Add other sections that show you're more than just a pair of sneakers. List interests, volunteer work, fitness, or anything that gets 'em nodding.
Write a hostess cover letter. Make it passionate and personal. Use it to make the hiring manager stop slouching and read your hostess resume.
Do you have questions on how to write a great resume for a hostess? Not sure how to describe your skills or achievements on a fine dining hostess resume? Give us a shout in the comments! We'd be happy to reply.
Looking for a resume writing guide for a different position? Take a look at the ones here:
About Zety's Editorial Process
This article has been reviewed by our editorial team to make sure it follows Zety's editorial guidelines. We're committed to sharing our expertise and giving you trustworthy career advice tailored to your needs. High-quality content is what brings over 40 million readers to our site every year. But we don't stop there. Our team conducts original research to understand the job market better, and we pride ourselves on being quoted by top universities and prime media outlets from around the world.