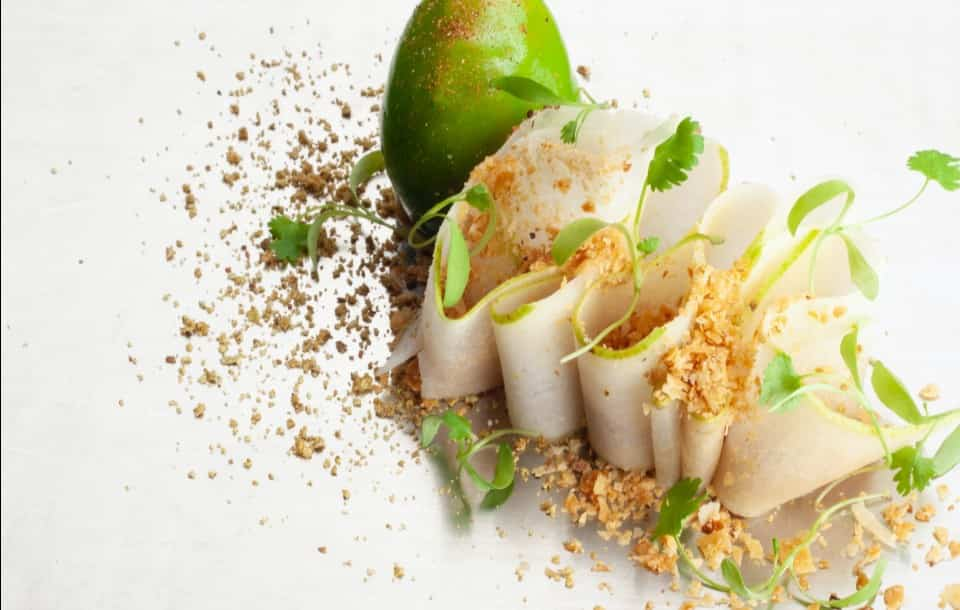 Fine Dining Resume: Samples for a Server, Hostess, Bartender
Most high-end restaurant jobs have longer waiting lists than Damon Baehrel. Stand out from the casual crowd with an upscale fine dining resume and get your dream job!
In the world of fine dining, presentation is everything – and your fine dining resume is no exception! Together, we'll create a resume highlighting your expertise like a perfectly garnished plate, leaving employers hungry for your skills.
Whether you're a chef, server, or hostess, sharpen our knives and carve out a path to your dream job!
This guide will show you:
A fine dining server resume example better than 9 out of 10 other resumes.
How to write a fine dining resume that will land you more interviews.
Tips and examples of how to put skills and achievements on a fine dining resume.
How to describe your experience on a fine dining resume to get any job you want.
Want to save time and have your resume ready in 5 minutes? Try our resume builder. It's fast and easy to use. Plus, you'll get ready-made content to add with one click. See 20+ resume templates and create your resume here.
Sample resume made with our builder—See more resume examples here.
Keeping your options open? Check out our guides for other positions:
Fine Dining Server Resume Sample
Ida Williams
Server
804-493-8637
ida.t.williams@gmail.com
linkedin.com/in/ida.t.williams
Summary
Proven fine dining server with 8+ years of experience and excellent customer service skills. At Ferier, reduced the table clear and reset time by 50% and maintained a 98% customer satisfaction rate. 6-time employee of the month at Bareal. Eager to provide uniquely luxurious dining experiences for Cabara's guests and apply my expertise towards maintaining your restaurant's impeccable reputation.
Experience
Fine dining server
Ferier
September 2018–June 2021
Key Qualifications & Responsibilities
Provided full tableside service in a busy, upscale restaurant in downtown Chicago, maintaining a 98% customer satisfaction rate.
Served up to 200 guests per shift in a 10-table section of the restaurant.
Memorized an average of 12 specials every shift, including allergen information.
Processed 300+ orders per shift with a 99.8% accuracy rate.
Adopted a personalized approach, interacting with regular customers and memorizing their usual orders.
Ensured that customers received respectful and professional treatment at all times.
Key Achievement:
Suggested improvements to the table setting process, which resulted in cutting the clear and reset time by 50%.
Server
Bareal Food & Wine
June 2014–September 2018
Greeted, seated, and served customers in a 5-table section.
Provided a professional, efficient service to over 100 customers per shift on average.
Suggested specials and upsold drinks and desserts.
Key Achievement:
Named employee of the month 6 times.
Education
Springfield High School, Springfield, IL
Graduated in 2014
Skills
Customer service
POS systems
Memorizing orders
Multitasking / Time management
Detail-oriented
Communication
Problem-solving
Critical and creative thinking
Teamwork
Active listening
Languages
American English: Native speaker
French: Fluent
Spanish: Intermediate
This is how to write a perfect fine dining resume:
1. Choose the Right Fine Dining Resume Format
Presentation is everything. You wouldn't expect to start your first shift at a Michelin-starred restaurant in jeans and a t-shirt, right?
Of course not—
You'd wear a fancy uniform that would make you instantly recognizable as a high-end professional.
It's the same with your resume: first impressions matter, so it's crucial to get the layout of your resume just right.
Here's how to format your fine dining resume:
Use the reverse-chronological resume layout—recruiters are familiar with it, and it showcases your most recent experience.
Speed up your setup by using an elegant resume template that's ready to customize.
Include your contact details in the header: name, job title, phone number, and email address.
Pick a great resume font like Book Antiqua or Trebuchet, and set it to 10–11 points.
Make your headings larger (13–14 points). This will help to divide your document into clear resume sections.
Include one-inch margins, 1–1.15 line spacing, and plenty of white space.
Stick to the recommended resume length: one page if you have fewer than 7 years of experience; two pages if you have lots of achievements to share.
Well done!
Your new resume is sleek and elegant like the Eleven Madison Park cocktail menu. When you save your document, keep in mind that the best resume format to submit is a PDF—though some restaurants may ask for a Word Doc resume instead.
Still not sure about your table setting? Read more: How to Format a Resume: Best Resume Formats & Samples
2. Write a Fine Dining Resume Objective or Resume Summary
Here's some food for thought:
When you walk into a restaurant as a customer, you can instantly tell whether it's a unique, upscale place or a generic diner.
It's the same with resumes: recruiters spend just a few seconds deciding whether to keep reading or move on.
So—
This is where your resume career profile comes in.
Sometimes called a resume profile or an introduction, this short paragraph just below the header should grab the reader's attention and immediately show that you're a high-end professional.
There are two types of career profiles:
And here's what to include in your career profile:
Your job title/the position you're applying for + your years of experience
One or two of the best achievements on your resume
A specific, tailored offer to use your skills to the restaurant's advantage
Creating the perfect career profile can be tough. If you're having trouble, leave your resume introduction for dessert. Complete the rest of your resume first—it'll be much easier to compose an intro once you know your ingredients!
Appetizers not quite ready to serve? Read more: Resume Introduction: Guide, Examples, and Expert Tips
3. Create the Perfect Fine Dining Experience Section
The work experience section of your resume is arguably its most important part. Get it right, and you'll get more reservations than The French Laundry. Get it wrong, and your resume will be discarded faster than you can say turn and burn.
Here's how to add experience to your resume:
Start with your current or most recent job.
Add your job title, the name of the company/restaurant, and the dates you've worked there.
(Optional) Write 1–2 sentences to outline the restaurant's profile or the general scope of your position.
Write up to 6 bullet points describing what you've accomplished during your time there. Focus on measurable achievements, not on your duties.
Start each bullet point with a power word for additional impact. For example, Seated customers sounds much better than Responsible for seating customers.
Use numbers to quantify your achievements whenever possible, e.g. Served 200+ customers per shift.
(Optional) Highlight a key achievement—your proudest moment on the job.
If you have lots of experience to share, make sure you tailor your resume to the specific role. A fine dining server job description for a resume will be different from a hostess resume, after all!
Read more: What Counts as Relevant Experience for a Resume?
4. Make Your Education Section Shine
For most non-managerial positions in fine dining restaurants, a degree is not necessary—
But that doesn't mean you shouldn't mention it on your resume.
Simply list your highest level of education, complete with the name of the school/college and the dates of attendance or graduation.
If you're writing a resume with no work experience, expand more on your academic experiences. You could talk about:
Want to see a demo? Check here: How to Put Education on a Resume: Guide and Examples
5. List Your Fine Dining Professional Skills
It's a good idea to list your best professional skills in a separate section—
It shows your understanding of the job requirements and helps ATS software make sense of your resume.
Here's how to come up with a great list of skills for a fine dining resume:
Make a list of professional skills that you've accumulated during your work experience and education. Remember that soft skills are just as important as hard skills!
Read the job advertisement carefully and pick out any skills and keywords that it mentions.
Compare the two lists and highlight the skills that appear on both.
Cleared and reset! Those are the skills to put on your fine dining resume.
And here's a specific example, based on a fine dining server job description:
Fine Dining Server Resume Skills


POS systems
Memorizing orders
When making a resume in our builder, drag & drop bullet points, skills, and auto-fill the boring stuff. Spell check? Check. Start building a professional resume template here for free.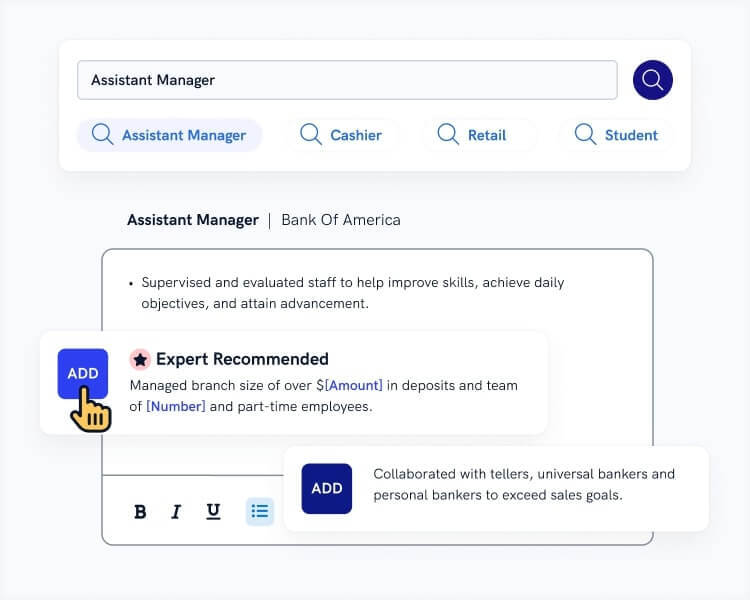 When you're done, our online resume builder will score your resume and our resume checker will tell you exactly how to make it better.
6. Add Other Sections to Your Fine Dining Hostess Resume
Hey!
It's almost closing time!
Just one more step—
Include some additional sections on your resume, such as:
None of these are essential, but giving your resume a bit of comp treatment could give you the edge you need to outperform the competition.
Are hobbies and interests on a resume a bad menu choice? Not necessarily. Read more: How to Put Hobbies on a Resume: Examples of Best Hobbies to Use
7. Attach a Cover Letter to Your Fine Dining Resume
Resumes and cover letters are like foie gras and Côtes de Gascogne:
Sure, you could have one without the other, but why on earth would you want to?
In all seriousness, sending an application without a cover letter could ruin your chances of getting your dream job. As our HR stats show, almost half of recruiters will only consider applications that include a cover letter!
So, here's how to write the perfect cover letter:
Use the correct cover letter format to make a good first impression.
Hook the reader by describing an impressive achievement in the opening lines of your cover letter.
Prove you have the skills and expertise to excel in the role, and explain why you want to work in this particular restaurant.
Describe what you can offer the employer—they want to know what's in it for them.
End your cover letter with a call to action and an offer to help the restaurant reach a specific goal.
There's no need to overdo it: the optimal cover letter length is under one page.
Plus, a great cover letter that matches your resume will give you an advantage over other candidates. You can write it in our cover letter builder here. Here's what it may look like: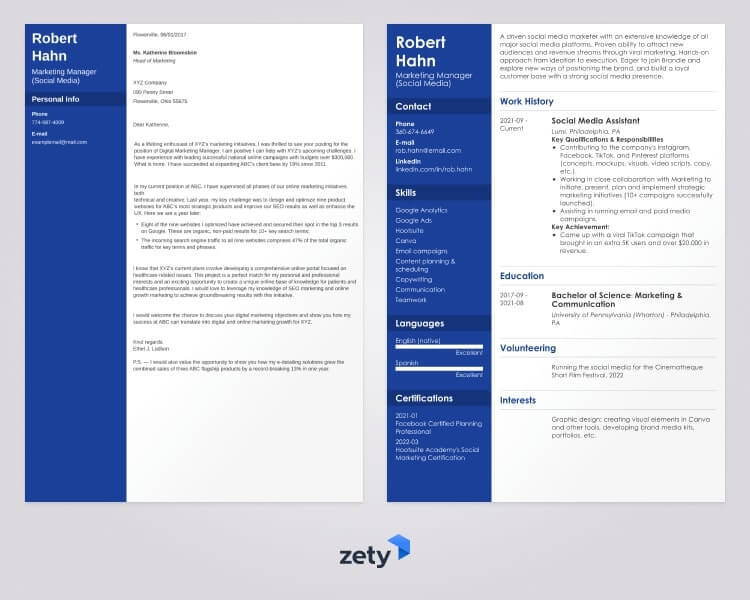 See more cover letter templates and start writing.
Check, please!
That's it—
If there was a Michelin rating for fine dining resumes, yours would get an instant three stars!
Thanks for reading! Was writing a fine dining resume easier than you expected, or perhaps more difficult? Are you writing a fine dining resume for a waitress job? Or bartender? Maybe you can offer some advice of your own? Drop us a line in the comments below!
About Zety's Editorial Process
This article has been reviewed by our editorial team to make sure it follows Zety's editorial guidelines. We're committed to sharing our expertise and giving you trustworthy career advice tailored to your needs. High-quality content is what brings over 40 million readers to our site every year. But we don't stop there. Our team conducts original research to understand the job market better, and we pride ourselves on being quoted by top universities and prime media outlets from around the world.
Sources