You came to the right place to write your server resume. But first, think about this—
Take the order.
Bring the order.
Check on the nice people who placed the order.
Clean up after the nice people leave.
That's the gist of what a server does, right?
Oh, the misconceptions about the job of a server!
Love the hustle and bustle of restaurant life but want to switch things up a bit?
Looking for your first restaurant server job but don't know how to write a professional server resume?
Waited on a few tables too many and want to work somewhere different?
This guide will show you how to build excellent server resumes for the food service industry and how to talk about your work if you want to switch careers.
Proving to a restaurant manager that you're the next best thing to happen to his establishment doesn't have to be difficult.
This guide will show you:
A server resume example better than 9 out of 10 other resumes.
How to write a server resume that will land you more interviews.
Tips and examples of how to put skills and achievements on a server resume.
How to describe your experience on a resume for a server to get any job you want.
You need to know how to write a resume with server experience the right way, so put down that appetizer plate. We've got work to do.
Here's a sample resume for a server made using our resume builder.
Want to save time and have your resume ready in 5 minutes? Try our resume builder. It's fast and easy to use. Plus, you'll get tips and right vs. wrong examples while writing your resume. See +20 resume templates and create your resume here.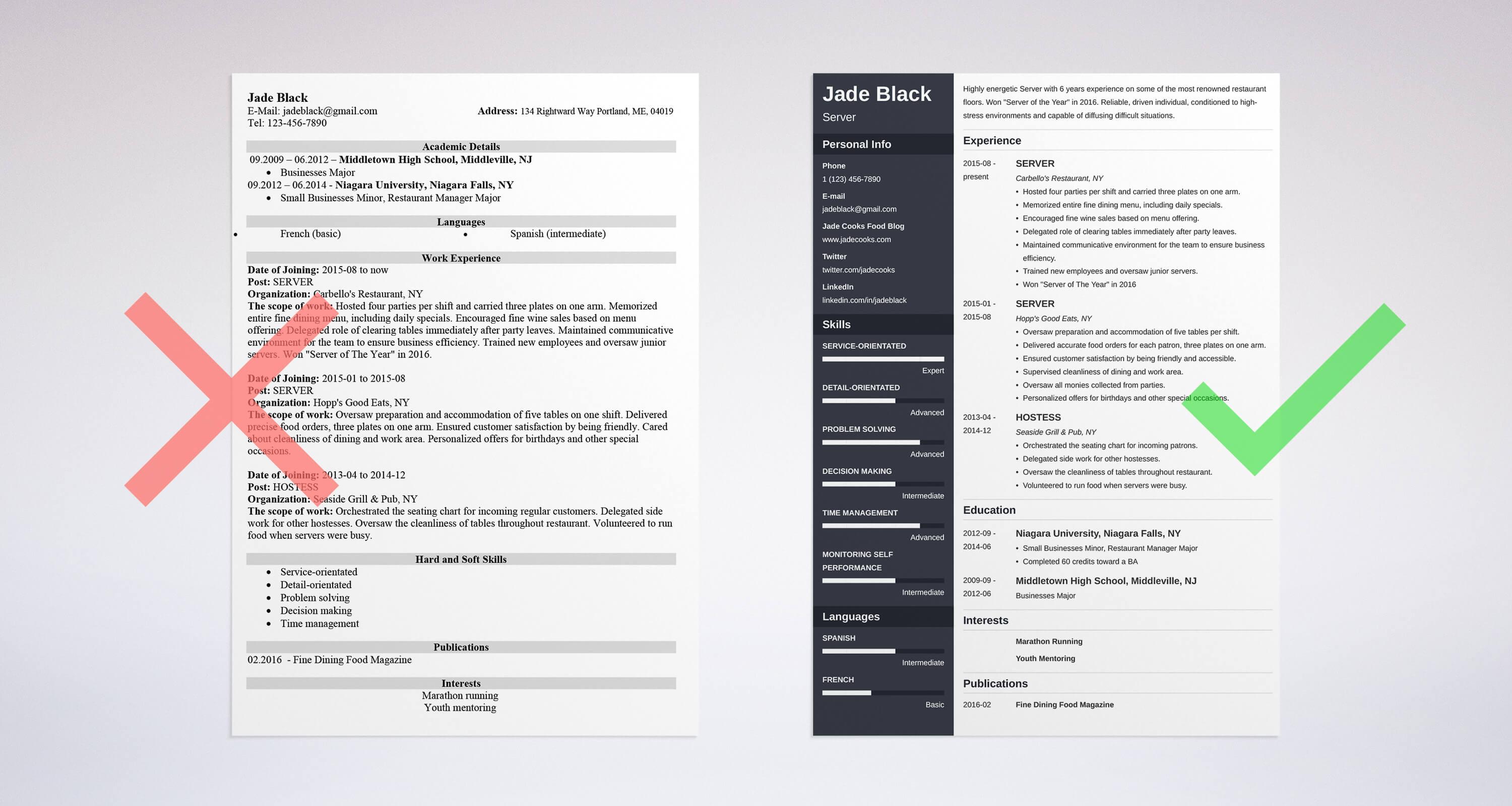 Server Resume Examples - See more templates and create your resume here.
If you're applying for other jobs in the food service industry too, make sure to read one of these dedicated guides:
1
What's the Best Format for a Server Resume?
There are over 600,000 restaurants in the U.S. that receive server resume samples regularly.
Yours is one of them.
Offering a hastily put together waiter resume won't help you but giving a recruiter one that reflects your experience and your skills and abilities, will.
The reverse-chronological resume format is the way to go. As the most widely recognized format, it starts with your current employment history and then goes backwards.
It will show your past employers, dates of employment, and your educational history.
Let's say you're Penny from the Big Bang Theory.
The Cheesecake Factory would be one of the first serving jobs listed on your server resume example because it is the last job you held.
Wherever you worked before the Cheesecake Factory would go underneath it.
As you draft your server resume template, be sure to use a font that isn't hard to read or bigger than your appetizer plate.
Use fonts like Arial, Helvetica, Calibri, and Verdana, with a font size of 10 - 12 points.
Keep it short, sweet, and to the point. It should be no more than a page long. If you notice it getting beefy, cut out any extra bullet points.
Want to make sure your resume will hook every recruiter and get you that interview? Get our free checklist and learn what makes a job-winning resume: 46 Things You Need To Do Before You Send Your Resume.
Pro Tip: Read your resume out loud to yourself to catch any spelling or grammar mistakes. Have a friend or family member check it over, too. Recruiters like to see words spelled right. Your server resume should reflect your professional demeanor.
Make your waitress resume unique. Recruiters say they reject 54% of resumes that aren't customized or tailored.
Do you have additional skills for your resume? Cocktail server experience, perhaps? See our post: 3 Resume Formats: How to Choose the Best Ones [Examples] to see which would be more suitable.
2
Contact Information Is Not as Basic as it Seems

Back in the day, the contact information section of a basic resume consisted of your name, your address, the name of your first born child, and your secret service identity number.
Not really, but close.
Today, the only contact elements you need to have are:
your name
professional email address
current phone number
These three elements should be presented professionally and clearly.
Other server resume examples fail to make this point. We don't like to fail and neither do you.
Avoid offering additional calling information in this section.
Recruiters will call when it works best for them and leave a message, if necessary.
right
Jade Black jadeblack@gmail.com (123) 456-7890
wrong
jadelikesboys@gmail.com
Jane Black
(123) 456-7890 (plz lv message)
Pro Tip: Use a professional email address that includes your name. Skip the Hotmail and Yahoo extensions and go for a Gmail domain, instead.
For more on how to add the basics to your fast food resume, take a peek at our guide: "How To Build A Resume: A Step-By-Step Guide (+30 Examples)" or this fast food resume guide.
3
How to Write a Resume Summary or Objective
So far, so good, right?
You know what professional format you are going to use for your waiter resume and you know how to add your contact info.
Now you just need to blow them away with the reason you're so good at food server duties and responsibilities.
Oh, and balancing a cake on your nose.
You can do this in one of two ways:
using a resume summary
using a resume objective.
What's the difference?
If you're a fine dining server or an experienced server looking to create a head server resume, use a resume summary.
A server resume summary highlights your experience and skills.
right
Three-plates-on-one-arm fine dining server with 6 years experience on some of the most renowned restaurant floors. Looking to work with other team-oriented servers to maximize the restaurant experience.
wrong
Fine dining server with six years experience waiting tables and serving large parties.
Our resume builder (you can create your resume here) will give you tips and examples on how to write your resume summary or any other section. You can easily copy them straight into your resume - it will save you a ton of time.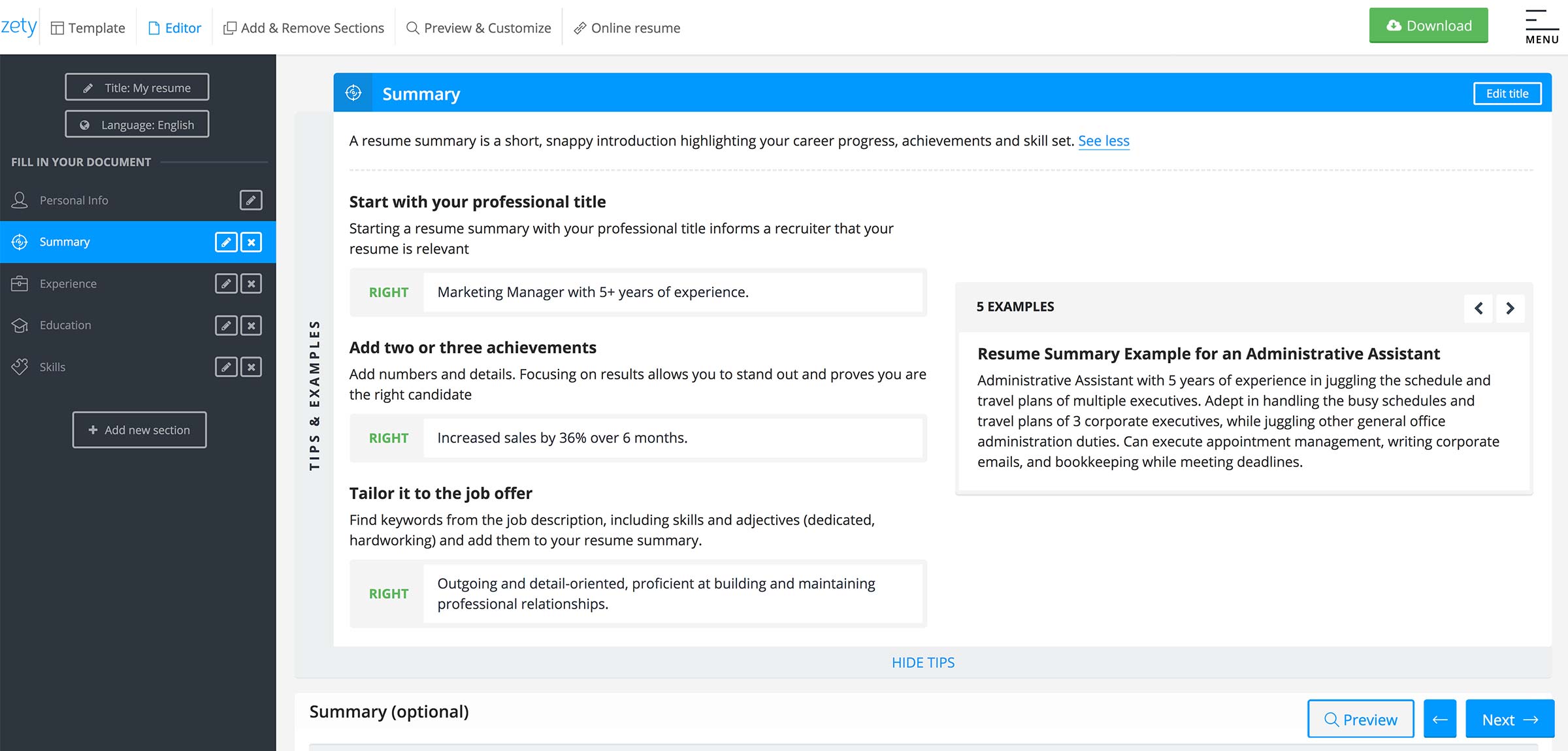 Inside Zety's resume builder you will find tips and examples for your resume.
If you're new to the world of serving, you want to know how to be a server using a resume with no experience.
Start by using a resume objective. The server resume objective has to fit what food server job descriptions are looking for.
Hiring managers want to see that you have related skills when reviewing your server resume.
Right
Reliable, driven individual conditioned to high-stress environments and capable of diffusing difficult situations. Seeking to use those talents on the floor of restaurant X.
Wrong
Untrained server looking for difficult situations to serve tea and crumpets.
Reference skills you learned in school or at other jobs that are relevant to the job of a server to let hiring managers know what you're capable of.
Pro Tip: A server resume summary is a great place to put your hours of availability. Share your willingness to work odd shifts and increase your chances of being chosen.
Restaurant hours are not 9 to 5. For managers, evening and weekend hours are the hardest to fill. Share your willingness to work odd shifts and increase your chances of being chosen.
Not sure if you should use an objective or summary on your restaurant server resume? No worries. Read up here: "+20 Resume Objective Examples - Use Them On Your Resume (Tips)" AND "How To Write A Resume Summary: 21 Best Examples You Will See"
4
How to Describe Your Server Experience
You're clear on your objective, now it's time to share a piece of your history.
Work history, that is.
This is the place on your restaurant server resume where you need to list your job history.
You want to write no less than six responsibilities or achievements under each server resume description.
Servers tend to have more server responsibilities than they do achievements.
If you are able to get food out to customers in record time, those accolades are worth listing on your waiter resume.
Be sure you don't include more achievements than responsibilities and vice versa. Try to list the same number of each.
Use bullet points to list your responsibilities. Avoid using "responsible for" before each duty you list.
It's boring. You're not boring. You're a firecracker. You want your future employer to think you're a firecracker, too.
Consider this - hiring managers aren't interested in reading the ever popular, overused words "responsible for" six or more times.
Adding those words is just plain irresponsible, don't you think?
Think outside of the box. Here's what we mean:
Right
Server
Hopp's Good Eats, NY
Hosted four parties during each shift.
Executed clearing tables immediately after party leaves.
Oversaw all monies collected from parties.
Carried three plates on one arm.
Personalized customer happy birthday songs.
Wrong
Server, Hopp's Good Eats, NY
Waited tables
Cleared tables
Held money
Carried plates
Balanced
Sang
If you're creating a banquet server resume or a catering server resume, the same rules apply.
Pro Tip: Use powerful action words on your resume to describe your server duties and responsibilities for the hiring managers. Tired action words won't excite them.
Stumped on what words to use on your food service resume? Refer to our Action Words Guide: +80 Examples of Resume Action Words for Every Profession
5
Is Your Education Underperforming? It Might Be
We experience education in lots of different ways.
Some of us finish high school, some of us don't. Some of us head off to college, some of us don't.
Here's the good news - you don't need to have a high school diploma or college degree to be hired as a server.
Having said that, hiring managers tend to show more interest in those who have an academic track record. It shows them you have a level of responsibility and discipline.
If you've completed college, you won't need to include your high school information on your server resume.
List your college information, including the type of degree, your major, the name of the college or university, the location of the college or university, and any awards or honors you've earned. Start by listing your highest degree first.
BA in Food Science - 2014
Niagara University, Niagara Falls, NY
3.7 GPA
Perhaps you attended college but didn't finish.
Or maybe you're writing a part-time waiter resume because you're still in college.
Either way, list your information this way:
Niagara University, Niagara Falls, NY
2012 - 2014 Completed 60 credits toward an MFA
If you are a high school graduate, list the name of your high school and the year you graduated like this:
Middletown High School, Middleville, NJ
Graduated in 2012
But that doesn't mean not having a higher education will keep you from being considered.
That's good news if you struggle with what to put on a food service resume in this section.
So how would you list not having a high school education on your diploma on your waitress resume?

Simply list the years you did attend. Like this:
Middletown High School, Middleville, NJ
Attended from 2011 - 2012
If you feel like not having a high school diploma puts you at a disadvantage, just remember that Jim Carrey didn't finish high school. Nor did Bill Gates.
And just look at what these icons have accomplished.
Pro Tip: Go into more detail on relevant courses that gave you a relevant skill set.
If you still have questions about adding your education to your waitress resume, take a look at the options we offer here: How to Put Your Education on a Resume [Tips & Examples]
6
How To Put Skills on a Server Resume
In the cult classic 2004 film, Napoleon Dynamite, Napoleon told his friend Pedro he needed skills to get noticed.
Napoleon: "You know, like nunchuck skills, bowhunting skills, computer hacking skills. Girls only like guys who have great skills."
Without skills, no one of the female persuasion would seriously consider going to the dance with him.
The same is true in the foodservice industry.
Without the right skills, no restaurant manager is going to seriously consider you. Or dance with you. Or both.
In order to understand what kind of server skills to list in this resume section, first look at the restaurant server job description. This will help you understand what to put on a restaurant server resume for skills and abilities.
Looking for high-energy servers who are fun and friendly and value our customers. Communication skills and taking pride in what you do is key. You have the right attitude and know how to work with a team. Most of all, you're always on time and enjoy the work you do.
How to list your server skills:
Right
Dynamic and energetic during all shifts.
Conversational with customers and coworkers.
Compatible with team members and management staff.
Wrong
High-energy
Talks to people
Team player
So what are good skills to put on a resume?
The list of skills required on a server resume often include:
Friendly
Energetic
Detail Oriented
Service Oriented
Problem Solving
Complex Problem Solving
Reading Comprehension
Stress Tolerance

Active Listening
Active Learning
Negotiation
Coordinated
Social Perceptiveness
Monitoring Self Performance
Decision Making
Persuasion
Add any other relevant skills to your server resume sample that are sought in the server job descriptions.
Pro Tip: Adapt your resume skills to the server job description. Use powerful action words in your skills section so that you stand out among the rest.
Want to list some more good skills to put on a food server resume? Take a look at more examples here: +30 Best Examples of What Skills to Put on a Resume (Proven Tips)
7
How to Add Other Sections for an Effective Server Resume
Do you have hobbies or interests that say something specific about your abilities?
Did you write a book about plate spinning and juggling ramekins? Did you swim the English Channel and run a marathon?
Add those that are relevant to your role as a server.
Here are some examples of what you can add to your server resume sample:
Individual sports - You're fit and you enjoy challenges.
Writing - You're able to articulate thoughts with ease.
Puzzles - You're an analytical thinker with problem-solving skills.
Board games - You're an intelligent strategist.
Social hobbies - You communicate well and connect with others.
You'll want to create this section on your server resume template to look like this:
| Right | Wrong |
| --- | --- |
| Writing and Blogging for Food Lovers | Writing |
| Marathon Running | Running Away from Stray Dogs |
| Volunteering for the Humane Society | Volunteering |
Pro Tip: Make your food server resume special by choosing hobbies that match the desired traits of the company.
For more ideas of what to add in this section, take a look at this post: +20 Best Examples of Hobbies & Interests To Put on a Resume (5 Tips)
8
Here's the Most Common Myth About Cover Letters
You've put together a professional food service resume.
Now you need a cover letter.
Why?
Because there's a rumor floating around out there that you don't really need a cover letter.
But we know that 45% of recruiters will disregard even the best server resume without one.
So we're going to show you how to write one that shines.
Recruiters don't have time for boring, bland cover letters. They want something fresh. If you want the job, you're going to have to deliver.
Hiring managers will probably spend about 6 seconds looking at your server resume. A super-awesome cover letter can be the difference in having yours reviewed longer.
A cover letter for a restaurant server will:
Formally introduce you.
Show your personality.
Explain why you're the perfect fit.
Explain any gaps in work history or career changes.
Your letter should include:
your contact information
the employer's contact information
the date
the basic body of the letter
the conclusion.
You want to make your first paragraph compelling.
Try something like this:
Right
My name is Jade Black, and I am one of those waitresses who can carry three entrees in one hand while counting change in the other. I am a multitasker, a go-getter, and a conversationalist that thrives in busy restaurants...
Wrong
My name is Jade Black and I am writing about the job you have for a waitress. I feel I would be a good fit because I can wait tables…
Plus, a great cover letter that matches your resume will give you an advantage over other candidates. You can write it in our cover letter builder here. Here's what it may look like: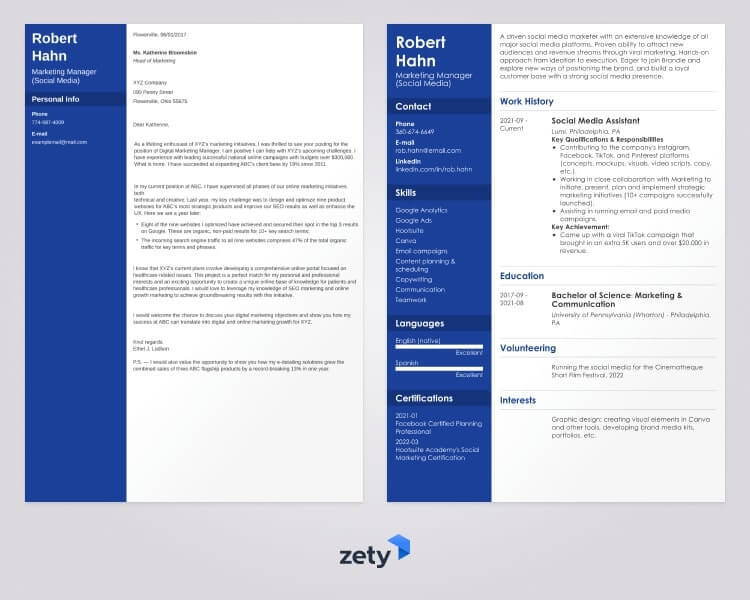 See more cover letter templates and start writing.
Pro Tip: Let your personality come through. Be yourself. Witty, well-written cover letters make the process for hiring managers enjoyable.
Want your skills and abilities on your server resume to be noticed? Make sure you read our guide - How To Write A Cover Letter [Complete Guide With Examples]
Learning how to write a resume with server experience doesn't have to be difficult. Just use these key strategies we covered:
Choose the standard, respected reverse-chronological format for your server resume.
Make sure you read the job description before tailoring your resume to match the position requirements.
Put your best foot and qualities forward, and take the resume creation process one step at a time.
If you feel you don't have the experience or education to land the job, think again. You can always add hobbies or interests that will impress recruiters enough to give you an opportunity.
Do you have any questions on how to make a server resume? Give us a shout in the comments section!