Server Cover Letter: Samples, Format & Complete Writing Guide
You can sling hash (or filet mignon), serve KJ, and stock the creamers, tea, and napkins like a champ. Prove it to employers with this server cover letter sample plus expert tips.
This restaurant server cover letter sample stands out like triple-Tiramisu.
That restaurant owner—Chip—he's got a lot of resumes to read.
Will he read yours? No. He'll skim it.
Unless you give him a reason.
So—
Hook him fast by showing server skills and waitressing achievements that'll grow his hair back.
This guide will show you a server cover letter sample, plus tips for how to write your winning cover letter for server jobs.
Want to write your cover letter fast? Use our cover letter builder. Choose from 20+ professional cover letter templates that match your resume. See actionable examples and get expert tips along the way.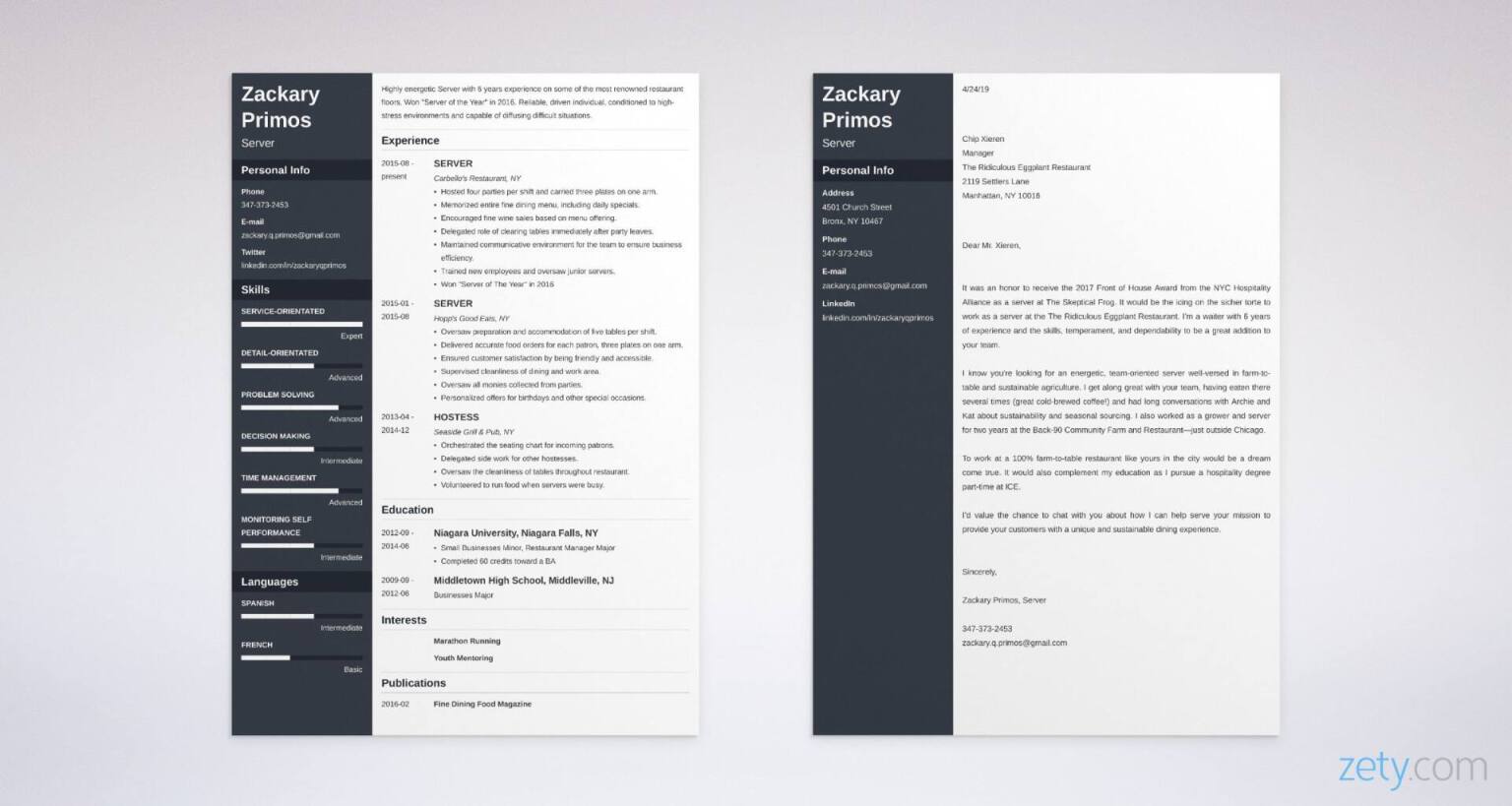 Sample cover letter for a resume—See more cover letter samples and create your cover letter here.
Here are a few other cover letter examples to consider related to call center jobs:
Server Cover Letter Sample
Zackary Primos
Server
4501 Church Street
Bronx, NY 10467
347-373-2453
zackary.q.primos@gmail.com
linkedin.com/in/zackaryqprimos
4/24/19
Chip Xieren
Manager
The Ridiculous Eggplant Restaurant
2119 Settlers Lane
Manhattan, NY 10016
Dear Mr. Xieren,
It was an honor to receive the 2017 Front of House Award from the NYC Hospitality Alliance as a server at The Skeptical Frog. It would be the icing on the sicher torte to work as a server at the The Ridiculous Eggplant Restaurant. I'm a waiter with 6 years of experience and the skills, temperament, and dependability to be a great addition to your team.
I know you're looking for an energetic, team-oriented server well-versed in farm-to-table and sustainable agriculture. I get along great with your team, having eaten there several times (great cold-brewed coffee!) and had long conversations with Archie and Kat about sustainability and seasonal sourcing. I also worked as a grower and server for two years at the Back-90 Community Farm and Restaurant—just outside Chicago.
To work at a 100% farm-to-table restaurant like yours in the city would be a dream come true. It would also complement my education as I pursue a hospitality degree part-time at ICE.
I'd value the chance to chat with you about how I can help serve your mission to provide your customers with a unique and sustainable dining experience.
Sincerely,
Zackary Primos, Server
347-373-2453
zackary.q.primos@gmail.com
Server Cover Letter Template
Here's how to write a server cover letter that lands interviews:
1. Use the right restaurant server cover letter format
The right fonts: Cambria or Arial
The right font size: 11pt or 12pt
Line spacing: 1 to 1.15
Margins: 1"
Read more: The Only Proper Cover Letter Format
2. Start with a professional cover letter header
Your server cover letter header should list:
Name—top left
Your address
Phone, email, LinkedIn profile or other social handles
Today's date
The hiring manager's info
Don't know who runs the show? Call the restaurant or do some legwork on LinkedIn or the restaurant's online staff page.
Read more: How to Address a Cover Letter
3. Start with a hook
For starters, use "Dear," followed by "Mr." or "Ms." and their last name.
Be clear why you're here—state the job title.
Show your passion for the job and restaurant.
Read more: How to Start a Cover Letter the Right Way
5. Show they've got to hire you
Drop a couple key server achievements in your cover letter.
Don't be random—pick accomplishments based on what the restaurant wants.
How can you know what they want? Read the job ad. Better yet, visit.
Add numbers when possible to give scale.
What's a good server cover letter length? The Perfect Cover Letter Length
6. Make an offer
Before you close a cover letter for server jobs:
Ask for a chat or meeting.
Offer something—like an explanation of how you'll help the restaurant.
Read more: The Best Cover Letter Ending Examples
7. End with a professional signature
Finish with, "Sincerely" and your name with job title (server).
With email cover letters, use a digital signature.
Finally, add your email address and phone number.
Writing entry-level server cover letters? Entry-Level Cover Letter with No Experience
Don't ditch on your cover letter for server jobs. Job Application Follow-Up: Examples, Dos, & Don'ts
A good banquet server cover letter can get you rolling in tips. Boost it with a job-winning resume.
When making a resume in our builder, drag & drop bullet points, skills, and auto-fill the boring stuff. Spell check? Check. Start building a professional resume template here for free.
When you're done, Zety's resume builder will score your resume and tell you exactly how to make it better.
Thanks for reading! Now it's your turn. How is writing a server cover letter making you feel? What's the hardest thing about applying to waiter or waitressing jobs? We'd love to hear from you!