Our customers have been hired by:
Your hospitality cover letter has to wow them like a Hilton. Busy hotel hiring managers want to know what's in your resume—but they don't want to read it. Change their mind with a cover letter for hospitality jobs that shows you're different. Sound impossible? See the simple, time-tested steps below.
This guide will show you a hospitality cover letter sample and the best tips on how to write a cover letter for hospitality jobs step-by-step.
Want to write your cover letter fast? Use our cover letter builder. Choose from 20+ professional cover letter templates that match your resume. See actionable examples and get expert tips along the way.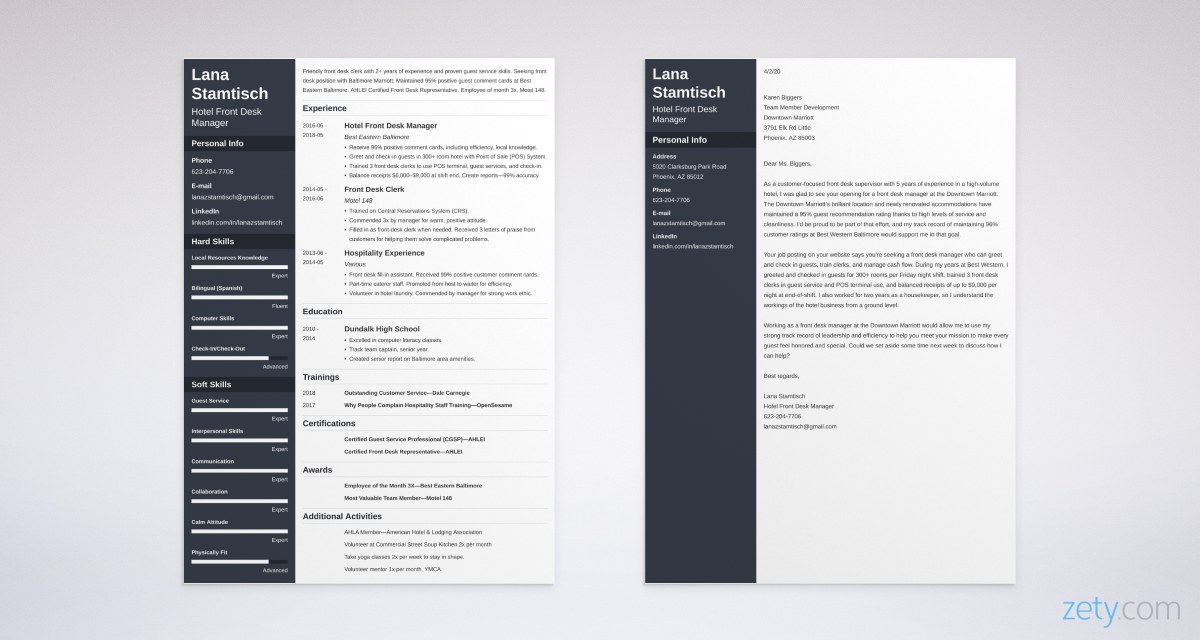 Sample cover letter for a resume—See more cover letter samples and create your cover letter here.
Sample Cover Letter for Hospitality Job
Lana Stamtisch
Hotel Front Desk Manager
5020 Clarksburg Park Road
Phoenix, AZ 85012
623-204-7706
lanazstamtisch@gmail.com
linkedin.com/in/lanazstamtisch
4/2/20
Karen Biggers
Team Member Development
Downtown Marriott
3791 Elk Rd Little
Phoenix, AZ 85003
Dear Ms. Biggers,
As a customer-focused front desk supervisor with 5 years of experience in a high-volume hotel, I was glad to see your opening for a front desk manager at the Downtown Marriott. The Downtown Marriott's brilliant location and newly renovated accommodations have maintained a 95% guest recommendation rating thanks to high levels of service and cleanliness. I'd be proud to be part of that effort, and my track record of maintaining 96% customer ratings at Best Western Baltimore would support me in that goal.
Your job posting on your website says you're seeking a front desk manager who can greet and check in guests, train clerks, and manage cash flow. During my years at Best Western, I greeted and checked in guests for 300+ rooms per Friday night shift, trained 3 front desk clerks in guest service and POS terminal use, and balanced receipts of up to $9,000 per night at end-of-shift. I also worked for two years as a housekeeper, so I understand the workings of the hotel business from a ground level.
Working as a front desk manager at the Downtown Marriott would allow me to use my strong track record of leadership and efficiency to help you meet your mission to make every guest feel honored and special. Could we set aside some time next week to discuss how I can help?
Best regards,
Lana Stamtisch
Hotel Front Desk Manager
623-204-7706
lanazstamtisch@gmail.com
That's a 5-star hospitality cover letter sample.
Once they read your cover letter for hospitality jobs, wow them with the perfect resume. See our guide: Hospitality Resume Sample
Looking for specific hospitality jobs? See these guides:
Hospitality Cover Letter Template
Here's how to write a cover letter for a hospitality job application:
1. Use the perfect hospitality cover letter format and layout
Read more: Cover Letter Structure
2. Make a professional hospitality cover letter header
Read more: How and to Whom Should I Address a Cover Letter?
3. Create a personal greeting and add a hospitality accomplishment
Start with "Dear [Hiring Manager Name],", forget about the old-fashioned "To Whom It May Concern".
Be clear about the position you're applying for.
Include a Hilton-level hospitality achievement to get attention.
Read more: How to Start a Cover Letter
4. Show you're familiar with their needs
Restate a few of their job requirements from the online posting.
Share times you've gone above and beyond to fulfill those hospitality job duties.
Don't rewrite your resume.
Do share the best few Sheraton-worthy achievements from your resume.
Do you really need a hospitality cover letter? See our guide: Do You Need a Cover Letter?
5. Explain why you're interested in this hospitality job
Prove this hospitality job matters to you.
This step promises you'll be a long-term employee who works hard.
In any or every paragraph, mention things you like about the hotel or business.
Can't think of any? Google news items to find awards or other recognition.
You can also read their mission statement on the web.
There are only 52,600 lodging manager jobs, per data from the U.S. Bureau of Labor Statistics. To ensure you get in at a Four Seasons or IHG, you need a world-class hospitality cover letter.
6. End your hospitality cover letter with an offer
Give another reason why the job is perfect for you.
Ask for the interview.
Promise to help them reach their goals.
Add two more hospitality skills to get them interested in your resume.
Read more: The Best Cover Letter Closings
7. Add a formal sign-off to the end
End with, "Kind regards," or, "Best regards,"
Consider including your digital signature for added professionalism.
Finish with your name, email address, and phone number.
Add a list of requested cover letter enclosures.
Don't forget to follow up. A quick phone call or email next week can remind them of your application and land the interview. Learn more: Job Application Follow-Up Email Templates
When making a resume in our builder, drag & drop bullet points, skills, and auto-fill the boring stuff. Spell check? Check. Start building a professional resume template here for free.
When you're done, our online resume builder will score your resume and our resume checker will tell you exactly how to make it better.
Questions? Concerns? We're here for you. If you're still unsure how to write a Disney-worthy cover letter for hospitality jobs, drop me a line in the comments.
About Zety's Editorial Process
This article has been reviewed by our editorial team to make sure it follows Zety's editorial guidelines. We're committed to sharing our expertise and giving you trustworthy career advice tailored to your needs. High-quality content is what brings over 40 million readers to our site every year. But we don't stop there. Our team conducts original research to understand the job market better, and we pride ourselves on being quoted by top universities and prime media outlets from around the world.
Sources