Front Desk Cover Letter Samples [Also For Hotel Jobs]
You're the first point of contact so you know that first impressions matter. Write the perfect front desk cover letter with our tips and impress the recruiter at first sight, too.
You might have great customer service skills and make invoicing appear effortless. But your resume alone will not be enough to prove it to the front desk manager or HR department head.
So, here's what you got to do. You must ensure your front desk cover letter is as polished as your people skills! Don't worry, we're here to guide you!
In this article, we'll give you first a great sample front desk cover letter. Later on, you'll get some of the best tips on how to write a front desk agent cover letter sure to wow them from the start.
Want to write your cover letter fast? Use our cover letter builder. Choose from 20+ professional cover letter templates that match your resume. See actionable examples and get expert tips along the way.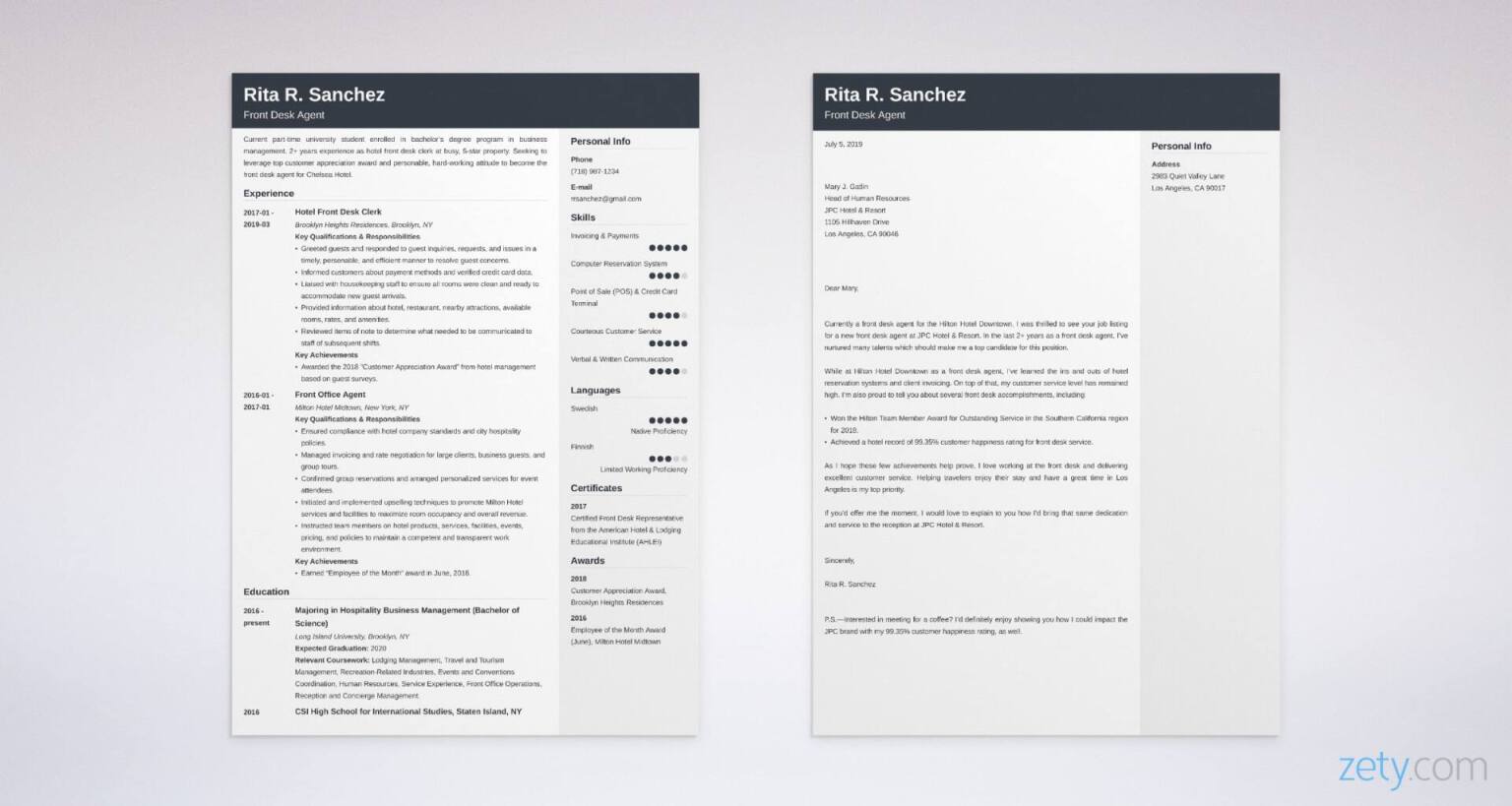 Sample cover letter for a resume—See more cover letter samples and create your cover letter here.
Just bear in mind—
It's useless for you to create such a great cover letter if your front desk resume isn't of the same quality. Read this guide to fix yours: Sample Resume for Front Desk Jobs
Here are a few other front desk-related cover letter examples to consider:
Want to explore your options further? See our full selection of cover letter examples for every career: Cover Letter Examples.
Here's our take on the ideal sample front desk cover letter:
Front Desk Cover Letter Sample
Rita R. Sanchez
Front Desk Agent
2983 Quiet Valley Lane
Los Angeles, CA 90017

July 5, 2019

Mary J. Gatlin
Head of Human Resources
JPC Hotel & Resort
1105 Hillhaven Drive
Los Angeles, CA 90046
Dear Mary,

Currently a front desk agent for the Hilton Hotel Downtown, I was thrilled to see your job listing for a new front desk agent at JPC Hotel & Resort. In the last 2+ years as a front desk agent, I've nurtured many talents which should make me a top candidate for this position.
While at Hilton Hotel Downtown as a front desk agent, I've learned the ins and outs of hotel reservation systems and client invoicing. On top of that, my customer service level has remained high. I'm also proud to tell you about several front desk accomplishments, including:
Won the Hilton Team Member Award for Outstanding Service in the Southern California region for 2018.
Achieved a hotel record of 99.35% customer happiness rating for front desk service.
As I hope these few achievements help prove, I love working at the front desk and delivering excellent customer service. Helping travelers enjoy their stay and have a great time in Los Angeles is my top priority.
If you'd offer me the moment, I would love to explain to you how I'd bring that same dedication and service to the reception at JPC Hotel & Resort.
Sincerely,

Rita R. Sanchez
P.S.—Interested in meeting for a coffee? I'd definitely enjoy showing you how I could impact the JPC brand with my 99.35% customer happiness rating, as well.
That was Zety's imagination of an ideal cover letter for front desk jobs.
Front Desk Cover Letter Template
Now, here's how to write a front desk cover letter for yourself
1. Use the Perfect Front Desk Cover Letter Format
Surround your cover letter for front desk hotel jobs with standard, one-inch margins on all sides.
Use 1.00 or 1.15 size line spacing, because double spacing takes up precious real estate (and just looks awful).
Type your front desk cover letter in 11–12pt size font, and choose the best cover letter font for easy readability.
Don't justify or center-align your cover letter. Stick with a left-side alignment from start to finish.
Read on: How to Format a Cover Letter Right
2. Make a Great Front Desk Agent Cover Letter Header
Write your full name and address at the top of the front desk rep cover letter. Include your professional title between your name and address if appropriate.
Next, include today's date, as this is standard business letter practice.
Finally, address the employer with the hiring manager's name, their position title, and then the company's address.
Read on: How to Put Your Name & Address on a Cover Letter
3. Open the Front Desk Cover Letter With a Bang
Locate the name of the front office manager or HR employee to whom you'll address your cover letter for front desk agents.
Start by stating exactly which position you're applying for with this front desk cover letter.
Introduce yourself by briefly relaying your background, whether you have no front desk experience or otherwise.
Unable to find the hotel manager or hospital administrator's name? Choose a neutral salutation (e.g., "Dear Hiring Manager").
Read on: Here's How to Open a Cover Letter (with Examples)
4. Show Them You're the Perfect Applicant for Front Desk Jobs
Pull out the front desk job description from the hotel, office building, or medical facility.
Show them how you'll be the best candidate to take on the front desk duties and responsibilities they've advertised.
Prove your value as a front desk agent by adding a couple of numbered wins.
Is your cover letter for front desk hotel jobs or medical offices too short or too wordy? Here's how to check: What's the Perfect Cover Letter Length?
5. Explain Why You Want to Work at This Specific Front Desk Job
Skip that universal cover letter. They just throw those out. Always send in a tailored cover letter for front desk jobs.
Be enthusiastic in your writing, because they want a cheerful front desk agent.
Is this a cover letter for a front desk receptionist with no experience? Learn how to tweak it to perfection: First-Time Cover Letter Without Job Experience
6. Make the Front Desk Hiring Manager an Offer They Can't Turn Down
Write a short closing statement to wrap up your front desk agent cover letter.
Remind them of your value as you bring the office or hotel front desk cover letter to a close.
Craft a powerful call to action by requesting a meeting with them.
Read on: How to End a Cover Letter Correctly
7. Close the Front Desk Clerk Cover Letter With the Ideal Sign-Off
A standard valediction (a complimentary closing such as "sincerely") works best.
Leave a space before adding your full name (and more space if you'll hand-sign the front desk representative cover letter).
Optionally, add a postscript beneath your signature to have one more chance at catching their interest.
Don't follow up too late or too early after sending your cover letter for front desk jobs. Read this guide: How to Follow Up the Right Way on a Work Application
When making a resume in our builder, drag & drop bullet points, skills, and auto-fill the boring stuff. Spell check? Check. Start building a professional resume template here for free.
When you're done, our online resume builder will score your resume and our resume checker will tell you exactly how to make it better.
Have questions on writing a cover letter for hotel front desk jobs or office reception jobs? Need ideas for achievements to add to front desk cover letters? Let's discuss it all below, and thanks for reading!
About Zety's Editorial Process
This article has been reviewed by our editorial team to make sure it follows Zety's editorial guidelines. We're committed to sharing our expertise and giving you trustworthy career advice tailored to your needs. High-quality content is what brings over 40 million readers to our site every year. But we don't stop there. Our team conducts original research to understand the job market better, and we pride ourselves on being quoted by top universities and prime media outlets from around the world.