Our customers have been hired by:
Looking to compile an accounts payable cover letter that adds up to success? You've come to the right place!
A well-versed accounts payable cover letter grabs attention like a nine-figure gain. And with our expert advice, you'll be tackling those million-dollar invoices in no time!
This guide will show you a sample accounts payable cover letter examples, plus the best tips on how to write a cover letter step-by-step.
Want to write your cover letter fast? Use our cover letter builder. Choose from 20+ professional cover letter templates that match your resume. See actionable examples and get expert tips along the way.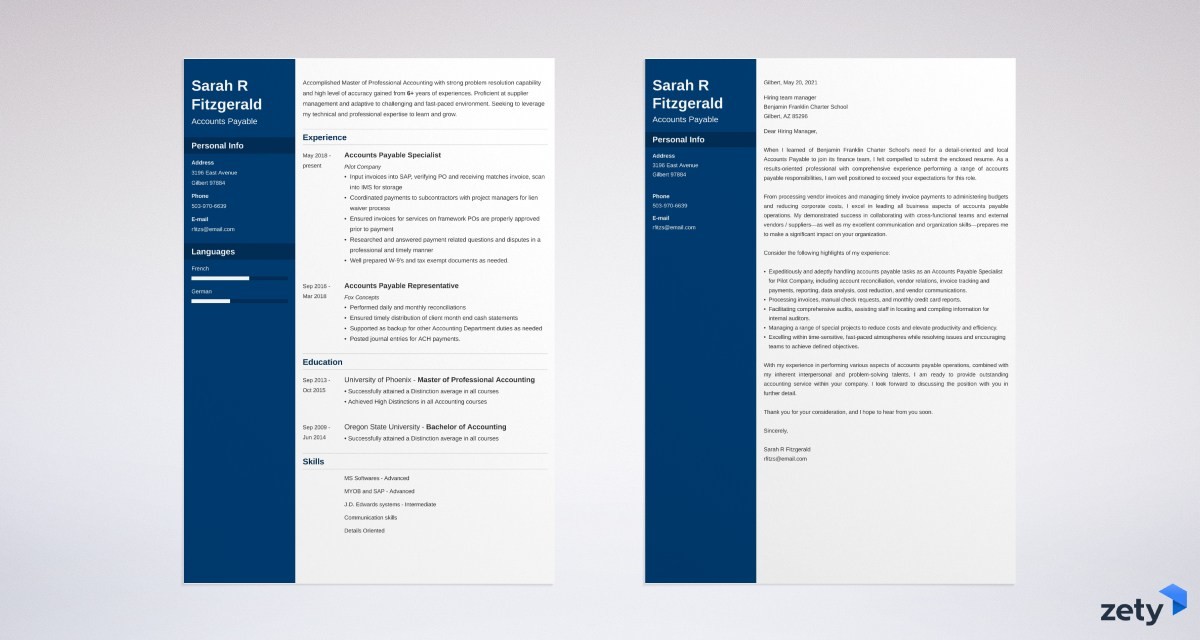 Sample cover letter for a resume—See more cover letter examples and create your cover letter here.
Remember—
Without a first-rate resume, it won't get you far. See our accounts payable resume writing guide here: Accounts Payable Resume: Samples and Writing Guide.
Considering similar positions too? See other cover letter examples for jobs in your industry:
Want to explore your options further? See our full selection of cover letter examples for every career: Best Cover Letter Examples.
Now, let's dig in!
Accounts Payable Cover Letter Sample
Linda Johns
Accounts Payable
55 Southfield Road
Anytown, NJ 07021
551-963-4824
linda.johns@email.com
linkedin.com/in/lindajohns33

Anytown, 1/30/2019

Mr. Mark Dean
Head of Human Resources
XYZ Inc.
3015 Park Drive
New York City, NY 10923


Dear Mark,
As an efficient accounts payable with 3+ years of experience in reconcile processes and expense analysis, I was thrilled to see your opening for an accounts payable manager at CloseBooks Co. I know that you're currently working on reducing the collection time and I find this challenge very motivating. At Williams Services I supported the work of 10 collection specialists and helped to slash our collection time by 20% in the course of 6 months.
While working at ABC Accounting, I generated over 4000 invoices and reviewed 300+ overdue clients. I then collected 200 of overdue payments in a month. I know that in a fast-paced business environment productivity matters that's why I consistently worked on improving my productivity rates—which resulted in 33% higher rates after 6 months of work.
What I'm also excited about your job post is the opportunity to leverage my communication skills as a manager. I'd love to help you obtain efficient workflow and wield a real influence on internal communication improvement.
I'd welcome the chance to discuss how we can boost the productivity rates at your company. Could we set up a meeting or a call sometime next week?
Sincerely,
Linda Johns
551-963-4824
linda.johns@email.com
PS—I'm also eager to explain how I implemented an authorial reporting system at ABC Accounting that increased reports efficiency by 10% in 6 months.
Accounts Payable Cover Letter Template
Here's how to write an accounts payable cover letter for a job application:
1. Use the proper accounts payable cover letter format
Use one-inch margins on all sides.
Set single or 1.15 line spacing.
Select a classic font and make it 11pt to 12pt in size.
Read more: Cover Letter Formats
2. Create a professional cover letter header
Put your name and contact info in the top-left corner.
Add a phone number, email, LinkedIn profile.
Put the city and date below.
Then, state the addressee's details.
Looking for the hiring manager's name with no success? Check the company's website and LinkedIn. If it fails, call the company's reception and ask.
Read more: Cover Letter Heading
3. Open with a personal greeting and a catchy first paragraph
Begin with "Dear" and the name of the hiring manager.
Say which position you're targeting.
Show one of your most relevant professional achievements.
Read more: How to Open a Cover Letter
4. Show that you're the right candidate
Read the job offer closely and recognize the hiring company's needs. Then address them with your skills.
Say a few words about some of your other professional wins.
Use numbers to make your accomplishments more prominent.
Remember not to make your cover letter too long: How Many Words Should a Cover Letter Be
5. Explain why you want this job
Tell them why you appreciate them.
Convince them you want this job like no other candidate.
Make them believe you want to stay with them for longer.
6. Make an offer and include a call to action
Propose a call or a meeting at a suggested time.
Remind them of your assets—make an offer to help with what they currently need.
Read more: Cover Letter Closing Paragraph Examples
7. Close with a professional sign-off
Sign off your cover letter with your full name.
Leave a digital copy of your handwritten signature below that.
Repeat your basic contact details in the footer.
After you've sent your cover letter, wait a bit, then send a follow-up email. Here's how to do it: Job Application Follow-Up: Examples, Dos, & Don'ts
As you've just seen, a well-composed cover letter can really make a difference. But to land this job, you need to have an accounts payable resume in place!
When making a resume in our builder, drag & drop bullet points, skills, and auto-fill the boring stuff. Spell check? Check. Choose a resume template here.
When you're done, Zety's resume builder will score your resume and our resume checker will tell you exactly how to make it better.
Thanks for reading! What did you think of our accounts payable cover letter example? Would you consider this accounts payable cover letter template helpful? Drop me a line in the comments.
About Zety's Editorial Process
This article has been reviewed by our editorial team to make sure it follows Zety's editorial guidelines. We're committed to sharing our expertise and giving you trustworthy career advice tailored to your needs. High-quality content is what brings over 40 million readers to our site every year. But we don't stop there. Our team conducts original research to understand the job market better, and we pride ourselves on being quoted by top universities and prime media outlets from around the world.