Starbucks Resume: Examples and Guide [10+ Tips]
Free coffee, health coverage with dental, 401k, and paid time off—Starbucks is a great place to work. But you won't get in without a wide-awake Starbucks resume. Use this template.
It's no wonder Starbucks jobs are fought over. In-store discounts, parental leave, tuition coverage, and health coverage (with dental!) are just a few of the perks. But you need to show the manager that you'll work hard and do a great job. This Starbucks resume sample will get you there fast.
The key?
To write the best resume for Starbucks jobs on the counter, pay attention to the job ad. It's the cheat sheet to get hired. Use it to hand-pick the best parts of your past. Then show them in your bullet points and prove your skills with fresh achievements.
Want to save time and have your resume ready in 5 minutes? Try our resume builder. It's fast and easy to use. Plus, you'll get ready-made content to add with one click. See 20+ resume templates and create your resume here.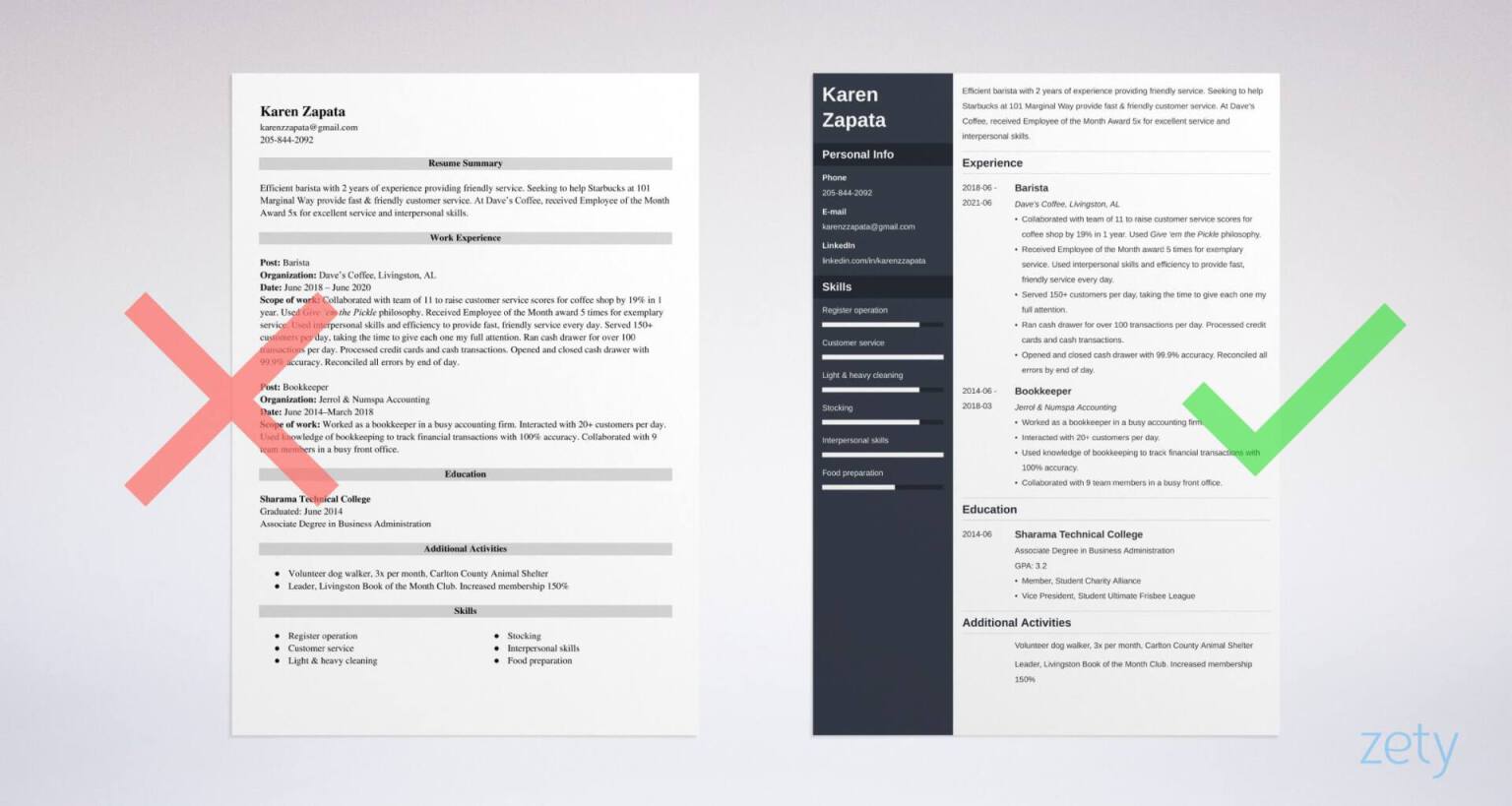 Sample resume made with our builder—See more resume samples here.
Want other job resume examples? See these guides:
Sample Starbucks Resume Template
Karen Zapata
karenzzapata@gmail.com
205-844-2092
linkedin.com/in/karenzzapata
Resume Summary
Efficient barista with 2 years of experience providing friendly service. Seeking to help Starbucks at 101 Marginal Way provide fast & friendly customer service. At Dave's Coffee, received Employee of the Month Award 5x for excellent service and interpersonal skills.
Work Experience
Barista
Dave's Coffee, Livingston, AL
June 2018 – June 2020
Collaborated with team of 11 to raise customer service scores for coffee shop by 19% in 1 year. Used Give 'em the Pickle philosophy.
Received Employee of the Month award 5 times for exemplary service. Used interpersonal skills and efficiency to provide fast, friendly service every day.
Served 150+ customers per day, taking the time to give each one my full attention.
Ran cash drawer for over 100 transactions per day. Processed credit cards and cash transactions.
Opened and closed cash drawer with 99.9% accuracy. Reconciled all errors by end of day.
Bookkeeper
Jerrol & Numspa Accounting
June 2014–March 2018
Worked as a bookkeeper in a busy accounting firm.
Interacted with 20+ customers per day.
Used knowledge of bookkeeping to track financial transactions with 100% accuracy.
Collaborated with 9 team members in a busy front office.
Education
Sharama Technical College
Graduated: June 2014
Associate Degree in Business Administration
GPA: 3.2
Member, Student Charity Alliance
Vice President, Student Ultimate Frisbee League
Additional Activities
Volunteer dog walker, 3x per month, Carlton County Animal Shelter
Leader, Livingston Book of the Month Club. Increased membership 150%
Skills
Register operation, customer service, light & heavy cleaning, stocking, interpersonal skills, food preparation
Here's how to write your own job-getting Starbucks resume:
1. Format Your Starbucks Resume Correctly
Starbucks baristas and other employees get the best perks in the industry. But there are only 402,000 Starbucks employees in the world. That includes managers, assistant managers, corporate employees, baristas, and all others. If you want in, your Starbucks resume has to stand out in every way.
To write the perfect resume for Starbucks jobs, you need to show you won't cut corners if they hire you. For a professional look, use these resume format tips:
Read more: Parts of a Resume
2. Wow Them With a Starbucks Resume Objective or Summary
Write a clean resume introduction at the top to get them interested. This part is the espresso version of your resume, so write it last so you've got plenty to boil down.
If you've never worked a job before, write a career objective statement. Back when every bean was hand-picked, people talked about what they wanted from the job. Don't do that today. Instead, churn up some interest by showing how your past customer service achievements can help Starbucks.
Have you got a decent work history? Then write a career summary statement. Like the objective, it's where you "sum up" your career to date. Spotlight the best parts so they'll keep reading.
Read more: How To Make Your Resume Stand Out
3. Whip Up a Great Starbucks Resume Job Description
Have you worked in food service before? What about customer service? Anything related? You'll need to prove Starbucks skills like customer service or interpersonal skills or cleaning, POS operation. Look first at the Starbucks job ad for some clues about the skills they want.
Then find some service-with-a-smile achievements in your past as proof. Those accomplishments will form your bullet points.
Show relevant experience in a way that knocks their aprons off:
Start with the last job you worked. After that, list your next newest job and so on.
Add the job title, company you worked for, and dates you worked there.
Tailor your resume by adding 3–6 bullet points that show your best relevant achievements. Achievements on a resume matter more than a stack of job duties.
Keep them reading by starting each bullet point with resume power words like operated, served, or cleaned.
Make sure each bullet point shows a standout accomplishment.
Read more: Should You Include Irrelevant Work Experience on a Resume?
4. Write a Job-Getting Starbucks Resume Education Section
Surprise! The educational background on a resume for Starbucks doesn't matter. Except when it does. That is—you don't need an engineering degree to serve lattes. But you can get hired faster if you show you weren't just sleeping late in school.
Pro Tip: Starbucks has some of the best employee benefits in the food service industry. Consider mentioning those in your cover letter. (Yes, you need a cover letter. See below.)
5. Prove You've Got the Right Starbucks Skills
Here's a shocker—the Starbucks manager doesn't just want to see your skills. She wants to know they're the exact skills she needs to get the job done. Prove you've got the grounds by building the right skills list.
Here's how to show your Starbucks skills are the cream of the crop:
Look through the Starbucks job ad for the skills they want in an employee. Then grab yourself a cup of joe and think—when have you excelled at those?
Make sure to list their hard skills, soft skills, and technical skills like POS operation.
Next, add the top 10 to your Starbucks employee skills list.
Make sure you prove you've got those skills dialed by showing off achievements based on them in your bullet points.
Necessary Starbucks Resume Skills
Customer Service Skills
Food Safety
Latte Art
Milk Steaming
Coffee Bean Grinding
Knowledge of Coffee & Roasts
Espresso Machine
Tamping
Efficiency
Brewing Coffee
Point-of-Sale System (POS)
Cash Handling
Food & Beverage
Stress Management
Fast-Paced Work
Stock & Inventory Management
Friendliness
Collaboration & Teamwork Skills
Pro Tip: If you want to get a Starbucks job, take the time to learn the right resume keywords for the role. Their ATS (applicant tracking system) will toss some resumes out before a human sees them.
When making a resume in our builder, drag & drop bullet points, skills, and auto-fill the boring stuff. Spell check? Check. Start building a professional resume template here for free.
When you're done, our easy resume builder will score your resume and our resume checker will tell you exactly how to make it better.
6. Add "Extra" Sections to Your Starbucks Resume
You can finish after "experience" and "education," or you can spice things up with skills-proving "extra" sections:
Read more: What Sections Belong in a Resume?
7. Write a Cover Letter for Your Starbucks Barista Resume
Are cover letters necessary? For almost half of all managers, they are. That's because a resume without a cover letter can look like you're just spraying and praying. What is a cover letter for? To prove you hand-picked this job, and you really want it.
Make sure to include the right parts of a cover letter:
Why are cover letters one page? Because longer cover letters are boring and TBH, managers don't have time to read them.
Read more: Resume vs Cover Letter: What's the Difference?
Plus, a great cover letter that matches your resume will give you an advantage over other candidates. You can write it in our cover letter builder here. Here's what it may look like: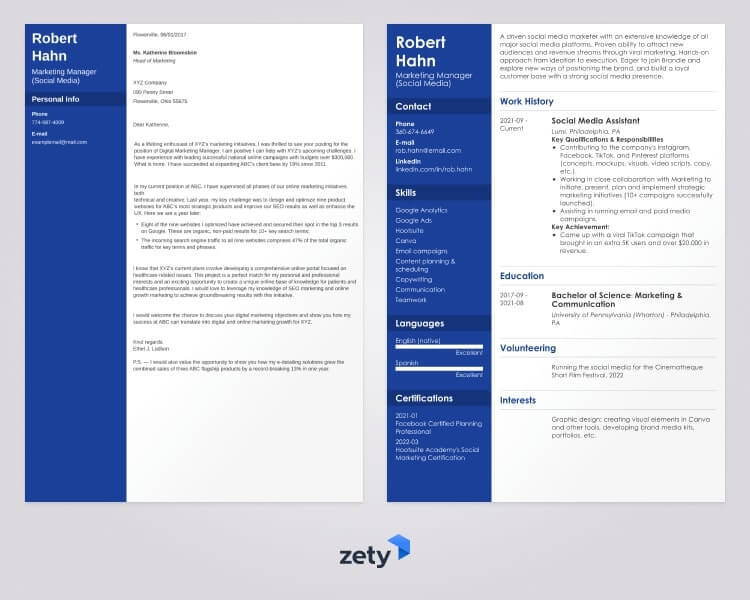 See more cover letter templates and start writing.
All done!
That's everything you need to write a great Starbucks resume!
Thanks for reading! Do you have another question on how to make a great Starbucks barista resume? Give us a shout in the comments section!
About Zety's Editorial Process
This article has been reviewed by our editorial team to make sure it follows Zety's editorial guidelines. We're committed to sharing our expertise and giving you trustworthy career advice tailored to your needs. High-quality content is what brings over 40 million readers to our site every year. But we don't stop there. Our team conducts original research to understand the job market better, and we pride ourselves on being quoted by top universities and prime media outlets from around the world.
Sources