Baker Resume: Sample & Writing Guide [20+ Tips]
Baking is your daily bread but you're not sure how to prove it in your resume? Follow the expert tips and write the best baker resume.
Your skills make you the most popular among your friends. Whenever there's a party, they count on you bringing sweet and savory pastries and making the birthday cake.
While baking is your passion, it's more than a hobby. It's also your job. And you want to make a living out of it. It's time to cover your baker resume in fresh icing!
This guide will show you:
A baker resume example better than 9 out of 10 other resumes.
How to write a baker resume that will land you more interviews.
Tips and examples of how to put skills and achievements on a baker resume.
How to describe your experience on a resume for a baker to get any job you want.
Want to save time and have your resume ready in 5 minutes? Try our resume builder. It's fast and easy to use. Plus, you'll get ready-made content to add with one click. See 20+ resume templates and create your resume here.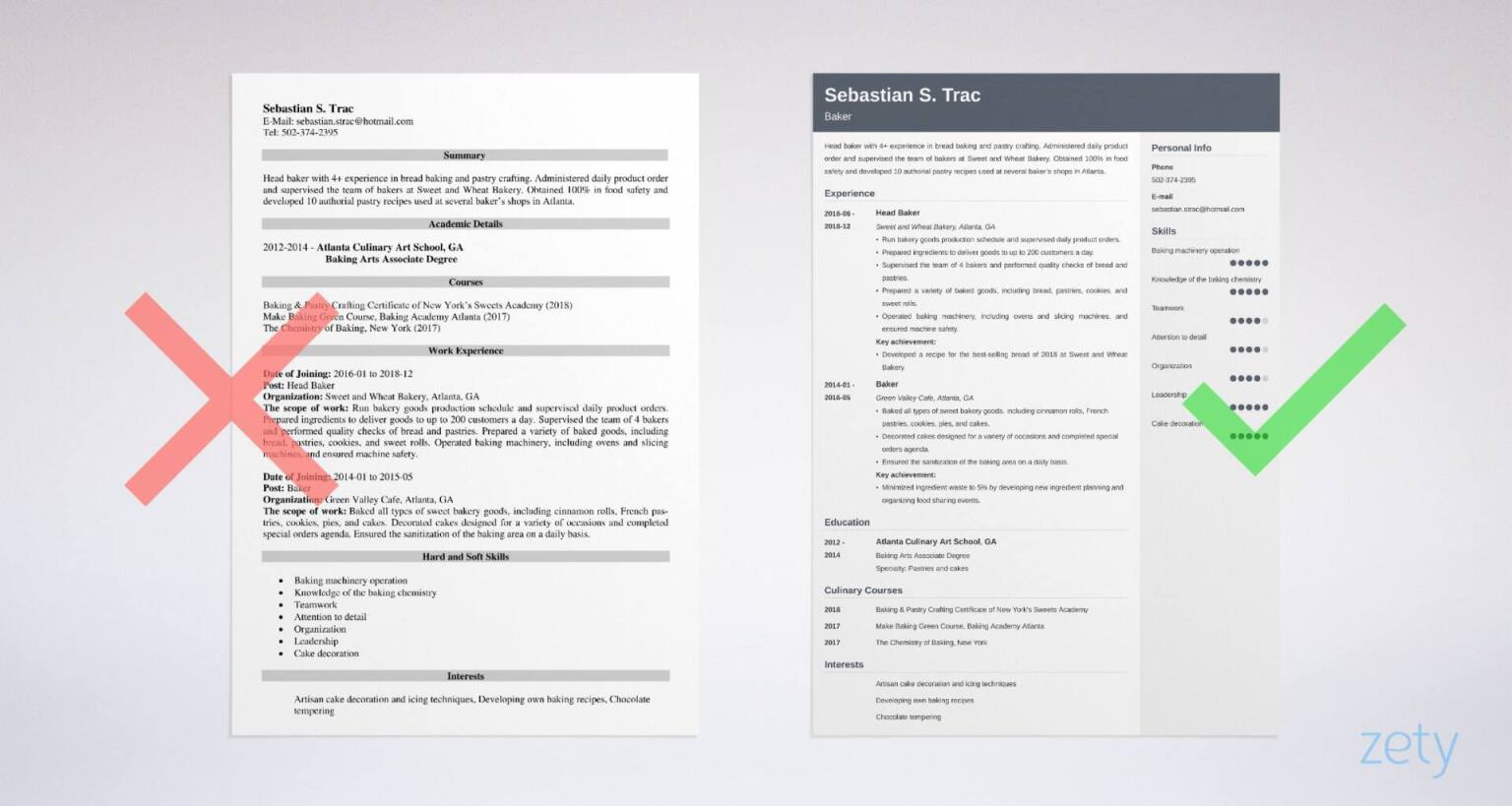 Sample resume made with our builder—See more resume samples here.
Targeting other jobs in the food industry? See our dedicated guides:
Baker Resume Sample
Sebastian S. Trac
sebastian.strac@hotmail.com
502-374-2395
Summary of Qualifications
Head baker with 4+ experience in bread baking and pastry crafting. Administered daily product order and supervised the team of bakers at Sweet and Wheat Bakery. Obtained 100% in food safety and developed 10 authorial pastry recipes used at several baker's shops in Atlanta.
Work Experience
Head Baker
Sweet and Wheat Bakery, Atlanta, GA
June 2016–Dec 2018
Run bakery goods production schedule and supervised daily product orders.
Prepared ingredients to deliver goods to up to 200 customers a day.
Supervised the team of 4 bakers and performed quality checks of bread and pastries.
Prepared a variety of baked goods, including bread, pastries, cookies, and sweet rolls.
Operated baking machinery, including ovens and slicing machines, and ensured machine safety.
Key achievement:
Developed a recipe for the best-selling bread of 2018 at Sweet and Wheat Bakery.
Baker
Green Valley Cafe, Atlanta, GA
Jan 2014-May 2016
Baked all types of sweet bakery goods, including cinnamon rolls, French pastries, cookies, pies, and cakes.
Decorated cakes designed for a variety of occasions and completed special orders agenda.
Ensured the sanitization of the baking area on a daily basis.
Key achievement:
Minimized ingredient waste to 5% by developing new ingredient planning and organizing food sharing events.
Education
Atlanta Culinary Art School, GA
Baking Arts Associate Degree
Specialty: Pastries and cakes
2012-2014
Key Skills
Baking machinery operation
Knowledge of the baking chemistry
Teamwork
Attention to detail
Organization
Leadership
Cake decoration
Culinary Courses
Baking & Pastry Crafting Certificate of New York's Sweets Academy, 2018
Make Baking Green Course, Baking Academy Atlanta, 2017
The Chemistry of Baking, New York, 2017
Interests
Artisan cake decoration and icing techniques
Developing own baking recipes
Chocolate tempering
1. Choose the Best Format for Your Baker Resume
How to strengthen the dough, develop gluten, and get the best bread flavor?
You need a special formula.
Proven formulas also work in the job search context.
Here's a tested one for a perfect resume formatting:
Pro Tip: Culinary world is also about how the food looks like. Maybe you have a blog or Instagram profile where you post the pictures of the artisan pastries, cakes, and rolls that come straight from your oven? Add a link to it in the contact info section of your resume.
2. Write a Baker Resume Summary or Objective
Choosing candidates is like sorting the wheat from the chaff—pretty monotonous.
And each resume gets only a 6-second look-see, according to our HR statistics report.
That's why you need to grab the recruiter's attention right away.
How to achieve that?
Create a catchy resume profile and put it at the top of your baking resume.
Baked a lot in a variety of places? Write a resume summary that will recap your job history and show the future employer how you can contribute to their baking business.
If you're looking for your first job at the bakery, a resume objective is a better choice. It will promote your culinary skills and familiarity with the baking equipment, and most of all show your willingness to learn.
3. Create the Perfect Baker Job Description
Job description section is the sourdough of your baking resume.
So showcase job experience examples that can contribute to your future company's needs. Think of your previous baker duties and make each piece relevant. These can be everything, from the sheer process of bread baking to managing the bakers team.
Follow these steps to cut your baking experience section to the chase:
Begin with your most recent job and follow up with the previous positions.
Name your job titles, companies, and add years of work to show the recruiter how much experience you have.
For each position list up to five bullet points that describe you relevant baking duties.
Focus on your most tasty work achievements: list some specific numbers and awards.
Pro Tip: New to the baking industry? If you're trying to craft a resume with no experience, collect all your apprenticeship and voluntary gigs and add them to your baker resume.
When making a resume in our builder, drag & drop bullet points, skills, and auto-fill the boring stuff. Spell check? Check. Start building a professional resume template here for free.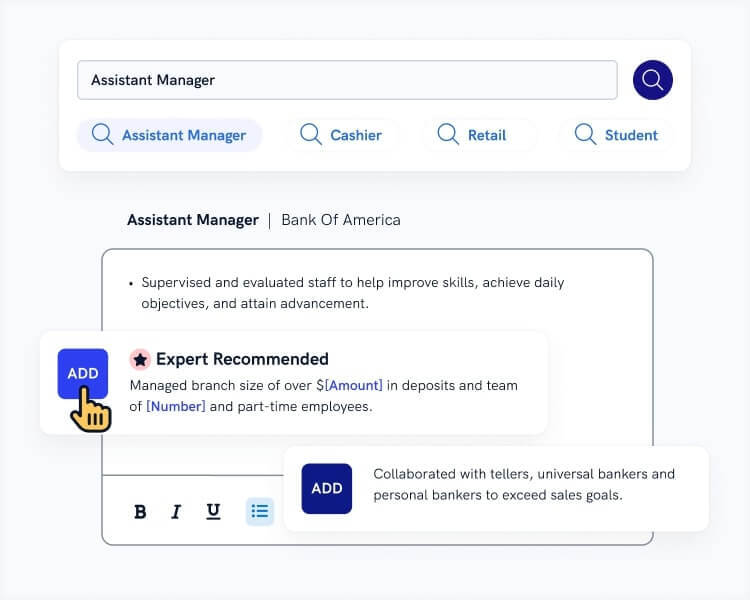 When you're done, Zety's resume builder will score your resume and our resume checker will tell you exactly how to make it better.
4. Make Your Baker Resume Education Section Sell Like Hot Cakes
No matter if you learned the tricks of the baking trade from Duff Goldman or you attended an evening baking course in your neighborhood—
The employers will surely look at the education section of your resume.
If you have years of experience in the baking business, make your education section succinct. List the institution name, location, years in school, your degree or field of expertise.
When the experience section of your baker resume is not very long, elaborate on your education. Apart from listing culinary schools, add any baking courses you took part in.
If you were individually tutored by a chef or any other baking guru, it's also worth a mention in your resume education section.
Pro Tip: You're a diligent disciple of your grandma but lack formal education in baking? Tell your story in a cover letter attached to your resume. Show the recruiters your passion. And that it's never too late to learn!
5. How to Put Your Baker Skills on a Resume
Combine technical abilities and soft skills and add a spoonful of creativity—
These three ingredients make an excellent recipe for your resume skills section.
Baker Skills for a Resume
Baking machinery operation
Maintenance of baking equipment
Use of measuring tools
Knowledge of chemical processes in baking
Attention to detail
Physically fit
Pro Tip: When you're looking for a senior job in a bakery, be prepared to meet expectations related to leadership. These require lots of interpersonal skills and communication abilities.
6. Add Other Sections to Your Baker Resume
Resumes without extra sections? They may look half-baked.
Show your future employers that you're a creative who practices the art of baking in many different ways.
And not only from 9 to 5.
Think of volunteer work that you can put on a baker resume. Run cake decorating workshops for kids or baked rolls for 100+ summer camp members?
Create a list of hobbies and interests. This will add a personal touch to your resume.
If you took part in a variety of culinary courses resulting in tasty certificates—it's a good idea for a separate resume section.
7. Attach a Cover Letter to Your Baker Resumes
A well-written cover letter works like frosting on the cake.
Follow these instructions and add a baker cover letter to your resume:
Hook the employer with a great opening line. They will want another piece of cake and they'll read on.
Use neat cover letter format. How things look like matters in the culinary world.
Everyone remembers the smell of their grandma's carrot cake. Tell your story and your future employer will think of her own culinary memory.
Finally, end your cover letter with a cherry on top. Add a "PS" with one more baking achievement.
Plus, a great cover letter that matches your resume will give you an advantage over other candidates. You can write it in our cover letter builder here. Here's what it may look like: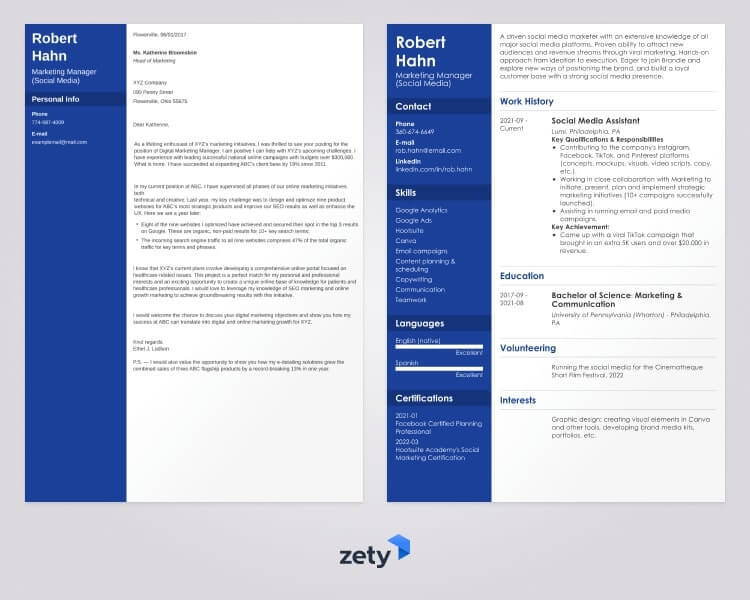 See more cover letter templates and start writing.
Now you're all set to write your resume for a baker.
And that baking job of your dreams will no longer be a pie in the sky!
Have any questions on how to write a baker resume? Need further assistance? Get at us in the comments below and we'll answer all your questions. Thank you for reading!
About Zety's Editorial Process
This article has been reviewed by our editorial team to make sure it follows Zety's editorial guidelines. We're committed to sharing our expertise and giving you trustworthy career advice tailored to your needs. High-quality content is what brings over 40 million readers to our site every year. But we don't stop there. Our team conducts original research to understand the job market better, and we pride ourselves on being quoted by top universities and prime media outlets from around the world.
Sources