Restaurant General Manager Resume Examples for 2023
You herd the cats and make the big bucks roll in. But the restaurant's owners won't hire you without skills. Prove yours with this 5-star restaurant general manager resume.
You're a restaurant general manager, you're ready to take the culinary world by storm. But before you can start whipping up success, you need a resume that'll make hiring managers salivate.
We'll be the sous chefs to help you prepare a restaurant general manager resume that's as delectable as a Michelin-starred dish. Just use the recipe below.
This guide will show you:
A general manager of a restaurant resume example better than 9 out of 10 other resumes.

How to write a restaurant general manager resume that will land you more interviews.

Tips and examples of how to put skills and achievements on a general manager of a restaurant resume.

How to describe your experience on a resume for a restaurant general manager to get any job you want.
Want to save time and have your resume ready in 5 minutes? Try our resume builder. It's fast and easy to use. Plus, you'll get ready-made content to add with one click. See 20+ resume templates and create your resume here.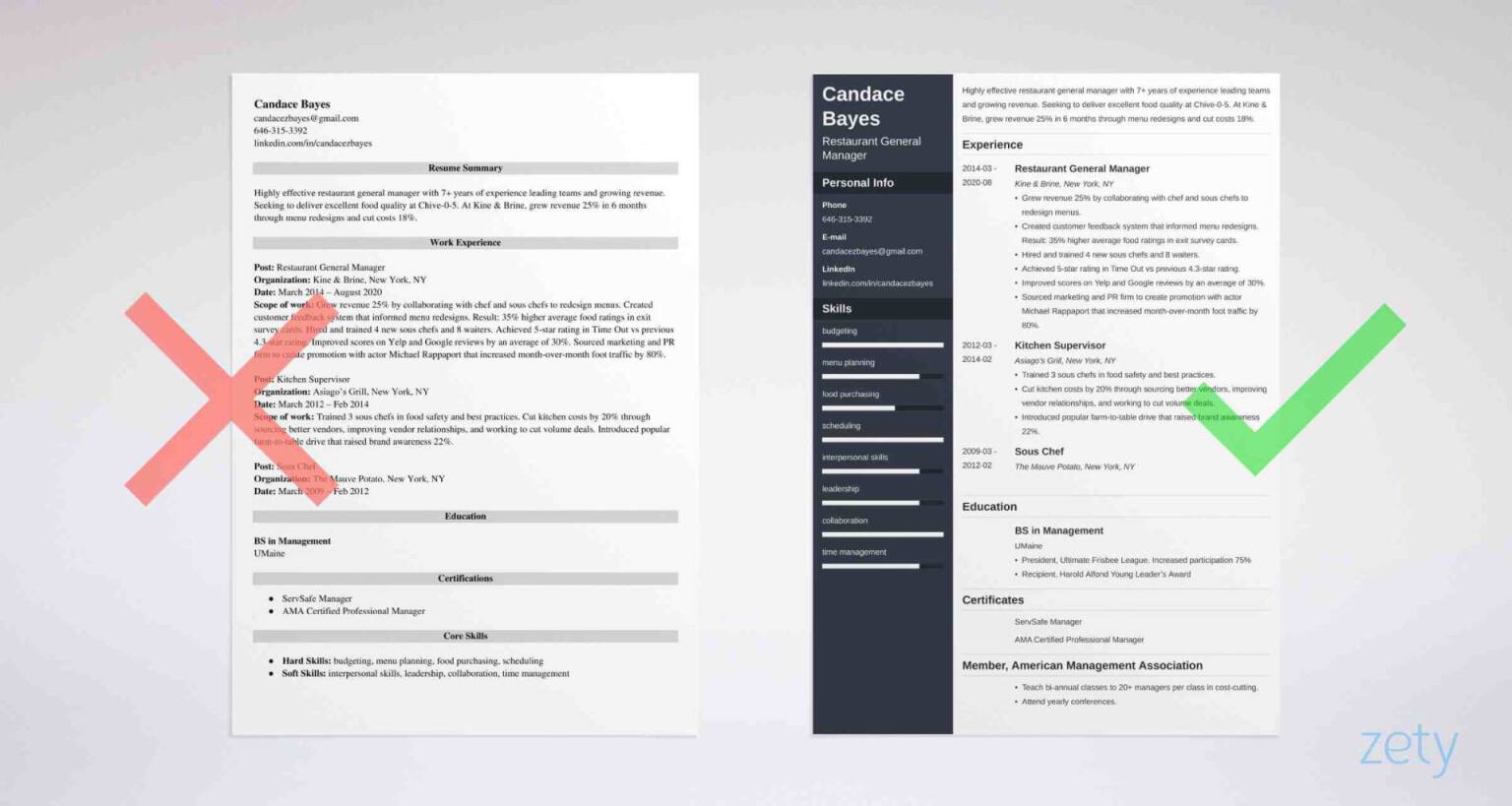 Sample resume made with our builder—See more resume examples here.
Want more food service and restaurant management resume samples? Bon appetit:
Sample Restaurant General Manager Resume Template
Candace Bayes
candacezbayes@gmail.com
646-315-3392
linkedin.com/in/candacezbayes
Resume Summary
Highly effective restaurant general manager with 7+ years of experience leading teams and growing revenue. Seeking to deliver excellent food quality at Chive-0-5. At Kine & Brine, grew revenue 25% in 6 months through menu redesigns and cut costs 18%.
Work Experience
Restaurant General Manager
Kine & Brine, New York, NY
March 2014 – August 2020
Grew revenue 25% by collaborating with chef and sous chefs to redesign menus.
Created customer feedback system that informed menu redesigns. Result: 35% higher average food ratings in exit survey cards.
Hired and trained 4 new sous chefs and 8 waiters.
Achieved 5-star rating in Time Out vs previous 4.3-star rating.
Improved scores on Yelp and Google reviews by an average of 30%.
Sourced marketing and PR firm to create promotion with actor Michael Rappaport that increased month-over-month foot traffic by 80%.
Kitchen Supervisor
Asiago's Grill, New York, NY
March 2012 – Feb 2014
Trained 3 sous chefs in food safety and best practices.
Cut kitchen costs by 20% through sourcing better vendors, improving vendor relationships, and working to cut volume deals.
Introduced popular farm-to-table drive that raised brand awareness 22%.
Sous Chef
The Mauve Potato, New York, NY
March 2009 – Feb 2012
Education
BS in Management
UMaine
President, Ultimate Frisbee League. Increased participation 75%
Recipient, Harold Alfond Young Leader's Award
Certifications
ServSafe Manager
AMA Certified Professional Manager
Core Skills
Hard Skills: budgeting, menu planning, food purchasing, scheduling
Soft Skills: interpersonal skills, leadership, collaboration, time management
Member, American Management Association
Teach bi-annual classes to 20+ managers per class in cost-cutting.
Attend yearly conferences.
Here's how to write your own mouthwatering restaurant general manager resume:
1. Format Your Restaurant General Manager Resume Correctly
An appetizing meal relies on plating, and an eye-catching resume needs the right format. Your format tells the restaurant owner, "This is a competent individual who may have what you need." The standard resume format for a restaurant general manager resume has the right margins, fonts, and resume layout.
To format your resume for restaurant general manager jobs:
Should you list references? See our guide:How to List References on a Resume [Reference Page Format]
2. Write an Introduction to Your General Manager of a Restaurant Resume
Most resumes are instant fish wrappers. They don't get read because restaurant owners have stacks of them and don't have time to carefully inspect each one. Instead, they give each one the smell test and move on. To stop them, write a quick profile up top. A profile for resumes is a 3-line elevator speech.
A good summary for a resume starts with the same job title as the ad. It shares your years of restaurant manager experience, and gives the restaurant's name. Then it shows off your greatest one or two food service accomplishments.
In a resume with no work experience, the achievements have to come from other roles. Have you been a restaurant supervisor or a manager outside the restaurant industry? Summaries in resumes for career changers are called resume objectives.
Bullet points can add power to your resume introduction. See our guide: Summary of Qualifications: 20+ Examples for Your Resume
3. Customize Your Restaurant General Manager Resume Job Description
The choicest restaurant general manager jobs go to applicants with tailored resumes. Those are resumes that make the owner say, "Wow. this one hits the spot." That means the key to knowing how to write experience in a resume is knowing what the restaurant needs.
List relevant experience on a resume like this:
The job title of your most recent job should match the title in the ad. Did they say "restaurant general manager?" Then don't say you were a "restaurant manager."
Start each past job with the restaurant name, dates, and location. You have to list your years and months.
Don't worry about job gaps shorter than 8 months. For longer gaps, add volunteering, helping a sick relative, "COVID Pandemic," or other activity.
Add bullet points stuffed with professional accomplishments. Introduce them with resume verbslike trained, hired, achieved, improved, and sourced.
Read more:Should You List Irrelevant Experience on a Resume?
4. Sweeten Your Restaurant General Manager Resume Education Section
You don't have to have cum laude on your resume to get hired. But a flavorless education section for restaurant general managers does nothing. Your goal is to interest them with every morsel of your resume. Whet their appetite for the interview with a few extras from school.
See these resume tips:
Read more: How to Put High School on a Resume
5. Prove Your Skills on a General Manager of a Restaurant Resume
Every restaurant general manager resume needs a job skills list. But—most fail because they list the wrong skills. The applicant thinks, "I'll just toss in every skill I have and they'll love it!" Nope. That's like tossing in a little of every ingredient in the kitchen and hoping it'll taste delicious.
Here's how to add relevant skills to a general manager of a restaurant resume:
You'll most likely need to pass an ATS test, and ATS resumes need the right keywords. The best keywords for resumes come from the job ad.
Write down all the skills they're seeking. Add the ones you have to your resume skills list.
Stick to 10 skills or less in your list.
Go back to your experience and education sections. In your bullet points, make sure your restaurant achievements show those skills in action.
Restaurant General Manager Resume Skills
Budgeting
Scheduling
Menu planning
Food purchasing
Event planning
Health & safety
Food safety
Bar management
Restaurant operations
Catering
Waitstaff management
Kitchen operation
Hiring
Training
French cuisine
Italian cuisine
Fast food
Seafood
Fine dining
Vegan
Table d'hôte
Farm to table
Beer, wine, and liquor
Haute cuisine
Nouvelle cuisine
Fusion cuisine
Attention to detail
Adaptability
Read more: Hard Skills vs Soft Skills: What's the Difference?
When making a resume in our builder, drag & drop bullet points, skills, and auto-fill the boring stuff. Spell check? Check. Start building a professional resume template here for free.
When you're done, our easy resume builder will score your resume and our resume checker will tell you exactly how to make it better.
6. Garnish Your Restaurant General Manager Resume
"Is this the right restaurant manager for us? She looks accomplished—but will she amaze us?" Amaze them with resume extras that show you're Bobby Flay in disguise. You can do that by adding just a few extra lines to your resume for restaurant general manager jobs.
Add sections like:
Read more:What Are All the Sections of a Resume?
7. Write a Cover Letter for Your Restaurant General Manager Resume
"Should I submit a cover letter?" You had better. I know lots of people say cover letters are dead, but that's wishful thinking. Especially today, restaurant general manager cover letters matter. With so many digital applications, letters are the only way the owner knows you're not spamming her.
Here's how to write a resume cover sheet:
Read more: What to Include in a Cover Letter & What Goes Where
Plus, a great cover letter that matches your resume will give you an advantage over other candidates. You can write it in our cover letter builder here. Here's what it may look like: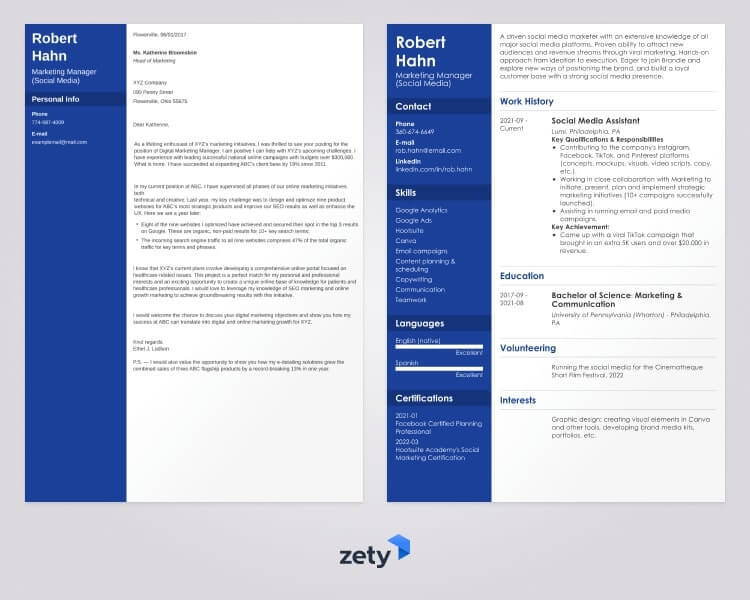 See more cover letter templates and start writing.
That's it!
That's everything you need to write a tantalizing restaurant general manager resume.
Thanks for reading! Still undecided on how to write a Rachel Ray-worthy restaurant general manager resume? Give us a shout in the comments section!
About Zety's Editorial Process
This article has been reviewed by our editorial team to make sure it follows Zety's editorial guidelines. We're committed to sharing our expertise and giving you trustworthy career advice tailored to your needs. High-quality content is what brings over 40 million readers to our site every year. But we don't stop there. Our team conducts original research to understand the job market better, and we pride ourselves on being quoted by top universities and prime media outlets from around the world.