Our customers have been hired by:
You're chasing for payment and cashing it in. You're screaming "show me the money!" as you effortlessly receive cash into the business.
But you don't just want to be cashing in payments at work. You want to receive a decent paycheck yourself.
To do that you'll need a first-class accounts receivable resume, just like the one below.
Want to save time and have your resume ready in 5 minutes? Try our resume builder. It's fast and easy to use. Plus, you'll get ready-made content to add with one click. See 20+ resume templates and create your resume here.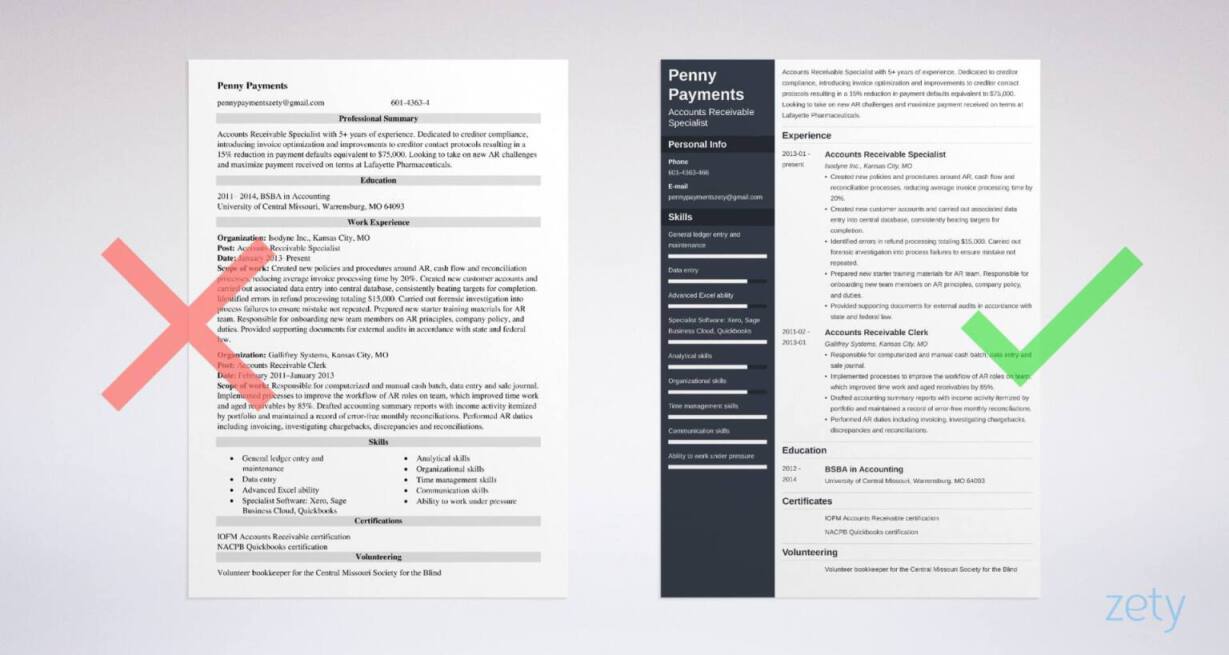 Sample resume made with our builder—See more resume samples here.
Considering similar jobs in your industry? See these related resume guides.
Sample Accounts Receivable Resume Template
Penny Payments
pennypaymentszety@gmail.com
601-4363-466
Professional Summary
Accounts Receivable Specialist with 5+ years of experience. Dedicated to creditor compliance, introducing invoice optimization and improvements to creditor contact protocols resulting in a 15% reduction in payment defaults equivalent to $75,000. Looking to take on new AR challenges and maximize payment received on terms at Lafayette Pharmaceuticals.
Work Experience
Isodyne Inc., Kansas City, MO
Accounts Receivable Specialist
January 2013–Present
Created new policies and procedures around AR, cash flow and reconciliation processes, reducing average invoice processing time by 20%.
Created new customer accounts and carried out associated data entry into central database, consistently beating targets for completion.
Identified errors in refund processing totaling $15,000. Carried out forensic investigation into process failures to ensure mistake not repeated.
Prepared new starter training materials for AR team. Responsible for onboarding new team members on AR principles, company policy, and duties.
Provided supporting documents for external audits in accordance with state and federal law.
Gallifrey Systems, Kansas City, MO
Accounts Receivable Clerk
February 2011–January 2013
Responsible for computerized and manual cash batch, data entry and sale journal.
Implemented processes to improve the workflow of AR roles on team, which improved time work and aged receivables by 85%.
Drafted accounting summary reports with income activity itemized by portfolio and maintained a record of error-free monthly reconciliations.
Performed AR duties including invoicing, investigating chargebacks, discrepancies and reconciliations.
Education
2011– 2014, BSBA in Accounting
University of Central Missouri, Warrensburg, MO 64093
Skills
General ledger entry and maintenance
Data entry
Advanced Excel ability
Specialist Software: Xero, Sage Business Cloud, Quickbooks
Analytical skills
Organizational skills
Time management skills
Communication skills
Ability to work under pressure
Certifications
IOFM Accounts Receivable certification
NACPB Quickbooks certification
Volunteering
Volunteer bookkeeper for the Central Missouri Society for the Blind
Now sit back and enjoy. This is a formula for a job-winning accounts receivable resume that's more useful than VLOOKUP.
1. Use the Best Format for Your Accounts Receivable Resume
Accounts receivable specialists are responsible for receiving cash into a business. Your accounts receivable specialist resume needs to show you can do that by issuing invoices, dealing with invoicing related correspondence, answering clients' billing queries, and initiating collections on accounts that are past due.
There's a lot of work that goes into being a good AR professional.
But you've only got 7 seconds to grab a recruiter's attention. To make the most of their eye time on your accounts receivable resume you need to follow these rules.
One more thing, how many pages for a resume? One page is always best but if you've got plenty of experience, then go ahead and stretch to two. No more.
2. Write Your Accounts Receivable Resume Objective or Summary
Your resume summary or resume objective are two different types of resume profile.
A professional summary sits at the top of your resume and forms a short 3–4 sentence paragraph that advertises you as the best candidate for the job. It's what your colleagues in sales would call an elevator pitch.
Got two or more years experience? Then use an accounts receivable resume career summary.
First, sit down and create a complete list of all of your strengths, experience, skills and achievements.
Then look at the job description in the ad you're targeting your resume to and match up 3–4 of the points in your list to use in your summary.
Just finished education or switching careers to the world of balance sheets and payment terms? Then a career objective is the profile for you.
Highlight the relevant knowledge and skills you already have and how well you'd fit this job.
Frame this with measurable achievements and transferable skills from previous experience. This can be education, professional experience, even hobbies and volunteering.
Next, let's check the balance sheet on your work experience section.
When making a resume in our builder, drag & drop bullet points, skills, and auto-fill the boring stuff. Spell check? Check. Start building a professional resume template here for free.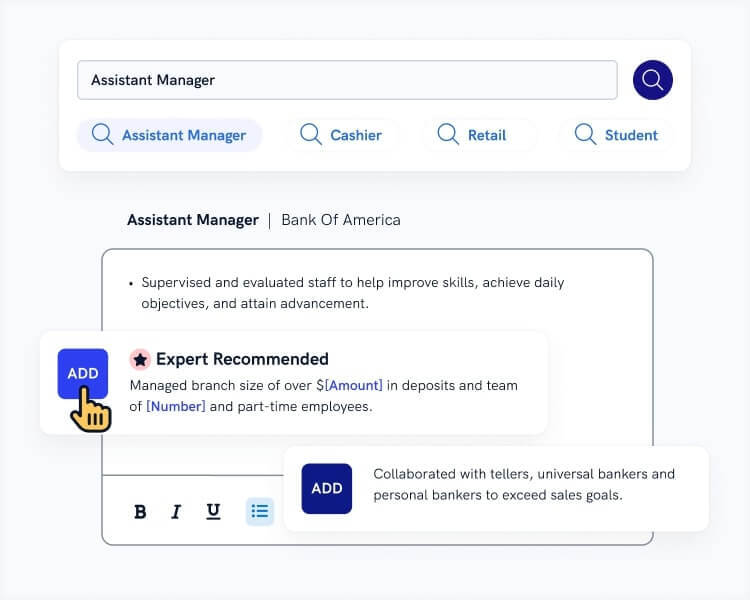 When you're done, Zety's resume builder will score your resume and our resume checker will tell you exactly how to make it better.
3. Craft a Powerful Accounts Receivable Job Description
Your resume experience section has to collect payment pronto.
Use chronological format. Your most recent job comes first, then go back in time, in order from there.
For each position include: job title, company name, dates of employment (use "present" as the end date if currently employed there), and up to six job description bullet points.
Use the most bullet points for your most recent experience. Be briefer for older jobs and stick to relevant achievements only.
How far back should a resume go? 10–15 years is a good rule of thumb.
Start every bullet point with a resume action word for maximum impact.
Don't just write a laundry list of duties, that's a snoozefest. Get the hiring manager excited with quantified and measurable professional achievements.
Match your experience to the job description to ensure a targeted resume. In fact, keep targeting in mind throughout.
What if you're writing an entry-level resume with no experience? No problem. Use the experience you do have and make it relevant to what you're applying to.
Summer work, volunteering, bookkeeping for friends and family. That's all real experience you can leverage for an entry-level accounts receivable clerk resume.
Pro Tip: Can't come up with relevant experience? Go get some. Try out freelancing sites like Upwork and Fiverr and offer your skills. There's plenty of demand for bookkeeping and accounts work.
4. Make a Best in Class Accounts Receivable Education Section
Working in AR demands a good head for numbers, analytical skills, the ability to accurately follow set processes, plus knowledge of financial and tax regulations. To make the most of those skills you need a formal education so here's how to make yours shine.
More than five years of work experience? All you need to do is list it. Just your college name, years attended, and degree with major and minors. Just got a high school education? All you need is the name of the school, its location and the year you graduated.
Less than five years on the job? Use your resume education section to highlight key wins from your school days. Just like with your experience section, make a list of relevant educational achievements and include 4–6 that match the job description.
Put this section before your work experience if you're writing a recent college graduate resume. At this stage of your career it has more firepower, so it should be the first section the hiring manager sees.
How about putting your GPA on your resume? That's essential right? Not exactly. Only include it if it's 3.5 or higher and you graduated less than 2–3 years ago.
Read more: High School on a Resume and Degree on a Resume
Your accounts receivable resume is shaping up nicely. Let's add some skills.
5. Showcase Your Accounts Receivable Skills
No, not your photographic memory for the bios of minor Star Wars characters. I mean relevant accounts receivable skills for your resume.
Here's how you credit the ledger for your skills section.
Brainstorming time again. Write a list of your job skills. Include soft skills and hard skills, technical skills. Anything that's relevant.
Then choose the skills that match the job description and include them. Also, make sure you incorporate them into your experience and education sections. That gives evidence to back up your claims.
Pro Tip: Accounting software skills are a guaranteed win for your accounts receivable resume. If you're new to the job, no problem. Power up your skills section with some online training. Check out Udemy and Coursera for a start.
Accounts Receivable Resume Skills Examples
Bookkeeping
Quickbooks
Xero
Sage Business Cloud
Ability to work under pressure
Read more: Soft Skills for a Resume and Hard Skills for a Resume
Plus, a great cover letter that matches your resume will give you an advantage over other candidates. You can write it in our cover letter builder here. Here's what it may look like: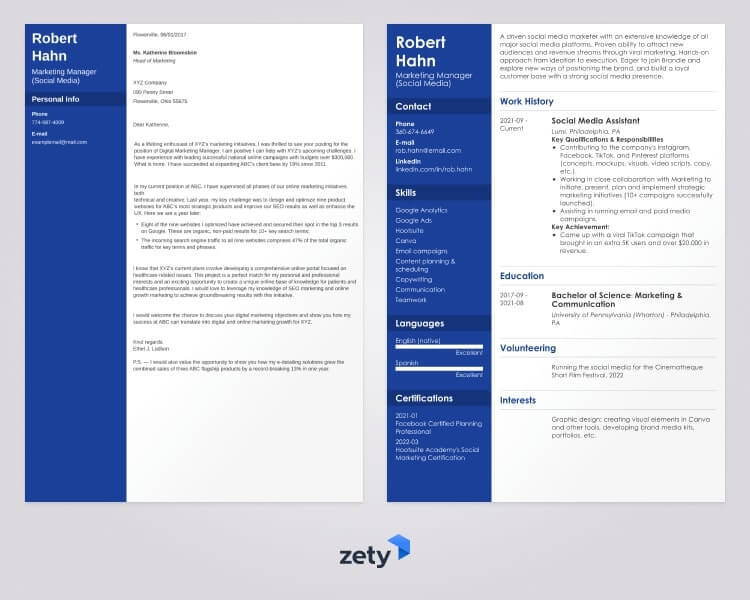 See more cover letter templates and start writing.
6. Add Extra Sections To Your Accounts Receivable Resume
We're not done yet. You could say the debtor has promised payment, but it still hasn't hit our bank account. Let's finalize that incoming with some extra resume sections.
It's simple, just include additional sections that make you an even more attractive candidate.
7. Include a Cover Letter with Your Accounts Receivable Resume
Just how important is a cover letter these days anyway? Let's just say reports of its death have been greatly exaggerated.
Almost half of recruiters will reject your application if you don't include a cover letter for a job. You wouldn't willingly halve your chances of success would you?
That said, don't just throw a cover letter together and cross your fingers. Do it right like this.
Lastly, don't just send your application and wait for the phone to ring. Send a follow-up email after your job application to boost your chances of success.
And that's it, payment received in full—
Your complete formula for a flawless accounts receivable resume.
Plus, a great cover letter that matches your resume will give you an advantage over other candidates. You can write it in our cover letter builder here. Here's what it may look like: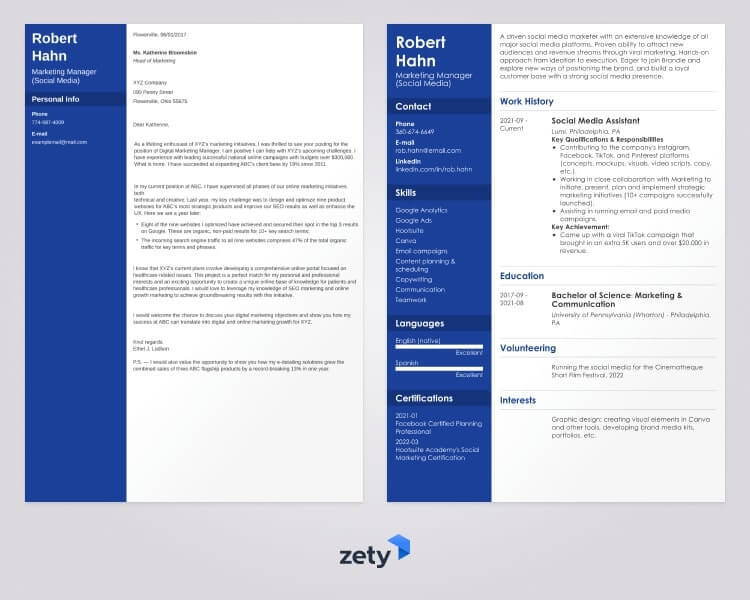 See more cover letter templates and start writing.
Did we miss anything? Have you got advice on writing a great accounts receivable resume? Ask away in the comments section and thanks for reading.
About Zety's Editorial Process
This article has been reviewed by our editorial team to make sure it follows Zety's editorial guidelines. We're committed to sharing our expertise and giving you trustworthy career advice tailored to your needs. High-quality content is what brings over 40 million readers to our site every year. But we don't stop there. Our team conducts original research to understand the job market better, and we pride ourselves on being quoted by top universities and prime media outlets from around the world.
Sources