Staff Accountant Resume: Sample and Complete Guide [20+ Tips]
You could crunch the numbers for Las Vegas. But they won't know that if they don't interview you. Use this sample staff accountant resume to stand out like Olivia Kirtley.
Sample Staff Accountant Resume Template
Alice Monroe
alice.monroe@email.us
524-303-1336
Professional Summary
Detail-oriented staff accountant with 5 years of experience, skilled in financial statements and account reconciliation. Seeking position at ARF&H Healthcare. At Point Life Health, identified ways to lower variable costs by 17% and saved $1.1M annually. Spotted and fixed a recurring accounting error that saved another $600,000.
Work Experience
Staff Accountant
Point Life Health
May 2014–March 2019
Provided accounting and financial analysis during the preparation of financial statements. Performed work 100% error-free thanks to rigorous self-checking.
Completed month-end close duties and reconciled balance sheet accounts. Found and fixed a recurring mistake, saving $1.1M per year.
Worked with cross-functional teams to synchronize month-end record-keeping. Used automation to cut 3 hours a week of meeting time for 10 employees.
Tasked with conducting deep account analysis. Found ways to cut variable costs 17%.
Trained 2 new staff accountants in company best practices.
Education
2008–2012 North Carolina State University
Associate's Degree in Business Accounting
3.7 GPA
Worked on a project to automate accounting process for a local florist shop. Cut time needed for bookkeeping by 45%.
Skills
Soft skills:

Collaboration, communication. Critical thinking, detail-oriented

Hard skills:

financial statements, IT, asset management, account analysis
Activities
Volunteer 4x per month to transport homeless animals to rescue.
Lead weekly cycling group. Increased attendance 200%.
Want to save time and have your resume ready in 5 minutes? Try our resume builder. It's fast and easy to use. Plus, you'll get tips and right vs. wrong examples while writing your resume. See +20 resume templates and create your resume here.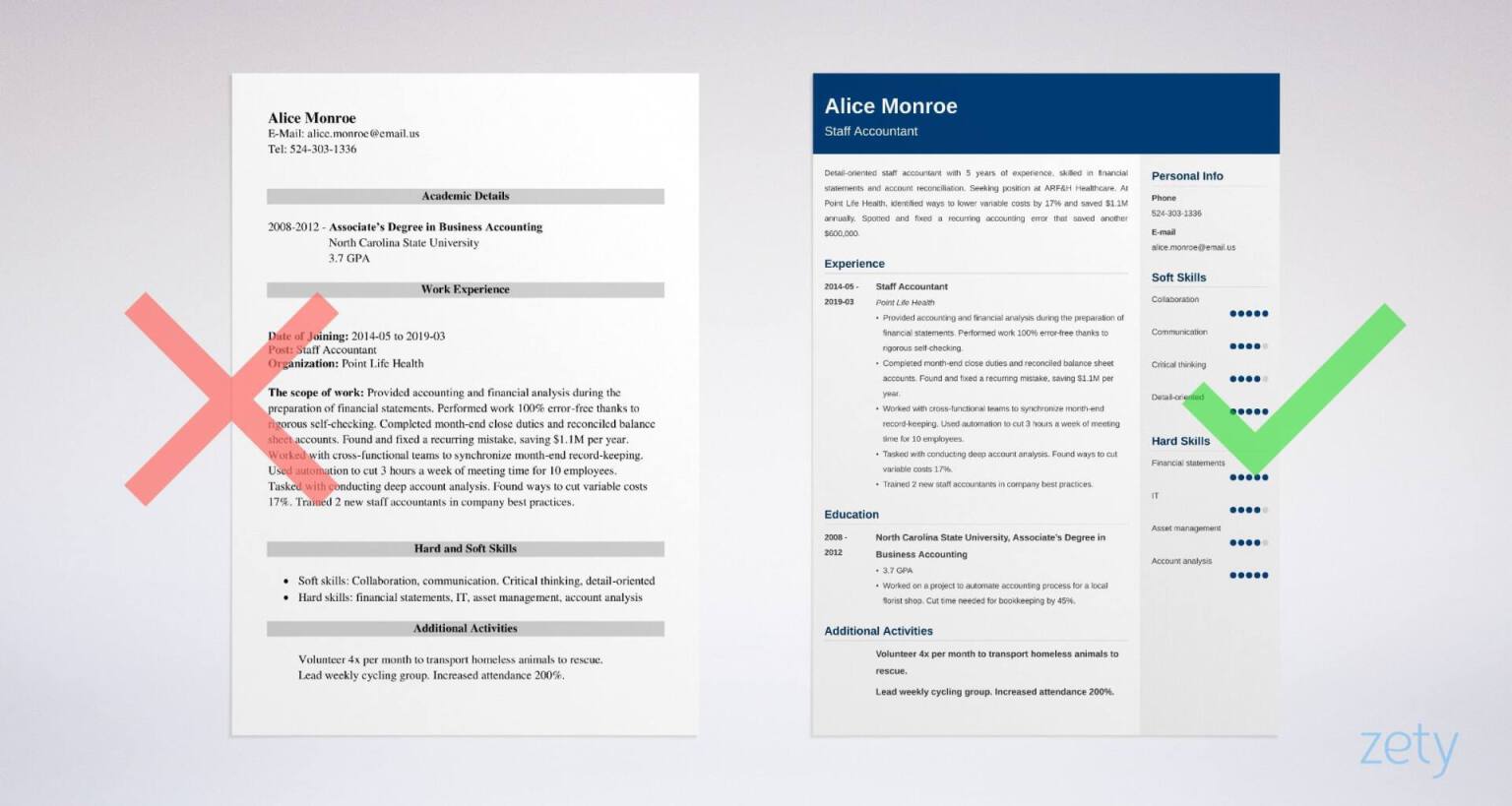 Staff Accountant Resume Example - See more templates and create your resume here.
Do you need a staff accountant resume or something different? See these guides:
Here's how to write an interview-collecting staff accounting resume:
1. Choose the Best Format for Your Staff Accountant Resume
Your staff accountant resume should prove you're all about the details. Do it like this:
Pro Tip: How long should a resume be for an accounting job? Stick to a single page. Anything longer means you're basically Arthur Blank.
2. Write a Staff Accountant Resume Objective or Resume Summary
You've got so little time. You need to stand out fast.
Do it with a resume profile.
Got 2+ years of experience? Write a professional summary. That's 3–4 sentences with a few great staff accountant achievements.
Just starting out? Write a professional objective. Zero in on your skills, but if you've got eye-popping achievements, add them.
Pro Tip: Write your staff accountant resume profile last. That way you'll get your best accomplishments on paper. Then all you have to do is summarize them.
3. Create the Perfect Staff Accountant Job Description for Your Resume
What's the best way to get the interview?
Convince them you can do the job, of course. But how?
By linking your staff accountant resume work experience section to the job ad.
List your most recent position first.
Add a professional job title, company name, and dates of employment.
Add 3–5 bullet points that show skills, duties, and achievements.
Those achievements are key. Pick ones that prove you've got the job skills. That's called tailoring a resume.
Add numbers to accomplishments like dollars, hours, or percents improved.
Engage the hiring manager with action words.
Pro Tip: Not sure what skills the job needs most? Do an informational interview with somebody who works there. Selling yourself is easier if you know the company's challenges.
4. Write a Smart Staff Accountant Resume Education Section
Don't just list your degree and GPA.
Use it to convince them to interview you.
How?
Yep—by adding more accomplishments:
Include school achievements that show staff accountant skills.
Got a professional certification? Add a subsection for that.
Show your GPA if you just graduated or if it was scorchingly high.
Pro Tip: Are you writing an entry-level staff accountant resume with no experience? Make your education section longer and break it into projects and other impressive things you did.
5. Highlight Your Staff Accountant Skills
Use this staff accountant resume skills list to build your resume:
Staff Accountant Resume Skills
Hard Skills:
Financial statements
Collections
Asset management
IT
Payroll
Payroll taxes
Regulatory filings
Account analysis
MS Office
Account reconciliation
State tax law
Budgets
P&L
Soft Skills:
Collaboration
MS Excel
Attention to detail
Business knowledge
Organization
But don't just slap those professional skills into your staff accountant resume. Focus on the ones the job ad targets.
That means:
Read the job ad. Highlight the skills in it.
Use a mix of hard skills & soft skills.
Prove each skill with an accounting achievement.
Pro Tip: If your experience is kind of balancing-a-checkbook-level, don't panic. Pick transferable skills from the list above. Then prove them with accomplishments from non-accountant jobs.
Our resume builder (you can create your resume here) will give you tips and examples on how to write your resume summary or any other section. You can easily copy them straight into your resume - it will save you a ton of time.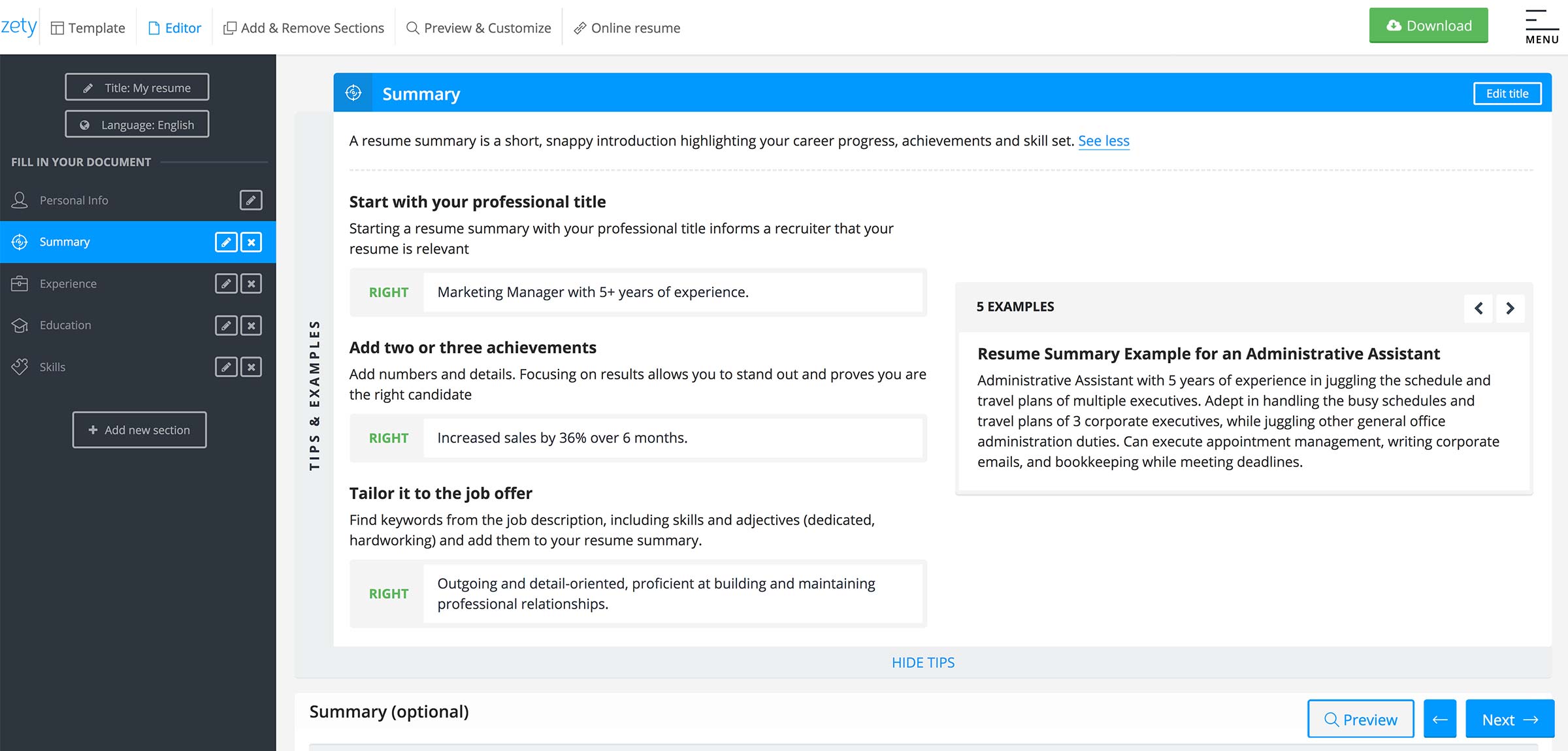 Inside Zety's resume builder you will find tips and examples for your resume.
6. Add Other Sections to Your Staff Accountant Resume
Here's a secret:
The more accomplishments you cram into your resume to prove skills—
The more enticing your resume gets.
So, add more sections to add more impressive facts.
Add sections for:
Activities
Professional associations
7. Attach a Cover Letter to Your Staff Accountant Resume
You do.
But it can't be generic. It has to make them notice you.
These tips will get you reconciled:
Pro Tip: Don't forget to follow up on your job application and your staff accountant resume. An email or call in a few days can make all the difference.
That's it!
That's how to write a resume for staff accountant positions.
Got more questions about how to write a professional staff accountant resume? Got some tips for newbies? Give us a shout in the comments. We'd love to talk!