Our customers have been hired by:
Meet Jim. He runs a successful company that's making money faster than he can count it. He wants you to count it for him.
The trouble? His laptop is crammed with 300+ bookkeeper resumes. He doesn't know who you are or whether you can tell a bad debt from a balance sheet. If your bookkeeping resume is generic and uninteresting, Jim's eyes will slide off it like Scrooge McDuck off of a giant pile of coins. Let's not let it happen.
This guide will show you:
A bookkeeper resume example better than 9 out of 10 other resumes.
How to write a bookkeeper resume that gets a lot more interviews.
Tips and examples of how to put skills and achievements on a bookkeeping resume.
How to describe your experience on a resume for a bookkeeper to get any job you want.
Want to save time and have your resume ready in 5 minutes? Try our resume builder. It's fast and easy to use. Plus, you'll get ready-made content to add with one click. See 20+ resume templates and create your resume here.
Sample resume made with our builder—See more resume examples here.
See more resume examples for similar jobs:
Bookkeeper Resume Example
Matt Peterson
Bookkeeper
(832) 830-3600
matt.peterson@email.com
linkedin.com/in/matt.peterson
Summary
Resourceful Bookkeeper with 5+ years of experience managing day-to-day bookkeeping operations and improving financial stability for a variety of clients. Motivated to bring expediency and accuracy to Zenith Solutions while ensuring compliance with industry standards. Boosted the profits of Luminary Industries by 10% by efficiently implementing automated invoicing processes, which resulted in an average weekly time-saving of 2 hours.
Experience
Bookkeeper
Luminary Industries, Houston, TX
March 2018–Present
Manage all day-to-day bookkeeping operations, including accounts payable and receivable, invoicing, journal entries, bank reconciliations, and payroll processing.
Review monthly financial statements for accuracy in the general ledger system and ensure compliance with GAAP principles.
Evaluate purchase orders and coordinate with vendors on outstanding payments to ensure timely delivery of goods and services.
Develop internal budgeting processes and maintain records of all financial transactions according to company policies and procedures.
Key Achievement:​
Increased company's net profits by 10% after successfully implementing automated invoicing processes that saved 2 hours per week on average.
Bookkeeper
NovaTech Innovations, Austin, TX
July 2016–February 2018
Assisted in the preparation of financial statements such as income statements, balance sheets, cash flow statements, etc.,
Utilizing QuickBooks software for data entry purposes.
Reconciled credit card expenditures against approved projects & budget lines periodically.
Prepared monthly budget vs. actual reports for comparison & analysis purposes.
Performed weekly reconciliations & resolved discrepancies between various bank accounts.
Researched payment issues & reconciled them appropriately within established timelines.
Key Achievement:
Achieved 100% accuracy on payroll reconciliations each month by leveraging effective data entry techniques to minimize errors in receipt counts or inputting wrong figures into the system.
Education
Bachelor of Science in Accounting
University of Texas at Austin, TX
August 2012–May 2016
Member of the Beta Alpha Psi Honor Society (2015–2016)
Awarded Dean's List honors for three consecutive semesters (2014–2016)
Skills
QuickBooks
Accounts Receivable/Payable
Bank Reconciliations
Financial Analysis
GAAP Principles
Budgeting & Forecasting
Microsoft Office Suite.
Certifications
Certified Public Bookkeeper (CPB), American Institute of Professional Bookkeepers (AIPB), 2017
Awards
Named "Employee Of The Year" at NovaTech Innovations in 2018
Memberships
Member of the Houston Bookkeepers Association since 2019
Languages
English—Native
Spanish—Advanced
Interests
Creating spreadsheets and financial models to analyze data
Cooking
Travel blogging
1
What's the Best Format for a Bookkeeper Resume?
Here's a nightmare worse than bankruptcy proceedings:
You crammed all your best achievements into a great bookkeeper's resume. You sent it off to that dream job with the on-site gym and flexible hours.
Then you sat and waited while your phone refused to ring.
What went wrong?
It wasn't your experience or skills.
You picked a bad bookkeeping resume format. It hid your shining qualities like diamonds in a lump of ore.
You need to grab that manager's attention like a $100 bill left on the sidewalk.
Use a trusted layout like the reverse-chronological format. It puts your best assets up front.
Use clear fonts, big headings, and white space for contrast.
Finally, save it as a PDF. Bookkeeper resume PDFs preserve their formatting between machines. MS word format resumes can devalue in transit.
Pro Tip: Most modern PDFs are electronically readable, but some job offers still prohibit them. Check if the offer rejects bookkeeping resume PDFs.
You can make sure your resume will hook every recruiter and get you that interview. How? Get our free checklist and learn what makes a job-winning resume: 46 Things You Need To Do Before You Send Your Resume
Want to audit our format suggestion for bookkeeper's resumes? See this guide: "3 Resume Formats: How to Choose the Best One [Examples]"
2
How to Write a
Bookkeeper Resume Summary or Resume Objective
Remember Jim? The guy with the successful widget company?
He hates bookkeeper resumes.
That's good news for you.
Wait. What?
The more those other resumes annoy Jim, the less attention he will pay them.
That means your resume will hook him like a 10-figure bottom line. How?
With a well-written resume objective or resume summary.
A resume summary shows a snapshot of your experience. It's for bookkeepers with spreadsheets-full.
A resume objective is for those who have none. It sells based on energy and passion.
Check out these two bookkeeper resume samples to see what I mean.
Bookkeeper Resume Samples – Resume Summaries
wrong
Bookkeeper with 6 years experience. Skilled in A/R, A/P, payroll, MS Office, Quickbooks, balance sheets, and general ledger.
That's not exactly the 1929 stock market crash. But stacked up against the others, it'll blend in like one bean in a million.
You need to stand out like the Hope Diamond. That's easy with a few eye-catching details.
right
Self-motivated, full charge AIPB Certified Bookkeeper with 7+ years' experience. Seeking to deliver bookkeeping excellence to Sumescent, Inc. Saved $4,000/yr at Coraveo by fixing a recurring tax filing error. Installed Quickbooks to cut record-keeping time 35%. At Sysill, cut reporting cost 25%.
Pow. Money, right? The details catch the eye. Jim the hiring manager just let out a sigh of gratitude. His long search is finally over.
Don't have that kind of experience, you say? You're writing an entry-level bookkeeper resume, you say?
Fear not. See if you can reconcile our next two bookkeeping resume samples.
How to Write a Resume Objective for an Entry-Level Bookkeeper
Even with no experience, your bookkeeping assistant resume doesn't have to look like an empty credits column.
First, avoid the generic, cooked-cabbage-style resume objective.
wrong
Bookkeeper with skills in Quickbooks, MS Excel, MS PowerPoint, MS Outlook, payroll accounting, accounts receivable, accounts payable. Very enthusiastic and ready to start.
Not awful, but our intrepid hiring manager won't choose it from 300+ bookkeeping resumes.
He wants details, and proof.
right
Bookkeeper with experience in weekly payroll accounting and accounts payable at a small company. Assisted in setting up payroll and accounts for a startup. Consulted on tax deductions for a book on small business concerns.
Not exactly ready to do A/R for the Koch Brothers, but miles better than a total noob.
But wait. Didn't we just say a resume objective is for entry-level bookkeepers? You know, people with no experience at all?
It's true that entry-level means no work experience. But look again. That bookkeeper hasn't held a bookkeeping job yet.
Want to see her secret? It's in the next section on resume experience.
Pro Tip: Make your professional bookkeeper resume objective or resume summary short and tantalizing. The hiring manager should think, "Wow, I've got to read more."
Need deeper instruction? Check out the great bookkeeper resume template at the top of this post. Also, see our guides: How To Write A Resume Summary: 21 Best Examples You Will See AND +20 Resume Objective Examples - Use Them on Your Resume (Tips)
3
How to Describe Your Bookkeeper Experience
Picture two doors.
If you step through the first, you'll get a bookkeeping resume that shows all your work experience. It'll wow the hiring manager, but he'll never read it, because it's too long.
Take the other, and your bookkeeper resume will be short and engaging, but it won't show your experience. Either way you won't get the job.
What can you do?
Take door #3.
That's where your resume is short, fun to read, and lists only the experience the manager wants.
Here's how:
First, read the bookkeeping job description carefully. Highlight the qualities they mention.
Next, think about past jobs. Did you demonstrate those qualities? List the proof in your resume bullet points.
Let's try it with two full charge bookkeeper resume job description samples:
Bookkeeper Job Description for a Resume Examples
The job offer wants a full charge bookkeeper who can handle error detection, communication with upper management, and Quickbooks implementation.
right
Full Charge Bookkeeper
Coraveo, Inc.
2012 - 2017
Performed all bookkeeping tasks for mid-sized software development firm. Handled payroll, monthly financial statements, taxes, and A/R, A/P.
Found a recurring error in tax filing procedures. Saved $4,000/year forever.
Implemented Quickbooks system to cut record-keeping time 35%.
Communicated with upper management to install new A/R system that resulted in 25% less phone time.
Bullseye. This is no bean counter. This applicant could reconcile the national debt.
Now let's strip out the details to get a more typical bookkeeping resume job description.
wrong
Full Charge Bookkeeper
Coraveo, Inc.
2012 - 2017
Performed all bookkeeper duties in a mid-sized software development firm.
In charge of all payroll accounting.
Responsible for accounts receivable.
Handled accounts payable, including all billing.
In charge of sending out bi-monthly payroll checks.
Oh-oh. How did Kevin from The Office slip his resume into the pile?
Next, what if your experience ledger still hasn't been inked?
How to Write a Bookkeeper Resume with no Experience
Nobody wants to hire a bookkeeper with no experience.
The good news? That's not you, and I can prove it.
First, look in your non-bookkeeping jobs for relevant experience.
Next, spend a day or three volunteering or taking temp work.
Then build a resume like this:
right
Freelance Bookkeeper
February 2017 - October 2017
As receptionist at Interescent, assisted with regular payroll accounting. Helped with A/P transactions. Also used MS Excel to track billing events.
Facilitated setting up accounts and payroll for a new 2-person business.
Consulted for book on tax deductions for entrepreneurs.
Pow. Hired. This candidate could be doing Mark Zuckerberg's books in a few years. But all it took was a couple days of side work and a hard look at her past.
It's worth thousands more than the next of our entry-level bookkeeper resume samples.
wrong
Bookkeeper Experience: No work experience yet, but I'm studying accounting on my own.
Other Experience
Eww, right? You wouldn't let that guy count Monopoly money. But all that bookkeeper resume lacks is a little head-scratching to make it shine.
Pro Tip: Experience is key on a resume for a bookkeeper. If you don't have it, take some accounting classes in person or online. Even free online tutorials can help.
When making a resume in our builder, drag & drop bullet points, skills, and auto-fill the boring stuff. Spell check? Check. Start building a professional resume template here for free.
When you're done, Zety's resume builder will score your resume and our resume checker will tell you exactly how to make it better.
Want to give your bookkeeping resume experience section a high opening balance? See this guide: "How to Put Achievements on a Resume - Complete Guide (+30 Examples)"
4
Is Your Education Section Running at a Loss? It Might Be
If you've got experience, education doesn't matter.
That's true, but you're doing it wrong.
Your education is another chance to show your worth. If you discount it, it's like having a gold brick, then just using it as a paperweight.
Of course you'll add:
School Name and Location.
Years in School.
Degree.
But the real payoff is in the bullet points.
Read the job offer. See what they're looking for. Then brainstorm achievements that fit.
Two Bookkeeper Resume Examples
Let's say the job offer wants attention to detail and solid math skills.
Which of these bookkeeping resume samples works best?
wrong
Barlow High School
2006 - 2010
Why bother, right? The hiring manager just shrugged.
But try this:
right
Barlow High School
2006 - 2010
Excelled at mathematics coursework.
Commended by four teachers for attention to detail.
Passed high school typing with 99% average.
You can take that one to the bank.
The real beauty is, anyone can do it. It just takes a little thought.
Of course, additional accounting education helps. Any of the following look great on an entry-level or full charge bookkeeper resume:
Bachelor's Degree
Associate's Degree
Certification from the NACPB or AIPB
Accounting 1 and 2
Online classes in Accounting at AccountingCoach.com
Online Quickbooks Classes
Other Online Accounting or Software Tutorials
Even a high school student can take accounting 1 and 2 at a local vocational school or online.
Then, as you gain experience, consider working toward your Bachelor's or Master's. Once you do, you're just a few steps from an accountant resume.
Pro Tip: Should you add GPA to a resume for bookkeeping? If it's above 3.7, it shows dedication, so list it. If not, cut your losses.
To make your bookkeeping resume education section shimmer like Fort Knox, see our guide: "How to Put Your Education on a Resume [Tips & Examples]"
5
How to Put Skills on a Resume for a Bookkeeper
Back to Jim, our hiring manager.
He just printed your bookkeeper resume so he could mash it into a ball.
Why?
He'd read 200 resumes with skills lists as long as Bill Gates' tax return, and he snapped.
Don't make that mistake.
The hiring manager doesn't want to see every skill in the book. He just wants the few in the job offer, plus a couple more.
These good bookkeeper resume samples make the point:
Bookkeeper Resume Sample Skills and Experience Section
The job description calls for skills in payroll, error detection, and MS Excel.
You'll list those, plus communication and A/P.
Then you'll build your experience and education sections like this:
right
Handled payroll and accounts payable for a startup healthcare firm. Communicated with

C-Suite

executives and stakeholders to solve recurring problems.
Created MS Excel spreadsheets to track expenses. Cut reporting costs 25%.
Installed new payroll system that cut payroll errors by 10%.
Stopped a recurring issue with A/P and halted a $1,000/yr late fee problem.
Wow. Your stock just went up. You could crunch numbers for Goldfinger.
It's so much better than this cheap dollar store fluff:
wrong
Bookkeeping Skills: Payroll, accounts receivable, accounts payable, communication, Quickbooks, Xero, error-detection, problem solving, collaboration, interpersonal skills, self-motivated, critical thinking, kitchen-sink accounting...
List of Skills to Put on a Bookkeeper Resume
Need a bookkeeper skills list to start with? Use this one.
Add to it from job offers online, and from your own experience.
Bookkeeper Resume Skills
Bookkeeper Resume Skills

| | |
| --- | --- |
| Soft Skills | Hard Skills |
| Attention to Detail | Quickbooks |
| Communication | Xero |
| Critical Thinking | Accounts Payable |
| Error Detection | Accounts Receivable |
| Problem Solving | Balance Sheets |
| Collaboration | Payroll Accounting |
| Interpersonal Skills | MS Office |
| Self Motivated | Billing |
| Honest | Tax Calculations |
| Dependable | General Ledger |
With the plan above, you could get work doing payroll for Jeff Bezos.
Pro Tip: Don't make an exact list of the skills in the job description. That's cooking the books. Add a couple items the manager didn't mention.
Want to mark up your skills section? Follow the sample bookkeeper resume template up top. Also, see this guide: "+30 Best Examples of What Skills to Put on a Resume (Proven Tips)"
6
How to Add Certifications to Bookkeeper Resumes
Do you need a certification to be a bookkeeper?
No.
Is experience more important?
Absolutely.
Do certifications look good on a bookkeeping resume anyway?
Yes. If you show them right.
List an AIPB or NACPB certification after your name. Then put it in a special certifications section just under your summary.
Certifications
AIPB Certified Bookkeeper
NACPB Licensed Bookkeeper
Quickbooks Online Pro Advisor Certification
Of course you don't need both an AIPB cert and an NACPB license on a resume for bookkeepers. We showed them both for effect.
Pro Tip: A bookkeeper resume with Quickbooks experience instantly raises your value. That's because 29 million U.S. businesses use Quickbooks.
Need more tips to boost the value of your bookkeeping resume? See our guide: "What To Put On A Resume To Make It Perfect [Tips & Examples]"
7
How to Add Other Sections for an Effective
Bookkeeper
Resume
Congratulations! You're in the top 50 resumes on the manager's desk.
The problem? They're all pretty much the same.
How do you stand out like Smaug's pile of gold?
With "other" sections in your bookkeeper resume.
List awards, publications, accolades, testimonials, test results, conferences, or anything else that sells your strengths.
Even hobbies can show passion.
Bookkeeper Resume Examples – "Other" Sections
right
Additional Activities
Take regular accounting classes at AccountingCoach.com.
Weekly listener, "Successful Bookkeeper" podcast.
Avid competition trail runner.
Publications
Article on tech and bookkeeping published in LedgersOnline blog.
Post on Quickbooks vs Xero published in ThatBookkeeper.com.
Conferences
AIPB Conference
Accountex: Accounting Technology Conference
Nice, right? This isn't Bob Cratchit's bookkeeper resume. This is a fledgeling accountant whose entire focus is on keeping track of money.
How does the trail running fit in? It shows discipline and fitness.
wrong
Activities
I like supplementing.
I love dogs and parties.
Yipe. Who's that, Louis from Ghostbusters?
Your "other" sections should show bookkeeping is more than just an 8-5.
Pro Tip: If you're an entry-level bookkeeper, consider starting at a smaller company. You can get to full charge a lot faster that way.
Need more help to build great "other" sections for a good bookkeeper resume? See our guide: "+20 Best Examples of Hobbies & Interests To Put on a Resume (5 Tips)"
8
Here's the Most Common Myth About Cover Letters
"Nobody reads bookkeeper cover letters."
Of course they don't.
What they read is bookkeeper "how I can help you" letters.
Use the manager's name to get attention.
Mention a fact about the company you like, if you can find one online.
But here's the magic:
Show how your bookkeeping skills can help. Prove you understand the company's goal for the job. Then list a detail or two from your past that shows how you can nail it.
Dear Karen,
I was very excited to see Centilane, Inc. is seeking a full-charge bookkeeper. I've always been impressed with Centilane's commitment to Continuous Improvement, and I think my background in applying Lean Business principles to bookkeeping at Sysill will help me grow into the role.
That's it. End with a call to action like, "I'd love to talk more with you about your needs."
Pro Tip: Follow up on your perfect bookkeeper resume and cover letter within a week. A nudge at the right time can give you a second chance at getting hired.
Plus, a great cover letter that matches your resume will give you an advantage over other candidates. You can write it in our cover letter builder here. Here's what it may look like: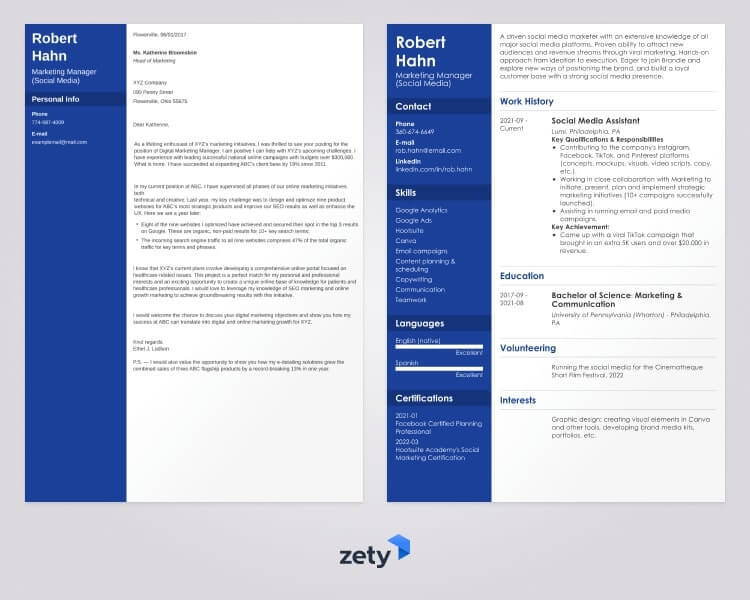 See more cover letter templates and start writing.
Want more dollars-and-cents-level advice for how to write a bookkeeping cover letter? See our guide: "How To Write A Cover Letter [Complete Guide With Examples]"
9
How to Add Contact Info to Your Resume
Is your bookkeeper resume contact info overdrawn?
Of course you'll add:
Full Name
Updated Phone Number
Professional Email Address
Like this:
Alice Nistor, alicefnistor@gmail.com - 843-860-3894
"Professional" means nobody will hire SillyGoofNerd13498243@yahoo.com to handle the finances.
The real trick? Add your LinkedIn profile. If your competition has one and you don't, the manager might consider you spare change.
Pro Tip: Don't let that political rant from last November sink your hopes of getting hired. Use our guide to cleaning up your online presence here.
Want a great guide to help in your bookkeeper resume quest? See this article: How to Make a Resume: A Step-by-Step Guide (+30 Examples)"
Key Takeaway
Even with great bookkeeper resume templates to follow, writing your own can leave you in the red. Follow these tips to get back in black:
Read the job description. Highlight the bookkeeper qualities you see there. Then prove you own them in your bullet points.
Put a bookkeeper resume objective or summary just below your contact info.
Don't just list your bookkeeper skills. Salt them throughout your experience and education sections.
Add "other" sections to your bookkeeping resume that prove you fit the job like a custom-tailored A/R spreadsheet.
Do you have questions on how to write a great resume for a bookkeeper? Not sure how to describe your skills or achievements? Give us a shout in the comments! We love to help!
Considering other jobs? Maybe one of our other guides will interest you:
About Zety's Editorial Process
This article has been reviewed by our editorial team to make sure it follows Zety's editorial guidelines. We're committed to sharing our expertise and giving you trustworthy career advice tailored to your needs. High-quality content is what brings over 40 million readers to our site every year. But we don't stop there. Our team conducts original research to understand the job market better, and we pride ourselves on being quoted by top universities and prime media outlets from around the world.