You're about to see a perfect office clerk resume sample. Better yet, in 5 minutes, you'll learn how to write one yourself. Why is it so important?
Because statistically speaking, every time you apply for a corporate clerical job, you compete with 250 other candidates. The good news? You're about to be the number 1 among them.
Read on and I'll show you:
An office clerk resume sample better than 9 out of 10 other resumes.
How to write an office clerk resume even if you have no experience.
Tips and examples of how to put skills and achievements on a clerical resume.
How to describe your experience on a resume for office clerk positions to get any job you want.
Here's an example of a resume for office clerk positions made using our resume builder.
Want to save time and have your resume ready in 5 minutes? Try our resume builder. It's fast and easy to use. Plus, you'll get ready-made content to add with one click. See 20+ resume templates and create your resume here.
Sample resume made with our builder—See more resume examples here.
Targeting a more specific office or administrative support position?
Check out more sample office staff resumes and dedicated resume writing guides:
For a general, office clerk basic resume examples and writing tips, read on. You'll get answers to all your questions about landing that dream clerical job!
Office clerk resume example
Jennifer Stang
Office Clerk
123-456-7890
jennstang@email.com
linkedin.com/in/jennifer.stang
Summary
Dedicated Office Clerk with over 5 years of experience excelling at prioritizing, multitasking, and following through to achieve project goals. Eager to help Sphere Tech in managing their clerical tasks more efficiently. Reduced office supply costs at Quantum Inc. by 20% by implementing a new cost-effective protocol to reduce waste.
Experience
Office Clerk
Quantum Inc., Boston, MA
July 2016–Present
Key Qualifications & Responsibilities
Managed files and records to ensure they remain updated and easily accessible.
Sorted and distributed incoming mail and handled outgoing mail.
Answered the phone to take messages and answer questions.
Kept a log of all visitors.
Key Achievement:
Reduced office supply costs by 20% by implementing a new cost-effective protocol.
Office Assistant
Alpha Innovations, Boston, MA
March 2014–June 2016
Key Qualifications & Responsibilities
Assisted in the preparation of regularly scheduled reports.
Updated social media platforms and company website.
Maintained regular contact with customers to ensure satisfaction.
Key Achievement:
Implemented a new customer service strategy, resulting in a 15% increase in customer satisfaction.
Education
Bachelor of Business Administration
Boston University, Boston, MA
September 2010–June 2014
Relevant extracurricular activities
Member, BU Entrepreneurship Club
Volunteer, Boston Business Events
Skills
Data Entry
Customer Service
Microsoft Office (Word, Excel, PowerPoint)
Time Management
Communication
Attention to Detail
Problem-Solving
Organizational Skills
Certifications
Certified Administrative Professional (CAP), IAAP, 2014
Languages
English—Native
Spanish—Advanced
Interests
Organizing community events.
Enhancing communication and negotiation skills.
Reading business and self-help books to continually improve and stay updated with business trends.
1
What's the Best Format for an Office Clerk Resume?
Consider this:
On average, recruiters scan a resume in less than 10 seconds.
What does it mean for you?
That you have to make your office clerk resume skimmable. Make it easy for recruiters to find all relevant details.
How to do it?
Choose the elegant reverse chronological resume format. Recruiters are familiar with it so they'll know where to look for information.
Plus, it lets you put your best foot forward. It showcases your most recent clerical job.
Here's what to include in a reverse-chronological office clerk resume, from top to bottom.
Office Clerk Resume Template
Contact information
Resume objective or summary
Work experience in reverse-chronological order
Education
Skills
Additional Sections (Certifications, Awards, Volunteer Experience, or Hobbies and Interests)
Pro Tip: Once you're done writing your clerical resume, save it as a PDF file. This way, your formatting won't get messed up. Just remember to double-check with the office clerk job description if the company accepts PDF. If not—send your resume in DOC.
Want more information on resume formatting? Here's the only guide you'll need: Three Resume Formats: How to Format a Resume for Greatest Impact
Now, have a look at how to craft each section to get an office clerk resume that will make top employers fight one another over who hires you.
2
Office Clerk Resume Objective or Summary?
Remember those 6 seconds of a recruiter's attention an average resume gets?
Exactly. An average one.
The good news? There's a way to make recruiters read your resume in full.
The trick?
At the very top of your office clerk resume, put a concise paragraph that explains why you're the ideal candidate for this job.
This short paragraph is called either a resume objective or a resume summary. Think about it as a trailer for your job application. If it's interesting enough for the hiring manager, she'll want to read your whole resume.
Use an office clerk resume summary if you've got relevant experience. Give an outline of your career and highlight your best achievements.
Writing an entry-level clerical resume with not much relevant experience? Use an office clerk resume objective. Showcase what you've learned so far and how you'd fit in.
Whichever you choose, remember one thing—
A well-written professional office clerk resume objective or summary focuses strictly on the employer's benefits, not the candidate's.
Long story short: don't write about what you want out of the job. Focus on what you have to offer instead.
Check out these sample office clerk objectives and summaries to see what I mean.
Let's begin with objectives.
Sample Office Clerk Resume (No Experience)—Resume Objective
RIght
Dynamic college graduate with excellent communication skills seeking office clerk role. Excellent initiative and project management skills developed over the course of my degree. Ready to use organizational skills to help EY's team with implementing the new internal communications system.
Wrong
Recent college graduate with no professional experience but lots of enthusiasm. Able to type, answer phones and would like my first job to be in an office. I'm friendly and a fast learner.
See the difference? The candidate from the right example has done her homework. She knows her prospective employer's upcoming challenges and makes an offer to help tackle them.
The wrong example? The bottom line says basically: "I've got no relevant experience, but I need some job."
Now, let's compare two very different examples of office clerk resume summaries.
Office Clerk Resume Sample—Resume Summary
RIGHT
Professional, efficient office clerk with 6+ years experience working for a large corporate organization. Promoted to executive secretary in 2017. Introduced a time management system and increased the efficiency of the office by 15%. Looking to leverage excellent project management and organization skills to help Hogan & Partners' team reduce office administration costs.
Nailed it.
Relevant experience, quantifiable achievements, and an irresistible offer to seal the deal. The hiring manager will want to call this candidate ASAP.
WRONG
I am an office worker with 6 years' experience. I am seeking a job in a corporate environment where I can learn and develop my office management and clerical skills.
Not awful, but… that's about the only positive. It's super generic and provides no details whatsoever.
Pro Tip: In every resume objective or summary for clerical positions, address the company by name and indicate the position you're targeting. Yup—that means you cannot send one general office clerk resume for every application. And that's the point. Personalization works wonders!
When making a resume in our builder, drag & drop bullet points, skills, and auto-fill the boring stuff. Spell check? Check. Start building a professional resume template here for free.
When you're done, our free resume builder will score your resume and our resume checker will tell you exactly how to make it better.
Writing the perfect office clerk resume objective or summary isn't easy, I know. For more expert tips and real-life examples, check out our handy guides: How to Write a Resume's Professional Summary and How to Write a Resume Career Objective
3
How to Describe Your Office Clerk Work Experience?
Most office clerk job descriptions on a resume look pretty much the same.
"Office administration," "maintaining the calendar," "assisting administrative stuff."
You might fear it sounds underwhelming, but we both know it's hard. It's complex work that requires amazing time management and multitasking skills.
The good news? You can describe your office clerk work experience in a way that will make your resume stand out and get every recruiter hooked.
How?
In the work experience section of your professional clerical resume, don't just talk about your past duties and responsibilities. Focus on your achievements.
Here's how:
How to Describe Your Office Clerk Work History on a Resume
Start with your current or most recent job.
Follow it with your previous position and the one before that, and so on.
Underneath each position, add up to 5 bullet points describing your duties and, more importantly, your achievements.
Quantify whenever possible. Don't say you "significantly increased sales." Say how much exactly. Numbers pop!
At the bottom, add a "Key achievement" subsection where you show off your best win.
Last but not least—pick phrases from the job ad, and refer to them in your work experience section. List relevant office duties, not every single task you've performed. In other words: target your resume.
Enough theory. Have a look at how it works in practice:
Office Clerk Resume Sample—Work Experience
RIGHT
Office Clerk
2012–2018
Dunder Mifflin, Oklahoma City, OK
Fulfilled office assistant responsibilities for a fast-paced chemical company. Maintained customer relationships, handled shipping and communication logistics.
Monitored and responded to client emails. Increased customer retention 22%.
Decreased clerical errors by 15%. Lowered scheduling mistakes by 32%.
Performed CRM data entry for all sales orders. Completed and sent sales orders to warehouses.
Key achievement: Fixed a recurring problem with procurement SOPs which led to cost cuts of $32,000/year.
WRONG
Office Clerk
Kemper Corporation
2014-2018
Data entry
General office assistance
Internal communication
Processing invoices
Pro Tip: Pack your work experience section full of action verbs. "Fulfilled," or "monitored" sound way better than "responsible for fulfilling and monitoring."
You get the point, right?
The right office clerk resume sample showcases quantifiable achievements.
The wrong one? That reads like a re-written description of responsibilities listed in the job ad.
The work experience section is the most important part of every office clerk resume. Want to make sure you'll get it right? Here's the guide to answer all your questions: How to List Work Experience on Your Resume
If you lack experience, check out: First Resume with No Work Experience Samples (A Step-by-Step Guide
4
Is Your Education Section Underselling You? It Might Be.
More often than not, it's easy to list your education on a resume.
Here's what you have to include in this section:
Degree type,
Your major (and minors, if you've got them),
Institution name,
Graduation date.
Pro Tip: If you've got more than 6 months of professional experience, don't include your GPA on your office clerk resume. Don't list it either if it's lower than 3.5. It might hamper your chances.
For most resumes, this will work just fine.
But—
If you've got little or no professional experience to put on a resume, you should make up for it in your education section.
In such case, add details like:
Relevant coursework
Favorite fields of study
Academic achievements
Extracurricular activities
Here's an example of a great entry-level office clerk resume education section.
Entry-Level Office Clerk Resume Sample—Education Section
BS, Accounting
Penn State, 2015–2018
Excelled in Applied Maths coursework.
President of the Undergraduate Student Board 2017–2018.
Editor-in-chief of the official department blog.
That's the way the cookie crumbles.
This candidate doesn't have a lot of experience, but her academic achievements indicate that she's willing to self-improve and that it won't take her much time to learn the tricks of the trade.
If you're hungry for more tips about listing your education on a resume for office clerk positions, check out this handy guide: How to Put Education on a Resume [Tips & Examples]
5
How to Put Clerical Skills on an Office Clerk Resume?
There's one word to keep in mind when creating your office clerk resume skills list:
Relevance.
Don't just randomly list skills you have. Show that you've got skills a particular employer wants.
Remember when I mentioned tailoring your resume to each job opening? That strategy applies to your skills section too.
Clerical and Office Skills for a Resume—How to List Them
Start with a spreadsheet that lists all your professional skills.
Pay close attention to the job ad. Look for skills-related keywords.
Check how many of these are there in your spreadsheet. Quite a few? Great. That's your skills list.
Apart from listing your office skills in the skills section of your resume, mention them in your work experience description.
Not sure what are the best office skills to list? In general, they fall into two categories: hard, technical skills, strictly connected to your everyday professional duties and soft skills a.k.a. social skills.
Here's some inspiration for you:
Clerical Skills for a Resume

| | |
| --- | --- |
| | |
| VOIP phone systems | |
| Data entry | |
| | Adaptability |
| Scheduling | Attention to detail |
| Event planning | |
| Typing 90 WPM | |
| QuickBooks | |
| Customer service | Conflict resolution |
| Corporate accounting | |
Pro Tip: The worst mistake you can make in your skills section is failing to include your soft skills. This Harvard study shows that modern economy will increasingly reward those candidates who combine technical with soft skills—that means more job opportunities and higher pay.
For more strategies to spice up that office clerk resume with the best skills, see this comprehensive guide: 30+ Best Examples of What Skills to Put on a Resume (Proven Tips)
6
How to Add Additional Sections to Make an Effective Office Clerk Resume?
Included all the above resume sections? Great! It's a decent office clerk resume you've got there.
But—
You're one step away from making it a killer one.
That step is called an additional resume section.
And why is it so important?
Because that's the place where you can show off your unquestionable achievements that set you apart from other candidates.

Such as?

Have a look at some ideas for an additional section on a resume for office clerk positions.
Additional Sections for an Office Clerk Resume—Examples
Industry awards
Certifications
Influencing on social media
Additional training and participation in conferences
Can't showcase any of the above yet? Take it easy. An entry-level resume can still benefit from an extra section.


Check out these ideas:
Extra Sections for a Junior Office Clerk Resume—Examples
Academic achievements
Personal blog
Pro Tip: To boost an otherwise flimsy office clerk resume, consider taking an online training class or two. You can finish most of these within a couple of hours and they can have great impact on your chances of landing that next dream job.
Don't know what to include in the extra section of a professional office clerk resume and what to leave off? Read our guide: Resume Sections to Include on Your Resume: Guide (+20 Examples)
7
How About an Office Clerk Cover Letter?
"Sleep with the CEO's daughter, this way you're guaranteed to land a job at the company!"
Seem like the worst career advice one can get?
Yeah. It probably is.
But you know what?
"Companies don't read cover letters anymore, don't waste your time on writing one," comes in a close second.
Almost half of the recruiters won't open your resume if there's no cover letter attached.

An office clerk cover letter is often expected even if the job description doesn't explicitly ask for one. And it can be used to your massive advantage.

Think about looking for an entry-level position. Daunting, right?

A well-written cover letter for office clerk positions can get you there! It can prove to recruiters that you're motivated and driven.

But it's not only junior candidates who should write a cover letter. Including a cover letter in your application doubles your chances of getting hired. Can't argue with the stats, can you?
Pro Tip: Make your office clerk cover letter personal. Use the job poster's name. For bonus points, do some research—visit the company website and mention their upcoming projects or challenges and say how your expertise could help.
Plus, a great cover letter that matches your resume will give you an advantage over other candidates. You can write it in our cover letter builder here. Here's what it may look like: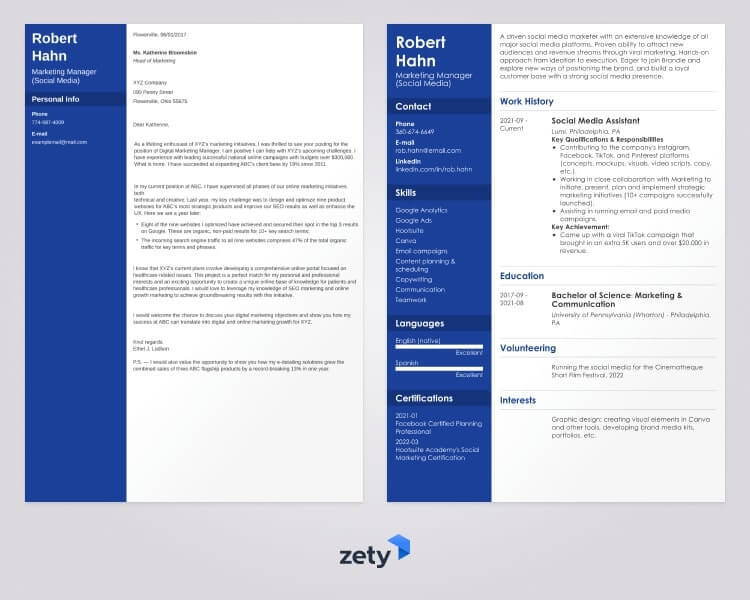 See more cover letter templates and start writing.
For the best advice on cover letter writing out there, read this guide: How to Write a Cover Letter in 8 Simple Steps
Key Takeaway
Demand for office clerks is projected to shrink in the upcoming years. This means the competition is fierce. A perfect clerical resume has never been as important.
Luckily, you are going to have one. Just follow the key office clerk resume writing steps we covered:
Personalize every resume you send. Address the company by name and make your resume match keywords from the job ad.
At the top of your office clerk resume, just below contact information, put a resume summary or a resume objective.
In the work experience section, use action words and emphasize quantifiable achievements.
If you've got little professional experience, elaborate a bit more on your academic accomplishments and interests.
Tailor your skills section to the job description.
For the final word—keep your phone at hand and wait for interview call-ins!
Got any more questions? Need further help? Want to chat about writing your resume? That's great cause I can't wait to hear your thoughts! Drop me a line in the comments, and I'll get back to you right away.
Here are several other guides that may interest you:
About Zety's Editorial Process
This article has been reviewed by our editorial team to make sure it follows Zety's editorial guidelines. We're committed to sharing our expertise and giving you trustworthy career advice tailored to your needs. High-quality content is what brings over 40 million readers to our site every year. But we don't stop there. Our team conducts original research to understand the job market better, and we pride ourselves on being quoted by top universities and prime media outlets from around the world.