Office Administrator Resume: Examples and Guide [10+ Tips]
The same magic you use to keep an office from falling into chaos can be applied to write a job-winning office administrator resume. Here's a guide to show you how.
Imagine an office where everything runs smoothly, and all employees can focus on their tasks without distractions. Sounds like a dream, right? Well, it's not – it's just an office with a stellar administrator like you!
Our office administrator resume guide will help you create a resume highlighting your skills and experience, ensuring you're the go-to candidate for any office in distress. So, let's get you that perfect office admin role and bring some order to the working world!
Want to save time and have your resume ready in 5 minutes? Try our resume builder. It's fast and easy to use. Plus, you'll get ready-made content to add with one click. See 20+ resume templates and create your resume here.
Sample resume made with our builder—See more resume examples here.
Looking for jobs that use the same office administration skills? Check out these free resume guides:
Sample Office Administrator Resume Template
Teresa Smith
teresa.j.smith@gmail.com
317-767-6110
Nashville, TN
Resume Summary
Detail-oriented office administrator with 5+ years of experience ensuring offices run smoothly and efficiently. Excited to join the team at Cordis Distribution Group and bring a new level of organization and attention to detail. Increased office efficiency at Profession Systems Co. by introducing a new ERP software package. An upbeat team player with an expansive toolkit of interpersonal skills and business operations knowledge.
Work Experience
Office Administrator
Spectrum Co., Nashville, TN
August 2018–June 2020
Managed payroll and benefits for 30+ employees, including solving any related problems.
Communicated closely with the Head of Operations regarding the needs, concerns, or issues in the office.
Ensured accounts payable, employee benefits, inventory, and invoicing records were accurately kept and organized using ERP software.
Developed relationships with customers, vendors, and guests to present the company in a professional manner.
Created and updated spreadsheets and presentations for weekly, monthly and quarterly updates to upper management.
Office Administrator
Profession Systems Co., Jackson, MS
November 2015–July 2018
Provided detail-oriented administrative support to 15+ coworkers to ensure efficient office operations.
Managed a team of 3 administrative assistants to see that tasks were completed on time and high quality.
Supported office staff by organizing company events, meetings, and scheduling.
Used expert knowledge of office management software to increase office efficiency by 12% using a results-driven approach.
Education
Associate's Degree in Business Administration
Graduation Date: 2015
Ashworth College, Norcross, GA
Took additional courses to receive a specialization in "Inventory and Distribution Management".
Excelled in accounting and finance courses.
Worked part-time in the admissions office on campus for the duration of my studies.
Skills
Skilled in public speaking, administrative skills, and communication
Adept at Excel, preparing and delivering reports, and budgeting
Passion for conflict resolution and building positive workplace environments
Hobbies and Interests
Crossword puzzles
Volunteering at an animal shelter
Painting
Here's how to write your own job-winning office administrator resume:
1. Format Your Office Administrator Resume Correctly
Office administrators are responsible for organizing and coordinating office operations so that organizations can run at their best. The responsibilities of office administrators vary depending on the company and industry, but they often include clerical duties, record keeping, accounting, and support tasks for office staff. The goal of your office administrator resume is to show you are a jack of all trades in office administration.
What do office administrators and the perfect resume have in common? They both need to be well organized. For resumes, that means following these resume formatting rules:
Read more: Components and Parts of a Resume
2. Stand Out With a Resume Profile Statement
A good resume introduction prevents your resume from being just another skimmed in 7 seconds. Your experience level decides whether you should choose a summary or objective.
An office administrator resume summary is a short paragraph at the top of your resume selling your experience in turning offices into well-oiled machines. Resume summaries are used to highlight your achievements in office administration and bluntly state what you can accomplish in the position. Perfect to show you have the passion and ability to match Leslie Knope.
The office administrator resume objective is also an elevator pitch but draws more attention to your education and/or office admin skills you've gained. A resume objective is better suited for those who've recently graduated or changed careers. Think Peggy Olson right before she got her big break.
Read More:How To Make Your Resume Stand Out
3. Write an Expert Office Administrator Resume Job Description
Office administrator duties can include handling HR tasks, overseeing payroll, managing assistants, scheduling meetings and appointments with clients or vendors, creating invoices, and many more tasks that support offices and their staff.
If you listed every single task you perform in your office administrator job description for a resume, your resume would be as long as a CVS receipt.
That's why the ideal resume experience section packs a big punch in a small package:
Start with your current or previous job and then work backwards chronologically.
Customize your resume by writing longer and more detailed descriptions for jobs that are more relevant.
Include the job title, employer name, timespan of employment, and up to six bullet points describing the job.
Start each bullet point with a resume action verb.
Make each bullet an example of how you went above and beyond. Accomplishments on a resume impress more than lists of responsibilities.
Read More: How to Write a Job Description
4. Impress With Your Office Admin Resume Education Section
Despite whether you have a bachelor's degree, associate's degree, or a high school diploma, the resume education section is the place to highlight your formal education:
If you never attended college, you can list the high school on your resume with just the school name, location, and date graduated.
If you are a fresh college grad, you can strengthen your education section with relevant coursework or school projects to show additional skills you've developed.
If college is more of a distant memory (you've been in the real world for more than 5 years), only list the college name, location, graduation date, degree, and minors.
Pro Tip: If you are writing a fresh grad resume or you're lacking the right kind of office experience, you can put your education section above your experience section.
5. Showcase Your Best Office Admin Skills
Office workers lose a third of their time to administrative tasks. That means your office administration skills can translate into massive company savings if you can take admin tasks off your coworkers's plates or streamline office processes.
Here's how to show your office admin skills are no joke:
Create a master list of all your best resume job skills so that you can select the most applicable skills for the specific job you're applying for.
Include hard skills, soft skills, technical skills, and other skills that may be relevant on your master list.
Incorporate your most accomplished skills directly into your experience section to show real life demonstrations of them.
Office Administrator Resume Skills
Office management
Customer service
Record keeping
Typing skills
Accounting / bookkeeping
Enterprise resource planning (ERP)
Pro Tip: When tailoring your resume to the job ad, matching the resume keywords word for word can help ensure your resume makes it past ATS.
When making a resume in our builder, drag & drop bullet points, skills, and auto-fill the boring stuff. Spell check? Check. Start building a professional resume template here for free.
When you're done, our free resume builder will score your resume and our resume checker will tell you exactly how to make it better.
6. Think About Additional Sections on Your Office Administrator Resume
Including other sections on your resume is optional, but can help set you apart:
Read More: How Many Sections Should a Resume Have?
7. Attach a Cover Letter to Your Office Administrator Resume
Office and administrative support occupations are expected to decline over the next ten years.
You'll need to be a step ahead of the other applicants to get that cushy office administrator job at that promising tech start up.
That's where cover letters come to the rescue. What is a cover letter for? Simple—to make any doubts of the hiring manager dissolve away.
Here's how to make sure you include the most important parts of a cover letter:
Keep your cover letter short and sweet—hiring manager's don't have time to read your novella.
There's a reason most cover letters are one page in length.
Pro Tip: Be sure to follow up after applying for a job. A quick email or phone call really shows you are the type of self-starter that can handle any office.
Plus, a great cover letter that matches your resume will give you an advantage over other candidates. You can write it in our cover letter builder here. Here's what it may look like: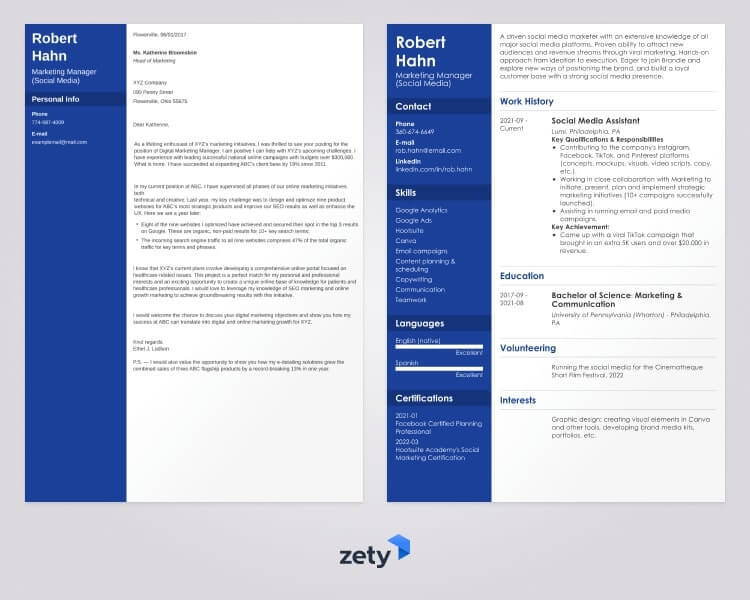 See more cover letter templates and start writing.
That's a wrap—
Now you know everything to write a great office administrator resume!
Thanks for reading! Do you have any additional questions on how to make a great office administrator resume? Give us a shout in the comments section!
Those resume guides might also interest you:
About Zety's Editorial Process
This article has been reviewed by our editorial team to make sure it follows Zety's editorial guidelines. We're committed to sharing our expertise and giving you trustworthy career advice tailored to your needs. High-quality content is what brings over 40 million readers to our site every year. But we don't stop there. Our team conducts original research to understand the job market better, and we pride ourselves on being quoted by top universities and prime media outlets from around the world.
Sources