Office Manager Job Description for a Resume: Examples
You have no problem simultaneously managing a bustling office and stacks of invoices. Convince the recruiter with these tips for an office manager job description for a resume.
Office managers are like captains who keep the ship upright and sailing smoothly. But how to convince recruiters you've got the skills to navigate their office through thunderstorms?
Simple. Turn your experience into an office manager job description for a resume that stands out from the crowd.
Want to save time and have your resume ready in 5 minutes? Try our resume builder. It's fast and easy to use. Plus, you'll get ready-made content to add with one click. See 20+ resume templates and create your resume here.
Sample resume made with our builder—See more resume examples here.
Okay, let's cut the office chit-chat and get down to business.
10+ Office Manager Job Description Examples for a Resume
Office Manager Job Description for a Resume
Office Manager
Bumblebee Lighting, Dallas, TX
May 2016–April 2020
Key Qualifications & Responsibilities
Analyzed and optimized operations including bookkeeping, payroll, supplies, and other clerical services.
Supervised team of 5+ clerical staff to ensure workflow is well-prepared and ran smoothly.
Managed invoices from vendors to assist the accounting department. Reduced annual expenses by 7%.
Revised the onboarding manual strategy. Increased employee onboarding experience by 29% based on surveys.
Key Achievements
Researched and introduced new clerical software that saved 20+ man-hours monthly.
Medical Office Manager Job Description for a Resume
Medical Office Manager
Diamond Medicare, Aurora, CO
January 2019–March 2020
Key Qualifications & Responsibilities
Managed aspects of the medical office from patient intake procedures to insurance bookkeeping.
Handled large volumes (100+ weekly) of administrative requests, from everyday needs to those requiring executive input.
Ordered office equipment and medical supplies through medical supply portals.
Used HRIS and ATS to expand office employee size by 75% in two years.
Key Achievements
Maintained high quality standards, with patient satisfaction never dropping below 91%.
Construction Office Manager Job Description for a Resume
Construction Office Manager
EcoDynamics Construction, Jacksonville, FL
June 2016–December 2019
Key Qualifications & Responsibilities
Coordinated schedules and reports of construction projects worth $20+ million dollars.
Managed accounts of 5+ projects simultaneously by organizing, sorting, and authenticating documents in a timely fashion.
Assisted in the procurement process for subcontractors using extensive background in construction industry rules and regulations.
Prepared and delivered reports to local- and state-level housing authorities.
Key Achievements
Negotiated a maintenance contract that resulted in a 16% reduction in overhead costs.
This guide will make writing an office manager job description as easy as plain sailing, with multiple office manager job description examples serving as inspiration. Or… Save time! Use Zety's resume builder. Generate office manager job descriptions and other resume sections in no time.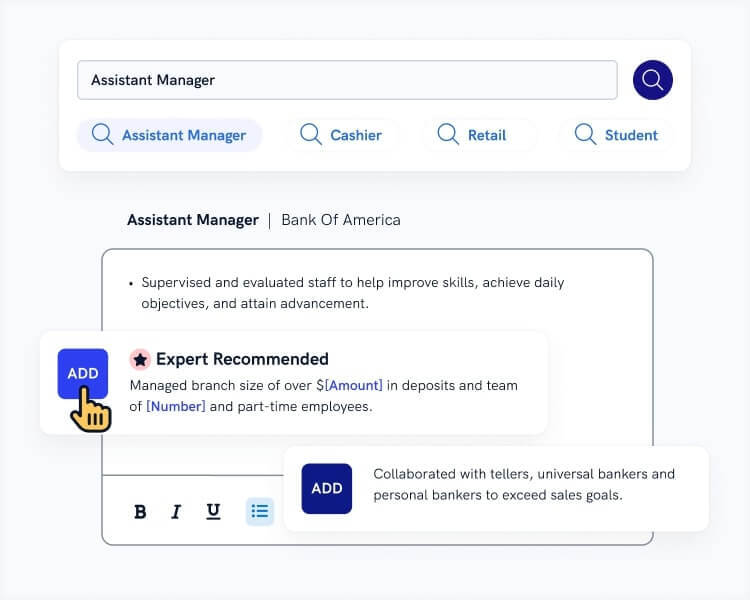 Create a resume with perfect job descriptions using the Zety resume maker now
Dental Office Manager Job Description for a Resume
Dental Office Manager
Best Smile Dental Clinic, Henderson, NV
December 2017–May 2020
Key Qualifications & Responsibilities
Ran office of 20+ front and back office staff smoothly and efficiently.
Monitored office billing accounts and supply inventory. Switched supply vendors, saving the clinic $3,100 annually.
Worked with insurance providers to make financial arrangements for financially insecure patients.
Ensured office compliance to OSHA, HIPAA, and internal HR policies.
Key Achievements
Increased yearly revenue by 14% via new patient acquisition with the help of an external marketing firm.
Office Manager Job Duties for a Resume
Assistant Office Manager
Radiant Energy Co., Tulsa, OK
January 2018–November 2019
Key Qualifications & Responsibilities
Answered up to 30+ calls daily to schedule appointments, make travel arrangements, and send needed documents.
Created office guidelines and policies relating to per diem expenses, paid/sick leave, and training courses.
Reviewed employee expense reports with department heads, consistently meeting the monthly deadline.
Provided secretarial support to the VP of Sales.
Key Achievements
Managed office inventory to achieve a 15% annual savings. Used these savings to purchase new equipment and increase office efficiency by 25%.
Chiropractic Office Manager Description for a Resume
Office Manager
Alternative Health Chiropractic, Cleveland, OH
July 2016–Present
Key Qualifications & Responsibilities
Oversee and manage a 5+ member team of front office and hospitality staff.
Manage insurance-related billing with a high attention to detail. Zero billing errors since 2017.
Answer phones to schedule patients and input them into electronic medical records systems.
Implemented new patient flow to increase collection of accounts receivable by 13%.
Key Achievements
Found and applied administrative tools to increase office efficiency, reducing staffing requirements by 16%.
Business Office Manager Job Description for a Resume
Office Manager II
Sunlight Software, Phoenix, AZ
August 2015–January 2020
Key Qualifications & Responsibilities
Compiled, tracked and analyzed KPIs to surpass business goals year after year.
Guaranteed 50+ projects were in compliance with industry guidelines to ensure their success.
Coached and mentored 20+ office staff to help them reach their highest potential.
Handled office supply inventory management. Saved the company over $5,500 annually.
Key Achievements
Organized company-sponsored social events, perk programs, and flexible employee work schedules that reduced turnover by 30% after two years.
Front Office Manager Job Description for a Resume
Office Manager
The Timber Corp., San Diego, CA
April 2019–Present
Key Qualifications & Responsibilities
Oversee a team of 4 office staff and assistants to keep the office running efficiently.
Perform HR duties revolving around payroll, insurance and employee benefits.
Provide administrative support to office staff, ensuring the team has the tools they need to excel.
Manage office operations efficiently, hitting quarterly business goals 4 quarters in a row.
Key Achievements
Built strong relationships with third party vendors to reduce office supply contract costs by 19%.
Real Estate Office Manager Job Description for a Resume
Office Manager
Magnolia Real Estate, Philadelphia, PA
September 2014–May 2020
Key Qualifications & Responsibilities
Oversaw all office activities, including office supplies, mail and facility maintenance.
Provided direction on HR management, such as recruitment and performance management.
Received and met with potential real estate clients to develop a point of contact.
Coordinated the scheduling of meetings and conference calls for 50+ employees.
Key Achievements
Created automated accounting reports using my advanced Excel skills to save employees 5+ hours a month each.
Office Management Job Description for a Resume
Office Manager
Dream Media, Milwaukee, WI
March 2019–February 2020
Key Qualifications & Responsibilities
Increased company cash flow by 18% by finding efficiencies in billing and collection processes.
Managed office operations by implementing and overseeing adherence to office policies.
Monitored and maintained office supply inventory through working with external vendors and office staff.
Received and issued invoices for administrative related costs using accounting software.
Key Achievements
Found and fixed errors in bookkeeping spreadsheets that saved the company over $4,000 in penalties and fees.
How to Write an Office Manager Job Description For a Resume
One side of the coin is that job growth for office and administrative managers is expected to grow fast. The other side is that office managers play such an important role in the performance of an office and in employee job satisfaction, that hiring managers are going to be picky. These tips will help you land whichever office management job you want:
1. Make the section heading loud and clear.
Use one of the following to label your office manager job description section: Work Experience, Experience, Employment History, Work History. Make it pop out with bold or ALL CAPS lettering.
2. Place your job description section carefully.
Put it below your resume summary if you have years of office experience or after your education section if you're writing a resume with no experience.
3. List previous office manager job descriptions on your resume in reverse-chronological order.
List your current or most recent job first and then work backwards from there.
4. Make each entry easy to follow.
Put your job title, company name and location, and dates worked at the top of each job you've held.
5. List up to 5 bullet points for each position.
Use the bullet points to focus on quantifiable achievements and accomplishments. Listing duties like the ones on your employment contract is a sure-fire way to make the HR manager's eyes glaze over. Note: Your most recent job should have the most extensive description. While older positions should be more condensed, with only your biggest wins mentioned.
Read more: How Far Back Should a Resume Go
6. Target your office manager job description to the specific job posting.
Just like how every office is different, every office manager has different duties and responsibilities. A medical office manager requires different skills than a construction office manager. Customize your job descriptions to the office manager duties and skills listed in the job ad.
7. Make use of action verbs to show your leadership qualities.
Office managers need to be self-starters, so use resume action verbs like managed, oversaw, created, etc.
8. Add a "Key Achievement" subsection to go above and beyond.
Use key achievements to convince the HR manager that hiring you will be the best decision they've ever made. If you're not sure how to describe your past victories, the Problem-Action-Result (PAR) method will help.
Read more: Work Experience on a Resume
Here's what else you need to put in a resume:
Read more: How to Build a Resume
Don't forget to attach an office manager cover letter to your resume. For a more comprehensive guide, check out how to write a cover letter.
Plus, a great cover letter that matches your resume will give you an advantage over other candidates. You can write it in our cover letter builder here. Here's what it may look like: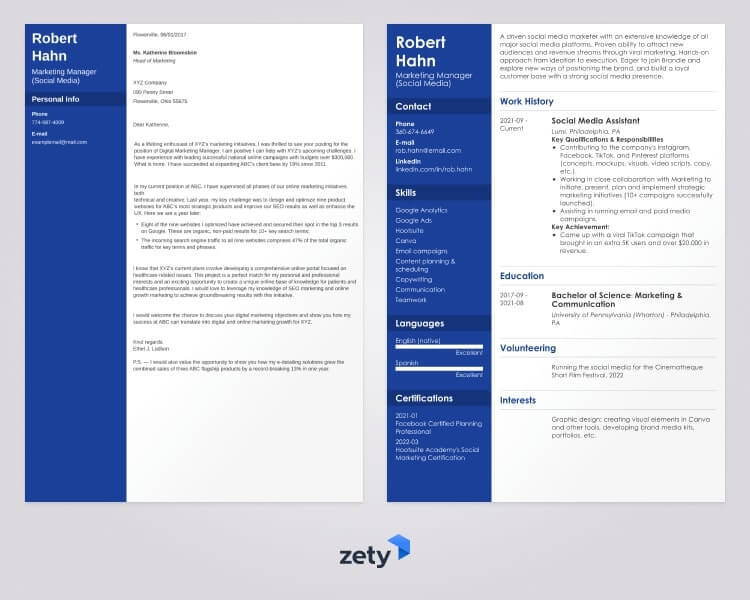 See more cover letter templates and start writing.
We hope that answered all your questions! Is there anything else you'd like to learn about writing an office manager job description for a resume? Leave your questions or comments below and we'll be sure to get back to you!
About Zety's Editorial Process
This article has been reviewed by our editorial team to make sure it follows Zety's editorial guidelines. We're committed to sharing our expertise and giving you trustworthy career advice tailored to your needs. High-quality content is what brings over 40 million readers to our site every year. But we don't stop there. Our team conducts original research to understand the job market better, and we pride ourselves on being quoted by top universities and prime media outlets from around the world.
Sources