Medical Administrative Assistant Resume: Sample and Guide
You can process medical paperwork without breaking a sweat. Time to use those admin skills to help yourself write a medical administrative assistant resume. Here's how.
If you want to prove to an employer that you can file medical records, schedule patients, and manage the front desk like nobody's business, you'll need a medical administrative assistant resume more effective than modern medicine.
But how do you translate all of your experience onto a sheet of paper? One that will have you picking and choosing which medical office you want to work in?
Don't worry, it's not as hard as it sounds. Just use the steps in this guide, and the template below will be the booster shot that makes your resume immune to failure.
Want to save time and have your resume ready in 5 minutes? Try our resume builder. It's fast and easy to use. Plus, you'll get ready-made content to add with one click. See 20+ resume templates and create your resume here.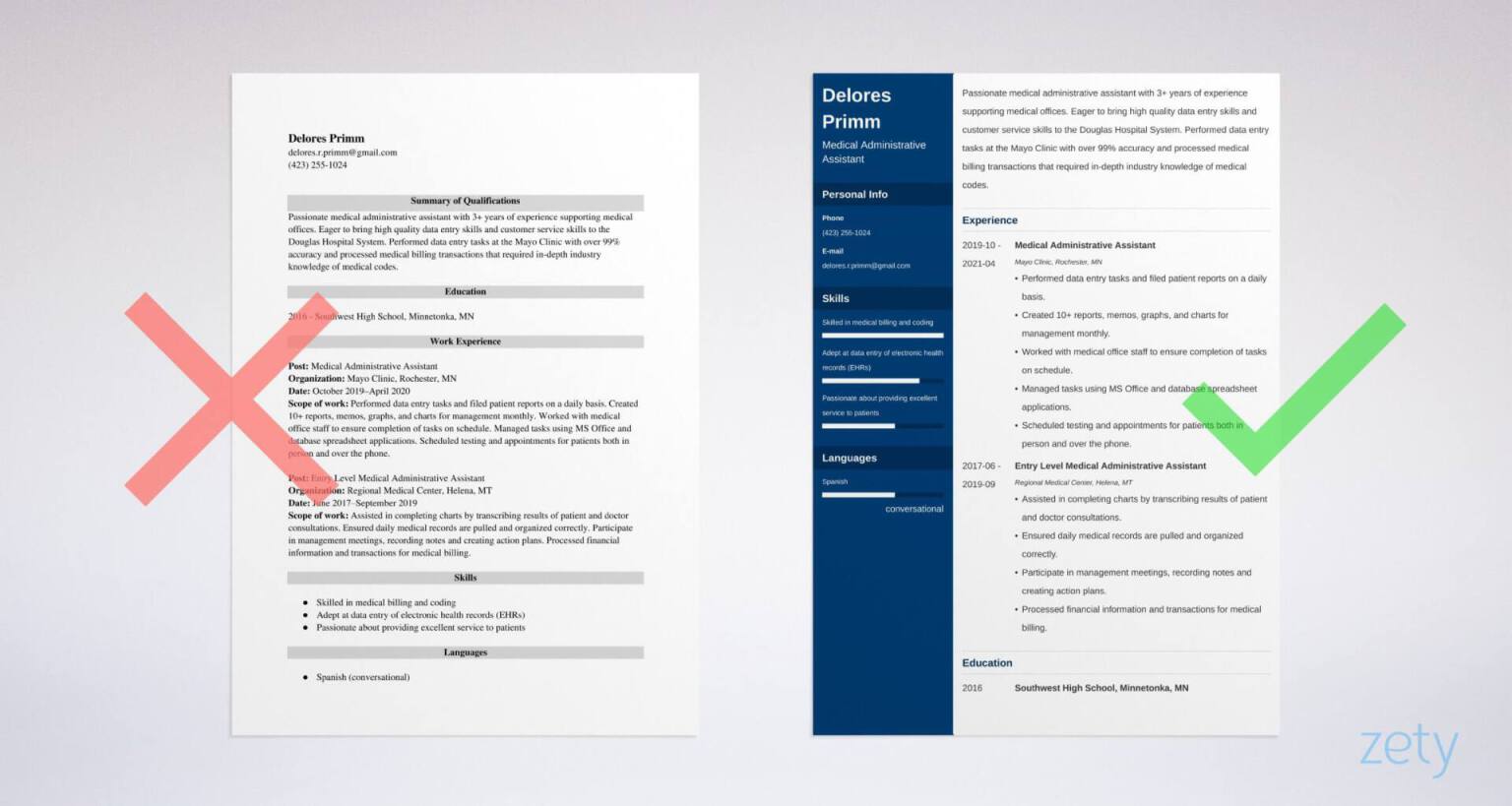 Medical administrative assistant resume made with our builder—See more templates and create your resume here.
Interested in other jobs in the healthcare or administration fields? See:
Sample Medical Administrative Assistant Resume Template
Delores Primm
delores.r.primm@gmail.com
(423) 255-1024
Summary of Qualifications
Passionate medical administrative assistant with 3+ years of experience supporting medical offices. Eager to bring high quality data entry skills and customer service skills to the Douglas Hospital System. Performed data entry tasks at the Mayo Clinic with over 99% accuracy and processed medical billing transactions that required in-depth industry knowledge of medical codes.
Work Experience
Medical Administrative Assistant
Mayo Clinic, Rochester, MN
October 2019–April 2020
Performed data entry tasks and filed patient reports on a daily basis.
Created 10+ reports, memos, graphs, and charts for management monthly.
Worked with medical office staff to ensure completion of tasks on schedule.
Managed tasks using MS Office and database spreadsheet applications.
Scheduled testing and appointments for patients both in person and over the phone.
Entry Level Medical Administrative Assistant
Regional Medical Center, Helena, MT
June 2017–September 2019
Assisted in completing charts by transcribing results of patient and doctor consultations.
Ensured daily medical records are pulled and organized correctly.
Participate in management meetings, recording notes and creating action plans.
Processed financial information and transactions for medical billing.
Education
Southwest High School, Minnetonka, MN
Graduated date: 2016
Skills
Skilled in medical billing and coding
Adept at data entry of electronic health records (EHRs)
Passionate about providing excellent service to patients
Languages
Here's how to write a successful medical administrative assistant resume:
1. Start With the Right Medical Administrative Assistant Resume Format
Medical administrative assistants greet patients, make appointments, manage patient records, and oversee the front desk or lobby. They're a key component for the smooth operation of any medical office. The purpose of a medical administrative assistant resume is to show that you have the perfect combination of medical industry knowledge and administrative skills to excel on the job.
Even though jobs for medical assistants are expected to rise much faster than average (23% between 2018 and 2028), that doesn't mean your resume will have much of a chance—if it looks like the messy medical forms you receive from patients.
To get to an interview in any medical office you want, you'll need to use a professional resume format that makes your skills and experience impossible to miss.
Format your medical administrative assistants resume with these pointers in mind:
Pro Tip: Keep in mind that your resume will most likely be scanned by ATS before it reaches a pair of human eyes, so make sure your resume is ATS-friendly.
2. Write a Catchy Medical Assistant Resume Objective or Summary
A resume introduction is a short, eye-catching paragraph towards the top of a resume meant to be both a career bio and an elevator pitch explaining why you're perfect for a particular position.
There are two types of resume introductions: the resume summary and the resume objective. Learn how to decide which one is best for you:
Choose a resume summary statement if you already have a few years of experience. To write a resume summary:
Make a list of your administration skills and the most impressive accomplishments from your relevant experience in a medical office.
Use 3-4 sentences to mention how much experience you have, what you can offer the company you're applying at, and your biggest achievements from the list above.
Choose a resume objective statement if this will be your first job as a medical administrative assistant:
Make a list of the transferable skills and experience you have.
Use 3-4 sentences to write about what you can offer in the position and why you're the perfect fit.
Pro Tip: If your resume introduction is too generic, recruiters might consider it fluff, and therefore a waste of space. Use the job description to edit your introduction to make a targeted resume for each job you apply for.
3. Compose a Great Medical Administrative Assistant Resume Experience Section
No pressure, but the work experience section is the backbone of your resume—
And recruiters have X-ray vision.
According to one survey, 91% of employers prefer candidates that have work experience. So give the recruiters what they want by writing an impressive experience section.
Follow these tips to write a job-winning medical administrative assistant resume experience section:
Start with your current position or the one you held most recently. If you're writing a resume with no experience, list any paid or unpaid work experience even if it was freelance or volunteer work.
Include the job title, company, location, dates of employment, and up to 6 bullet points for each job.
Talk about your accomplishments instead of listing your medical administrative assistant duties.
Use action words in each bullet point to better describe what you did.
Tailor your resume to the position by looking for desired skills and experience in the job ad, and then incorporating the ones you have onto your resume.
Remember to update your resume regularly.
Pro Tip: If you're lacking on the job experience as a medical administrative assistant, you can try volunteering in a healthcare facility to get experience working in a medical environment.
4. Put an Education Section on Your Medical Administrative Assistant Resume
Employers usually prefer candidates with degrees, and the same is true for medical administrative assistants. If you have an associates degree, definitely put it in your resume education section. Otherwise, just list your high school diploma on your resume.
The length of your education section will depend on how much experience you have:
Pro Tip: Put your education section before your experience section if you're writing a resume for an entry level position. Recruiters are likely to scan from top to bottom, so you want to lead with your strongest qualifications.
5. Show Off Your Medical Administrative Assistant Skills
Different jobs require different job skills.
OK—But what skills do medical administrative assistants need to show on a resume?
One way to know which skills are most important for a job is by looking at occupational data. For medical administrative assistants:
99% feel that they're in "constant contact with others".
93% are on the telephone every day.
83% think being able to work in a group or team is "extremely important".
65% feel that being exact or accurate is "extremely important".
See a trend? Medical administrative assistants need to have effective communication skills and be detail-oriented. Make sure your resume backs that up.
Here's how to put skills on a resume:
Here are skills that would look great on a medical administrative assistant resume:
Medical Administrative Assistant Resume Skills
Scheduling and appointment setting
Electronic health records (EHRs)
Medical terminology
Data entry
Accounting
Confidentiality (HIPAA)
Customer billing
Medical coding
Business administration
Pro Tip: If you're changing careers, you may want to consider a hybrid resume that gives you more space to focus on the administrative or customer service skills you gained in your previous career.
When making a resume in our builder, drag & drop bullet points, skills, and auto-fill the boring stuff. Spell check? Check. Start building your resume here.
When you're done, Zety's resume builder will score your resume and tell you exactly how to make it better.
6. Add Extra Sections to Your Medical Administrative Assistant Resume
Remind the hiring manager that there's a person behind your paper resume by adding additional resume sections.
Think about adding the following sections if they suit you and are somewhat relevant to the gig you're applying for:
Especially certifications. They can make up for a lack of experience or be the cherry on top if you already have a great resume. The two main certifications for medical administrative assistants are:
Read more: Eye-Catching Resume Templates
7. Attach a Cover Letter to Your Medical Administrative Assistant Resume
Do you need a cover letter? The truth is that enough recruiters care about them that you should always attach one.
Don't worry though. There's a simple cover letter template you can use to write a medical administrative assistant cover letter that can help you win interviews:
Bam! You should have a killer cover letter now!
Read more: What is a Cover Letter for a Job
Plus, a great cover letter that matches your resume will give you an advantage over other candidates. You can write it in our cover letter builder here. Here's what it may look like: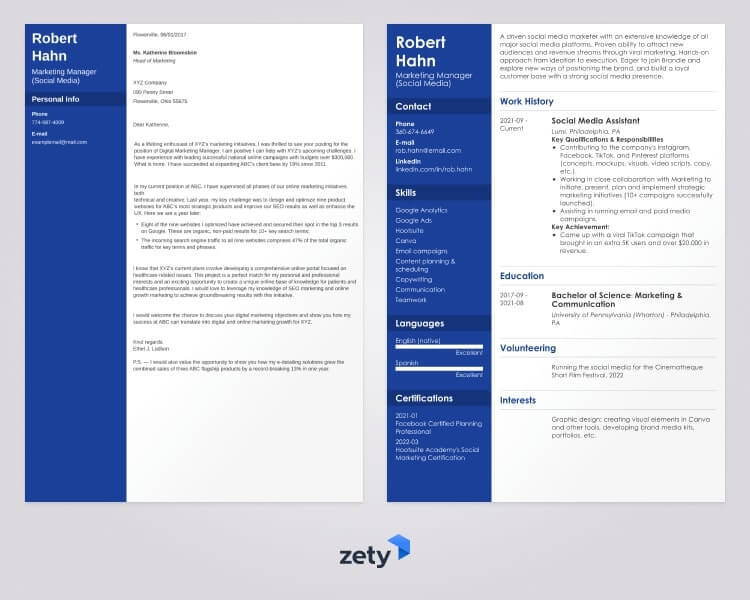 See more cover letter templates and start writing.
And now it's time to hit the job boards!
Thanks for reading! Do you have any questions on writing medical administrative assistant resumes? Ask away in the comments below.