Our customers have been hired by:
Even if you once wrote an amazing resume and you've been sending it out for years, learning how to update your resume is a great idea. Especially since an updated resume can work magic!
But how to make the right resume update? What to do, what to avoid? Read on and see our 11 steps for refreshing your resume!
This guide will show you:
How to update your resume.
How often should you update your resume.
11 steps of having a perfectly updated resume.
With Zety's resume builder, you'll save up! It takes seconds to upload your old resume and update it to a professional-looking resume template! Not to mention, you'll never have to write your resume from scratch again. Save your resume in the cloud and make changes to it for free as you progress in your career.
Sample resume updated with our builder—See more resume examples here.
Grab even more tips on how to update your resume:
How To Update Your Resume
You should treat updating your resume like you would updating any other document or details. After all, an updated resume gives the hiring manager the full spectrum of your experience and abilities is the best way to get that interview you want.
So how often should a resume be updated? You should update your resume everytime you secure a new role or gain new skills or experience. This might sound like a bit of drag, but it's less time-consuming than sitting down after 5-10 years and adding a ton of new information.
The good news is that updating your resume takes less time than you think.
Here are the 11 best ways to update your resume in Starbucks minutes:
Add Resume Keywords
Resume keywords are one of those things that can really make or break your chances of getting that job interview. Why? Well, let me introduce you to the ATS (applicant tracking system).
Most hiring managers use an ATS that they upload resumes into in exchange for an analysis based on the resume keywords used in your job application. The more ATS- friendly resume you have, the better chances you have of the recruiter taking a look at your resume and inviting you in for an interview.
So how do you make the system love you?
Find the right resume keywords in the job ad. You can also hunt for some resume keywords by Googling industry keywords that are relevant to positions that interest you. Sprinkle those keywords around in your resume and watch your phone start ringing off the hook.
Read more: What is a Targeted Resume?
Freshen Up Your Resume Header
Your resume header is the calling card of your updated resume—if it's out of date then it's basically useless. A fresh, modern resume header, on the other hand, will get heads turning.
Make sure your resume contact information is current and easy to spot and read. Your first and last name, phone number, and professional email address are essential. For safety and data protection reasons, ditch your address or just leave the city and state if your location is important. The same goes for your resume picture (it's an unnecessary part of a resume).
Add your LinkedIn profile to your resume if you have one, and if you don't, set one up (it's free!). Do the same for social media accounts that might be relevant to the role you're applying for. Check your social media footprint before sending out your resume since recruiters will be checking it out.
Read more: How to Start a Resume
Fix Your Formatting
No one will walk into an interview with their clothes rumpled and inside out, smelling of last night's keg party and expect to be hired. Your presence goes a long way so formatting is crucial to updating your resume.
An updated resume means taking another look at these resume format guidelines to make sure your job application is looking spiffy:
Read more: Best Resume Structure
Get Your Font Right
The font you use is one of those little things that can do a long way. Fashion changes over time and that goes for fonts too. What was seen as professional back in the day, now looks outdated and boring.
Pick a sleek, modern font that's easy to read. Georgia, Arial, or Verdana are a few good choices. Use 12pt for the majority of your resume and raise to 14-16pt for your section headers.
Read more: Best Professional Fonts for a Resume
Dust Off Your Resume Objective or Summary
Your resume objective or summary are basically a summary of your candidacy in a couple of sentences at the top of your resume, so if this isn't nice and shiny, your resume is going to get ignored.
If you're getting your first job or switching careers, choose the resume objective. It'll focus on your knowledge and skills and show hiring managers your commitment.
After you gain some job experience, you should change your objective to a summary.
A resume summary focuses on your job skills and work experience to show hiring managers you're the employee they need.
Read more: Professional Resume Profile
Rejuvenate Your Work Experience Section
Your work experience section does a lot of the heavy lifting in your resume—you need to get it right, otherwise it all just falls apart. If it looks like a gigantic wall of text from afar then get out the chisel, you've got resume updating to do.
Firstly, use bullet points instead of long sentences to make your work experience stand out more. Don't just pile on all the responsibilities you ever had. Use up to 6 bullet points for your most current job and then whittle it down to 3-4 for previous roles.
Secondly, use numbers and quantifiable achievements instead of words when you can. Numbers really make things stand out and draw attention.
For example, let's say you implemented a new HR system that cut HR costs and errors. OK, but that doesn't really raise any eyebrows, does it? But toss in some numbers and you get something like "implemented HR system which lowered HR errors by 30% and cut costs by $15K." Now that looks impressive!
Read more: How to Make Your Resume Work Experience Section Shine
Include Action Words
Once upon a time, "talked, did, calculated" were all you needed to get a job. Today, not so much. Grab the recruiter's attention with action verbs and power words. So instead of the verbs mentioned above, use words like "discussed, managed, analyzed". See the difference in energy? Recruiter will take notice.
And it's not about just sounding fancy. Action verbs convey the action, but also how you take ownership, are proactive, or think analytically. All definite must haves.
Read more: Resume Action Verbs, Power Words and Buzzwords
Tailor Your Resume to the Job Offer
Resume update doesn't mean changing the name of the resume file. And applying for a job doesn't mean mass spamming. Send out the same resume to every company under the sun and you're going to get a whole lot of silence in return.
Tailor your resume to the job description to show that you're professional and engaged.
Use the job ad as a cheat sheet to help you focus on what the hiring manager is searching for.
Next, do a bit of redecorating of your resume—does this bring value to my resume? Is this what the company is looking for? If either one gets a "no", delete it.
Read more: What is a Targeted Resume
Give the Additional Sections of Your Resume a Makeover
Some overlook additional sections because they think that only their education, skills, and work experience are important. That's totally false.
There are a number of things that can help give your resume score major brownie points with employers. Here are a few winners:
Remember that these sections only make sense on your resume if they're relevant to the job offer.
Read more: How to Write a Perfect Resume
When making a resume in our builder, drag & drop bullet points, skills, and auto-fill the boring stuff. Spell check? Check. Start building a professional resume template here for free.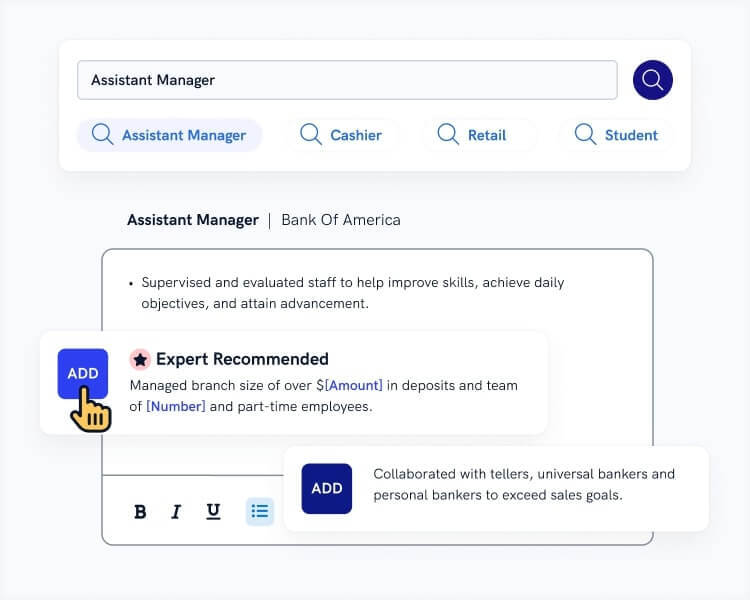 When you're done, our free resume builder will score your resume and our resume checker will tell you exactly how to make it better.
Proofread
If you're asking yourself "how to update my resume?", there's one thing you can't forget to do. It's what everyone talks about, but no one does it. Then they apply with resumes that mention their amazing "attention to detale."
Proofreading your resume is so simple and makes a huge difference. You can use the built-in spell checker in your word processor, but don't stop there. Use programs like Grammarly to check your grammar and word choices. Read your resume out loud to catch errors you might have missed. Have a friend or family member read through your resume to spot any mistakes.
Proofreading is a crucial step in critiquing your resume to make sure that you're sending out a top-notch job application and not a resume meme.
Read more: How to Build a Resume
Use a Modern Template
Nothing says "updated resume" more than a modern resume template.
Choose a sleek, modern resume template that will show that you mean business. Tailor it to the industry you're interested in. Go for simple resume templates for conservative sectors. You can go a little more wild with colors and graphic design elements on your resume for more creative sectors.
Here are some really top-notch resume templates for any job:
That's it! Your updated resume is sure to make your phone ring again!
Plus, a great cover letter that matches your resume will give you an advantage over other candidates. You can write it in our cover letter builder here. Here's what it may look like: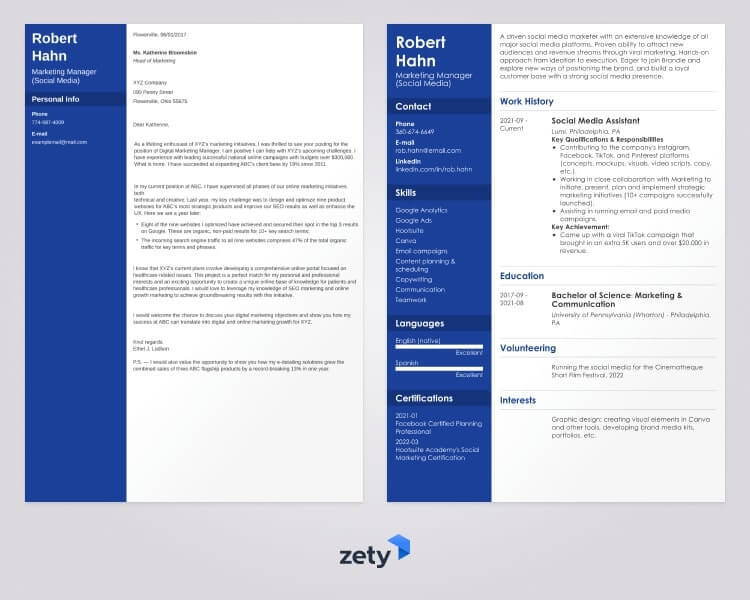 See more cover letter templates and start writing.
Thanks for reading! Need any more tips on updating your resume? Let us know in the comments and we'll get in touch!
About Zety's Editorial Process
This article has been reviewed by our editorial team to make sure it follows Zety's editorial guidelines. We're committed to sharing our expertise and giving you trustworthy career advice tailored to your needs. High-quality content is what brings over 40 million readers to our site every year. But we don't stop there. Our team conducts original research to understand the job market better, and we pride ourselves on being quoted by top universities and prime media outlets from around the world.
Sources