Administrative Coordinator Resume Samples [+ Writing Guide]
Coordinators perform tasks that are essential to companies. It's time to step out from behind the scenes and into the spotlight with your administrative coordinator resume.
As an administrative coordinator, you juggle office tasks with the finesse of a Cirque du Soleil performer. But the question is, how do you show it on your resume?
It's easier than you might think. In just a few minutes, you'll learn how to present your skills and experience in an irresistible way to recruiters. Get ready to craft a winning administrative coordinator resume!
Want to save time and have your resume ready in 5 minutes? Try our resume builder. It's fast and easy to use. Plus, you'll get ready-made content to add with one click. See 20+ resume templates and create your resume here.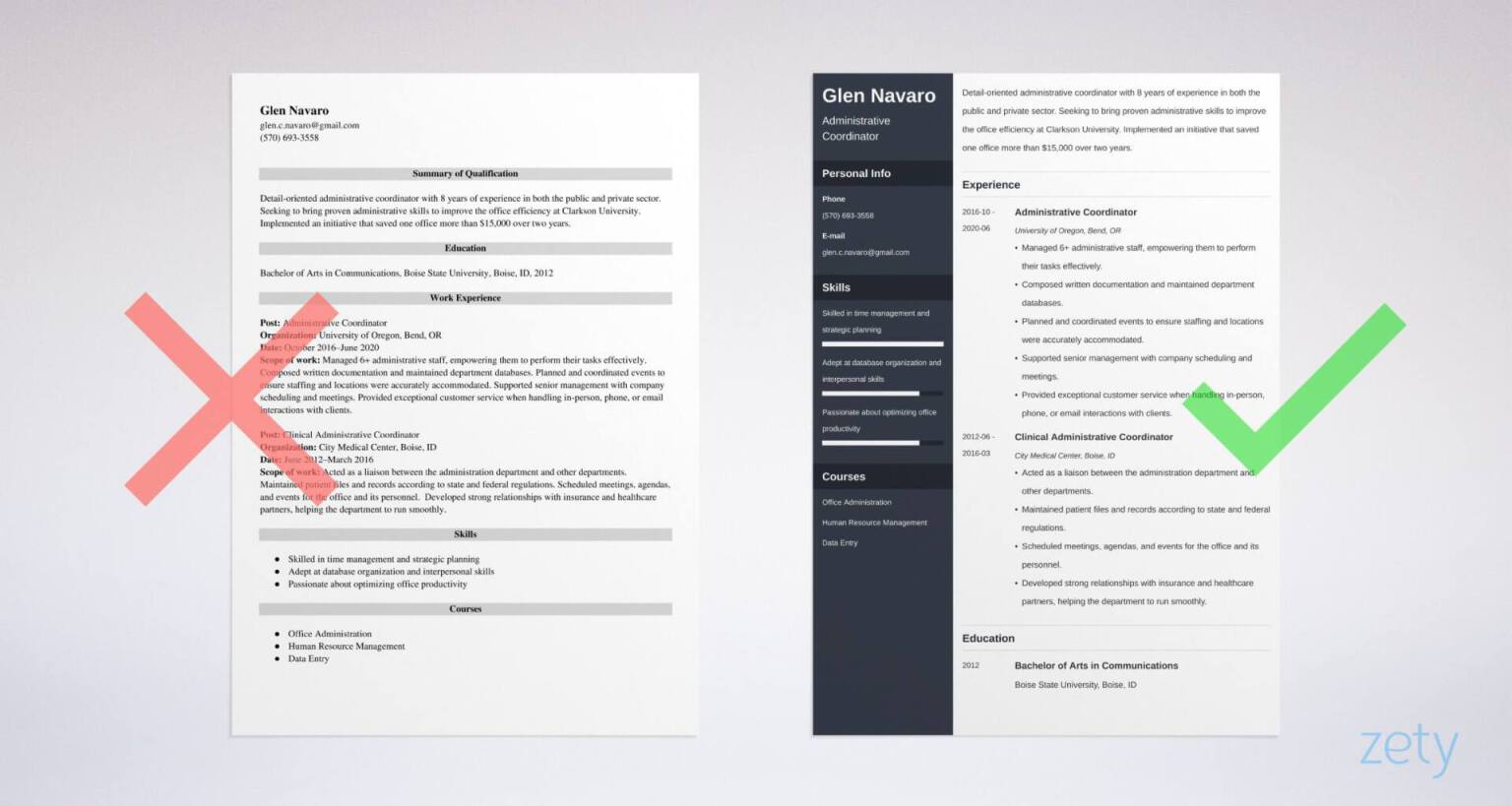 Sample resume made with our builder—See more resume examples here.
Interested in other jobs in the healthcare or administration fields? See:
Sample Administrative Coordinator Resume Template
Glen Navaro
glen.c.navaro@gmail.com
(570) 693-3558
Summary of Qualifications
Detail-oriented administrative coordinator with 8 years of experience in both the public and private sector. Seeking to bring proven administrative skills to improve the office efficiency at Clarkson University. Implemented an initiative that saved one office more than $15,000 over two years.
Work Experience
Administrative Coordinator
University of Oregon, Bend, OR
October 2016–June 2020
Managed 6+ administrative staff, empowering them to perform their tasks effectively.
Composed written documentation and maintained department databases.
Planned and coordinated events to ensure staffing and locations were accurately accommodated.
Supported senior management with company scheduling and meetings.
Provided exceptional customer service when handling in-person, phone, or email interactions with clients.
Clinical Administrative Coordinator
City Medical Center, Boise, ID
June 2012–March 2016
Acted as a liaison between the administration department and other departments.
Maintained patient files and records according to state and federal regulations.
Scheduled meetings, agendas, and events for the office and its personnel.
Developed strong relationships with insurance and healthcare partners, helping the department to run smoothly.
Education
Bachelor of Arts in Communications
Boise State University, Boise, ID
Graduation Date: 2012
Skills
Skilled in time management and strategic planning
Adept at database organization and interpersonal skills
Passionate about optimizing office productivity
Courses
Office Administration
Human Resource Management
Data Entry
Here's how to write a perfect administrative coordinator resume:
1. Pick a Professional Administrative Coordinator Resume Format
Administrative coordinators oversee staff operations, manage budgets and office supplies, write reports, and provide administrative support to upper management. Essentially, they act as the point of contact between various departments, employees, vendors, and customers. The purpose of an administrative coordinator resume is to highlight your office administration skills in a positive light to get to the next stage in the hiring process.
Thanks to new tech, office and administrative support positions are expected to decline by 3% from 2018 to 2028. That means the competition for administrative coordinators is heating up.
Learn how to format your resume so that your administrative coordinator resume stands out donuts in the break room:
Pro Tip: The first round your resume has to pass through will likely be an Applicant Tracking System (ATS). Avoid fancy graphs, tables, and formats to ensure your resume is ATS-friendly.
2. Pull Off an Eye-Catching Resume Summary or Resume Objective
Here's a somewhat disturbing fact—recruiters only spend 7 seconds on average scanning each resume for corporate positions.
What can you add to your resume to catch their attention in that amount of time? A professional profile.
A resume profile is a short paragraph (4 sentences max) right beneath your header that describes your experience and why you're the best candidate for a specific position.
There are two kinds of profiles (a summary or an objective) and the one you should choose depends on your experience:
Go with a resume summary statement if you have 2+ years of experience in the office. To write one:
Write one sentence about who you are professionally. Use good words to describe yourself.
Use up to 3 sentences to describe your relevant experience that is applicable for the job. Focus on your biggest wins and the skills that would best translate into success at the company.
Go with a resume objective statement if you don't have any experience as an administrative coordinator:
Write an introductory sentence about your education or experience in a different field.
Use up to 3 sentences to write about why you're the perfect candidate based on all the transferable skills you have.
Pro Tip: Make a targeted resume by tailoring your resume objective or summary to the specific job posting you're shooting for. Highlight your skills or experience that is listed as a necessary on the ad.
3. Write a Winning Administrative Coordinator Resume Experience Section
Remember your first day in the office? When you had to be trained on how to use the office equipment. And you accidentally hit "Reply All" to your boss's email—Whoops.
Some on-the-job training is expected for every position. But if you've never handled basic office duties—now that's something employers would like to know before they hire you.
What you need to do is put the hiring manager at ease by writing a great work experience section on your administrative coordinator position. Here's how:
Begin by listing your current job and then going backwards in time chronologically.
Describe each job with the job title, company name, location, employment dates, and up to 6 bullet points.
Focus on your achievements in the bullet points rather than basic administrative duties and responsibilities.
Put action words at the start of each bullet point to talk about what you accomplished.
Tailor your resume to the job position by finding the key skills and requirements mentioned in the job description and using the same terms in your bullet points.
Pro Tip: Should you include irrelevant experience on your resume? If any of the skills are transferable, yes. If you tailor your experience section for those positions, they can still make you look like a good fit.
4. Add an Education Section to Your Administrative Coordinator Resume
For most recruiters, their eyes first gravitate towards your experience section. It doesn't mean you should leave off the resume education section. In fact, it can work to your advantage (especially if you're inexperienced).
Here's how to write about your diploma on an administrative coordinator resume:
If you have a college degree, put the name of your school, the location, graduation date, degree, major, and minors. If you're lacking in experience, you can add more detail, such as relevant coursework or extracurricular activities.
If you don't have a college degree, just list your high school on your resume. Put the school name, location, and date of graduation. Done.
Pro Tip: You know the saying "D's get degrees"? There's actually some truth behind it. You don't have to put your high school or college GPA on your resume. In fact, you shouldn't unless it's higher than 3.5.
5. Mention Those Administrative Coordinator Skills
As Sheryl Sandberg says, "Build your skills, not your resume".
It's great life advice. And actually great resume advice too, because then you also have skills to put your resume.
Here's how to put administrative skills on a resume
Brainstorm a comprehensive list first, one that has all your skills on it: your soft skills and hard skills, technical skills, and any other skill you've developed from school or on the job.
Trim down the list, by picking and choosing the skills to put on your resume by selecting the ones found in the administrative coordinator job description.
Here are skills that would look great on an administrative coordinator resume:
Administrative Coordinator Resume Skills
Administrative skills
Business administration
Task management
Purchase orders
Accounting
Office equipment and supplies
Scheduling
Data entry
Data analysis
Pro Tip: If you're in the middle of a career change, a hybrid resume format could help you by giving you a skills summary section to go into detail on the skills you developed in your previous career.
When making a resume in our builder, drag & drop bullet points, skills, and auto-fill the boring stuff. Spell check? Check. Start building a professional resume template here for free.
When you're done, Zety's resume builder will score your resume and our resume checker will tell you exactly how to make it better.
6. Stand Out With Extra Sections on Your Administrative Coordinator Resume
Employers are looking for well-rounded candidates. These optional resume sections can add a dash of personality or give you a leg up on the competition:
Nothing beats experience, but a certification section is the next best thing. Consider adding an administrative certificate like the following:
Read More: How Many Sections Should a Resume Have?
7. Attach a Cover Letter to Your Administrative Coordinator Resume
What is the purpose of a cover letter? To address any concerns the HR manager might have from your resume, and ensure they call you in for an interview.
Sound difficult? It's not so bad. Here's how to make sure your cover letter has the all the right parts:
Pro Tip: Last but not least, follow up on all your job applications with an email or a phone call to see how the recruiting process is advancing. A small effort here can really set you apart.
Plus, a great cover letter that matches your resume will give you an advantage over other candidates. You can write it in our cover letter builder here. Here's what it may look like: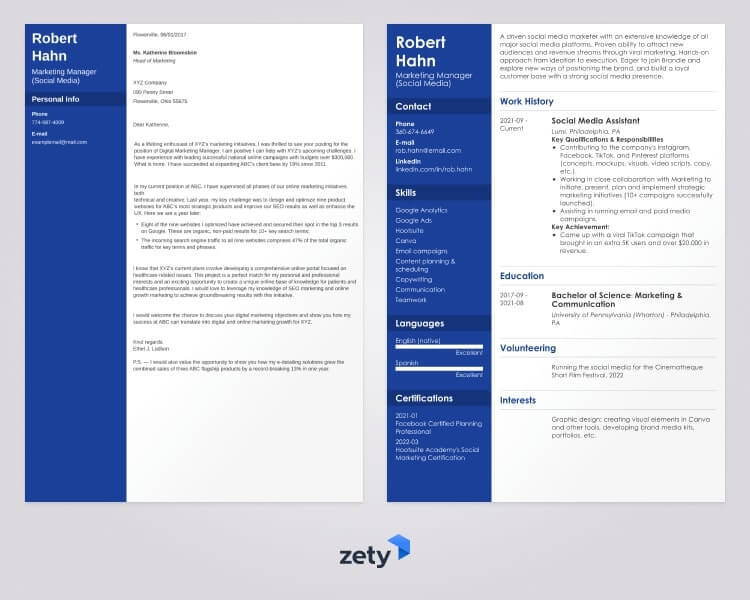 See more cover letter templates and start writing.
Best of luck in the job search!
Thanks for reading! Do you have a question on how to write your administrative coordinator resume? Maybe the administrative coordinator job you're applying for is special in some way? We'll be in the comment section ready to help!
About Zety's Editorial Process
This article has been reviewed by our editorial team to make sure it follows Zety's editorial guidelines. We're committed to sharing our expertise and giving you trustworthy career advice tailored to your needs. High-quality content is what brings over 40 million readers to our site every year. But we don't stop there. Our team conducts original research to understand the job market better, and we pride ourselves on being quoted by top universities and prime media outlets from around the world.
Sources