Healthcare Administration Resume: Samples and Writing Guide
Writing a high-quality healthcare administration resume isn't nearly as complex as dealing with the intricacies of our country's healthcare system. Here's all you need to know.
Similar to how mistakes on medical records can have serious repercussions, so can mistakes on your healthcare administration resume.
It doesn't matter if you have a decade of healthcare administration experience at John Hopkins if your resume is formatted like a doctor's note.
Don't worry though, we have you covered like a Gold-level health insurance plan. Read on and learn how to write the best healthcare administration resume possible.
Want to save time and have your resume ready in 5 minutes? Try our resume builder. It's fast and easy to use. Plus, you'll get ready-made content to add with one click. See 20+ resume templates and create your resume here.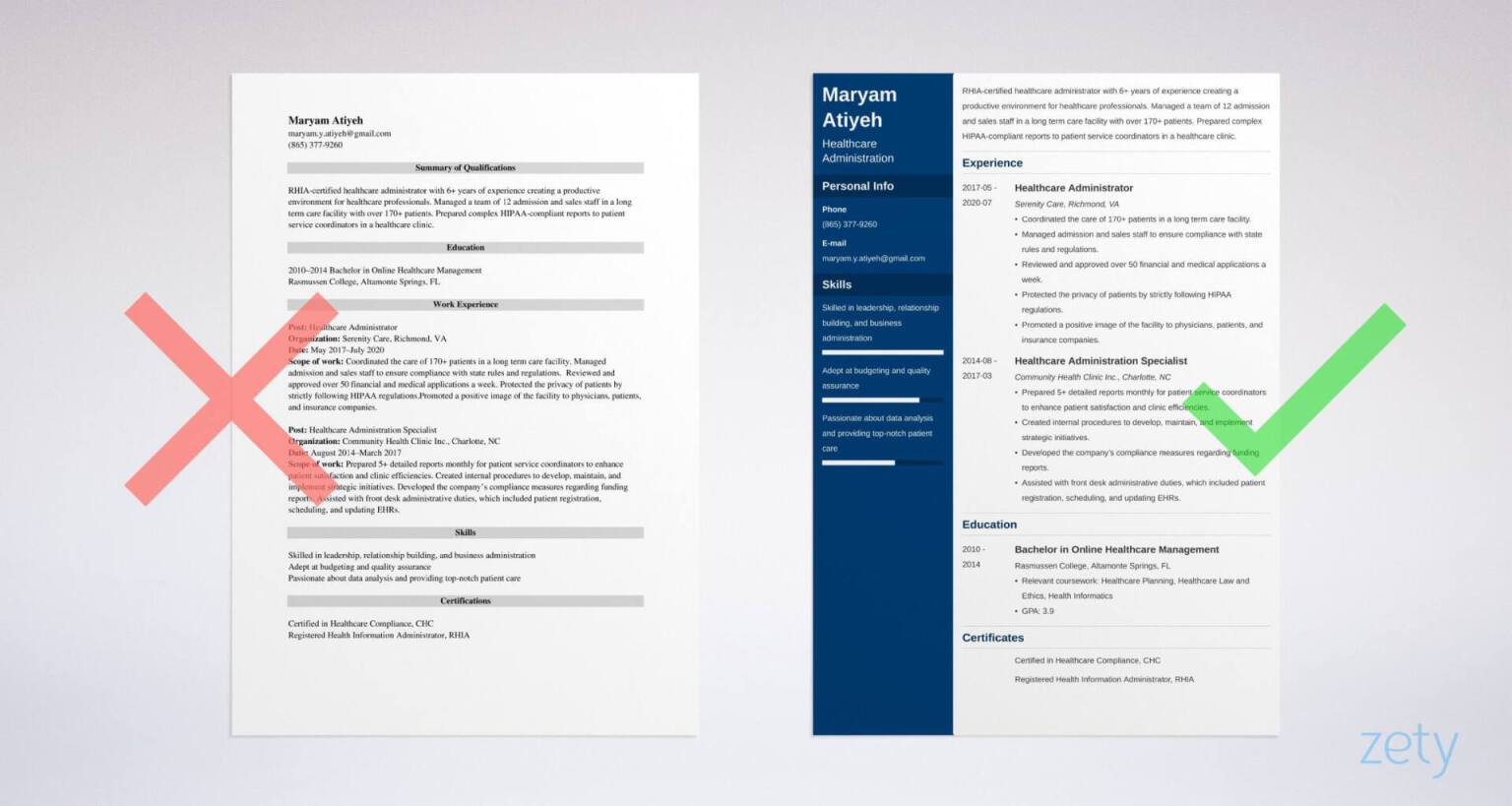 Helathcare administration resume made with our builder—See more resume templates here.
Interested in other jobs in the healthcare or administration fields? See:
Sample Healthcare Administration Resume Template
Maryam Atiyeh
maryam.y.atiyeh@gmail.com
(865) 377-9260
Summary of Qualifications
RHIA-certified healthcare administrator with 6+ years of experience creating a productive environment for healthcare professionals. Managed a team of 12 admission and sales staff in a long term care facility with over 170+ patients. Prepared complex HIPAA-compliant reports to patient service coordinators in a healthcare clinic.
Work Experience
Healthcare Administrator
Serenity Care, Richmond, VA
May 2017–July 2020
Coordinated the care of 170+ patients in a long term care facility.
Managed admission and sales staff to ensure compliance with state rules and regulations.
Reviewed and approved over 50 financial and medical applications a week.
Protected the privacy of patients by strictly following HIPAA regulations.
Promoted a positive image of the facility to physicians, patients, and insurance companies.
Healthcare Administration Specialist
Community Health Clinic Inc., Charlotte, NC
August 2014–March 2017
Prepared 5+ detailed reports monthly for patient service coordinators to enhance patient satisfaction and clinic efficiencies.
Created internal procedures to develop, maintain, and implement strategic initiatives.
Developed the company's compliance measures regarding funding reports.
Assisted with front desk administrative duties, which included patient registration, scheduling, and updating EHRs.
Education
2010–2014 Bachelor in Online Healthcare Management
Rasmussen College, Altamonte Springs, FL
Relevant coursework: Healthcare Planning, Healthcare Law and Ethics, Health Informatics
GPA: 3.9
Skills
Skilled in leadership, relationship building, and business administration
Adept at budgeting and quality assurance
Passionate about data analysis and providing top-notch patient care
Certifications
Certified in Healthcare Compliance, CHC
Registered Health Information Administrator, RHIA
Here's a complete guide on how to write a successful healthcare administration resume:
1. Select the Right Healthcare Administration Resume Format
Healthcare administration involves overseeing the day-to-day operations that affect the business of a healthcare system, whether that means the management of a hospital, nursing home, or a physician's practice. The purpose of a healthcare administration resume is to show that you can coordinate a healthcare system in an effective manner that provides high quality care to patients.
Thanks to an aging baby boomer population, healthcare administration jobs are also booming. Between 2018 and 2028, the number of jobs are expected to rise by 18%.
But it doesn't matter how many healthcare admin jobs there are—if your resume isn't formatted correctly.
Why?
Because recruiters only spend seven seconds on average reviewing each resume, according to HR statistics. To keep your healthcare administration resume in stable condition, follow these formatting tips:
Pro Tip: A perfect resume is also about knowing what should not be included in a resume. For starters, don't include a photo in your resume. Leave off your marital status and gender, too.
2. Write an Enticing Resume Profile
Hospitals have become sprawling complexes with more departments than you can count. Electronic recording systems have gotten more and more complicated. Healthcare finance now requires juggling insurance companies, government programs, and third-party systems.
Healthcare administrators require a mix of experience and skills. You want the hiring manager to give one glance to your healthcare administration resume and feel at ease.
The best way to accomplish that is with a resume profile, a brief paragraph at the top of your resume meant to describe who you are and why your experience and skills fit the position perfectly.
But depending on your experience in healthcare administration, there are two different kinds of profiles: the resume summary or the resume objective.
Write a resume summary is recommended if you have 2+ years of relevant experience:
Think about which of your healthcare skills and experience is most impressive.
Include 3-4 of those selling points that are most applicable to the job posting in your resume summary.
Write a resume objective if you just received a degree in healthcare administration and lack experience:
Brainstorm a list of the skills and knowledge you gained from your education.
Write about those accomplishments, preferably in a measurable and quantifiable way.
Finish writing your resume introduction last, as you can use the highlights from your experience section here.
Pro Tip: Your resume profile should be 3–4 sentences long and placed at the top of your resume. Always target it to the company you are applying to.
3. Create a Gold-Tier Healthcare Administration Resume Experience Section
To get a position at a facility on par with the Mayo Clinic, you'll need to describe your professional experience on your resume in a way that shows you can handle the challenges that healthcare administration professionals face.
Begin with your current job and then go backwards chronologically.
Be sure to include the job title, company, location, dates of employment, and up to 6 bullet points for each entry.
Try to make each bullet point an accomplishment, rather than a duty or responsibility.
Start each bullet point with action words to show a sense of leadership.
Tailor your resume to the position by mentioning key skills and requirements from the job posting.
Make sure to update your resume. Your work experience section should be up-to-date with your newest positions or responsibilities.
Pro Tip: Should you include irrelevant experience on your resume? Chances are you developed some transferable skills from jobs even if your title seems irrelevant to healthcare admin. Only remove experience that is less relevant once you have plenty of high quality relevant experience.
4. Flaunt Your Degree on Your Healthcare Administration Resume
While it's true that healthcare administrators come from a variety of backgrounds, the fact is that a degree is necessary.
And if you've got it, flaunt it. Here's how to write a resume education section:
List the bare minimum if you already have great experience in the field (more than 5 years): college, location, graduation date, degree, major, and minors.
Spice up your education with more information if you have no experience and are applying for entry level healthcare administration jobs with a relevant coursework section, extracurricular activities, or projects.
Pro Tip: If you're making a resume with no experience because you just graduated, put your education section above your experience section to lead with your biggest strengths.
5. Make an Impression With Your Healthcare Administration Skills
Just because healthcare administrators mostly work behind the scenes, it doesn't mean their skills don't have an impact on the health care patients receive.
Show the HR manager you have the right skills:
Here are the most important skills to include on a successful hospital administrator resume:
Healthcare Administration Resume Skills
Human resource management
Healthcare finance and budgeting
Patient care
Relationship building
Quality assurance
Understanding of HIPAA
Electronic health records (EHRs)
Computerized physician order entry (CPOE)
Strategic planning
Data collection
Data analysis
Pro Tip: You can learn something new and spruce up your resume at the same time with online courses. EdX has a MicroMasters program, Coursera has many courses on healthcare administration, and Udemy has a course on how to become a healthcare administrator.
When making a resume in our builder, drag & drop bullet points, skills, and auto-fill the boring stuff. Spell check? Check. Start building a professional resume template here for free.
When you're done, Zety's resume builder will score your resume and tell you exactly how to make it better.
6. Round Out Your Healthcare Administration Resume With Additional Sections
Deviate from the norm (in a good way) by adding extra sections to your resume. Consider adding language skills, achievements, accolades, association memberships, hobbies, volunteer work, or whatever else suits your personality.
Oh—and the one section all the best healthcare administration resume samples have.
A certifications section.
Licenses and certifications are a requirement for some healthcare administration jobs, so be sure to include the ones you have:
Read more: How to Write an Eye-Catching Resume
7. Write a Cover Letter to Match Your Healthcare Administration Resume
Sure, writing the perfect cover letter might seem like a waste of time if not all recruiters read them. But when 56% of employers prefer a cover letter to be attached, you'd only be reducing your chances of being hired if you don't include one.
Write your healthcare administration cover letter with this advice in mind:
And that's how to write a killer cover letter!
Pro Tip: Don't forget to follow up on your job application. A quick email or phone call can be just the trick that gets you hired.
Plus, a great cover letter that matches your resume will give you an advantage over other candidates. You can write it in our cover letter builder here. Here's what it may look like: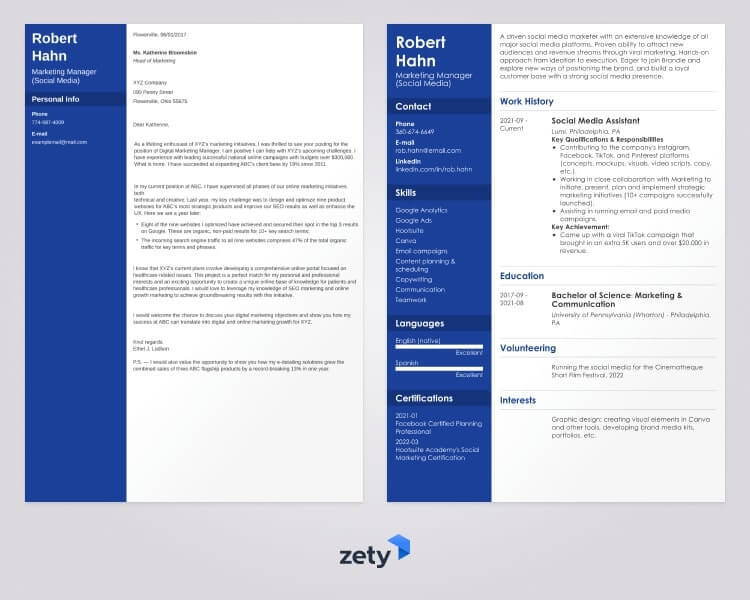 See more cover letter templates and start writing.
Good work—
Now you're ready to apply for any healthcare administration job out there!
Do you have any questions regarding how to write a healthcare administration resume? Let's discuss in the comment section!