Purchasing Resume: Examples & Writing Guide
As a procurement specialist, you always deliver under budget. Learn how to find your dream job and make your wallet over budget with our guide to writing a purchasing resume.
If you're in the market for the perfect purchasing resume guide, you've come to the right place. Even more so, it's free of charge, and you don't have to fill out any RFQ forms. Great!
Not to be the bearer of bad news, but… you know what's not so great? The decreasing number of available purchasing jobs. No need to fret though, with our guide, you're going to be set for a very long time.
This guide will show you:
A purchasing resume example better than 9 out of 10 other resumes.
How to write a purchasing resume that will land you more interviews.
Tips and examples of how to put skills and achievements on a purchasing resume.
How to describe your experience on a resume for purchasing positions to get any job you want.
Want to save time and have your resume ready in 5 minutes? Try our resume builder. It's fast and easy to use. Plus, you'll get ready-made content to add with one click. See 20+ resume templates and create your resume here.
Sample resume made with our builder—See more resume examples here.
Want to read a specific guide for a purchasing agent? Wait no longer: Purchasing Agent Resume Example With a How-to Guide
Looking to find a bargain in other positions? Read more about them here:
Purchasing Resume Example
Lauren Green
Purchasing Specialist
520-407-9984
laurengreen@zetymail.com
Linkedin.com/in/2lauren.green
Resume Summary
Inventive purchasing specialist with 6 years of experience. Complied with GPO contracts when serving as chief Purchasing expert for Orlando General Hospital. Established relationships and received 5-10% discounts on bulk orders, saving $72,000 per annum.
Work Experience
Purchasing Specialist
Orlando General Hospital, Orlando, FL
July 2017–December 2020
Managed expected pricing and delivery of orders/backorders, and reduced purchasing errors by 15%.
Worked closely with hospital management to develop and maintain relationships with 35 suppliers.
Managed a $12 million annual budget for a 7-story hospital employing 850 staff.
Reduced overspending supplies to adjust for inflation-based cost increases.
Gathered data, evaluated suppliers, and prepared extensive quarterly reports to hospital board.
Commodities Procurement Associate
General Dynamics Ordnance, Orlando, FL
October 2014–July 2017
Processed supplier solicitations and led acquisition efforts.
Assisted in managing the contract award process, serving as a key voice in final selection of over 95 contracts.
Performed vendor information gathering and assessed price ranges to establish most efficient deals.
Education
Bachelor of Science in Project and Supply Chain Management
University of Tennessee, Knoxville
2009–2013
Key Skills
Vendor Relations
Cost Breakdown
Timely Communication
Strategy Implementation
Purchase Orders/RFQs
Record Tracking
Purchasing Error Identification
Certifications
Certified Purchasing Professional, APS, 2018
Certified Professional in Supply Management, ISM, 2015
Accomplishments
Established industry-focused think tank for Haslam College of Business alums
Contributor to Rutgers University's "Supply Chain Sourcing" Coursera program
Here's how to up your purchasing resume game and find yourself a dream gig:
1. Choose the Best Purchasing Resume Format
Purchasing specialists acquire materials and supplies in bulk to ensure a company's operations can run smoothly and efficiently. Their chief duties involve ordering, scheduling, and price negotiation—all of which are crucial elements for any purchasing resume, next to teamwork and time management.
However—
With projections showing a steady decline, and the average age of people in purchasing sitting at way over 40, implying long-term experience being the gold standard, getting in is quite a challenge.
Get at them right away with a perfectly designed resume.
But which resume format works best? The answer is simple: the reverse-chronological resume layout.
It allows you to upsell your biggest strengths to the recruiter in a flash. What's not to like?
Other than that, there are a few elements for you to remember:
When done, export the resume file as a PDF to make sure it opens on every device.
Last thing: not sure how long a resume should be? One page is enough in 95% of cases, two-page resumes are for seasoned purchasing champions.
Not feeling too creative at the moment? Read more: Modern Resume Templates to Download and Use Now
2. Prepare an Outstanding Career Profile for Your Purchasing Resume
What's the number one tip for every resume?
It needs to be scannable.
Recruiters are finicky and impatient. If you think they receive a less-than-truckload of resumes to read through on the daily, think again.
For them, a few seconds is enough to decide if your request should be approved or denied.
Therefore—
Write yourself a resume profile and show that what you bring to the table is worth reading through.
Summarize your resume if you've been managing cash flows and blanket orders for more than 2 years. Focus on your greatest achievements and times you scored big for your company.
Resume objectives will work better if you're new and inexperienced. Shine more light on your ambitions and skills to get them thinking.
Read more: Resume Introductions: Full Writing Guide, Ideas, and Expert Tips
3. Tailor the Work Experience Section to the Purchasing Job Description
Ugh, that's so uninspired.
…is precisely the opposite of what you want the recruiter to say upon reading your work experience section.
If you make it too generic, the only experience you show is in over-relying on single suppliers.
A good purchasing resume is a strictly targeted resume, each and every time.
You start by listing your newest position first. Include the job title.
Then, tell them what the company was called and how long you spent there.
Add up to 6 bullet points for each job. Describe your tasks and achievements. Remember to keep using lots of numbers and impressive statistics. They draw attention.
Use the PAR (Problem-Action-Result) formula when describing achievements. That will demonstrate the real value of your work.
Lastly, never send the same generic resume over and over. I get it, you're trying to save on costs. But it's just weak. Avoid 100%.
Read more:How to Choose Relevant Experience for a Resume
4. Put Thought into the Education Section of Your Purchasing Resume
"Education? Who needs to talk about that? It's the market knowledge that counts!"
Only the last part of that statement is correct, but we've covered that already in the job description section.
Other than that, a resume education section is a staple that must be included.
Yet, if your experience proves you outperformed your competitors, there's nothing to be worried about.
If you have more than 5 years in the industry, stick to the basic stuff. Your degree, attended school, and graduation date are totally enough.
But, if you're writing a resume as an entry-level candidate, adding some extra bullet points is definitely a good idea:
Read more: When to Put High School on Your Resume (and When Not to)
When making a resume in our builder, drag & drop bullet points, skills, and auto-fill the boring stuff. Spell check? Check. Start building a professional resume template here for free.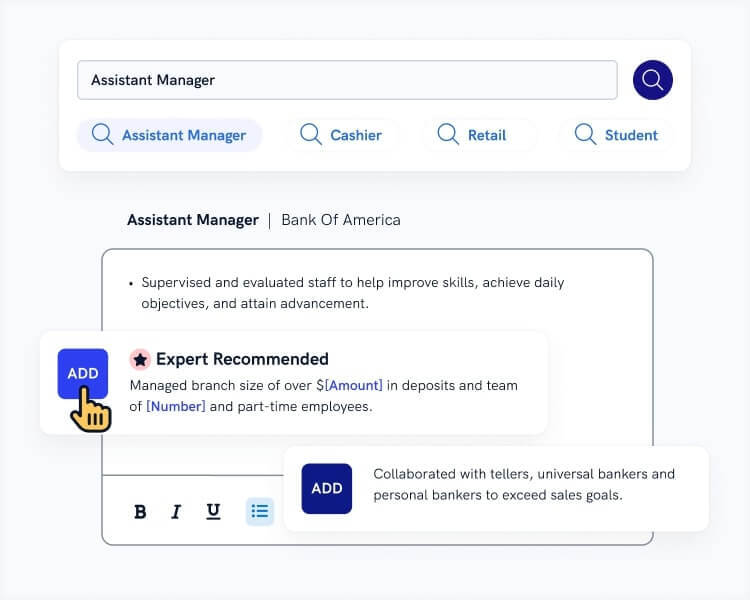 When you're done, our easy resume builder will score your resume and our resume checker will tell you exactly how to make it better.
5. Show Targeted Skills on Your Purchasing Resume
Let's start you off with some inspiration. Take a look at this sample list of purchasing skills.
Purchasing Resume Skills
Market Research
Performing Cost Analysis
Negotiation & Contracting
Expeditions
Supplier Liaison
Establishing & Tracking KPIs
Financial Literacy
Supply Chain/Logistics
Budgeting
Record Keeping
RFQs/RFPs
Analyzing Invoices
Monitoring Inventory
Problem-Solving Skills
Organizational Skills
Professionalism
Don't, however, try to list all of your skills onto one resume. Remember that tailoring it is a way more efficient approach, like so:
Read more: What to Put on a Resume
6. Fill in the Blanks With Additional Sections on Your Purchasing Resume
Most people give up at this point. They kick their feet up after doing the tougher sections and don't invest time or effort to impress anymore.
But they have inaccurate data.
So, you're going to do something else that.
Adding extra resume sections can constitute a valuable part of your purchasing resume.
Here are a few ideas to get you started:
Read more: How to Put Internships on a Resume
7. Seal the Deal with a Great Purchasing Cover Letter
Adding a purchasing cover letter will increase your chances of getting an interview.
It's true—our HR stats show that around half of all recruiters expect a cover letter from each and every applicant.
In case you need one, we have a quick refresher including the best cover letter tips:
First things first: use the right cover letter format.
Start your cover letter with a compelling opening statement. Try to hook your reader right from the beginning.
Elaborate on what drew you to apply, and how you can improve the company.
Demonstrate the real impact of your past work by listing more numbered achievements and wins.
End the cover letter and explain how much they will benefit by hiring you. Give them a call to action.
As for the ideal cover letter length, 3–4 paragraphs should suffice.
Read more: How to Write a Cover Letter for a Job
Plus, a great cover letter that matches your resume will give you an advantage over other candidates. You can write it in our cover letter builder here. Here's what it may look like: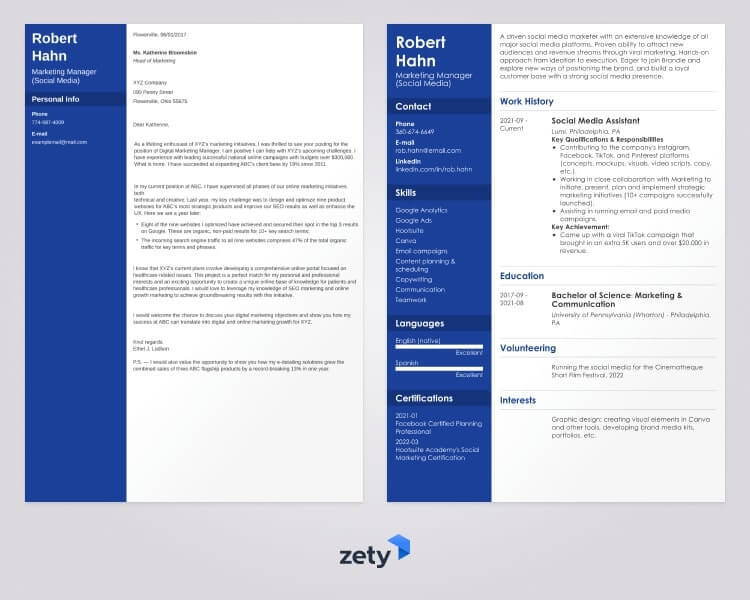 See more cover letter templates and start writing.
Thanks for reading. Got anything to add to what you've just seen? Did we miss anything important about how to write a purchasing resume? Let us know in the comments down below!
About Zety's Editorial Process
This article has been reviewed by our editorial team to make sure it follows Zety's editorial guidelines. We're committed to sharing our expertise and giving you trustworthy career advice tailored to your needs. High-quality content is what brings over 40 million readers to our site every year. But we don't stop there. Our team conducts original research to understand the job market better, and we pride ourselves on being quoted by top universities and prime media outlets from around the world.