Purchasing Agent Resume: Examples, Objective, Skills
Write your purchasing agent resume, put it out there, and have the recruiter make you an offer. Thanks to this guide, you'll negotiate the best deal for yourself—your dream job.
What will the "R" in "ROI" stand for if you invest in finding the best way to write a purchasing agent resume? The answer is rather obvious—your dream job.
First, you need to prepare the assets for your investment. So get to it!
This guide will show you:
A sample of a purchasing agent resume better than 9 out of 10 other resumes.
How to write a purchasing agent resume that will land you more interviews.
Tips and examples of how to put an objective and skills on a resume for a purchasing agent.
How to write a purchasing agent job description on a resume to get any job you want.
Want to save time and have your resume ready in 5 minutes? Try our resume builder. It's fast and easy to use. Plus, you'll get ready-made content to add with one click. See 20+ resume templates and create your resume here.
Sample resume made with our builder—See more resume examples here.
Want to read a general guide for purchasing jobs? There you go: Purchasing Resume Example and How to Write
Check out other guides related to a purchasing agent job:
Purchasing Agent Resume Sample
Robert C. Ellis
Purchasing Agent
231-791-7536
robertcellis@email.com
linkedin.com/in/robertellis
Summary
A data-driven purchasing agent with 3+ years of experience, seeking a growth opportunity at Burbarry. While in John's & Co., reduced errors in spending by 7%, saving over $50,000 monthly. A great collaborator with advanced customer service skills, eager to build positive and beneficial relationships with company stakeholders.
Experience
Purchasing Agent
John's & Co, Detroit, MI
March 2019–Present
Collaborated with the manager to make purchases with the most cost-effective strategy in a 100-employee company.
Managed vendor relationships with over 30 vendor company representatives.
Ran negotiations with suppliers on prices and contract terms, reducing spending by 18%.
Coordinated concerns from suppliers and vendors, increasing the vendor retention rate by 6%.
Key achievement:
Reduced spending errors by 7%, reviewing procurement specifications.
Buyer Intern
Kalooha, Ann Arbor, MI
September 2018–January 2019
Pulled up and constructed reports on sales trends every Monday using Office365.
Conducted price comparison with sourcing tools.
Designed training guides for 3 franchise openings.
Education
Bachelor of Business Administration (BBA)
Stephen M. Ross School of Business, University of Michigan, Ann Arbor, MI
2018
Certification
Certified Supply Chain Professional (CSCP), Association for Supply Chain Management (APCIS), in progress (planned completion in 2022).
Certified Purchasing Professional (CPP), American Purchasing Society, 2020.
Hobbies & Interests
Volunteering as a purchasing manager for my best friend's start-up company.
Creating educational YouTube videos for the young about the economy and finance (8,000 subscribers to date).
Attending The American Purchasing Society (APS) training sessions on growing knowledge of negotiation techniques.
Skills
Contract law
Negotiation & Customer service skills
Research and data gathering
Sourcing
Delivery scheduling and monitoring
Account management
Interpersonal skills
Problem-solving skills
Decision-making skills
Analytical thinking
Every purchase is based on a promise. I also made you one to help you write a successful purchasing agent resume.
So, without further ado—
This is how to write a resume for a purchasing agent:
1. Format Your Purchasing Agent Resume
A purchasing agent buys products or services of quality, builds and manages the company vendor and supplier portfolios, and negotiates contract terms dictating deals. So, in your purchasing agent resume, make sure to say how well you handle customer service, supply chain management, and contract negotiations.
Speaking of—
Reading and understanding contracts is not easy-peasy. Yellow-dogs, ratification, waivers…
But not for you.
You're well versed in legalese and contract layout because your time is of the essence.
So, instead of letting your recruiter lose time deciphering your resume, have them think of reasons to hire you. Make that happen by following these simple resume format rules:
Read How To Create a Resume to get the big picture
2. Write a Purchasing Agent Resume Objective or Summary
Just like you need sugar for sweetness, a purchasing agent needs negotiation skills to achieve goals.
And because making an elevator pitch is part of every resume, now you have a chance to persuade the hiring manager that you know what's what already in the resume introduction:
Write a career summary where you summarize your experience and qualifications. Make them sound solid by mentioning one or two achievements that you're most proud of. Drop a certification and a few skills in between.
A career objective, though, works better if you don't have years of experience to show off. Include your skills and aspirations toward becoming a purchasing agent, and prove your enthusiasm for the new opportunity.
See how to highlight your strengths in our Summary Of Qualifications Example
3. Balance Your Purchasing Agent Duties on a Resume
To sign the deal, you'll have to take it down a notch.
"What exactly do I need to take down?"
Your confidence.
You don't win a deal with strong opinions about your readiness to succeed. That way, you underestimate the whole preparation process, which, instead, will take you down.
Instead, you would use solid arguments backed up with quantifiable data.
So—
This's how to prepare for and write a purchasing agent job description on a resume:
There are other items equally worth including in your resume. See What To Put On A Resume to land the job
4. Include Your Business Education
Having no higher education won't rob you of the job, but requirements vary from company to company. Holding a degree in finance, business administration, or supply management will come in helpful.
Yet, if your experience proves you outperformed your competitors, there's nothing to be worried about.
Now see how to include your degree on a resume:
If you have years of experience, mention only the name of your degree, university or college, and graduation date.
But, if you're writing an entry-level resume, add an unexpected (but relevant!) extra to your resume education section to turn it into an even bigger asset. Relevant coursework, student club memberships, or group projects are a great addition to your portfolio.
Here you'll find all the answers to What Is A Good Resume
When making a resume in our builder, drag & drop bullet points, skills, and auto-fill the boring stuff. Spell check? Check. Start building a professional resume template here for free.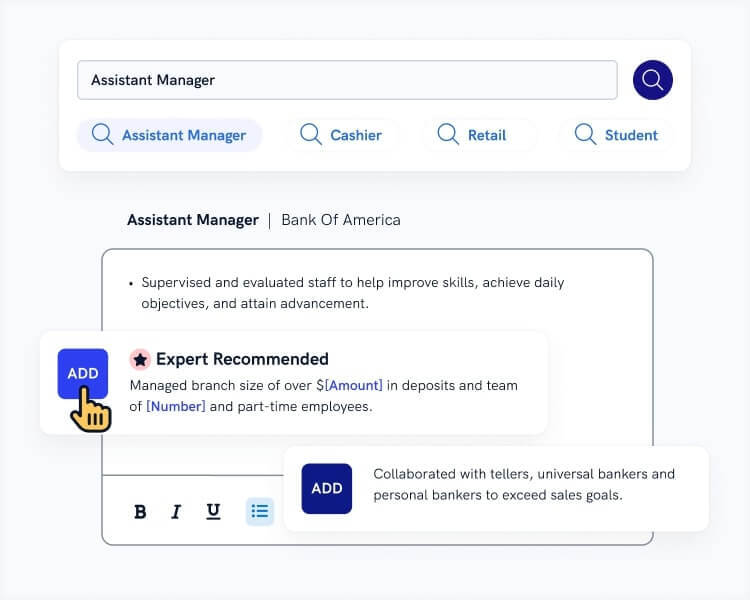 When you're done, our easy resume builder will score your resume and our resume checker will tell you exactly how to make it better.
5. List Your Purchasing Agent Resume Skills
I spoke about negotiation skills and contract law knowledge already.
But what else is there?
What else do you need to make recruiters sure you excel at what you do?
The only way to find out is to read the job description again.
Seek professional skills in responsibilities and candidate requirements.
Make sure to mark both soft and hard skills, like communication and software.
Now compare the desired skills with what you can do, and there you go.
Now see a list of potential skills for a purchasing agent resume:
Purchasing Agent Resume Skills
Database software: Oracle
ERP: NetSuite
Financial analysis
Strategic planning
Resource allocation
Economics and accounting
Contract law
Negotiation
Purchasing
Research and data gathering
Sourcing
Delivery scheduling and monitoring
Reporting
Account management
Quality assurance
There's a whole universe of skills you can explore. See 99+ Skills To Put On A Resume
6. Get Bonuses for Additional Sections
Who are you?
The king of deals!
What do you want?
A job!
How do you get it?
With a giveaway!
Give away your key strengths in resume additional sections to make recruiters buy your story.
There are many associations and societies you can join as a purchasing agent. Think of APS, ASCM, NLPA, or NIGP as highlighting markers of your qualifications.
If you're not only a member but an awarded professional with CPP, CSCP, CPPO, or CPO certifications, then that's a win. Again.
Perhaps you took internships or volunteering work in the industry. If so, don't be afraid to include them on your resume. Employers appreciate efforts put into gaining knowledge outside of school and work.
Hobbies & interests in resumes aren't dead. They never should've been. If you're spending your free time using the skills needed for the job, then your hobby becomes your asset.
What about awards? Did you receive any? Mention them in a separate section to show off.
Foreign language skills are also important for a purchasing agent. Plus, they add to your communication skills.
Additional sections aren't the only way to add value to your resume. Check other possibilities for a Resume Improvement
7. Write a Purchasing Cover Letter for Your Resume
People will always need things, buy things, and sell things.
You can change industries, but being a purchasing agent gives you a sea of opportunities anywhere in the world.
And so it does to your competition.
Don't waste your time wondering whether you need a cover letter for your resume (because the answer is ten times yes), but get down to writing it.
Here's how to do it for a purchasing agent resume:
Learn everything you need to know about How To Write A Cover Letter
Plus, a great cover letter that matches your resume will give you an advantage over other candidates. You can write it in our cover letter builder here. Here's what it may look like: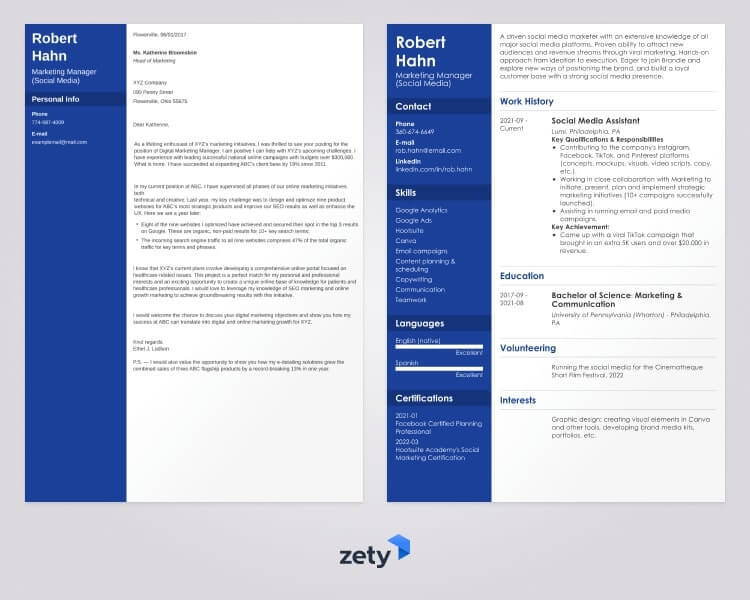 See more cover letter templates and start writing.
Bang on.
You're ready to smash the job application process now. Good luck!
Please tell us—
What do you think about the writing guide? Do you appreciate the tips for writing a purchasing agent resume objective? Is explaining purchasing agent duties on a resume clear enough? Or maybe we missed things?
Give us a shout in the comments section!
About Zety's Editorial Process
This article has been reviewed by our editorial team to make sure it follows Zety's editorial guidelines. We're committed to sharing our expertise and giving you trustworthy career advice tailored to your needs. High-quality content is what brings over 40 million readers to our site every year. But we don't stop there. Our team conducts original research to understand the job market better, and we pride ourselves on being quoted by top universities and prime media outlets from around the world.