Retail Assistant Resume: Sample + Job Description & Skills
Your patience? Unmatched. Endurance? Just wow. People skills? Oh yes. Only thing missing? A retail assistant resume that will make Macy's fight for you like it's Black Friday.
Who said retail assistants only have one job? Welcoming customers to the store? Okay, that's a greeter. Helping people make a choice? Sales assistant/psychologist. But also:
Processing payments and refunds? Asset manager. Arranging displays? Stylist (Decorator? Designer?). Monitoring stores to prevent shoplifting? That's a security guard!
Truly, there's nothing you can't do. And if you want a new, better job, you just need a good retail assistant resume that will put all your skills and talents under the correct lighting.
This guide will show you:
A retail assistant resume example better than 9 out of 10 other resumes.
How to write a retail sales assistant resume that will land you more interviews.
Tips and examples of how to put skills and achievements on a retail assistant resume.
How to describe your experience on a resume for a retail assistant to get any job you want.

Want to save time and have your resume ready in 5 minutes? Try our resume builder. It's fast and easy to use. Plus, you'll get ready-made content to add with one click. See 20+ resume templates and create your resume here.
Sample resume made with our builder—See more templates and create your resume here.
Not quite what you're after? Need more examples? Check these out:
You may also check our collection of 500+ resume examples for all job types.
Retail Sales Assistant Resume Example
Ellie Considine
Retail Assistant
+61 (07) 4521 3620
e.considine@email.com
linkedin.com/in/ellie.considine1
Summary
Energetic retail assistant with an ambition to please customers and 1+ years of experience in retail. My background in fashion makes it easy for me to advise clients on looks and items to buy, which results in increased sales and greater customer satisfaction. Eager to apply my skills at Inditex and drive up sales at one of the Chicago locations.
Experience
Retail Assistant
Retail Apparel Group, Chicago
January 2021–present
Key Qualifications & Responsibilities
Performing all retail floor functions.
Assisting customers (came up with a new service called "Personal Stylist" that brought an extra 10% in monthly sales).
Conflict resolution (prevented 100% of customer complaints from escalating).
Monitoring the store (decreased shoplifting rates by 40%).
Key Achievement:
Exceeded sales targets and KPIs every month (10–30%).
Education
Bachelor of Fashion & Costume Design
Columbia College Chicago
September 2019–June 2023
Skills
EPoS software
Merchandising
Stock control
Inventory management
Customer service
Good verbal skills
Results-driven
Self-motivated
Team player
Strong communication
Resilience
Languages
French—Intermediate
Spanish—Minimum working proficiency
Interests
A CrossFit adept with over 5 years of experience.
Impressive? Let's see how you can write an equally good retail assistant resume:
1. Go With the Right Retail Assistant Resume Format
Retail assistants sell goods to the customers, providing help or advice with their purchases. The purpose of your retail assistant resume is to show the recruiters you have the right skills to keep people satisfied and make sure they come back.
According to a recent study, over 70 million workers will be needed by 2025 to replace the retiring Baby Boomers.
More jobs = more competition.
You don't have to wait till 2025 to learn the rules of writing a resume.
Stay ahead of the game now, with these tips for your retail assistant resume:
Be brief, two pages will most likely cut it.
Use a professional resume font (like Arial), make sure it's consistent throughout the document.
Go with standard font size (12 pts), with 1–1.15 line spacing.
Set equal margins on all sides of the resume.
Choose reverse-chronological order to make sure the most relevant positions go first (unless you want to shift focus to something else, then you might go with a different resume format).
Use headings/bold type to structure, but don't overdo it to the point it loses the impact.
Pro Tip: Click and Collect your retail assistant resume in PDF to make sure the document stays intact, and the formatting is the way you designed it to be.
2. Add a Retail Assistant Resume Summary / Objective (No Experience Is Okay)
When you're at a store and you're going to the Produce aisle, you expect to see produce there, right?
Similarly, when a hiring manager looks at your resume, they expect to see a summary up top. They don't have much time, and they need to be able to quickly understand what they're looking at.
Why not give them exactly that?
A resume for a retail assistant with some experience calls for a resume summary:
Describe why you want this job, and what previous experience you have.
Write 3–4 sentences that are brief and to the point.
Emphasize how the company would benefit from hiring you (support it with numbers, like "raised sales by 15%").
For a retail assistant resume with no experience, write a resume objective:
Again, say why you're choosing this position.
Focus on soft skills. Give examples of how you acquired those.
Let the recruiter know you are well aware of the expectations and are able to meet the demands.
Pro Tip: Still wondering what to write in this section? Look at the job requirements. This is how you know exactly what they're looking for in a candidate. Then, match your greatest accomplishments to that description. Voilà!
3. Enhance Your Retail Assistant Resume With a Great Job Description
It's time to check your inventory and bring out the finest goods.
In this section of your retail assistant resume, you have to showcase your professional experience.
According to statistics, the main skill that's required for working in retail is customer service. Even if you don't have a vast list of previous jobs, don't lose hope. Mention what you did (even outside retail) that allowed you to learn to understand customer needs, and provide high-quality service.
Here's how you nail the retail assistant job description on your resume:
Start with the most recent experience.
Include the job title and the name of the company, plus the time frame you spent there.
Do talk about achievements on your resume. Look at the job description on the listing you're applying for, then see how you can match your accomplishments with what the company is looking for.
Support achievements with something measurable ("Exceeded sales targets by x%"), don't just write "I did…".
Use bullet points on your resume; you can also single out one key achievement if it makes sense.
If you don't have any experience at all yet, don't worry. Focus on the career objective and the skills (more on that below), plus add a retail assistant cover letter describing in more detail why you'd like to have the job.
Read more: Cover Letter: What It Is and Why You Should Write It
4. Cover Your Retail Assistant Resume Education Section
Not adding any education to your resume for retail assistants is like leaving your shopping cart empty.
Something's missing!
Yes, maybe there's no expectation of a Ph.D., but still, you shouldn't leave this section empty. Mention your most relevant/most recent education, years of studies, and the institution. If you're still studying, mention the expected graduation date.
You might also mention some additional courses you've attended, like some training you've completed on sales or conflict resolution.
See? As simple as scanning a bar code!
When making a resume in our builder, drag & drop bullet points, skills, and auto-fill the boring stuff. Spell check? Check. Start building a professional resume template here for free.
When you're done, Zety's resume builder will score your resume and tell you exactly how to make it better.
5. List Your Skills on a Resume For Retail Sales Assistants
A merchandiser makes sure the right products are displayed at the right time and in the right place to make sure they're sold.
But you knew that already.
What's the right place on your retail assistant resume to display your superpowers and stun the hiring managers with them? Well, you've just found it.
List the right skills on your resume, and they're sold.
Retail Assistant Skills for a Resume in Australia
Sales
EPoS software/Cash handling
Merchandising
Stock control
Inventory management
Good verbal skills
Result-driven
Self-motivated
Team player
Styling
Resilience


This is just an example of what could go on your retail sales assistant resume.
To compile your own list, write down all the skills that you think could make sense for the job, then compare them with the job listing. Whatever matches should go onto the resume! Start with some technical skills (like using the required software), and then focus on soft skills that apply.
6. Add Other Retail Assistant Resume Sections
Pop-up stores are stores that appear and disappear within a short period of time.
It's new, it's unexpected, but most importantly—it generates buzz and gets a lot of attention.
Additional sections on your retail assistant resume can also work like pop-ups. They draw the recruiter's focus, as they stand separately, and can deliver an important message.
So use that buzz wisely!
Add something that makes you stand out from the crowd, like:


Professional training
A certification on soft skills you got from completing a course
Languages you speak (which really can be a big deal)
Relevant hobbies (like sports, which would hint at your endurance and physical fitness)
Want to make your life a bit easier? Read more: Simple Resume Templates to Fill In & Download
7. Write a Retail Assistant Cover Letter
There are 4C's of Customer Care, but with job applications, there's only one C to care about: the Cover letter.
Just like you can't make a PB&J sandwich without toast (or peanut butter), you can't send out a resume without an accompanying assistant cover letter.
I mean—you could, but why would you? You wouldn't want to miss a chance to show the recruiter how personable and nice you actually are, would you?
So here's how you approach writing it:
Just as with your retail assistant resume, the cover letter formatting is important.
Use a matching template for a stylish resume/cover letter package deal.
It shouldn't really be long, a one-pager will do, but make sure the most important info goes first.
As for the contents of your retail assistant cover letter, this is a winning strategy:
Address the hiring manager properly.
Start with a key achievement. Mention your previous experience, provide specific examples demonstrating that you can handle the new job like a pro.
Talk about why you're interested in the position. Maybe you share the company values? Have been a devoted fan of the brand and know the product range inside out? Perfect.
End your cover letter with a call to action to make sure they don't leave you hanging.
Don't be shy to follow up. Hiring managers have a lot on their hands, so do reach out after a week or so if you haven't received an answer.
Need more tips on writing a good retail assistant cover letter? Read more: How to Write a Cover Letter: Templates, Samples & Tips
Plus, a great cover letter that matches your resume will give you an advantage over other candidates. You can write it in our cover letter builder here. Here's what it may look like: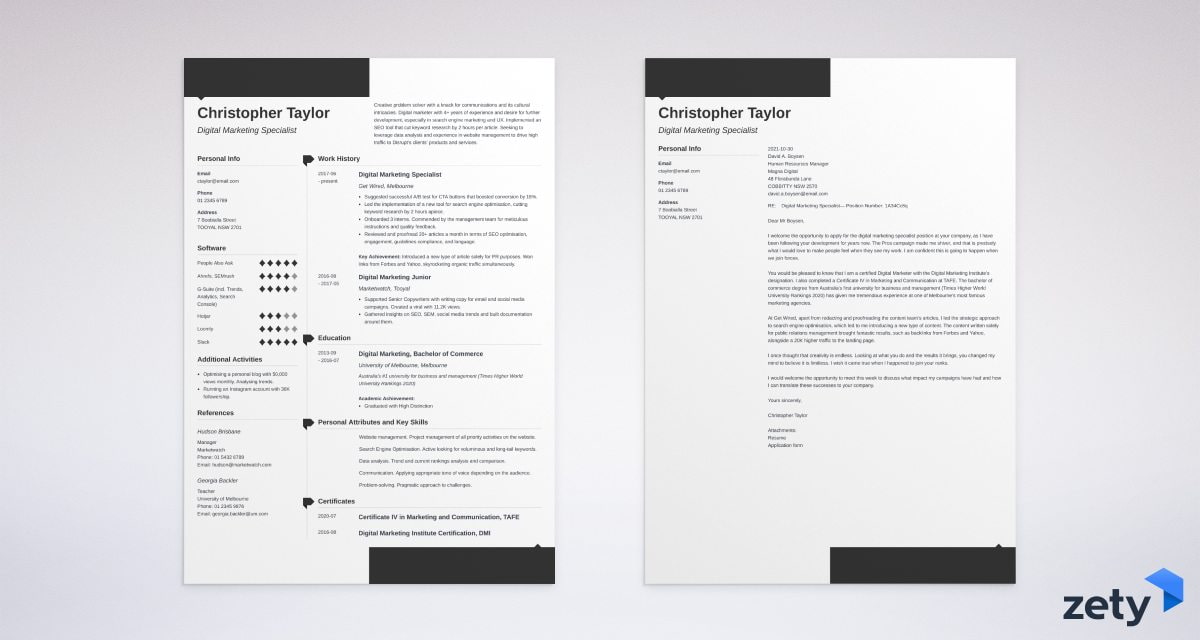 See more cover letter templates and start writing.
Writing a good retail sales assistant resume is almost as satisfying as popping bubble wrap.
But better, because it can land you that new job!
Now write it, send it, and chill!
Thanks for reading. Hope that you have all the info you need to write your retail assistant resume. Not sure about something? Let us know in the comments, and we'll cover those retail assistant resume Q&As below.
About Zety's Editorial Process
This article has been reviewed by our editorial team to make sure it follows Zety's editorial guidelines. We're committed to sharing our expertise and giving you trustworthy career advice tailored to your needs. High-quality content is what brings over 40 million readers to our site every year. But we don't stop there. Our team conducts original research to understand the job market better, and we pride ourselves on being quoted by top universities and prime media outlets from around the world.