Fashion Resume Examples (Templates & Guide with 20+ Tips)
In this guide, you'll see how to make a fashion resume. Feel free to use our template: copy, adjust and personalize it to make your own, tailored fashion resume today.
Fashion Resume Sample
Janice Walton
janice.walton@gmail.com
349-261-8950
Objective
Service-minded and team-focused boutique facilitator with 5+ years of experience in a luxury retail environment. Eager to support the House of Chanel with top-class organizational skills and providing the highest standards of service. In previous roles increased client-facing time by over 30%. Won Facilitator of the Year Award.
Work Experience
Boutique Facilitator
Balenciaga Boutique, New York City, NY
2016–
Delivered excellent customer service based on the company values, including welcoming and greeting all clients, analyzing their needs, and offering solutions.
Supported the Operations Division in maintaining stock order and assisting in cycle count activity.
Opened and closed cash registers and assisted with handling cash and deposits.
Answered phone calls to ensure that all client issues are resolved promptly and professionally.
Maintained the highest professional standards to deliver the ultimate Balenciaga experience to the client.
Key achievements:
Increased client-facing time by 30% thanks to superior communication skills.
Won a prestigious Facilitator of the Year Award presented by the company management to top-scorers in quarterly customer satisfaction surveys.
Alterations Specialist
Chloé Store, New York, NY
2011–2013
Oversaw the completion of requested garment alterations within specified deadlines and to the highest degree of accuracy possible.
Communicated the Alterations Room workflow and any arising issues to the management team and fashion advisors.
Cooperated closely with sales associates to close sales and loyalize customers.
Provide all clients with top-class service and professional advice.
Contributed to fostering the company culture of open communication and cross-functional collaboration.
Key achievement:
Sewed and altered garments that consistently conformed to the required specifications while meeting 99% of deadlines.
Education
B.Sc., Apparel and Merchandising
Colorado State University, Fort Collins, CO
2011
Key Skills
Luxury fashion merchandising
Conflict resolution
Client support
Communication
Teamwork
Organization
Problem-solving
Analytical skills
MS Office
Languages
Mandarin—Communicative
French—Communicative
Interests
Want to save time and have your resume ready in 5 minutes? Try our resume builder. It's fast and easy to use. Plus, you'll get ready-made content to add with one click. See 20+ resume templates and create your resume here.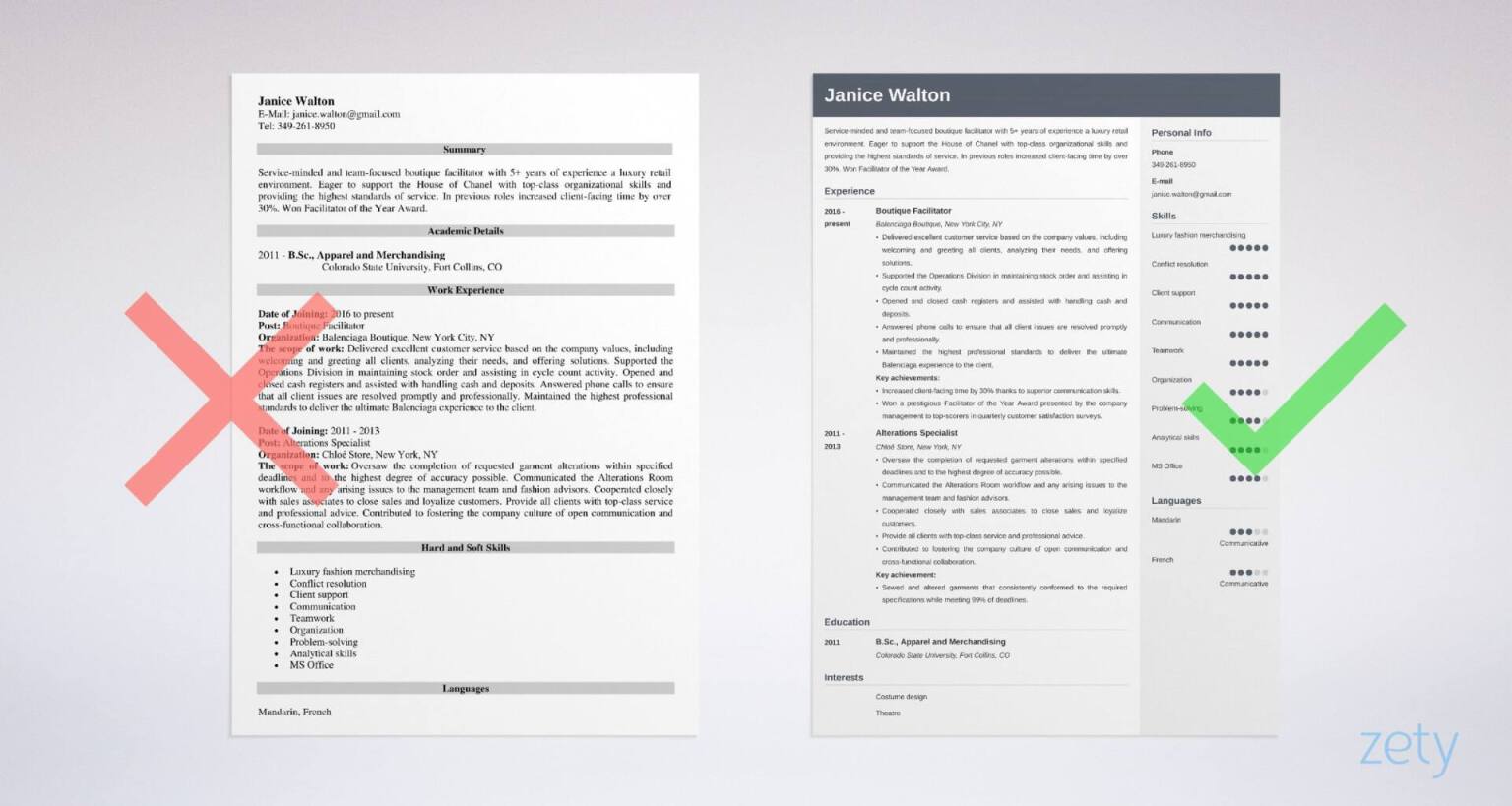 Sample Fashion Resume—See more templates and create your resume here.
Targeting a specific job in the fashion industry? Check out our guides:
This is how to fashion resumes that stay in vogue not just this, but all upcoming seasons:
1. Choose the Best Format for Your Fashion Resume
It's just like with the best designs—
A quick glance at your fashion resume must spark enough interest for the hiring manager to want to inspect it further.
Make your fashion resume template irresistibly attractive by following the rules below:
2. Write a Fashion Resume Objective or Summary
Make sure you get your profile on a resume right!
A resume profile is a short opening paragraph that sums up the main points of your fashion resume. It's also one of the first things a recruiter will notice.
You have two options:
1. Fashion resume summary
It works best if you have over 2 years of professional experience under your belt. It's a short 2 or 3-sentence long paragraph concentrated on your past work and key achievements.
2. Fashion resume objective
It's more suitable for an entry-level fashion resume. It demonstrates your skills and how they make you suitable for the role.
To make the most of your opening paragraph, add specific examples of your past achievements and back them up with numbers and percentages to show your true impact.
Pro Tip: Leave writing this section until your entire fashion resume is ready. This is supposed to be a summary, so you need to have something to summarize first.
3. Create the Perfect Job Description for a Fashion Resume

How to add work experience in a resume?
In a way that proves you fit like a glove.
Here's how to make your fashion resume job description section worthy of a fashion capital:
Begin with listing your current or most recent position. Then list your previous jobs.
See to it that each entry mentions your business position titles, names of companies, locations, and dates.
For each position, write up to 6 or 7 bullet points that describe your duties and achievements.
Tailoring is just as important in fashion as in resume writing. So always tailor your resume to the position. Focus on what's relevant.
To achieve maximum impact, start your bullet points with strong resume words, such as supported, maintained, communicated, cooperated, etc.
Quantify your experience bullets whenever possible. Numbers show your real impact.
Pro Tip: If you find it hard to quantify your experience, cherry-pick 1–3 achievements you are able to justify with numbers and list them in a key achievements subsection.
4. Make Your Fashion Resume Education Section Colorful
The vast majority of job openings for fashion jobs require you to have a certain level of education.
So, don't let your educational background on a resume go unnoticed.
Here's how to make a good education section on your fashion resume:
Candidates with more than 5 years of experience, only need to list their degree, school name, and graduation year. And this is it!
Candidates with less than 5 years of experience, can consider mentioning their GPA (if higher than 3.5), relevant coursework, extracurricular activities, as well as academic achievements.
Pro Tip: If you have any extra professional certifications you can put them in a separate section on your fashion resume.
5. Highlight Your Skills for a Fashion Resume
The list of fashion resume skills below can help you identify your strengths:
Fashion Resume Skills
Budgeting
Client support
Draping
Fabrication
Luxury fashion merchandising
MS Office
Pressing
Sewing
Adaptability
Attention to detail
Conflict resolution
Flexibility
Teamwork
Remember: your fashion resume should focus on relevant skills.
Here's how to pick the best skills for your fashion resume:
Prepare a job skills list that includes all your soft skills, hard skills, as well as technical skills.
Revisit the job offer to identify what skills the employer looks for specifically.
Find these skills on your list and focus on them in your fashion resume.
Make sure your key skills section doesn't exceed 10 items.
Concentrate on your strongest skills. It's the best way not to fall victim to the so-called presenter's paradox.
Pro Tip: Don't just list your skills in your resume's skills section, pepper your entire resume with your fashion skills. Put some in the resume profile and your job description as well!
When making a resume in our builder, drag & drop bullet points, skills, and auto-fill the boring stuff. Spell check? Check. Start building your resume here.
When you're done, Zety's resume builder will score your resume and tell you exactly how to make it better.
6. Add Other Sections to Your Fashion Resume
Want to look better than the rest? Add extra sections to your fashion resume, to show what you have up your sleeve.
Add info on your:
7. Attach a Cover Letter to Your Fashion Resume
The question is:
Always.
About 50% of recruiters expect you to send a cover letter along with your fashion resume.
Writing a cover letter can be quick and painless:
Finally, double-check if the length of your cover letter is OK.
Pro Tip: Up your chances of landing an interview and send a job application follow up email.
That's all!
That's how you make a job-winning fashion resume.


Are you writing a fashion resume for the first time? Or perhaps you're a seasoned pro eager to help the rookies out? We'd love to hear from you, leave your comment below!