Barber Resume Sample & How-to Guide for 2023
Looking to elevate your barber career? Our ultimate guide to crafting the perfect barber resume has everything you need to land your dream job. Get expert tips and examples now.
You know the ins and outs of the latest hairstyles, beard trends, and grooming techniques. You can wield your clippers like a pro and have a keen eye for detail. You're not just any barber—you're a master of the craft.
But in today's competitive job market, having top-notch skills isn't always enough. As a barber, you need to prove your expertise on paper too. It's time to write a barber resume that stands out from the rest.
In this guide, we'll walk you through everything you need to know about crafting the perfect resume for a barber. So grab your favorite pair of scissors, and let's get started!
Want to save time and have your resume ready in 5 minutes? Try our resume builder. It's fast and easy to use. Plus, you'll get ready-made content to add with one click. See 20+ resume templates and create your resume here.
Sample resume made with our builder—See more resume examples here.
Looking for a different resume? Check these guides:
Barber Resume Sample
Howard Shugart
Barber
864-455-9131
HowardShugart@gmail.com
linkedin.com/in/howardshugart
Resume Summary
Experienced barber with over 5 years of experience in the industry. Skilled in providing trendy haircuts and shaves while maintaining a friendly and welcoming client atmosphere. Proficient in using various tools and techniques to achieve the desired look for each individual. Successfully managed a team of 3 barbers at my previous salon, resulting in a 25% increase in productivity within 6 months. Looking forward to utilizing my skills and expertise to contribute to the success of Glow Hair Salon as a Lead Barber.
Work Experience
Barber
The Grooming Lounge, New York, NY
March 2020–Present
Key Qualifications & Responsibilities
Provide exceptional haircuts and shaves to an average of 10 clients daily, leading to a 95% customer satisfaction rate.
Developed relationships with regular clients through attentive service and personalized recommendations, increasing repeat business by 40%.
Collaborate with the salon team to develop new hairstyles and techniques that have been implemented across all locations.
Key Achievement:
Train and mentor junior barbers, resulting in a 25% increase in their productivity within 6 months.
Barber Apprentice
The Shave Room, New York, NY
August 2018–February 2020
Key Qualifications & Responsibilities
Assisted senior barbers with haircutting and shaving techniques while honing my own skills under their guidance.
Consistently received positive feedback from clients for providing high-quality grooming services while demonstrating a strong work ethic.
Attended weekly training sessions to learn about new products, techniques, and industry trends.
Observed and learned advanced techniques such as razor fades, clipper over comb, and beard shaping under the guidance of experienced barbers.
Key Achievement:
Successfully completed the apprentice program ahead of schedule due to exceptional performance in both technical skills and customer service.
Education
Barber Program
Texas Barber College, Dallas, TX
January 2017–November 2017
High School Diploma
Aberdeen Heights High School, Dallas, TX
September 2014–May 2017
Skills
Knowledge of hair-cutting techniques
Ability to follow complex customer requirements
Exceptional customer service skills
Familiarity with sanitation and safety standards
Strong interpersonal and communication skills
Excellent problem-solving abilities
Creativity in styling unique hair looks
Ability to work efficiently under pressure
Working knowledge of existing trends in barbering
Attention to detail for precision and accuracy
Certificates & Licenses
Class A Barber license, TDLR, 2020
Texas Cosmetology Operator license, Texas Barber College, 2017
Languages
English—Native
Spanish—Advanced
Now, this is how to write your own resume for a barber:
1. Choose the Best Format for Your Barber Resume
As a licensed barber, you use different tools and techniques to maintain the look and health of your client's hair. On top of styling and keeping up with the trends, you cater to your client's strict requirements. And your barber resume's primary goal is to reflect that.
Because presentation means everything. The same goes for your resume.
Here are some tips to help you choose the best format for your barber resume:
Start with a strong resume header that includes your contact information, such as your name, job title, phone number, and email address.
Organize your resume into clear sections with easy-to-read headings, such as "Experience," "Skills," and "Education."
Opt for a professional format, such as a chronological resume, which highlights your work experience in reverse chronological order.
Use ATS-compliant resume fonts that are professional-looking and easy to read.
Take advantage of white space on your resume to create an elegant and visually appealing design.
When choosing between Word or PDF resume formats, go with PDF unless specifically asked for MS Word.
By following these simple guidelines, you'll create a barber resume worth looking into.
Chop any doubts off. Read more: The Only Resume Formatting Guide You'll Ever Need
2. Craft a Sharp Resume Summary (or Objective) for Your Barber Resume
When it comes to crafting a resume for a barber, your opening statement should be like the first cut of the day—sharp and precise. This is what sets you apart from other applicants and makes a lasting impression on recruiters.
To create an impressive resume summary for your barber resume, start by brainstorming your strongest skills and measurable achievements. Next, look at the job description and see which skills match what they're looking for. Use those keywords to craft a brief paragraph highlighting your relevant experience and qualifications. Think about what makes you stand out as a barber—are you skilled in fades, beard trims, or hot towel shaves? Have you won any awards or accolades in the industry?
If you're creating an entry-level barber resume, consider writing a persuasive career objective instead of a summary. Focus on transferable skills and qualifications that set you apart from the competition. Explain why you're motivated to join this particular team and how your passion for barbering aligns with their mission.
Remember, your resume summary (or objective) is the first thing recruiters will see when reviewing your application. Make sure it's strong and to-the-point—think of it as an elevator pitch.
Pro Tip: Write this section last. It'll be easier for you to pick relevant accomplishments and skills for your opening statement once you're done with most of your resume.
3. Customize Your Barber Resume Job Description
Crafting a tailored resume for a barber is one of the most important steps in landing your dream job. By demonstrating your relevant skills and experience, you can prove to recruiters that you're the perfect candidate for the position.
To customize your barber resume job description, follow these steps:
Analyze the job details and identify keywords that match the employer's expectations. This could include skills like "scissor cutting," "clipper cutting," or "razor fades."
Order your jobs with your most recent position first, listing the name of the company, your job title, and how long you worked there.
Use 3-6 bullet points to describe the quantifiable results of your work as a barber. Use action verbs and power words to make these achievements even more compelling—think "increased revenue by 8% through upselling services" or "maintained a 5-star rating on Yelp for customer satisfaction."
Double-check that your barber resume is tailored as much as possible to the specific job you're applying for. This means adjusting your job description and skills section to match what they're looking for in a candidate.
Razor your work experience with this guide: How to Write a Successful Work Experience Section
4. Highlight Your Education on Your Resume for a Barber
Many barbers may think that their work experience is the most important aspect of their resume. However, showing your education can give you an advantage over other candidates and demonstrate your dedication to the craft.
When creating your barber resume, be sure to include the following information in the education section:
Name of your degree or certification program (such as Barbering or Cosmetology)
Name and location of the institution where you received your training
Dates during which you completed your program
If you have additional academic accomplishments, such as awards or honors, be sure to mention them as well. This will show potential employers that you're committed to mastering your knowledge and skills within the industry.
Even if you don't have much work experience yet, highlighting your education can make up for it. Be sure to include any relevant coursework or hands-on training that you've received during your program. This could include classes on clipper-cutting techniques or experience providing haircuts to clients in a salon setting.
When making a resume in our builder, drag & drop bullet points, skills, and auto-fill the boring stuff. Spell check? Check. Start building a professional resume template here for free.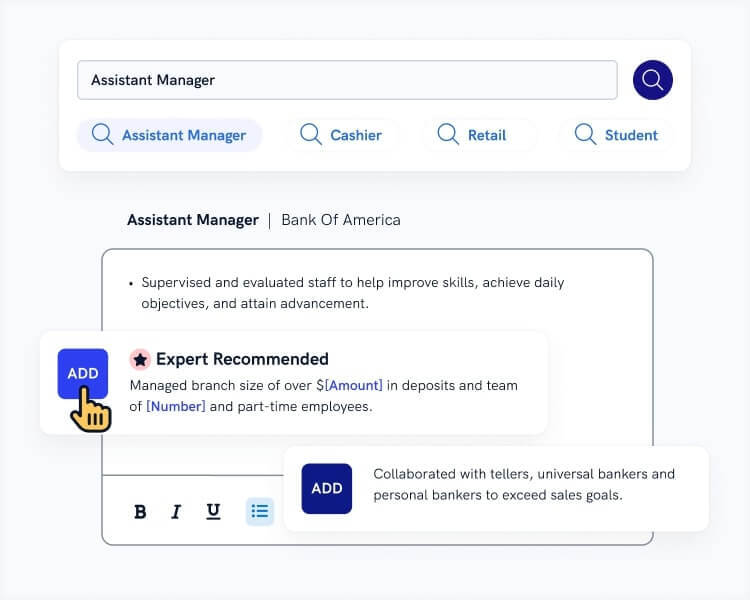 When you're done, Zety's resume builder will score your resume and our resume checker will tell you exactly how to make it better.
5. Show the Best Barber Skills on Your Resume
Your skills section is an essential part of your barber resume. It's where you get to showcase your unique talents. Make sure to use this space wisely and include both technical skills and interpersonal skills that are relevant to the position.
Here are some steps to help you create a strong skills section for your barber resume:
Create a master list of your prominent hard and soft skills.
Think about all the skills that make you a great barber, from your hard skills, like cutting hair, using different tools, and styling techniques, to your soft skills, such as communication, problem-solving, time management, and attention to detail.
Look at your work experience and education sections carefully.
Review these resume sections to see which skills can truly reinforce what's in there. For example, if you've worked at a busy barbershop before, highlight how you managed high-volume workloads while maintaining quality service.
Tailor your skillset according to the job description.
Make sure what you've listed makes sense for the job description. If a particular skill is mentioned in the job posting or advertisement, be sure to include it in your list.
Here are 15 barber skills that could make an impact on a resume for a barber:
Resume for a Barber: Skills
Haircutting
Shaving
Styling
Coloring
Trimming beards/mustaches
Client consultation
Sanitation and sterilization techniques
Confidence
Patience
By highlighting the right set of barbering skills on your resume, potential employers will get an idea of who you are as a professional!
6. Spice Up Your Barber Resume With Additional Sections
Make your barber resume more interesting by adding some additional sections that showcase your skills, experience, and interests. Here are some great ideas for extra sections you can include:
Including such additional information in your resume for a barber shows potential employers that you're not just another run-of-the-mill candidate. You're someone who's passionate about their craft, committed to ongoing learning, and invested in both their community and personal growth.
How about industry awards? If there's something to show off, learn how to do that on your resume: Awards on a Resume—The How-To Guide
7. Don't Forget the Cover Letter for Your Barber Resume
To increase your chances of landing a job as a barber, it's important to attach a well-crafted cover letter along with your resume. A cover letter can communicate your passion for the industry and highlight how well-suited you are for their team.
Here are some tips on creating an effective cover letter to accompany your resume for a barber:
Use a professional font and left-align your text. Make sure to include a proper header with your contact information and the date.
Keep it brief, under one page is ideal. Aim for 3-6 paragraphs that succinctly convey your qualifications and interest in the position.
Start with an attention-grabbing cover letter intro that shares something unique about yourself or highlights an accomplishment relevant to the position.
The body of your cover letter should explain why you're passionate about being a barber and how your skills make you the perfect fit. Be specific about what you can bring to the table and how you can contribute to their success.
End your cover letter with a call-to-action that encourages them to invite you in for an interview. Sign off professionally.
By including a well-written cover letter along with your barber resume, you'll show potential employers that you're not only qualified but also enthusiastic about joining their team.
Plus, a great cover letter that matches your resume will give you an advantage over other candidates. You can write it in our cover letter builder here. Here's what it may look like: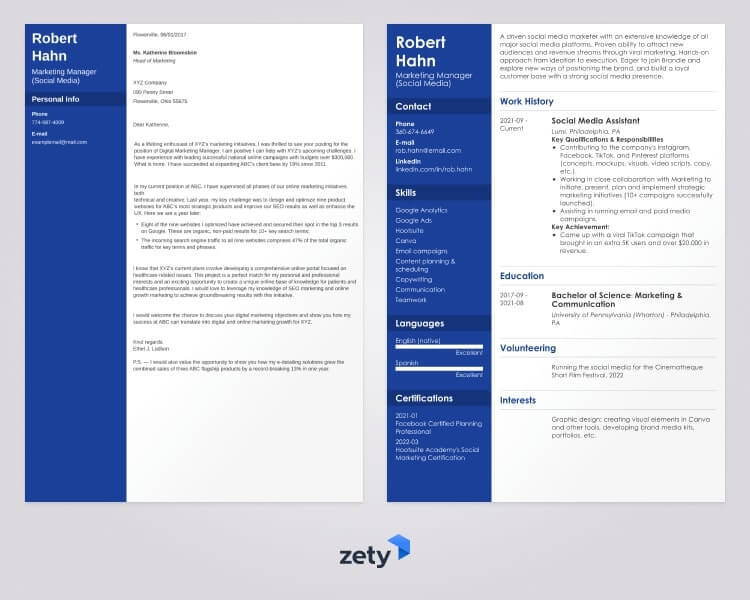 See more cover letter templates and start writing.
You're ready! This is everything you need to know about writing a perfect resume for a barber.
Are you creating a barber resume for the first time? Or maybe you're an experienced pro who wants to help newcomers in the industry? We'd love to hear from you! Please leave your comment below and share your tips and advice on how to craft a standout barber resume.
About Zety's Editorial Process
This article has been reviewed by our editorial team to make sure it follows Zety's editorial guidelines. We're committed to sharing our expertise and giving you trustworthy career advice tailored to your needs. High-quality content is what brings over 40 million readers to our site every year. But we don't stop there. Our team conducts original research to understand the job market better, and we pride ourselves on being quoted by top universities and prime media outlets from around the world.