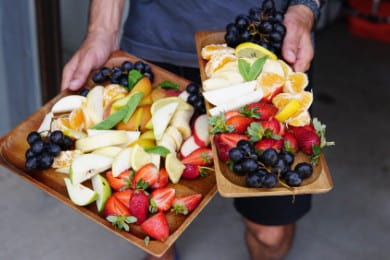 Dietitian Resume: Examples & Tips (Registered + Entry-Level)
Read on for a comprehensive step-by-step guide on improving your dietitian resume. No dubious pills or fast track miracle diets required here!
As an aspiring dietitian, you're ready to nourish the world with your expertise. But before you can start dishing out health advice, you need a resume that'll make hiring managers crave your skills.
Whether you're applying for a position in a fitness center chain, a health clinic, or an elderly home, we got you covered! Keep reading, and you'll see how to get results fast with your dietitian resume!
You're about to learn:
What to put on your dietitian resume to nearly guarantee yourself a job.
Which skills you should put front and center to increase your chances.
How to squeeze the most out of your education section on a dietitian resume.
Ways to trim off the excess fat from your dietitian resume and achieve your career goals faster.
Want to save time and have your resume ready in 5 minutes? Try our resume builder. It's fast and easy to use. Plus, you'll get ready-made content to add with one click. See 20+ resume templates and create your resume here.
Sample resume made with our builder—See more resume examples here.
Looking to put your skills to use elsewhere? We have guides for that, too! Check out the links below:
Dietitian Resume Example
Mary R. Gooden
Dietitian
320-202-1554
MaryRGooden@jourrapide.com
linkedin.com/in/maryrgooden
Summary
Specialized dietitian with 5+ years of nutritionist experience. Helped in creating detailed diets for over 400 customers, currently maintaining relations with 15 professional athletes. Published 3 scientific articles on nutrition. Seeking to join FitnessDial to keep improving proven track record and help more people lead a healthy lifestyle.
Experience
Dietary Consultant
Dietmgmt, Thousand Oaks, CA
September 2017 – present
Spearheaded company's health outreach program, aimed at reducing obesity in elderly and young children, increasing quarterly company income by 4%.
Tracked customer's progress, with 79% of clients reaching their health-related goals within 6 months.
Gave promotional guest lecture at California State University.
Managed a practice with a turnover of upwards of 20 clients per day.
Key Achievement: successfully pioneered a personalized program for clients with 98% customer retention year over year.
Nutrition Assistant
Golden Years Retirement Home, Santa Barbara, CA
September 2015 – June 2017
Gathered information about client's dietary restriction and nutritional needs.
Distributed daily meals to over 90 residents.
Educated residents on practical and advisable dietary habits.
Education
Bachelor's degree in Food and Nutrition
2011 – 2013
University of New Mexico, Albuquerque, NM
Skills
Nutritional expertise
Knowledge of biomechanics
Knowledge of treatment
Food preparation
Good interpersonal skills
General computer proficiency
Time management
Certifications
Certified Trusted Nutritionist of the Academy of Nutrition and Dietetics
Hobbies
Frequent participation in yoga classes for increased wellness
Without further ado, this is how to make a resume for dietitians that gets interviews:
1. Pick the Right Format for Your Dietitian Resume
As a dietitian, your job is to prepare meal plans, and give reliable nutritional advice to people of all ages and levels of physical health. Therefore, you need to make sure your dietitian resume fits that bill and prominently displays your ability to give competent dieting advice.
But it can't be an entire novel.
Recruiters are the type of people who hop on fad diets—they won't bother sticking with your application if it doesn't deliver results fast. Here's a few pointers to help you get noticed:
Start off by placing a resume header at the top.
Pick the reverse-chronological format for your dietitian resume. With it, your most recent job functions as the centerpiece to get the recruiter's attention.
Only ever use fonts that are clear and effortless to read, like good ole' Helvetica.
Speaking of formatting, be generous with the white space to keep things easy on the eyes.
Structure your resume concisely and coherently. Divide things like your work experience, education, skills and achievements into their own categories.
If you're using a free resume template, make sure it is ATS-compliant (the ones downloadable with that link are).
Lastly, you want to remember to save your registered dietitian resume as PDF. That way, all of the work you put into the formatting will be preserved.
Pro Tip: Put your resume on a diet and keep it trimmed down to just a page. Use a two-page resume only if you're as experienced as Susan Powter.
2. Write a Dietitian Resume Objective or Resume Summary
A great registered or clinical dietitian resume stands on its own two feet as the shining testimony of your employability.
But it won't get there unless you put plenty of thought and planning into it, just like a meal plan. Part of that is choosing the right resume profile.
If you're an experienced food specialist, prepare a resume summary and include the following:
State your years of professional experience.
Whet their appetite with a goal you're hoping to achieve should they hire you.
Next, prove you're capable of reaching that goal by showing off your major accomplishments.
And when you're still waiting for your first shot in the industry or are en entry-level dietitian, write a resume objective placing more stress on your transferrable skills your potential employer could appreciate by.
Pro Tip: Never be afraid to mention hard numbers in your resume intro. "Adhered to 30+ complex patients' dietary requirements" sounds way better than "Organized meal plans".
3. Describe Your Previous Dietitian Work Experience
Imagine you're preparing a detailed meal plan for a client. Each recommendation is written down as a bullet point.
Now swap "detailed meal plan" for "work experience" and "client" for "recruiter"—it's largely the same. Think of the list below as the macronutrients of writing a resume job description:
Supplement each position with your job title, the company name and the time you worked there.
Sprinkle in some more relevant numbers. They reflect the tangible effects of your hard work.
Never, ever resort to copy-pasting your work experience each time you apply for a position. Instead, tailor your resume to the job. If they call for a "nutritional expert", say you're that. The ad says "dietary consultant"? Then that's you!
Include action words such as improved, collaborated, directed. Everybody likes a go-getter.
Read more: How Far Back Should a Resume Go (How Many Years to List)
4. Get the Most Out of Your Dietitian Resume Education Section
This is where a lot of registered dietitian resumes fall short. For your application, that only spells one thing:
The garbage can.
Here's some writing tips to prevent that:
If you have plenty of work experience, restrict yourself to listing only your alma mater, its location, how long you studied there, and degree information (like major and minor).
Are you a newcomer in the industry or writing an entry-level resume? Enhance your education section by listing relevant achievements, extracurricular activities, and the like. It may seem like helping out in the cafeteria or joining the wellness club isn't worth much, but every bit helps!
Read more: Writing About Education on Your Resume
5. Amp Up Your Chances by Listing Skills
Demonstrating your skills is crucial. But, just like with fats, carbs and protein—you need the right mix. Take a look at the list below just for reference:
Skills to Put on a Dietitian Resume
Food service
Food preparation
Meal planning
Stocking and ordering
Assessing nutritional needs
Knowledge of medical software
Preparing medical reports
Remember: Don't copy-paste these skills onto your resume. Check what the job ad requires. Plus, if they ask for teamwork, don't write "team player". It will be harder for your resume to pass the ATS scan.
When making a resume in our builder, drag & drop bullet points, skills, and auto-fill the boring stuff. Spell check? Check. Start building a professional resume template here for free.
When you're done, our online resume builder will score your resume and our resume checker will tell you exactly how to make it better.
6. Add Other Sections to Your Dietitian Resume
Recruiters love resourceful people. Don't fall into the trap of ignoring your miscellaneous achievements. They could be exactly what ends up scoring you the big bucks.
"Other" doesn't mean "useless". So—
Remember to include things like for an eye-catching resume:
special projects
volunteering
Pro Tip: Should you list references on your resume? No, it's a waste of space. Recruiters know they can expect them, anyway.
7. Include a Cover Letter With Your Dietitian Resume
Cover letters sure are a buzzkill. But they also get results. Around half of recruiters won't as much as glance at a cover letter-less resume.
Which on the flip side means writing a cover letter raises your chances by a lot.
Use the following tips to sell yourself in a cover letter:
Pick a visually appealingcover letter format that's easy on the eyes.
Get your reader hooked by writing a promising and clever introduction.
Demonstrate how the company would be doing themselves a favor by hiring you, and state examples of what you bring to the table.
Finish off not by being needy, but by confidently stating how you know you're the right person for the job.
Read more: Cover Letter Tips and Advice
Plus, a great cover letter that matches your resume will give you an advantage over other candidates. You can write it in our cover letter builder here. Here's what it may look like: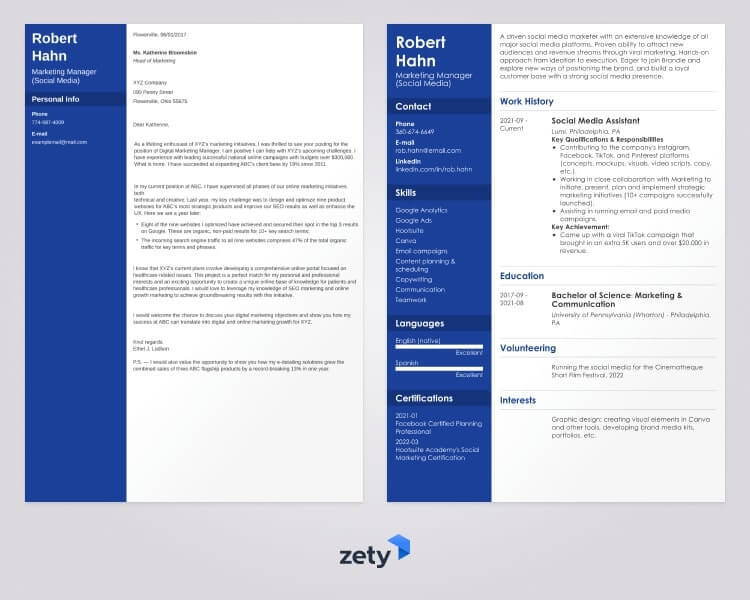 See more cover letter templates and start writing.
All done!
A quick and easy fix for writing a fantastic dietitian resume your doctor won't hate you for!
Got anything to add? Did we not include any other healthy writing tips? Leave your suggestions and personal experiences in the comments below, we'd love to hear them!
About Zety's Editorial Process
This article has been reviewed by our editorial team to make sure it follows Zety's editorial guidelines. We're committed to sharing our expertise and giving you trustworthy career advice tailored to your needs. High-quality content is what brings over 40 million readers to our site every year. But we don't stop there. Our team conducts original research to understand the job market better, and we pride ourselves on being quoted by top universities and prime media outlets from around the world.
Sources