Everyone needs their hair done. And some clients are willing to pay a lot more to have it done right. To work with them, you'll need a salon resume that boosts you like a vat of volumizing mousse.
Don't frizz out. With a little effort, your skills and achievements can snag the hiring manager and get the job. We'll teach you how to write a hair stylist resume that'll make you look like Vidal Sassoon.
This guide will show you:
A hair stylist resume example better than 9 out of 10 others.
How to write a hair stylist resume that gets more interviews.
Tips and examples of how to put skills and achievements on a hairstylist resume.
How to describe your experience on a resume for a hair stylist to get any job you want.
Want to save time and have your resume ready in 5 minutes? Try our resume builder. It's fast and easy to use. Plus, you'll get ready-made content to add with one click. See 20+ resume templates and create your resume here.
Sample resume made with our builder—See more resume examples here.
Great with hair, but makeup jobs are what you're after? See Makeup Artist Resume: Sample and Complete Guide
Writing a beginner hairdresser resume? See our guide: Entry-Level Resume: Sample and Complete Guide
You're more into cosmetology? Check: Cosmetology Resume: Sample and Complete Writing Guide
How about guides to hundreds of other jobs? Take a look: Resume Examples for Every Career
1
Hair stylist resume example
Danica Stenhouse
Hair Stylist
(123) 456-7890
danicastenhouse@email.com
linkedin.com/in/danica.stenhouse
Summary
Creative and client-focused Hair Stylist with over 5 years of experience delivering superior service in high-paced salons. Eager to support Savvy Hair Studio in providing outstanding customer experiences through tailored hair styling services. Increased overall customer satisfaction by 40% at Trendy Tresses Boutique.
Experience
Hair Stylist
Savvy Hair Studio, Sioux City, IA
June 2016–Present
Key Qualifications & Responsibilities
Provided professional hair care and styling services to over 30 clients weekly.
Trained four new hair stylists.
Offered tailored advice on hair care products and home hair care routines.
Implemented innovative hairstyles and trends, enhancing the salon's reputation.
Key Achievement:
Introduced a range of eco-friendly hair care products, boosting salon sales by 25%.
Hair Stylist
Trendy Tresses Boutique, Sioux City, IA
July 2015–June 2016
Key Qualifications & Responsibilities
Built a loyal client base through effective communication and creative hair styling.
Trained 5 junior stylists, sharing best practices in hair care and styling.
Created five new haircuts that were adopted by all other hair stylists.
Key Achievement:
Increased overall customer satisfaction by 40%.
Education
Cosmetology Certification
Iowa School of Beauty, Sioux City, IA
August 2014–July 2015
Relevant extracurricular activities
Volunteered with the Red Cross to provide basic hair styling services to underprivileged communities.
Academic achievements:
Graduated at the top of my class with a 4.0 GPA.
Skills
Excellent communication
Creative hair styling
Customer service
Up-to-date with hair trends
Product knowledge
Teamwork
Attention to detail
Time management
Certifications
Professional Hair Stylist Certification, American Board of Certified Haircolorists, 2015
Languages
Interests
Keeping up with the latest fashion and hair trends.
Volunteering for community beauty workshops.
What's the Best Format for a Hair Stylist Resume?
Does your hair stylist resume format really matter?
Yes.
Your cosmetology resume format needs to show you thrive on details.
Start with the reverse-chronological layout. It adds highlights to your most recent accomplishments.
Use white space, the best resume fonts, and grabby headings to strobe your best features.
Last, save it as a PDF. Hairstylist resumes in PDF format are machine readable. They hold like sculpting gel from one computer to the next.
Just check the job offer to make sure the ad doesn't ban them.
Pro Tip: Switching to the hairstylist world from another line of work? Try the combination resume format for your hairdresser resume. It blends in transferable experience from other jobs.
Not ready to make your hair stylist resume format permanent? See our guide: 3 Resume Formats: How to Choose the Best One [Examples]
Hair Stylist Resume Templates
Why worry about formatting if you can simply use a resume template for your hair stylist dream job.
Here's a few—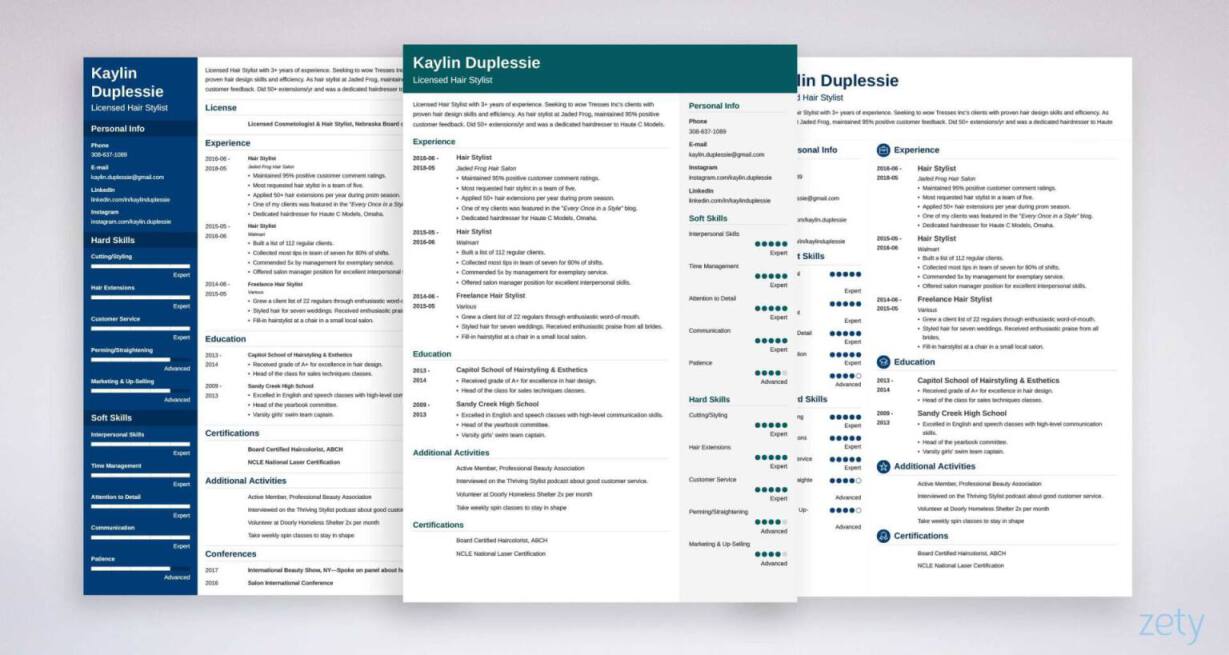 Resume Templates for Hair Stylists. See more resume templates here.
2
A Hair Stylist Resume Objective or Resume Summary That Drops Jaws
Nicely done!
You sent your resume to ten salons. Eight called you.
How did you work that magic?
You got the hiring manager to read your whole resume.
Don't they all?
Nope. Most hiring managers spend mere seconds on each resume.
If you can get them to stop skimming and start reading, you can nab the interview.
Do that with a resume summary or resume objective.
If you lack experience, use a resume objective. It shows passion when your work history still has bed head.
If you've got more experience than Frédéric Fekkai, use a resume summary. It uses your accomplishments to knock 'em flat.
Cram either with achievements that go full foil.
These two professional hair stylist resume examples demonstrate.
Hair Stylist Resume Examples [Resume Summaries]
What's overprocessed about the first of our hair stylist resume samples?
wrong
Passionate, experienced hair stylist with excellent skills in hair cutting, permanents, hair coloring, and extensions. Responsible for all cutting and styling duties at Jaded Frog Hair Salon for two years and as a Walmart stylist for one year.
That's not bowl-cut bad, but it won't pile up the interviews.
To fix it, model our next salon resume example:
right
Licensed Hair Stylist with 3+ years of experience. Seeking to wow Tresses Inc's clients with proven hair design skills and efficiency. As hair stylist at Jaded Frog, maintained 95% positive customer feedback. Did 50+ extensions/yr and was a dedicated hairdresser to Haute C Models.
On fleek. The accomplishments with numbers work it.
Don't have that much experience? See the next two beginner hair stylist resume examples.
Two Beginner Hair Stylist Resume Objectives
If your experience is still in curlers, use a hairdresser resume objective.
Back in the days of mall hair, that meant showing enthusiasm. That's what this sample hair stylist resume objective does:
wrong
Energetic, organized hair stylist, skilled in extension application and cosmetology. Great personality and attention to detail. Haven't held a title as an official hair stylist yet but I learn fast and I'm very responsible.
Enthusiasm counts for a lot. But you're up against candidates who have that plus experience.
So, add achievements. Look over the next of our beginner hairstylist resume examples:
right
Passionate hair stylist with thriving freelance business. Grew client list of 22 regular thanks to enthusiastic word of mouth from happy customers. Have styled hair for seven brides with glowing compliments about my work. Fill in occasionally at a chair in a small salon.
Wow. That's HG.
But what if you have no experience at all?
You do, or you can get some fast.
I'll show how next.
Pro Tip: List a couple skills in your cosmetologist resume summary, but save most for your skills list. Write your hair stylist resume summary last so you've got plenty of raw material.
When making a resume in our builder, drag & drop bullet points, skills, and auto-fill the boring stuff. Spell check? Check. Start building a professional resume template here for free.
When you're done, our online resume builder will score your resume and our resume checker will tell you exactly how to make it better.
Want the interviews to roll in like appointments on the Friday before prom? See our guides:
Professional Resume Summary: 30 Examples of Statements [+How-To]
20+ Resume Objective Examples - Use Them On Your Resume (Tips)
3
A Hair Stylist Job Description for a Resume on Fleek
Imagine a professional hair salon manager. Her name's Una.
Nice Dyson Supersonic.
What does she care most about on a hair stylist resume?
Experience.
But she doesn't want three pages with enough details to stuff a beehive.
And—she doesn't want so little you could hide it under an induction cut.
So—start with your most recent job.
List 3-5 resume bullets with measurable accomplishments. The professional salon resumes examples below show how.
Hair Stylist Resume Examples [Experience]
Check out these sample hairstylist resume experience sections:
right
Jaded Frog Hair Salon
Hair Stylist
2016–2018
Maintained 95% positive customer comment ratings.
Most requested hair stylist in a team of five.
Applied 50+ hair extensions per year during prom season.
One of my clients was featured in the "Every Once in a Style" blog.
Dedicated hairdresser for Haute C Models, Omaha.
That's lit. The salon manager just stopped daydreaming about thickeners. Your perfect hair stylist resume sold her on your skills.
But clip off those achievements, and:
wrong
Jaded Frog Hair Salon
Hair Stylist
2016–2018
Responsible for cutting and styling hair for many clients.
Applied hair extensions when needed.
Pitched in with regular housekeeping duties.
Well, hello, Lloyd Christmas. Nice bangs.
But what if you have no experience at hairstylist jobs?
Let these two beginner hair stylist resume examples guide your hand.
How to Write a Resume for Hair Stylist with no Experience
I have no experience! Aargh!
Yes, you do.
Maybe you haven't worked an official job, but I bet you've:
Cut hair for friends and family
Cut hair for free or for money here and there
Worked with customers in non-hairstylist jobs
Assisted in a hair salon for a few days
Done some cuts for people on apps like Hairline or SalonPick.
If you haven't, do them now. It'll take a couple days and kirakira your new salon resume.
The next of our beginner hair stylist resume samples slays it.
Two Beginner Hairstylist Resume Samples [No Experience]
Why does one of these two hair stylist resume examples float while the other's nappy?
wrong
Hair Stylist Experience: Haven't yet held a full time hair stylist job, but I'm very trustworthy.
Other Experience:
Oof.
The salon manager thinks you have a hockey cut.
So—add achievements, like this freelance hair stylist resume example:
right
Freelance Hair Stylist
2017–2018
Grew a client list of 22 regulars through enthusiastic word-of-mouth.
Styled hair for seven weddings. Received enthusiastic praise from all brides.
Fill-in hairstylist at a chair in a small local salon.
Now you're in the Nicky Clarke zone.
The best part?
It didn't take years to build up that experience.
Pro Tip: Got a great hairstylist resume, but still not getting offers? Try walking in and talking with the salon manager about her needs. Matching a face to a resume is magic.
Don't make the salon manager pass out in her own chair. Energize your professional hair stylist resume with action words. See our guide: 240 Resume Action Words & Power Words to Make Your Resume Shine
4
Is Your Education Section Busted? It Might Be
Do you even need education on a hair stylist resume?
Here's the problem:
Every resume needs education.
You have to add:
School Name and Location
Years in School
Degree
But if you stop there, it's like having an expensive formal finish and staying home and watching Netflix.
So—add some relevant accomplishments that fit the job.
The next hair stylist resume examples show how:
Hair Stylist Resume Examples [Education]
Both hair stylist resume samples below are for a job that wants communication skills, a friendly personality, and sales skills.
right
Capitol School of Hairstyling & Esthetics
2013–2014
Received grade of A+ for excellence in hair design.
Head of the class for sales techniques classes.
Sandy Creek High School
2009–2013
Excelled in English and speech classes with high-level communication skills.
Head of the yearbook committee.
Varsity girls' swim team captain.
Finesse. That's not some fumble-fingers with a set of clippers. It's Oribe or Kimberly Kimble.
The speech and writing classes show good communication skills. The swim team and yearbook position shows you play well with others.
But look what happens when we Flowbee it:
wrong
Sandy Creek High School
2009–2013
Capitol School of Hairstyling & Esthetics
2013–2014
Received degree in cosmetology and hair styling.
Ow! Skullet time.
Pro Tip: Do you need GPA in your pro hair stylist resume? If it's impressive, go ahead. If not, trim it.
Make your hairstylist resume education section pop like a fresh pixie cut. See our guide: How to Put Your Education on a Resume [Tips & Examples]
5
How to Put Skills on a Resume for a Hair Stylist
Picture this:
You just got a great hair stylist job. You're making such good tips you can afford a solid gold straightener.
How did you do it?
Your hair stylist resume convinced the hiring manager you had skills.
If you've got the skills, you're hired.
But you need (1) the right ones and (2) you have to prove them.
Sound impossible? It's not.
First read the job offer. Highlight or underline the hair stylist skills you see.
Then find accomplishments in your past that match them like a face frame.
These professional hairstylist resume examples get it right:
Hair Stylist Resume Examples [Skills]
Let's say Una put these skills in the hair stylist job description:
Required Hair Stylist Skills: (1) Sales, (2) Customer Service, (3) Interpersonal Skills
List them in your hair stylist resume, plus a couple more so you're not soft-soaping.
Then prove it in your resume bullets:
(1) Built a list of 112 regular clients.
(2) Collected most tips in team of seven for 80% of shifts.
Commended 5x by management for exemplary (2) customer service.
Offered salon manager position for excellent (3) interpersonal skills.
Styled it. Do that and you'll need a new appointment book to hold your interview requests.
Get started with the hairstylist skills for resumes below.
List of Skills to Put on a Hair Stylist Resume
Need some professional hair stylist resume skills to start?
Use this list. Add to it from hairstylist job descriptions online.
They're great resume keywords too.
Hair Stylist Resume Skills

| | |
| --- | --- |
| | |
| Listening | Cutting/Styling |
| | Hair Extensions |
| | Customer Service |
| | Supply Management |
| Attention to Detail | Perming/Straightening |
| | Coloring |
| Active Learning | Assessing |
| Presentable | Marketing & Up-Selling |
| Patience | Business Management |
| | First Aid/CPR |
Pro Tip: Can you really prove your skills on a hairdresser resume? No. But you can convince the manager enough to walk in for an interview.
Give your hairstylist resume skills section a trim. See our guide: +30 Best Examples of What Skills to Put on a Resume (Proven Tips)
6
How to Show a License on a Resume
You worked hard to get that license.
So—plug it on your hair stylist resume.
Put your license in:
Your title, near your name
At the beginning of your resume summary
In a special license section, right under your summary
That way, no matter where the hiring manager looks first, she knows you've earned your duckbill clips.
License
Licensed Cosmetologist and Hair Stylist, Nebraska Board of Cosmetology
Got other certifications, like hair coloring or laser hair removal? Show those in a certifications section below your education:
Certifications
Board Certified Haircolorist, ABCH
NCLE National Laser Certification
Pro Tip: Don't put your license and certifications in the same section on a hair stylist resume. Your license is by far the most important, so give it a hard part from the rest.
Need more help with how to put licenses and certs on a cosmetology resume for hair stylists? How to List Certifications on a Resume: Guide
7
Add these Things to Make Your Resume Turn Heads
Guess what?
A robot can have experience and education.
Nobody wants their hair cut by a robot.
Show the salon manager how hard you work at cutting hair—and how much you care.
Do it with special "other" sections in your hair stylist resume.
Watch how in two hairstylist resume sections.
Hair Stylist Resume Examples [Other Sections]
Don't add color to a professional hair stylist resume like this:
wrong
I love listening to music.
I enjoy painting and someday I'd love to be an artist.
That won't tell me you style hair like Ted Gibson.
But check this hairstylist resume example:
right
Additional Activities
Active Member, Professional Beauty Association
Interviewed on the Thriving Stylist podcast about good customer service.
Volunteer at Doorly Homeless Shelter 2x per month
Take weekly spin classes to stay in shape
Conferences
2017 International Beauty Show, NY—Spoke on panel about hair extensions
2016 Salon International Conference
That's drop-dead gorgeous.
Dig into your past. You'll find gold nuggets to up style your hairstylist resume "other" sections. Even a membership in the Professional Beauty Association can volumize you.
Pro Tip: To think up "other" bullets for your hair stylist resume, look at your skills list. Brainstorm anything you've done that proves you've got those skills.
Not sure what extensions to add to a resume for hair stylist jobs? See our guide: +20 Best Examples of Hobbies & Interests To Put on a Resume (5 Tips)
8
What About a Hair Stylist Cover Letter?
Do you need to a cover letter with your hair stylist resume?
Well, do you want the job?
First, 40% of hiring managers insist on cover letters.
Second, it's free advertising space. It's there, so use it well.
In other words, don't write a hair stylist cover letter that says, "Here's my resume."
That's wasted space.
Write one that grabs the hiring manager like a gas-powered crimper.
Here's how:
First, use the manager's name.
Second, show her (1) you understand her needs and (2) you've got what it takes to meet them.
This short example hair stylist cover letter does it right.
I've wanted to work at Tresses Inc for years. I know you value talented cutters and stylers, but also seek great people skills and experience at adding hair extensions.
At Jaded Frog, I kept my customer feedback high at 95%, despite applying 50+ extensions per year during the demanding prom and wedding season. As a dedicated hair stylist for Haute C Models, I...
Always end a cover letter with an offer. Try, "I'd welcome the opportunity to deliver hair styling excellence for Tresses Inc's clients."
Pro Tip: Can't find the manager's needs? They're in the job offer. If not, call an employee or the manager and ask about the shop's challenges and frustrations.
Plus, a great cover letter that matches your resume will give you an advantage over other candidates. You can write it in our cover letter builder here. Here's what it may look like: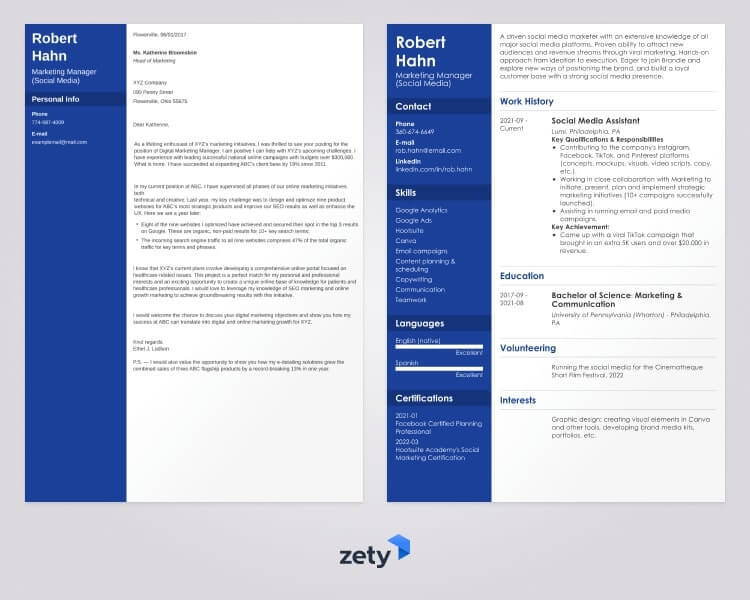 See more cover letter templates and start writing.
Want a TD hair stylist resume and hair stylist cover letter? See our guide: How to Write a Cover Letter that Gets You a Job (+12 Examples)
9
Don't Add Contact Info to Your Resume Without This
You did it.
You wrote a great hair stylist resume. But no one called.
Why not?
You made a mistake with contact info on your salon resume.
You added:
Full Name
Updated Phone Number
Professional Email Address
Like this:
Kaylin Duplessie, Licensed Hair Stylist, kaylin.duplessie@gmail.com 308-637-1089
So far, so good.
You even knew a "professional email address" meant no karenkutielips2996887@yahoo.com.
But where is your portfolio?
These days an online portfolio is crucial. Even if it's just an Instagram account, have a place with pictures of your work.
What styles and looks can you do? What's your style of work? An online portfolio or an Instagram account will show the shop manager your versatility and talent.
Stacy Rahall
Professional Hair Stylist
Pro Tip: Should you put a personal photo on a resume for hair stylist jobs? Not in the US. A photo can tousle the Automatic Resume Tracking software. Snip it.
Want more tips to make your resume for hair stylist jobs stand out like Ken Pavés in a Supercuts? See our guide: How to Create a Resume for Any Job
Key Takeaway
Here's a recap of how to write a hair stylist resume:
Write a hair stylist resume summary that makes the salon manager stop skimming. That means cramming it with your best 2–3 accomplishments.
Pay attention to the hair stylist job description. Fit your hairstylist resume bullets to it like a magnetic diffuser.
Add other sections that tease how great you are to work with. Include certifications, volunteer work, professional associations, and conferences.
Send a hair stylist cover letter with your cosmetologist resume. Most managers insist on them, and they're another chance to get the interview.
Do you have questions on how to write a great resume for a hair stylist? Not sure how to describe your skills or achievements? Give us a shout in the comments! We'd be happy to reply.
About Zety's Editorial Process
This article has been reviewed by our editorial team to make sure it follows Zety's editorial guidelines. We're committed to sharing our expertise and giving you trustworthy career advice tailored to your needs. High-quality content is what brings over 40 million readers to our site every year. But we don't stop there. Our team conducts original research to understand the job market better, and we pride ourselves on being quoted by top universities and prime media outlets from around the world.