Cosmetologist Resume Samples (Cosmetology Skills Included)
You make people beautiful. You've got a knack for hair and makeup that would make a Kardashian blush. Prove it to the hiring manager with this on-fleek sample cosmetology resume.
Cosmetology Resume Sample & Template
Cynthia Lintz, Cosmetologist (COSMO 1, Florida DBPR)
cynthia.q.lintz@gmail.com
904-521-7691
Professional Summary
Licensed cosmetologist with 7+ years of experience, skilled in makeup application, cutting, and styling. Seeking to be part of providing continued cosmetology excellence at Bangs 'n' Booms. At Face Forward, maintained 98% positive customer comments. Upsold $3,000 per week in products.
Work Experience
Cosmetologist
Face Forward
March 2014–April 2019
Sold $3,000 a week in hair and makeup products.
Maintained 98% positive customer comments average for 5 years.
Built relationships with steady stable of 50+ loyal clients.
Received favorable writeup in the Beauty on the Beach blog.
Cosmetologist
Eyes Hair Mouth Wow
Jan 2012–Feb 2014
Worked as staff cosmetologist in close-knit team of four.
Became a favorite makeup artist for Orange Aardvark Agency.
Cosmetologist of the month 5X.
Education
2011–2015 Boca Beauty Academy
Cosmetology Program With Florida State License
Pursued a passion for laser hair removal, makeup, and skin.
Chosen as #1 Vidal Sassoon Connection student.
Certification
Florida State Cosmetology License COSMO 1 (DBPR)
Skills
Soft skills:

Interpersonal skills, listening, creativity, attention to detail

Hard skills:

Makeup application, cutting, styling, customer service, skin care
Activities
Weekly CrossFit for fun and fitness.
Volunteer 2x per month at St. Augustine Soup Kitchen.
Want to save time and have your resume ready in 5 minutes? Try our resume builder. It's fast and easy to use. Plus, you'll get ready-made content to add with one click. See 20+ resume templates and create your resume here.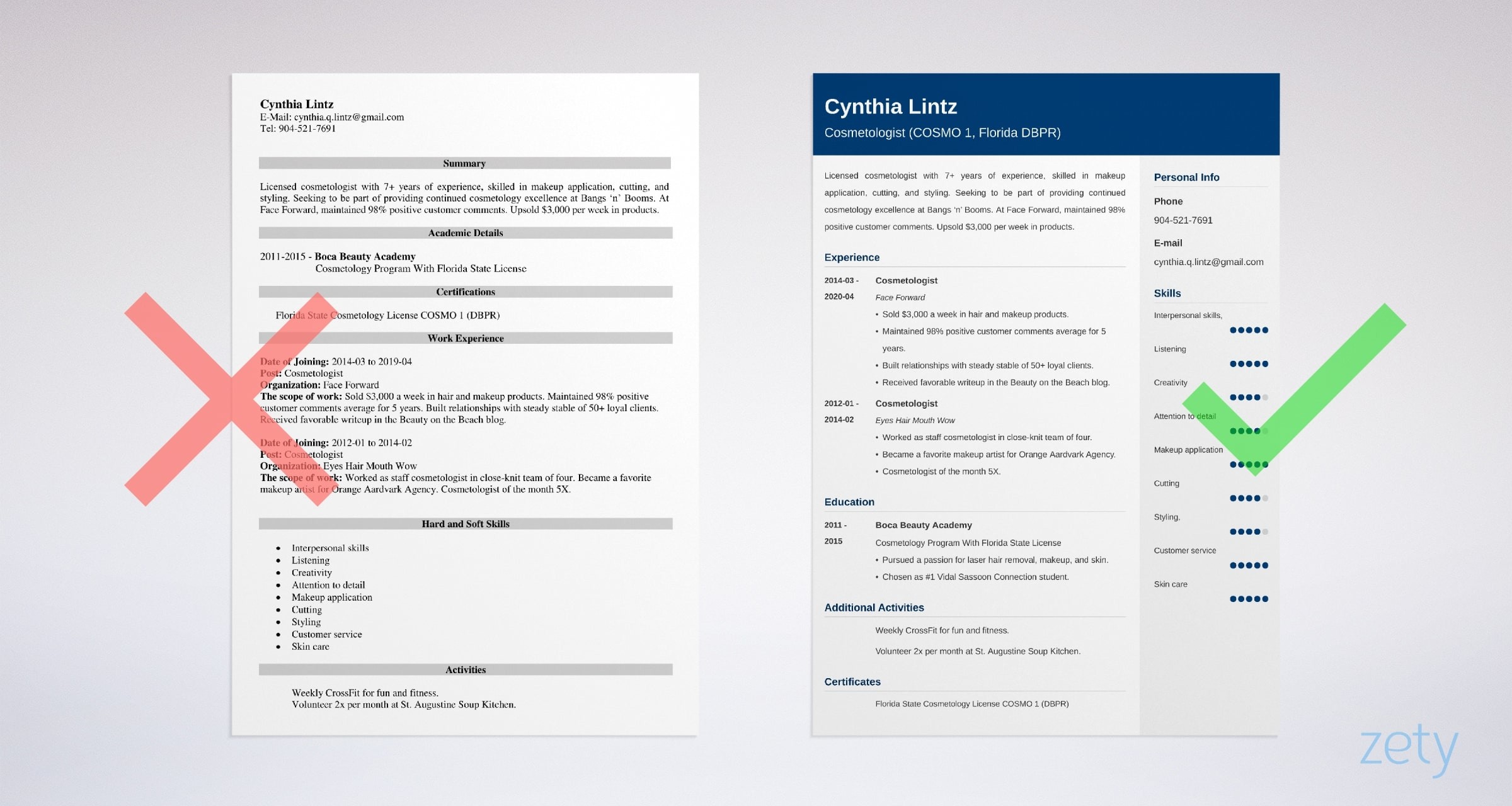 Sample Cosmetology Resume—See more templates and create your resume here.
Looking for other beauty industry guides? Check:
Here's how to write a cosmetology resume that gets jobs:
1. Beautifully Format Your Cosmetology Resume
You'd never let a client walk away with makeup in her teeth.
You shouldn't send in a hastily-formatted cosmetology resume either.
To look your best:
Pro Tip: What's the right resume length for a cosmetologist resume? One page. The trick is to fit all the most gorgeous moments from your career onto that single sheet, then snip the rest.
2. Make a Cosmetologist Resume Objective or Resume Summary
Want more interviews?
Prove your cosmetology resume is one of the good ones.
Put your best face forward with a professional resume profile.
That's where you show the best features of your career so far.
If you've been in this field for 2 years or more, it's a resume summary statement. That's an elevator pitch for your work life.
Writing an entry-level resume for cosmetology,? Use a cosmetologist resume objective and focus on your beauty skills.
They key to either is to add a couple key work accomplishments.
Pro Tip: Writing an entry-level resume for cosmetology jobs? Show job-related skills like people skills, creativity, or customer service by mentioning your work achievements.
3. Write a Cosmetologist Job Description for Your Resume
Which cosmetologist would they rather hire?
One who's been "responsible" for doing the job?
Or one who's done it well?
Show you're the second kind of cosmetologist.
Here's how to write work experience in a resume:
For every job, list the business name, "Cosmetologist," and dates you started & stopped.
List bullet points to show what you did in the salon or business.
Clip in some achievements that show your cosmetology skills.
Tailoring your resume means matching your achievements to the job posting. So if the job ad wants upselling, "Upsold $3,000 a week in products" would work.
Add numbers like "$3,000" or "98%" to show your accomplishments are mall-hair-sized.
Use resume action words to hold their attention.
Pro Tip: Need to show cosmetology experience on a resume? Spot the skills the new job needs, then show how you used them in your cosmetology job to help the company.
4. Primp Your Cosmetology Resume Education Section
A cosmetology resume needs to show your schooling in a special way.
Here's how to show your cosmetology education on a resume:
Show the name of your school, plus your degree and dates.
Add your cosmetology certificate.
Include other bullets that show you went above and beyond, like, "Excelled in laser hair removal classes."
Pro Tip: Your cosmetology resume education section is a way to prove more skills in your resume. That's where those education bullet points come in.
5. Prove Cosmetology Skills in Your Resume
Use this cosmetology resume skills list:
Cosmetology Resume Skills
Hard Skills:
Makeup application
Cutting/Styling
Waxing
Customer service
Skin care
Perming/straightening
Retail
Coloring
Facial treatments
Assessments
Sales
Up-selling
Training
Product knowledge
Booking appointments
Soft Skills:
Creativity
Attention to detail
Collaboration
Presentable
Learning
Patience
Work ethic
Stamina
But—
Don't show all those hard and soft skills.
List (and prove) the ones this cosmetologist job wants. (Find them in the job ad.)
Pro Tip: Every section in your cosmetologist resume is another chance to prove the skills you list. Each achievement is another brick of evidence that you can do the job.
When making a resume in our builder, drag & drop bullet points, skills, and auto-fill the boring stuff. Spell check? Check. Start building your resume here.
When you're done, Zety's resume builder will score your resume and tell you exactly how to make it better.
6. Add Other Sections to Your Cosmetology Resume
How can you stand above all the other applicants?
With "other" sections in your cosmetology resume.
That's where you show passion and energy.
You can use:
Activities
Associations
Freelance work
Groups you belong to
Kudos from employers
Fitness
Add your cosmetologist certification in a section right under your education.
Pro Tip: If you've got lots of cosmetology experience with great accomplishments, you don't need as many "other sections." But you should still add a few to show your passion.
7. Send a Cover Letter With Your Cosmetology Resume
Do I need a cover letter for my cosmetology resume?
Yes!
Most employers like them.
But you can't just send a generic one. You have to show your cosmetology passion in it.
Use these cover letter formatting tips:
Write a cover letter opening that makes the salon manager wake up and notice you.
Talk about your passion and tie it to this cosmetology job.
Show how you'll fill their needs by mentioning your best styling or makeup accomplishments.
When ending a cover letter, give them a reason to call you. That can be a promise to tell them more about how you'll help.
How long is a cover letter? Half a page is plenty.
Pro Tip: A follow-up email after job application can be the thing that gets you the interview. Hiring managers are busy and will appreciate your persistence.
That's it!
That's how to write a resume for cosmetology positions.
Need more help with how to write a cosmetology resume? Got a few key tips for cosmetologist resume writers? Give us a shout in the comments. We'd love to talk!