Student Esthetician Resume: Template & Sample for Beginners
Making other people fall in love with themselves is what you're training to do. Now let's make you fall in love with your student esthetician resume!
Applying for a job in a luxurious spa as a student esthetician can be more tricky than applying a facial moisturizer to a client. But it doesn't have to be!
Before you start your career at this fancy spa or hotel, you need to grab the attention of a person who will hire you. And creating a perfect student esthetician resume to help you with that is absolutely not as painful as any sort of waxing!
This guide will show you:
A student esthetician resume example better than 9 out of 10 other resumes.
How to write an esthetician student resume that will land you more interviews.
Tips and examples of how to put skills and achievements on an esthetician student resume.
How to describe your experience on a resume for esthetician student to get any job you want.
Want to save time and have your resume ready in 5 minutes? Try our resume builder. It's fast and easy to use. Plus, you'll get ready-made content to add with one click. See 20+ resume templates and create your resume here.
Sample resume made with our builder—See more resume examples here.
Searching for student jobs in the beauty industry? Here's a list of guides you might find interesting:
Student Esthetician Resume Template
Kelly Bale
Student Esthetician
kelly-bale@gmail.com
523-457-9543
instagram.com/kellybalebeauty
youtube.com/@kellybalebeauty
Summary
Energetic and enthusiastic student esthetician with 1000+ hours of professional training. Willing to continue developing esthetic experience while bringing perfect communication, time-management, and interpersonal skills to the Shine! Beauty Salon.
Work Experience
Student Esthetician
Stunners, Denver, CO
April 2022—Present
Key responsibilities:
Performed various treatments (including facial, superficial chemical peel, waxing, etc.) according to clients' distinctive needs.
Attracted 25+ clients with my private Instagram account used to promote my services.
Performed a thorough skin analysis for 50+ clients and recommended treatments based on their skin needs.
Key achievement:
Prepared makeup for Miss Colorado for 10+ TV programs.
Freelance Makeup Artist
Denver, CO
February 2021—April 2022
Key responsibilities:
Made makeup for 50+ clients.
Created makeup for the Sorrowing MacBeths theatrical group for their 2021 Frankenstein performances.
Prepared the entire senior class of Hillwood Highschool, Denver for their Winter Ball.
Key achievement:
Worked as a makeup artist for indie horror movie Mermaids of the Rio Grande
Education
Colorado State Board of Cosmetology License
Accent Beauty Academy, LLC, Denver, CO
September 2022—June 2023
BA Cosmetology
Trinidad State College, Trinidad, CO
2019—Present
Completed extra classes for hair and lash extensions, barbering, and facials.
Led the Trinidad Cosmetology Club, which helped prepare Miss Colorado for the Miss America Competition 2022
Top 5% of the class.
Skills
Mani-pedi application
Makeup application
Skin analysis
IPL hair removal
Active listening
Customer service
Communication
Self-motivation
Problem-solving
Time management
Conferences
International Esthetics, Cosmetics & Spa Conference (IECSC) NY, 2022
Interests
Learning about new advances in skincare treatments
Following international industry blogs
Running a make-up tutorial YouTube channel with over 30k subscribers
Languages
American English—Native
Mexican Spanish—Conversational
That's an ideal example of a student esthetician resume. No need for extra treatment here! Now let's find out how to create your very own:
1. Select the Best Format for Your Student Esthetician Resume
Even though you don't study to become a healthcare provider, your job will have a huge influence on how your clients feel. Evaluating your clients' skin condition, offering treatments, recommending skincare products, waxing, and providing facials and other treatments is how you're gonna make them feel stunning!
Before you start bringing out the beauty in others, you must bring it out of your resume!
Follow these steps and learn how to make a beautiful esthetician student resume:
Pro tip: Make your resume shine even more by choosing a professional resume template. They're not only easy to navigate through, but also the guide will walk you through them and help you add more information to your resume!
2. Write an Ideal Student Esthetician Resume Objective
According to this study, you have 7.4 seconds to make an impression with your resume. That doesn't sound like a lot of time. However, you can try to convince the hiring manager you're the perfect fit for the job with the very first paragraph.
Start your resume by writing about your passion and how eager you are to learn and grow. And the best way to do it is with a resume objective, which is a short introduction of you and your career goals!
How to write your career objective for a student esthetician resume? Simply follow this formula:
Adjective(s)/Certificate(s) + Your Job Title or Degree + seeking employment as + Position Name at + Company Name + to apply my + Your Relevant Skills + to help + What Do You Want To Help The Company Achieve
Except from the career objective, more experienced candidates can try to write a summary statement.
How to write your summary statement for a student esthetician resume?
Adjective + Job Title + Years of Experience + Achievements + Skills + What You Want to Do for the Employer
However, if you're a student esthetician and therefore don't have tons of experience, it is better to stick with the career objective. That's the best way to hook their attention from the top of your resume! Now let's tell them about your experience!
Creating a resume with little or no experience can be tricky. Our guide will show you how to do it: How to Make a Resume with No Experience: First Job Examples
3. Write a Great Student Esthetician Resume Job Description
You're still a student, so there's a big chance your work experience is not very spectacular. But there are some ways to show your previous jobs on your student esthetician resume.
Was there a freelance job during which you prepared a 16-year-old for her sweet sixteen? Or did you have some practice during your studies? Leaving your experience section empty is a no-go, so all that will fit well here!
How to make a great work experience section on a resume for an esthetician student?
Writing about relevant work experience without a lot of examples can be tricky. However, there is a way to impress a hiring manager. Do it by writing a skills-based resume in which you will show relevant skills that your future employer will see as useful.
Still struggling with describing your experience on a resume? Read our guide and learn how to do it: Work Experience on Resume—History & Job Description Examples
When making a resume in our builder, drag & drop bullet points, skills, and auto-fill the boring stuff. Spell check? Check. Start building a professional resume template here for free.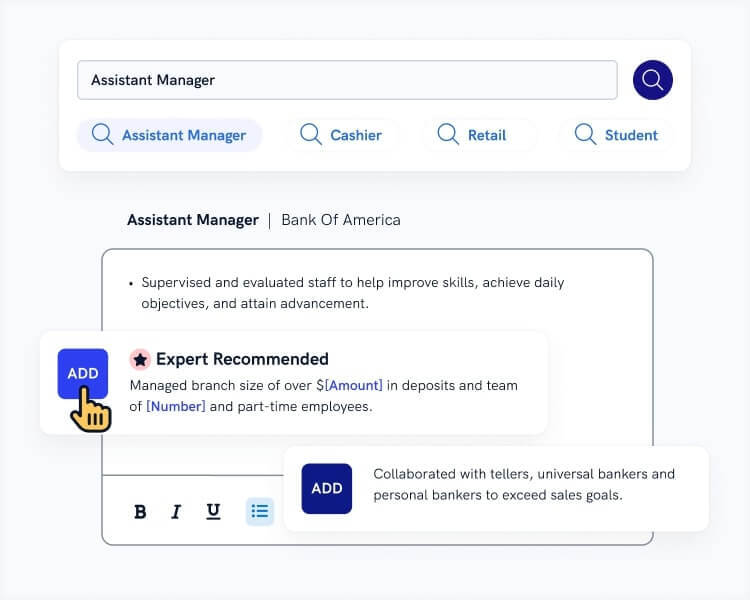 When you're done, Zety's resume builder will score your resume and our resume checker will tell you exactly how to make it better.
4. Make Your Education Shine on Your Student Esthetician Resume
This section is almost as important as a good moisturizer for your daily skin routine. Since you're still a student, your employer will pay strong attention to your achievements at school. That's why you should try to wow your hiring manager with an education section on your resume.
You can always place your education section before your experience section if you feel your student esthetician resume will be more impressive that way. Remember, being impressive is your main goal here!
How to write an ideal education section on a resume for an esthetician student?
If you've attended a beauty school instead of a university, include your achievements, courses, and scores as well, as they can be even more relevant than higher education.
To become an esthetician, you need to complete a cosmetology or esthetician program approved by the state you want to work and earn a license. Including that in your resume is also a great idea.
Pro Tip: Being a member of Phi Beta Kappa can help you and your resume. The best place to mention that? Your education section!
5. Let Your Skills Speak for You on Your Student Esthetician Resume
Did you know that the employment of skincare specialists is projected to grow 17 percent from 2021 to 2031, much faster than the average for all occupations? That means that you're on the right career path! But so are the others! How to set yourself apart from them and stand out more? With the right set of professional skills!
How to list your skills on a resume for a student esthetician?
Begin with creating a list of all the skills you have.
Select hard and soft skills that will make you a great esthetician.
From all of these selected skills, pick only 10. And put them on your resume!
Student Esthetician Resume Skills
Mani-pedi application
Make-up application
Skin analysis
IPL hair removal
Self-motivation
Pro tip: A good esthetician combines both technical abilities and interpersonal skills. Make sure to include them on your resume!
6. Talk More About Yourself in Additional Sections on Your Student Esthetician Resume
There is one more way to impress the recruiter that allows you to tell something about your non-professional self. It's putting some additional information on your student esthetician resume!
What can you put in additional sections on your student esthetician resume?
Certifications and licenses can be valuable for the job, as you can operate as a certified specialist.
Conferences you attended show that you don't limit your education only to your studies.
Hobbies can say a lot about your non-professional self, which is almost as important as your professional self in the beauty industry!
Language skills are always useful. You never know who will come through the door in your SPA next, right?
Volunteer work is just something everyone loves! Don't avoid mentioning that, as it can work magic on your resume.
Pro tip: If you decide to include some information in an additional section of your resume, think about the relevancy. Make sure it corresponds with the requirements and desired skills from the job description.
7. Add a Cover Letter to Your Student Esthetician Resume
Oh, that's a beauty. Your perfect student esthetician resume is ready to go and to stun every recruiter. Soon, you'll be able to cherry-pick job offers to your liking! But there's one more thing you can add to boost your impression even more! It's what you include in the cover letter!
How to write a perfect cover letter that will help you sell yourself?
Pro tip: When addressing a cover letter, try to avoid old-fashioned salutations, such as To whom it may concern or Dear Sir or Madam. That looks lazy. Instead, try to find out the name and the job title of the person you're addressing it to!
Plus, a great cover letter that matches your resume will give you an advantage over other candidates. You can write it in our cover letter builder here. Here's what it may look like: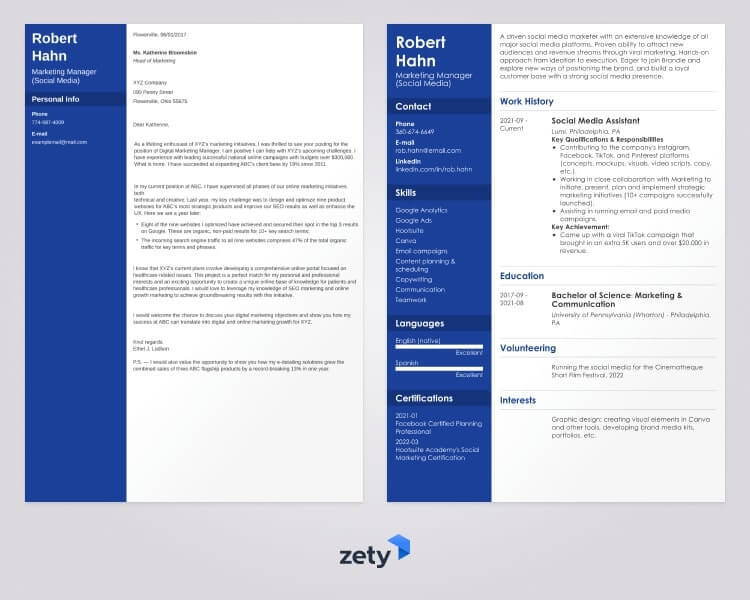 See more cover letter templates and start writing.
Oh, wow! You are ready to go and make win the hearts of recruiters with the formatting, each section, the template, and the content of your student esthetician resume!
Thanks for reading our guide! We'd love to talk more! Let's do it in the comment section below!