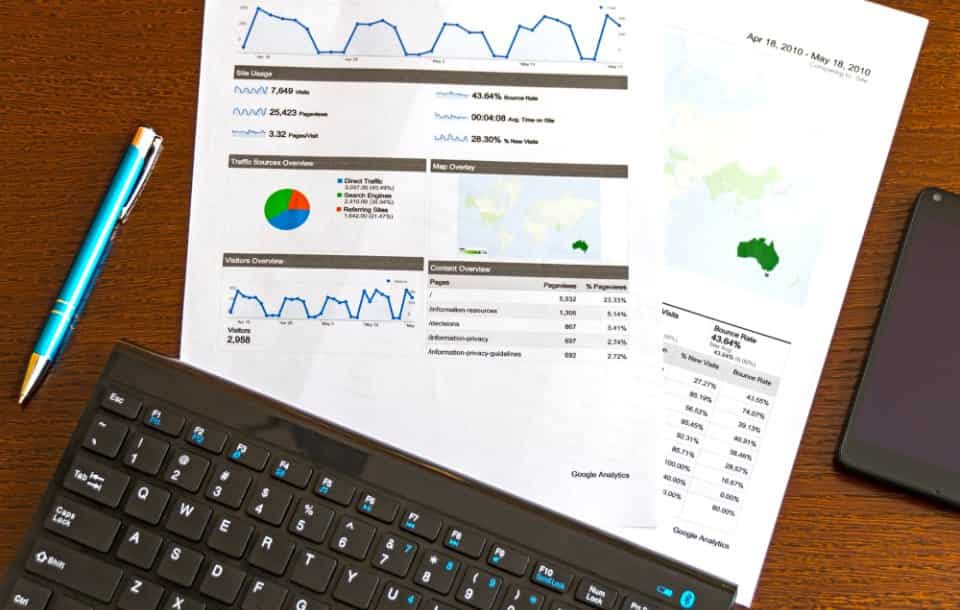 Sales Resume: Examples + Sales Skills & Resume Tips
Feel like your sales resume has been performing poorer than it should? Learn how to sell the recruiter on your sales skills and expertise and land your dream job!
You're just a few mouse scrolls away from finding the best sales resume writing practices.
But first—
You've got that sales X factor and a knack for figuring people out.
However, that may not be enough to coax that coffee-addled hiring manager to get you on board.
Your resume needs that X factor, too.
This guide will show you:
A sample sales resume better than 9 out of 10 other resumes.
How to write a sales resume that will land you more interviews.
Tips and examples of how to put achievements and skills on a sales resume.
How to describe your experience on a resume for a sales position to get any job you want.
Want to save time and have your resume ready in 5 minutes? Try our resume builder. It's fast and easy to use. Plus, you'll get ready-made content to add with one click. See 20+ resume templates and create your resume here.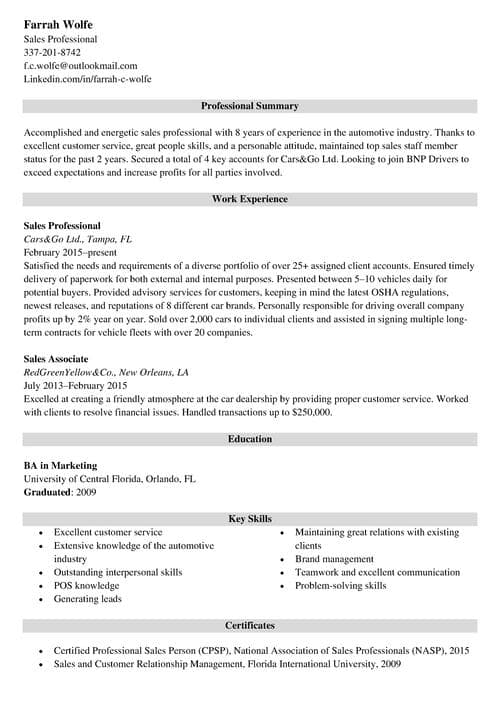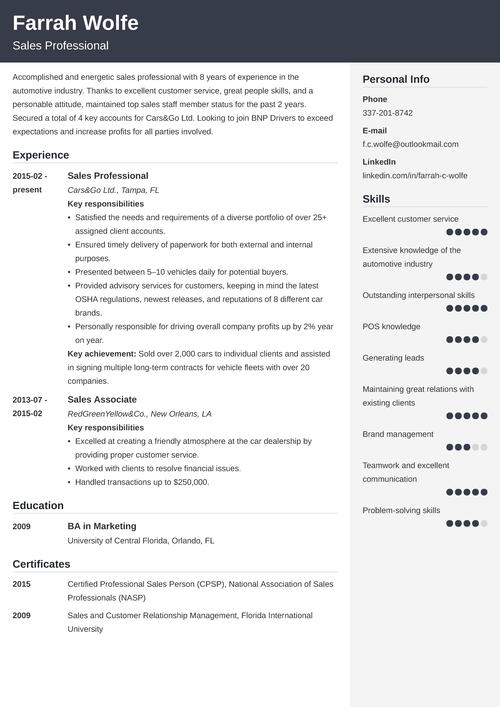 Sample resume made with our builder—See more templates and create your resume here.
Check out our other sales-related guides here:
Sales Resume Template
Farrah Wolfe
Sales Professional
337-201-8742
f.c.wolfe@outlookmail.com
linkedin.com/in/farrah-c-wolfe
Professional Summary
Accomplished and energetic sales professional with 8 years of experience in the automotive industry. Thanks to excellent customer service, great people skills, and a personable attitude, maintained top sales staff member status for the past 2 years. Secured a total of 4 key accounts for Cars&Go Ltd. Looking to join BNP Drivers to exceed expectations and increase profits for all parties involved.
Work Experience
Sales Professional
Cars&Go Ltd., Tampa, FL
February 2015–present
Key responsibilities
Satisfied the needs and requirements of a diverse portfolio of over 25+ assigned client accounts.
Ensured timely delivery of paperwork for both external and internal purposes.
Presented between 5–10 vehicles daily for potential buyers.
Provided advisory services for customers, keeping in mind the latest OSHA regulations, newest releases, and reputations of 8 different car brands.
Personally responsible for driving overall company profits up by 2% year on year.
Key achievement: Sold over 2,000 cars to individual clients and assisted in signing multiple long-term contracts for vehicle fleets with over 20 companies.
Sales Associate
RedGreenYellow&Co., New Orleans, LA
July 2013–February 2015
Key responsibilities
Excelled at creating a friendly atmosphere at the car dealership by providing proper customer service.
Worked with clients to resolve financial issues.
Handled transactions up to $250,000.
Education
BA in Marketing
University of Central Florida, Orlando, FL
Graduated: 2009
Key Skills
Excellent customer service
Extensive knowledge of the automotive industry
Outstanding interpersonal skills
POS knowledge
Generating leads
Maintaining great relations with existing clients
Brand management
Teamwork and excellent communication
Problem-solving skills
Certificates
Certified Professional Sales Person (CPSP), National Association of Sales Professionals (NASP), 2015
Sales and Customer Relationship Management, Florida International University, 2009
Let's show you how to write a great sales resume:
1. Format Your Sales Resume Properly
Sales professionals are tasked with selling a company's services and products. Reading the customer's needs and expectations, they provide great customer service and develop long-term relationships with key clients. Sales resumes should show excellent communication and interpersonal skills.
Now picture James, the head of sales, looking through a stack of resumes, trying to find the perfect candidate.
There are several hundreds of them, and good ol' James isn't getting any younger.
How do you make it convenient for him to find that what he actually needs is you?
By introducing the right tricks to format your resume in a clear and transparent manner.
Here's what to keep in mind:
That kind of approach to resume formatting gets interviews at the drop of a hat. Read more: Best Resume Writing Tips, According to Experts
2. Create a Great Sales Resume Summary or Sales Resume Objective
So you got the recruiter hooked by not having a gut-wrenchingly ugly resume format—right on!
But you got to keep rolling. You've got their curiosity, now you need to fight for their attention—and the best way to get there is through crafting a compelling profile section of your resume. You should feel right at home: it's basically a powerful elevator pitch describing your strengths and best accomplishments.
There are two types of profiles to choose from. Experienced sales professionals should create a resume summary. In it, describe your years of experience in bright colors, talking about your greatest and most impressive career achievements. Your sales resume summary has one goal: to sweep the recruiter of their feet with your amazing sales track record that rivals Michael Scott in his sales hey-days!
If you're not quite in this league yet, don't worry—you can always use a resume objective. Instead of sales experience, focus on any transferable skills you acquired elsewhere, and the knowledge you have that would help you generate leads, pitch convincingly, and close deals.
Regardless of whether you choose to write a sales resume summary or objective, remember to include a measurable achievement or two. And keep it short and sweet: 4 sentences should suffice!
One last tip: writing this section can often feel like a slog. If you're uninspired, start with something easier first, like the work experience section (more on that in a minute). This one is too important to not give it your all.
Read more: How to Write a Job-Winning Resume Introduction: Guide & Examples
3. Craft an Amazing Work Experience Section
Research shows that 20% of all salespeople make 80% of all sales.
So—
To snag that job, you have to prove you're a fierce competitor and part of that 20%. An organized, well-written work experience section is your best tool for the job.
As mentioned before, you'll be going with the reverse chronological format. So, put your most recently held position first, then the second to last, and so on.
State your job title, years worked, and describe your activities and biggest sales achievements in 4–6 bullet points for the freshest entry, and 3–4 for others.
ABC – Always Be Closing, or in this case, ABCFYRA, or Always Be Clutching For Your Reader's Attention. In other words, use resume action verbs as they help you do exactly that.
You know better than anyone that at the end of the day, it all comes down to the numbers. So, add as many as possible to your work experience section. Numbers pop!
For best results, always tailor your resume to the given job, just like you would tailor a pitch to each customer by appealing to different values.
Read more: What Is Relevant Experience for a Resume? Deciding How Many Jobs to Include
4. Polish the Education Section on Your Sales Resume
If you've been told this part doesn't matter and is essentially an instant skip, you've been told wrong, because that's baloney. There's a catch, though:
If you're really well experienced, say 5 years in the industry or more, you can state your degree, school name, year of graduation, and move on.
Otherwise, peppering in some extra info from your college years can be the right move to fill in some gaps.
Here's what you could include if you're writing an entry-level resume education section:
If you have virtually no experience in sales, swap the positions of the work experience and education sections. The idea is to start with your best foot forward, and in that case, your school years are your biggest advantage.
Read more: How to Write a Resume with No Work Experience and Land a Job
5. Add the Right Sales Skills to Your Resume
The skillset of a superior and effective salesperson has to be incredibly versatile, there's no two ways about it.
But your skills section can't just say "Everything" (even if that's true!).
Follow these steps to select the best sales resume skills:
Open up Excel and create a spreadsheet. In it, divide your skills into three categories: soft skills, hard skills, and technical skills. Though if you come up with anything that doesn't fit those, it's okay, write them down as well.
Go back to the job posting and scan it for the most important resume keywords mentioned. Usually, you will find they are looking for specific qualities in their prospective sales hire.
Cross-reference the spreadsheet and the job ad. See any matches? Great, put those skills front and center on your resume.
Congrats, in less than 5 minutes not only did you pass the watchful eye of the dreaded resume ATS, you also impressed the hiring manager who simply cannot believe he stumbled upon a one in a million candidate like you!
Here's a sample list of sales skills for your reference:
Sales Resume Skills
Product Knowledge
Rapport Building
Lead Qualification
Relationship Building
Customer Needs Analysis
POS & Payment Handling
Conflict Resolution & Mediation
Brand Management
Specialized Product Knowledge
Contract Negotiation
Self Motivation
Client Nurturing
Adaptability
Closing Sales & Signing Contracts
Read more: 99+ Best Skills to Use on a Resume: Skills List, Examples, and Expert Tips
When making a resume in our builder, drag & drop bullet points, skills, and auto-fill the boring stuff. Spell check? Check. Start building your resume here.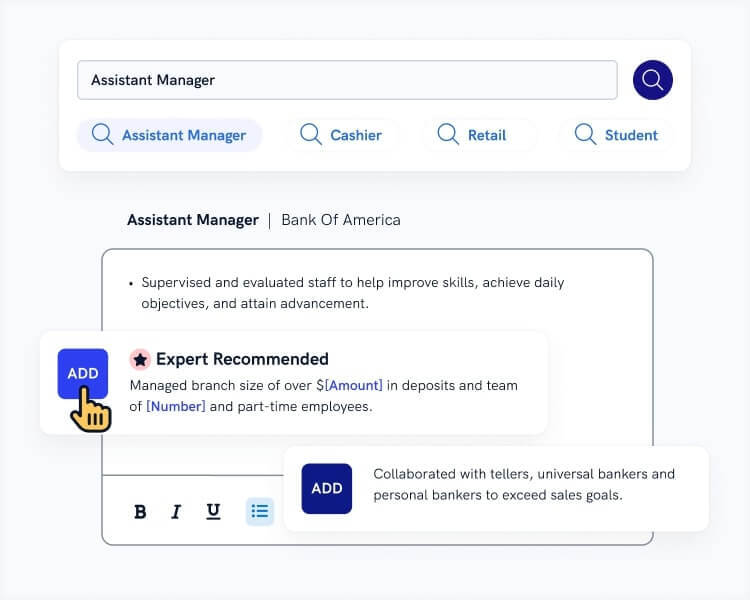 When you're done, Zety's resume builder will score your resume and tell you exactly how to make it better.
6. Show Your Personality and Extra Skills by Adding Other Sections
If you've been reading carefully and dutifully implementing the tips we've shown you so far, you have a decent resume on your hands—not bad!
Shall we make it even better? I think so!
Time to show your passionate side and prove there's even more to you than your excellent skills and experience.
The easiest way to do that is through including additional resume sections. Here are some ideas:
Read more: What to Put on a Resume: Expert Guide
7. Seal the Deal With a Professional Cover Letter
Yes—because 45% of recruiters won't bother looking at your resume without one.
Follow these tips, and you'll knock one out in no time:
And, much like the resume, the length of a great cover letter should definitely not exceed one page.
Pro Tip: Don't be afraid to send a follow-up email after submitting your job application. It shows you care about this position and are actually invested in getting a shot at working for that company.
Plus, a great cover letter that matches your resume will give you an advantage over other candidates. You can write it in our cover letter builder here. Here's what it may look like: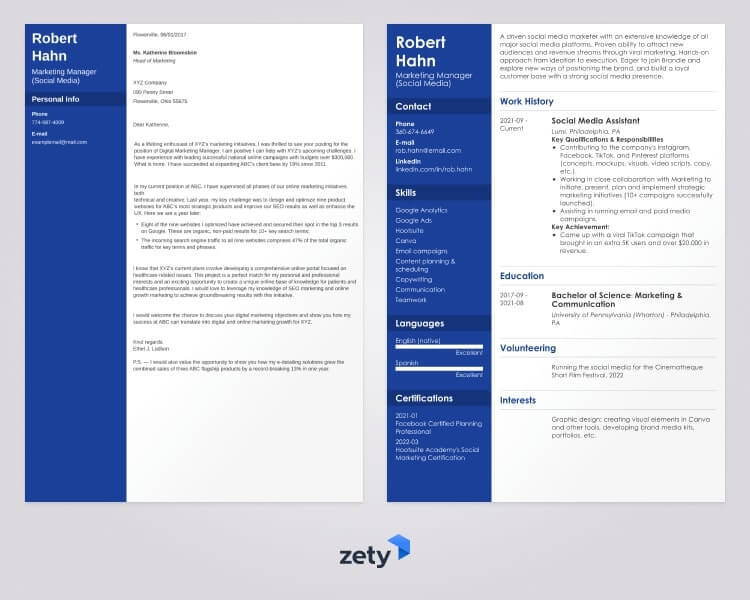 See more cover letter templates and start writing.
That's it! A perfect sales resume!
Did you have any trouble creating a sales skills list for your resume? Did your sales resume summary give you any trouble? Our team is here to answer your questions, just let us know in the comments!