Treasurer Resume Sample and Skills: Step-by-Step Guide
A good treasurer resume can win great jobs for you. Get inspired by our treasurer resume sample and follow the tips to write your job application.
A treasurer's job has more to do with accounting than protecting chests full of gold. However, your career is something you must treasure. Show employers your priceless value with a treasurer resume that deserves all the riches in the world—this short guide will show you how.
Want to save time and have your resume ready in 5 minutes? Try our resume builder. It's fast and easy to use. Plus, you'll get ready-made content to add with one click. See 20+ resume templates and create your resume here.
Sample resume made with our builder—See more resume samples here.
Treasurer Resume Sample
Matthew B. Bryan
Treasurer
(979) 587–4051
matthew.bryan@zetymail.com
linkedin.com/in/matt.b.bryan
Summary
Detail-oriented treasurer with 3+ years of experience overseeing the financial operations of institutions in the arts sector. Eager to develop a new financial management reporting system at Arkansas Historical Society to increase profitability and cash flow. Oversaw the implementation of a new cash management system that helped to improve profitability by 11% in 2021.
Work Experience
Treasurer
Arkansas Museum of Fine Arts, Little Rock, AR
July 2020–Present
Key qualifications and responsibilities:
Developed 3– and 6–month forecasting models across museum entities to support liquidity management and investment operations.
Liaised with partnering banking institutions to invest excess cash and optimize interest income.
Established internal controls within the Treasury function to safeguard cash management and foreign exchange risk management.
Monitored museum financial operations for legal compliance with State and Federal laws.
Key achievement:
Implemented a new cash management system, which helped to increase the organization's cash flow and boost profitability by 11%.
Assistant Treasurer
Bradbury Art Museum, Jonesboro, AR
September 2019–June 2020
Key qualifications and responsibilities:
Ensured all procedures in Treasury operations followed internal policies and controls.
Prepared and monitored cash forecasting and collaborated with financial and accounting departments to assist with budgeting and forecasting operations.
Led daily cash management activities, including monitoring cash balances and acting as a signatory for banking transactions.
Accounted for gifts and donations made to the museum by recording them in the general ledger.
Key achievement:
Improved the automation of cash reporting, which led to an increase in accuracy by 12%.
Education
Bachelor's Degree in Accounting
Arkansas State University, Jonesboro, AR
September 2015–May 2019
GPA: 3.9
Skills
Bookkeeping
Financial forecasting
Analytical skills
Risk management
Critical thinking
Presentation skills
Attention to detail
Microsoft Office
Certification
Microsoft Office Specialist: Expert, Microsoft Office, January 2021
Volunteer Work
Served as the treasurer for the Little Rock Philanthropy Society in 2019–2021.
Continue reading to learn how to write a treasurer resume just like the sample above:
How to Write a Treasurer Resume?
Writing a treasurer resume can be pretty straightforward if you know what steps to follow. Stick to the instructions below to get your resume done in no time!
Follow these ten steps to write a treasurer resume:
That's how to build a resume that attracts prospective employers.
Need a more detailed guide including the steps leading to writing a good resume? Check here: How to Make a Resume for Any Job?
What Are the Best Treasurer Skills on a Resume?
The skill section is one of the parts of a resume that hiring managers read closely. It should accurately reflect your professional abilities while matching the job requirements. It's important to mix hard skills, soft skills, and computer skills, as they all matter in the 21st-century workplace.
Here are the top 10 treasurer skills for a resume:
Remember that the skills an employer wants to see on a resume must match the ones mentioned in the job description, so don't copy and paste the list above into your job application.
Even the best treasurer resume might fail when it's not accompanied by a well-written cover letter. Writing one is not as difficult as it may seem. Check here: Write a Cover Letter in 8 Easy Steps
Check Below for Similar Resume Examples for Finance:
When making a resume in our builder, drag & drop bullet points, skills, and auto-fill the boring stuff. Spell check? Check. Start building a professional resume template here for free.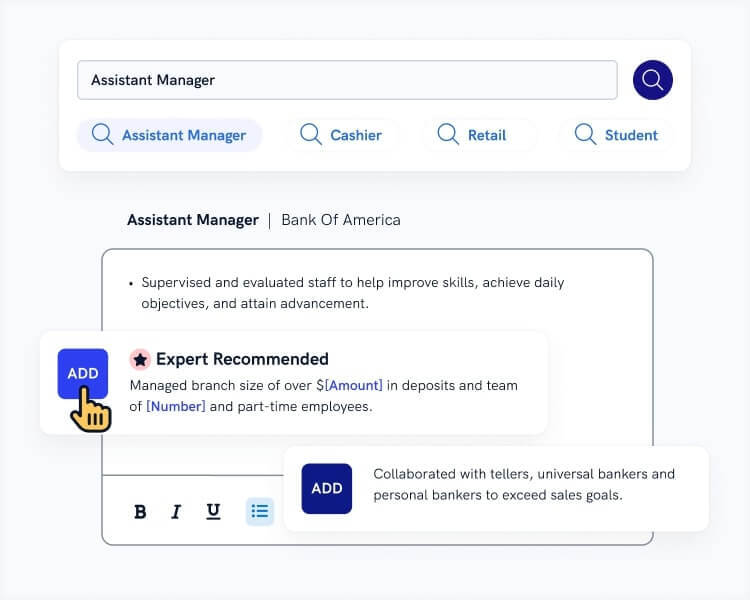 When you're done, our free resume builder will score your resume and our resume checker will tell you exactly how to make it better.
I hope you found this short guide about writing a treasurer resume useful. Do any of the steps outlined above need to be clarified? Would you like more clarification on treasurer skills for a resume? Or maybe you've got some tips for others to share? Let me know in the comments below!
About Zety's Editorial Process
This article has been reviewed by our editorial team to make sure it follows Zety's editorial guidelines. We're committed to sharing our expertise and giving you trustworthy career advice tailored to your needs. High-quality content is what brings over 40 million readers to our site every year. But we don't stop there. Our team conducts original research to understand the job market better, and we pride ourselves on being quoted by top universities and prime media outlets from around the world.