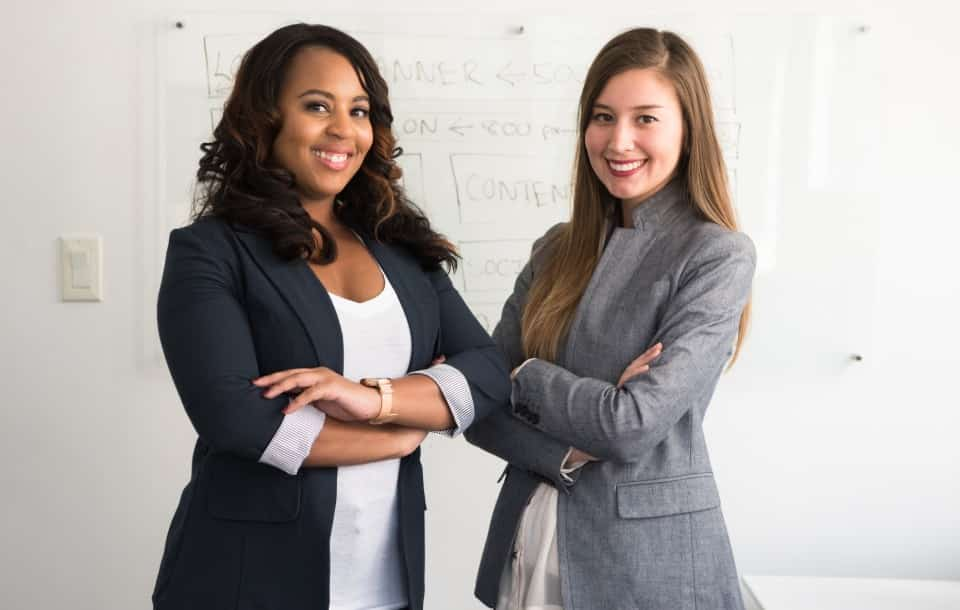 Entry-Level Human Resources Resume: Sample and Guide
You have all it takes to be a pro at hiring—but first you need someone to hire you. Let's run a performance appraisal on your entry-level human resources resume and get you a job!
You're a quick, 10-minute read away from discovering how to write an entry-level HR resume. So, if you're wondering about how to get into human resources, you've come to the right place.
But first, consider this:
Human resources positions are extremely varied and flexible, while also being very prevalent—virtually every company needs an HR department. That means one thing and one thing only:
An endless sea of competition to fight against.
Entry-level or not, there's no room for slacking here.
This guide will show you:
An entry-level human resources resume example better than 9 out of 10 other resumes.
How to write a human resources entry-level resume that will land you more interviews.
Tips and examples of how to put skills and achievements on an entry-level human resources resume.
How to describe your experience on an entry-level HR resume to get any job you want.
Want to save time and have your resume ready in 5 minutes? Try our resume builder. It's fast and easy to use. Plus, you'll get ready-made content to add with one click. See 20+ resume templates and create your resume here.
Sample resume made with our builder—See more resume examples here.
Considering similar positions in HR? See some of our other human resources guides below:
Entry-Level Human Resources Resume Sample
James Gallon
215-594-0230
JamesGallon@zetymail.com
Linkedin.com/in/jamesgallon
Objective
Enthusiastic and personable human psychology student with excellent interpersonal skills. Great at skillful communication and multitasking. Kept employee records up-to-date 100% of the time at JCatEstates. Seeking to join Pew Agency to use my existing HR knowledge and people skills to bring the best talent onboard as an entry-level human resources representative.
Education
Bachelor's degree in Human Psychology
University of California, Berkeley, CA
Scheduled to graduate: 2023
Relevant coursework: Foundations of Psychological Science, Human Social Behavior, Emotional Intelligence, Stress and Coping, Workplace Psychology, Workplace Counselling and Negotiation, Management (elective), Employment Relations (elective)
GPA: 3.9
High School Diploma
Goldstar High, Palo Alto, CA
Graduated: 2018
Work Experience
Human Resources Intern
JCatEstates, Sunnyvale, CA
June 2019–October 2019
Key responsibilities
Assisted in payroll disbursement for a team of 30+ employees.
Prepared candidate portfolios and headhunted for best fits for new position openings.
Posted job descriptions online, responded to candidates, and assisted in interview processes from start to finish.
Shadowed senior HR reps in conflict resolution and complaint management.
Key achievement: Maintained 100% accuracy and timely schedule of updating employee records, accounting for new hires and employee resignations.
Skills
Teamwork
Interpersonal skills
Recruitment processes
Communication
Conflict resolution
Detail-oriented
MS Office
Confidentiality
Problem-solving
Working knowledge of relevant legislation
Hobbies and interests
Member of Miss Lively's Theater Troupe since 2017
Performing stand-up comedy
Language skills
German (Intermediate)
Spanish (Basic/lower intermediate)
Let's get to writing.
This is how you write an entry-level human resources resume:
1. Format Your Entry-Level HR Resume Right
Entry-level HR representatives assist in headhunting and scouting out potential new hires. They also help with payroll management and keep employee records nice and orderly, so your entry-level human resources resume needs to show both your people skills and attention to detail.
But how can you outperform all the other candidates gunning for the position without much prior experience?
Well, for starters, by making sure you have all your ducks in a row and elegantly crafting the layout of your resume.
Here's how to do just that:
Lastly, save the file as a PDF (unless specifically told not to do so) to keep everything intact. The only exception is when the employer asks specifically for a Word Doc.
Read more: Resume Formats: The Complete Guide to How to Format Your Resume
2. Include a Stunning Entry-Level Human Resources Resume Objective or Resume Summary
In a job interview, how much time would you say it takes to find out if a candidate is a right fit for the job?
Chances are, not very long. You can apply that same principle here: you have one shot at making a good first impression, and failure is not an option.
That's where the resume profile section comes in. It's a brief 3–4 line statement outlining what you wish to accomplish and what you bring to the table that makes you employable.
Usually, if you have experience, you write a resume summary, which, as the name suggests, summarizes your professional experience and presents your most illustrious wins to grab the attention of the recruiter.
But, since you're applying for an entry-level position, it's much more likely you're still eager to actually get some experience. This means that creating a resume objective is a much better choice. In it, describe the knowledge and transferable skills you already have, while still stating an accomplishment or two for good measure.
Read more: Expert Advice on Writing a Resume with No Experience
3. Get the Most out of Your Education Section
Time for a brief but honest bit of heart-to-heart:
Would you say you are a confident, resolute individual? Hopefully, the answer is "yes".
However—
Even if not, your resume needs to present you in that sort of light. And since it's an entry-level job you're applying for, you need to be as boastful as possible and squeeze every last drop of goodness out. Otherwise, their HR department will have a field day picking your application apart.
This is especially important for your education section. Without much professional experience, it becomes your strongest asset. That's why we move it up the priority ladder, instead of focusing more on job experience.
Here's a few ideas of what to include to boost your chances:
That is all on top of the standard parts, such as school name, degree obtained, majors and minors, and year of graduation. And if you have an unfinished college degree, you can also include your high school diploma.
Read more: How To Add Education to Your Resume: Guide and 10+ Examples
4. Clean Up Your Entry-Level HR Resume Work Experience Section
The work experience section of your resume is crucial for your success, both short- and long-term. Why? Because, according to research, a low-paying entry-level job can potentially translate to overall lesser earnings further in your career. That's why securing yourself a position with decent compensation right from the start is so important.
However, you may feel intimidated. After all, you're an HR newbie, surely selling lemonade at a stand won't count for any meaningful experience to show off and convince the recruiter to pick you.
Well, not really. It depends on the how more than on the what.
Here's how to write an excellent work experience resume section:
Start by listing your most recent position, then add the previous ones below it.
Each entry needs to have your job title, company name, years worked, and up to 6 bullet points describing the details of your professional activity. Older positions need fewer points.
Powerful action words help make a good impression. Use them to grab the recruiter's attention and hold it in a chokehold.
Whenever you can, add numbers to the accomplishments on your resume. Barren descriptions won't get you far, quantifying your achievements in a tangible way will.
You may be tempted to embellish some details here or there to get ahead. Lying on a resume is never a good idea, especially when you consider that research has repeatedly shown trustworthiness is one of the key qualities of a great HR rep.
Remember to always tailor your resume to the job application. If you mean to get into the business, you will come to hate mass-sent templates that you have to trudge through when it's hiring season.
Read more: Transferable Skills for a Resume: Examples & How to Use
5. Choose the Best Entry-Level HR Skills
Here are the best skills for an HR rep:
Sample Skills for Entry-Level Human Resources Jobs
Talent management
Emotional intelligence
Onboarding
Ethics
Conflict resolution
Employee acquisition
Interviewing
OSHA compliance
Wages and payroll
Candidate screening
Training and development
Recruitment
Multitasking
But putting all of the above onto your resume and calling it a day, while tempting, isn't a good strategy at all. Instead, try the following:
Open the job posting and keep it handy.
Then, create a spreadsheet with all of your professional skills. A good tactic is dividing them into three separate categories, like hard skills, soft skills, and technical skills.
Go back to the tab with the job description and identify the most relevant keywords the company incorporated into the ad. Perhaps it says something along the lines of "The ideal candidate will display good leadership and training skills". That's a sign for you to put those two skills onto your resume!
The key takeaway here is basically quality over quantity. While you could throw in everything, restricting yourself to the key skills the company is after is a much safer bet.
When making a resume in our builder, drag & drop bullet points, skills, and auto-fill the boring stuff. Spell check? Check. Pick and customize a resume template here.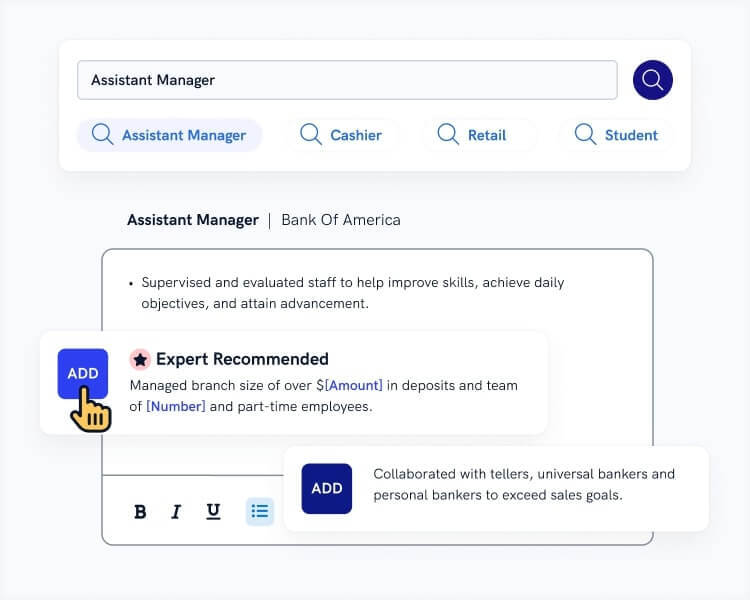 When you're done, our online resume builder will score your resume and our resume checker will tell you exactly how to make it better.
6. Add Miscellaneous Sections to Your Entry-Level Human Resources Resume
That's a sturdy-looking resume you have there! But it needs to stand out a little more, I mean, the other candidates probably have the same sections and a similar layout. You have to show a little flair to get ahead.
Adding more resume sections helps do exactly that. Here's some ideas on what you could include:
Read more: What to Put on a Resume: Examples of What to Include
7. Attach a Cover Letter to Your Entry-Level Human Resources Resume
To write or not to write, that is the question!
Spoiler alert: it's the former. A cover letter is never a bad idea.
But if you don't put in enough effort and care into it, it's not worth the effort.
Follow these cover letter writing tips for a beastly cover letter:
As for cover letter length, keep it trimmed down to one page.
Pro Tip: It's always a good idea to follow up on your job application about one week after your original message.
Plus, a great cover letter that matches your resume will give you an advantage over other candidates. You can write it in our cover letter builder here. Here's what it may look like: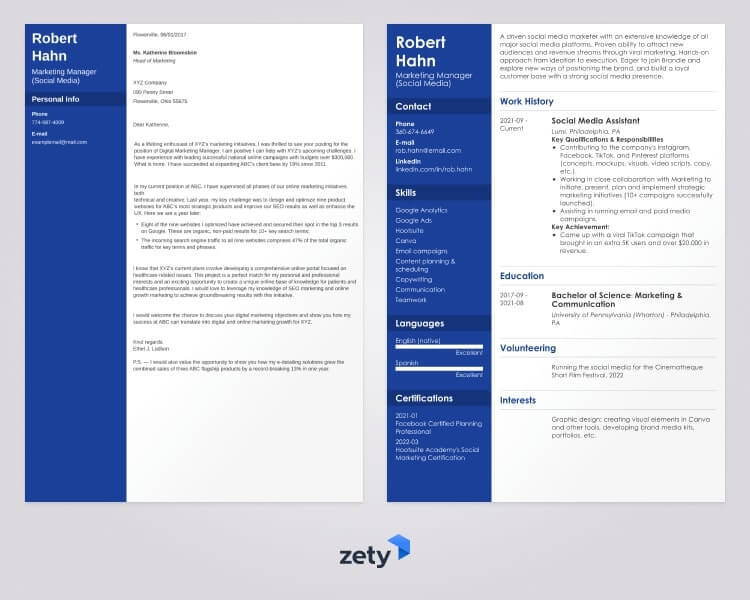 See more cover letter templates and start writing.
See that? That's your jaw-dropping, job-scoring entry-level HR resume!
Need some more advice? Maybe some parts of the education section are giving you a headache. Our experts are ready and willing to answer all of your questions in the comments! Thanks for reading!
About Zety's Editorial Process
This article has been reviewed by our editorial team to make sure it follows Zety's editorial guidelines. We're committed to sharing our expertise and giving you trustworthy career advice tailored to your needs. High-quality content is what brings over 40 million readers to our site every year. But we don't stop there. Our team conducts original research to understand the job market better, and we pride ourselves on being quoted by top universities and prime media outlets from around the world.