How to Make a Resume in Word in 2023: Formatting Guide
Creating a resume in MS Word doesn't need to be a nightmare. Make a resume in Word that every hiring manager will remember with ease.
It can't be that hard to write your resume in Word, can it? Then why are you stuck? Overwhelmed with hundreds, no, thousands of pages and videos on how to make a resume in MS Word? Who has the time to sift through that mountain of informational junk to find the hidden gems?!
Worry not. We've left no stone unturned, and condensed down all you need to know about how to make a resume in Word.
In this guide you'll learn:
How to access a ready Microsoft Word template design and make it your own.
How to make a resume on Word from scratch faster than you can say Microsoft Office, even if you're totally new at it.
How to format a resume to make it look better and more professional than most other resumes.
But instead of reading through all this, you can just swing on over to our resume builder which will do it for you. Not only is it more user friendly than MS Word, you can download your finished resume in a .doc file which will make writing your resume a sinch.
Let's get started!
Want to save time and have your resume ready in 5 minutes? Try our resume builder. It's fast and easy to use. Plus, you'll get ready-made content to add with one click. See 20+ resume templates and create your resume here.
Sample resume made with our builder—See more resume examples here.
First, you might want to check if submitting a resume in *.doc is a good idea: Is a Resume in PDF the Best Option?
Check out our resume templates to choose the best for you:
How to Make a Resume in Word
Now get comfortable, we're going to go through, step by step, how to make a resume in Microsoft Word from scratch.
Access MS Word Templates
Accessing MS Word templates may seem complicated, but it really is just a few simple steps that we'll show you them below.
Open a new document.
Click on the "more templates" option.

Choose "Resumes and Cover Letters."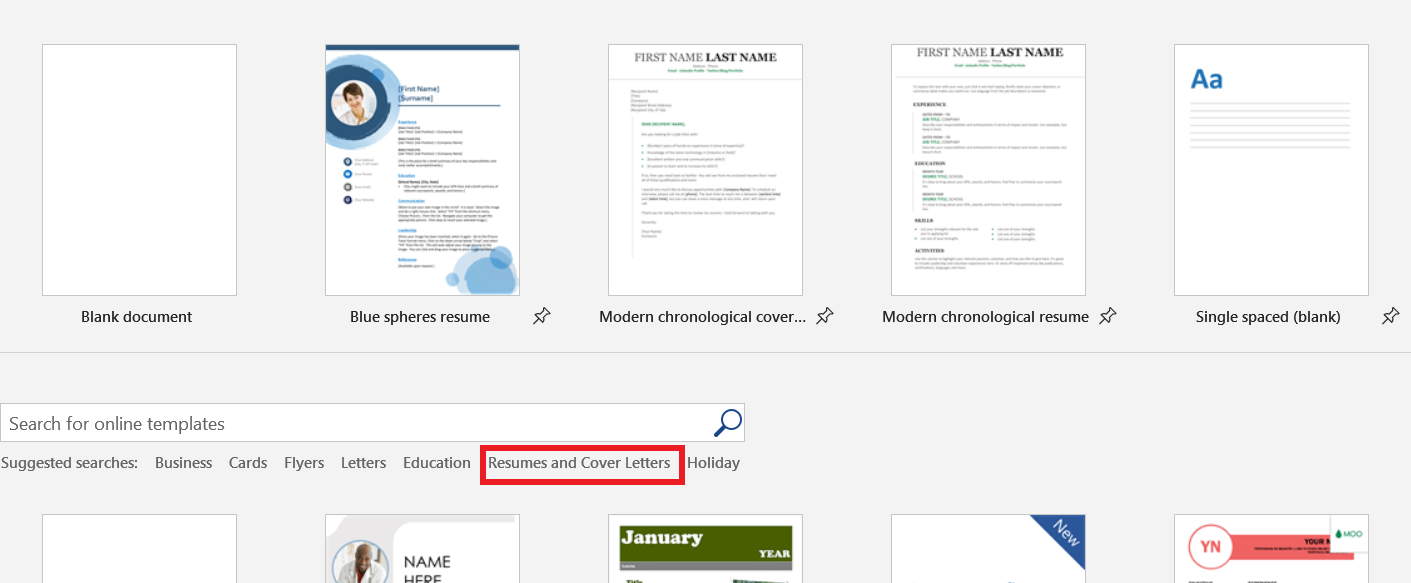 Choose the resume template that suits you best and click on it.
Click "Create."
Your chosen resume template appears as a Word document and you're ready to edit it with your personal information and experience!
Not sure which resume template packs the most punch? Browse through our selection and tips here: 25 Resume Templates for Microsoft Word
Make a Resume Header in Word
Going top-down, we start first with the resume header (and the Captain Obvious award goes to…).
The resume header should include the following:
your name
current job title
phone number
email
links to any online profiles or professional online sites that you have.
It should end up looking like this:

But hey, how did that nice line get there?
It's simple so let's leave that for later, once you've finished all your sections. If you're super impatient, jump down here to learn how to add a line in a Word resume.
How to Format a Resume Header in Word
As your name is both important and the first thing the hiring manager sees, make sure it's bigger than the rest of your text (14-16 pt). Depending on the font you use, decide whether bold will make it look better and draw more attention.
Feel free to bold the titles of the information that you're listing (like in the above example) to make it a little clearer to read.
Add a Resume Objective/Summary
Double space from the last line in your resume header.
Write "Objective" or "Summary" depending on which one you're using. As it's a section title, make it a little larger than the rest of the text (14-16 pt). Also, depending on the font you're using, make it bold.
Beneath the section title, write a couple of sentences concerning your resume summary or objective.
Unsure whether a resume objective or summary is right for you? These two handy guides will help solve that problem: Resume Summary Examples and Resume Objective Examples
Your resume objective/summary section should look like this:

Write Your Experience Section in Word
Now we're diving into the bigger sections of your resume that will take a bit more time and effort to get just right. Again, double space from the last line and add the section title "Experience" in larger text like the previous section titles.
Next, add the date, title of your job position at the time and then the name of the company. Next, add a few lines describing your relevant job responsibilities in bullet points.
If you have key achievements that you'd like to include, add "key achievements" after your job responsibilities and also list them in bullet points. Since "Key Achievements" is a sub section header, remember to make it bold, underlined, or slightly larger than the surrounding text to help it stand out more.
Need more pointers on how to add work experience to your resume? This guide will point you in the right direction: Resume Work Experience, History, & Example Job Descriptions
Your finished work experience section should look something like this: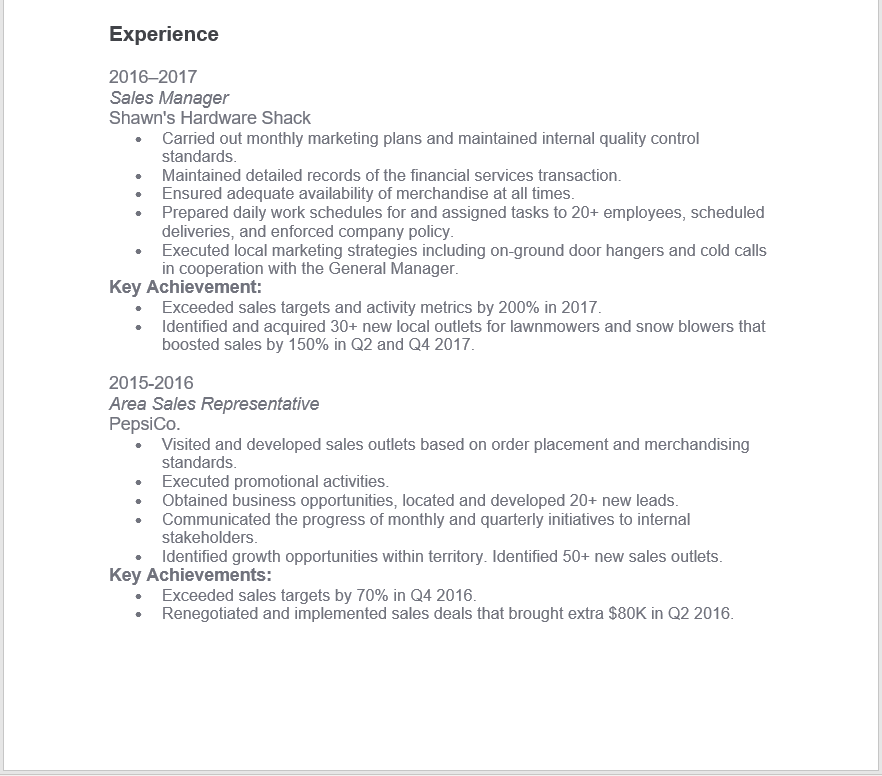 Add Your Education Section
The hardest part of your resume is over and done with, phew! Now on to your education. Follow the same rules as before so double space and enlarge the font for the resume section title "Education."
Next, add the date you graduated (or plan to graduate), the name and location of the school, and the title you acquired.
Simple!
If you're feeling a little lost on how to add your education to your resume, you'll definitely find these guides super helpful: How to Put Education on a Resume and How to List Continuing Education on a Resume
Your education section should look like this:

Add Skills to a Resume in Word
You're already at your skills section now! This section is an easy one as you won't have to do much other than list. Again, double space from the last line and use the same format for your "Skills" section header as you did for the rest.
Now simply list skills in your resume on Microsoft Word. You can do this as a simple list or just some kind of formatting like bullet points. That's all there is to it!
When you're done, your resume skills section should look something similar to this:

It's important to remember that you can't just mention every skill you have including competitive bubblegum chewing. It needs to be relevant.
This guide will tell you exactly which professional skills are key to getting your dream job: Key Skills to Put on a Resume
Add Additional Sections to Your Resume
You're already near the end, yay!
The additional section isn't mandatory in your resume, but it is a great place to show off your achievements, certificates, interests, languages, and other things that don't really fit elsewhere in your resume.
Add the relevant section headings, i.e. "Achievements", "Certificates", "Languages", "Interests", etc. and then form a simple list beneath.
Here's an example:

That's it!
Afraid that your resume doesn't have enough impact? Check to see if it's optimized to the job description with this handy guide: 6 Tips on How to Tailor Your Resume to a Job Description
When you're all done, if you pull all the pieces together, your complete resume should look more or less like this: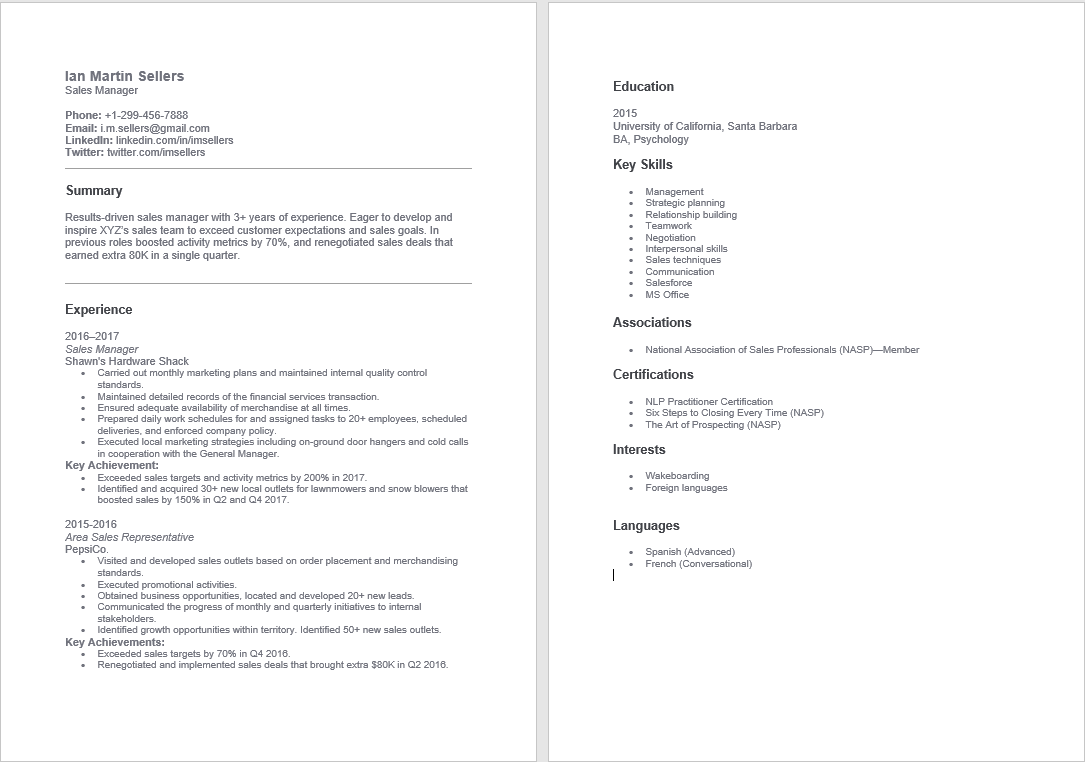 Unsure if your resume is complete? Double check that you have all the crucial pieces: Parts of a Resume: What are the Important Elements?
Now, that looks okay, but it's not exactly something to write home about. Want a resume in Word that will really stand head and shoulders above the rest?
When making a resume in our builder, drag & drop bullet points, skills, and auto-fill the boring stuff. Spell check? Check. Start building a professional resume template here for free.
When you're done, our professional resume builder will score your resume and our resume checker will tell you exactly how to make it better.
How to Format a Resume in Word
You've already learned a little about formatting a resume in Word throughout this guide, but let's recap and add in some new tips for good measure.
Resume Fonts in Microsoft Word
It may seem like something not really worth the worry, but a bad font can tank your resume faster than an unnoticed iceberg.
Use professional, modern fonts and stay away from fonts that are overly creative, hard to read, or simply comical (I'm looking at you, Comic Sans!).
For more in depth knowledge about what fonts are a "go" and which are a "no," check out this great guide: Best Fonts for a Resume
Resume Margins in Word
Word usually has neat margins set up by default so you're probably good to go from the start. Just in case, though, remember that the standard margins for resumes are 1 in. on all sides.
Want to muse more over measuring your margins? This guide will do just that: Proper Resume Margins
Resume Line Spacing in Word
Again, Word will usually have you covered by default, but it's good to know that 1.15 line spacing is best in a resume.
If you want to see what your line spacing is set to in a Word document, go the toolbox in the Home tab and select the icon that looks like a paragraph with arrows on the left side. A drop down menu will appear with different spacing options.
Resume Headings on Word
As we've already covered, the resume headings should stand out in some way. They definitely should be slightly bigger (14-16 pt) to set them apart from the rest of the 12 pt text.
If the legibility of the font allows, feel free to underline or bold the resume section headings as well. Don't go overboard though. This does not look good on a resume: WORK EXPERIENCE
How to Make a Line on Word for Your Resume
Making a line is one of those things that seems simple, but ends up giving you an aneurysm and a half when you try to do it.
There are actually three ways to create a line on your resume in Microsoft Word—via hyphens, borders, or horizontal lines.
Use hyphens.
Type in three hyphens (---) and then press "Enter." Viola! You have a line!
Use Borders.
Go to the Borders option in the Home toolbox and click on the drop down menu. Choose the first option "Bottom Border" and Word will automatically insert a line.
Use Horizontal Line.
Go to the borders in the Home toolbox and click on the drop down menu. Choose "Horizontal Line". Click and Word will insert a line.
Now you know more than one way to make a line in Microsoft Word!
Lines, like other format options, should be used once in a while to emphasize the main points. You don't want to turn your resume into a web of lines created by drunken spiders.
Plus, a great cover letter that matches your resume will give you an advantage over other candidates. You can write it in our cover letter builder here. Here's what it may look like: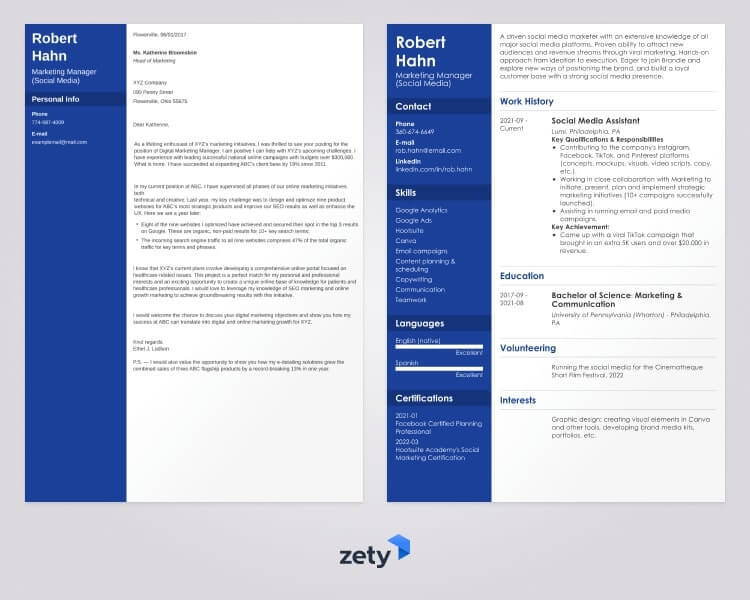 See more cover letter templates and start writing.
If you've ever wondered how to create a resume template in Word, well you just have! Now you can create several different tailored resumes for your dream jobs!
Wasn't all that bad, was it?
Creating a resume on Microsoft Word may not be super easy, but it doesn't need to be a complicated design or be a nightmare to format. You can definitely create a resume in one, relaxed sitting.
Just keep in mind to:
Keep your resume sections in order.
Format your resume section headings a little larger than the rest of the text.
Double check if your font, margins, and line spacing are professional and legible.
Use lines and format design sparingly in your resumes to emphasize instead of clutter.
Have you found this guide helpful? Any questions on how to make a resume on Word? Or maybe any options or templates we've left out that you think could be useful? Let us know!
About Zety's Editorial Process
This article has been reviewed by our editorial team to make sure it follows Zety's editorial guidelines. We're committed to sharing our expertise and giving you trustworthy career advice tailored to your needs. High-quality content is what brings over 40 million readers to our site every year. But we don't stop there. Our team conducts original research to understand the job market better, and we pride ourselves on being quoted by top universities and prime media outlets from around the world.