Plain Text Resume: How to Create ASCII Resume [+Example]
Bland and boring might be all right for oatmeal, but not for your text resume. Find out how to write a plain text resume that is anything but plain.
No matter who you ask or what advice you read, it all seems to be about the resume bling nowadays. But the company you're applying to wants a plain text resume. Or they want you to apply via a free-form text box on their site.
So how do you write a plain text resume so it's not as boring as watching paint dry? We'll take you through the process of how to create an ASCII resume that will work wonders.
Want to save time and have your resume ready in 5 minutes? Try our resume builder. It's fast and easy to use. Plus, you'll get ready-made content to add with one click. See 20+ resume templates and create your resume here.
Sample resume made with our builder—See more resume examples here.
Looking for other specific information about creating a job-winning resume? Check out our dedicated guides:
What is a Plain Text Resume?
A plain text resume, also known as an ASCII (American Standard Code for Information Interchange) resume is a resume created without any formatting and in a plain text format. Plain text resumes are often used when applying by email or to companies that specifically request them.
There are some job boards and application software that don't recognize fancy word processor formatting like bullet points, italics, margins, or bold so uploading your Word or PDF resume will end up sending them a giant mess. The same goes for applying by email where different email providers may interpret formatting differently and leave your resume looking like a tornado went through it.
This is where the plain text resume comes in to play and helps you send all the necessary information needed for your job application without the hassle (or worry) of making sure it's all formatted properly. See how it looks like.
Plain Text Resume Example
Casey Hall
casey.z.hall@gmail.com
916-566-6124
~~~~~~~~~~~~~~~~~~~~~~~~~~~~~~~~~~~~~~~~~~~~~~~~~~~~~~~~~~~~~~~~~~~~
PROFESSIONAL SUMMARY
Experienced financial analyst with excellent analytical skills as well as a devotion to customer service. Proposed changes to account opening procedures led to a 15% drop in wait time and processing errors. Looking to leverage banking skills at Merrill National.
~~~~~~~~~~~~~~~~~~~~~~~~~~~~~~~~~~~~~~~~~~~~~~~~~~~~~~~~~~~~~~~~~~~~
WORK EXPERIENCE
BANKING ANALYST
RJ Savings and Trust
Dec 2016- Dec 2019
Managed 100 investors' due diligence processes and coordinated with international operations managers when required.
Performed financial risk assessments and studied banking and financial market trends to prepare activity and progress reports to management.
Navigated marketing activities by reaching out to 150+ VC and lead 5% prospects.
Key achievement
Conducted valuation report on $20 million swaps deal for a tech company which resulted in 35% rise in corporate earnings.
ASSOCIATE BANKER
Merriweather Bank
Sept 2015-Dec 2016
Reviewed and processed credit and loan applications according to best practices and law.
Supported identifying potential sales opportunities to new business clients.
Handling daily reconcilement of payments as well as maintaining incoming and outgoing cash records.
Key Achievement
Earned Customer Service Award twice for excellence and professionalism in banking customer service.
~~~~~~~~~~~~~~~~~~~~~~~~~~~~~~~~~~~~~~~~~~~~~~~~~~~~~~~~~~~~~~~~~~~~
EDUCATION
2011-2014, B.A. in Economics
University of South Dakota
President of the student finance club for 1 year.
~~~~~~~~~~~~~~~~~~~~~~~~~~~~~~~~~~~~~~~~~~~~~~~~~~~~~~~~~~~~~~~~~~~~
SKILLS
Ability to work under pressure
Financial planning
Risk assessment
Customer service
Problem solving
Technical skills
Interpersonal skills
~~~~~~~~~~~~~~~~~~~~~~~~~~~~~~~~~~~~~~~~~~~~~~~~~~~~~~~~~~~~~~~~~~~~
CERTIFICATIONS
Certified Financial Planner (CFP)
Certified Financial Analyst (CFA)
That doesn't look half bad, does it? In an age where there are an average of 20 applicants to any one position, content is key. Formatting doesn't get jobs, skills and experience do.
If you already have a resume in Word, you can convert your resume into plain text in a few simple steps.
Converting Your Resume from Word to ASCII (the Simple Version)
Here's a simple, step-by-step process to convert your Word resume into plain text format:
Open a simple text program such as Notepad or SimpleText.
Open your resume in Microsoft Word or whatever other word processing program you use.
Click Edit → Select All (or ctrl A).
Click Edit → Copy (or ctrl C).
Now go over to the simple text window you opened earlier.
Click Edit → Paste (or ctrl V).
Turn on the "word-wrap" option in the "Format" drop down menu.
Save your resume with a professional resume file name using the .txt format at the end (e.g. Susan_Anthony_Resume.txt).
Told you it was simple! But what if it could be even easier?
Converting Your Resume from Word to ASCII (the Super Simple Version)
Open your resume in Microsoft Word (or whatever other word processing program you use).
Click Save As → Plain Text.
Add any necessary formatting changes via your keyboard.
You're done!
But what if you don't have any resume content written so far? Here's a quick formula:
When making a resume in our builder, drag & drop bullet points, skills, and auto-fill the boring stuff. Spell check? Check. Start building a professional resume template here for free.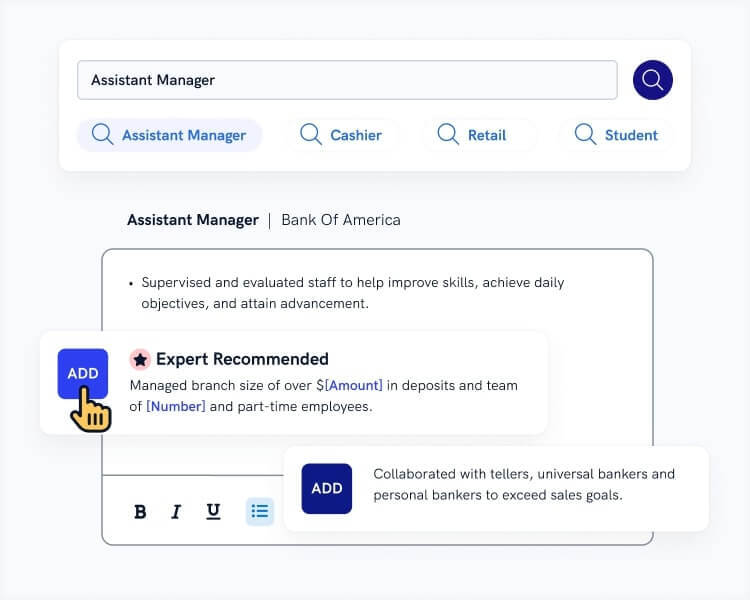 When you're done, our free resume builder will score your resume and our resume checker will tell you exactly how to make it better.
How to Create a Plain Text Resume
Sending a plain text resume usually means that the employer has asked for it specifically or that you don't have the option of uploading any other resume format.
So how do you create a plain text resume that doesn't end up looking boring and just plain ugly? After all, job browsing is on the rise and you can't be left behind.
Open up a simple text editor and start writing your resume there. Don't worry about the formatting yet, just write out the content.
Divide the page up into the correct resume parts.
Start off with a professional resume header. List your name and personal details at the top. Make sure your contact information is up to date.
Write a professional resume summary or resume objective. A resume summary focuses on your experience and is perfect when you have a few years of job experience. A resume objective is better for career changers or those just starting their career and focuses on your goals and skills. In both cases, keep it no longer than 2-3 sentences.
Create a strong work experience section. Use the reverse-chronological format. Use short sentences and include numbered achievements where you can instead of just a boring list of responsibilities. In terms of how far back a resume should go, 10-15 years should be far back enough. Also use action verbs that are super ATS friendly.
Add in the education section of your resume. List the name and location of your school, the dates you attended, and the degree you obtained. Leave the last part out if you're adding unfinished college to a resume and add relevant coursework instead.
Include a killer resume skills section. List both hard skills and soft skills and don't forget about technical skills. Use the job ad as a cheat sheet to see which skills the hiring manager wants to see most in a candidate.
Create additional sections to make your resume stand out. Include relevant hobbies and interests, projects, volunteering, language skills, extracurricular activities, achievements and awards, studying abroad, and licenses and certifications. Double check the job ad to see what could be useful.
Read more: How to Write a Resume
Formatting Your Plain Text Resume
Just because a plain text resume is meant to be, well, plain, that doesn't mean you can't add a bit of formatting for old times' sake.
Here are some tips on what you can and can't do as far as formatting your plain text resume:
Resume font: This can't be controlled since the typeface will appear according to the settings of the recipient's computer.
Line spacing: use the spacebar instead of the Tab key to create spacing since the Tab key can sometimes mess up your formatting. Also use the spacebar if you want to indent a line or center a resume section heading.
Resume margins: set your margins at 0 and 65 or simply set your right margin to 6.5". Wordpad and Notepad usually already have default margins set up that should be okay, but double check to make sure.
Alignment: plain text resumes should automatically left-justified.
Page numbers: don't add any, they aren't necessary.
Format hacks: you can replace bullet points with asterisks (*), dashes (-) or plus signs (+) if you want to replicate some of the formatting of your Word resume. Use CAPITALS for section headers. Use equals signs (=), underscores (_), or squiggles (~) to separate sections.
Read more: Professional Resume Layouts
Obviously your plain text resume isn't going to be winning any beauty pageants any time soon, but it's the impact of the contents of your resume that's important. If it lands you an interview for that great job with a sweet salary, what does it matter that your resume is plain?
Plus, a great cover letter that matches your resume will give you an advantage over other candidates. You can write it in our cover letter builder here. Here's what it may look like: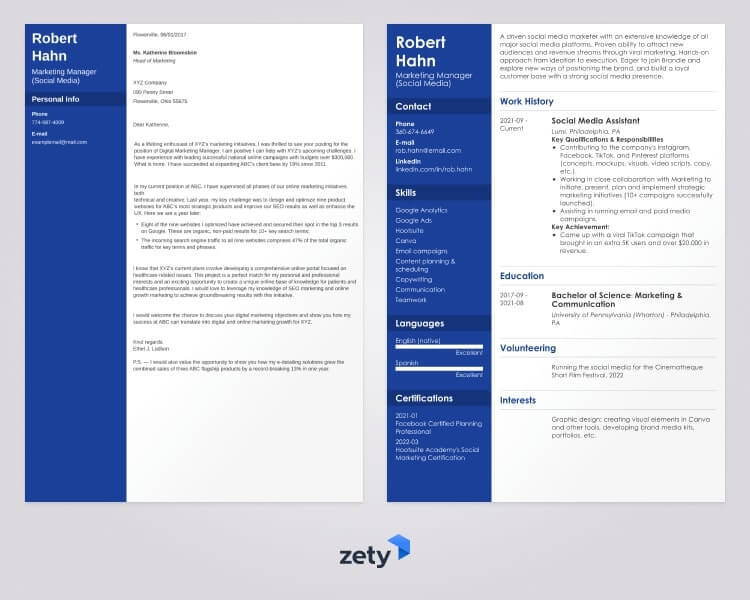 See more cover letter templates and start writing.
Thanks for reading! Do you have any other cool hacks to make a plain text resume stand out? Let us know down below!
About Zety's Editorial Process
This article has been reviewed by our editorial team to make sure it follows Zety's editorial guidelines. We're committed to sharing our expertise and giving you trustworthy career advice tailored to your needs. High-quality content is what brings over 40 million readers to our site every year. But we don't stop there. Our team conducts original research to understand the job market better, and we pride ourselves on being quoted by top universities and prime media outlets from around the world.