Our customers have been hired by:
Finding yourself on the other side of a job hunt can be a bit intimidating, even for a seasoned human resources specialist.
It's like with those doctors who are afraid of needles. Fortunately, writing a job-winning human resources specialist resume requires no injections. And with our writing tips, it's both painless and easy.
Let's dig in.
This guide will show you:
An HR specialist resume example better than 9 out of 10 other resumes.
How to write a human resources specialist resume that will land you more interviews.
Tips and examples of how to put skills and achievements on a human resources specialist resume.
How to describe your experience on a resume for a human resources specialist to get any job you want.
Want to save time and have your resume ready in 5 minutes? Try our resume builder. It's fast and easy to use. Plus, you'll get ready-made content to add with one click. See 20+ resume templates and create your resume here.
Sample resume made with our builder—See more resume examples here.
Looking for other HR resume samples? We've got you covered:
Sample Human Resources Specialist Resume
Ronald L. Molina
HR Specialist
432-368-5935
ronaldlmolina@email.com
linkedin.com/in/ronald.molina
Summary
An enthusiastic HR specialist with +6 years of experience. Eager to support Progfect in increasing employee satisfaction and retention rates by implementing his knowledge and expertise in human resources and psychology. Streamlined the onboarding process resulting in a reduction of training by 3 days, and boosted the employee retention rate by 19%.
Experience
HR Specialist
Digifirm, Dallas, TX
August 2020–June 2023
Key Qualifications & Responsibilities
Managed a $2 million payroll for 31 employees.
Increased payroll accuracy by 22% by implementing the Ramco Global Payroll Platform.
Shortened the average time of the recruitment process by 35% by implementing Teamtailor ATS.
Onboarded 8 new employees.
Key Achievement:
Co-created an improved onboarding process which shortened the training by 3 days.
Junior HR Specialist
Softnova, Austin, TX
April 2017–June 2020
Key Qualifications & Responsibilities
Assisted senior HR team members in the recruitment of 18 new employees.
Implemented regular feedback mechanisms, resulting in a 20% increase in employee performance.
Ensured company-wide compliance with employment laws and regulations by actively participating in conducting regular audits and reviewing policies and procedures.
Key Achievement:
Increased employee retention rate by 19% by introducing a mental health management platform to the company.
Education
Bachelor of Science in Psychology
The University of Texas at Austin, Austin, TX
August 2016–May 2020
Skills
Benefits and payroll management
Employee retention
Recruiting
Communication
Training
Teamtailor ATS
Multi-tasking
Languages
Spanish—Intermediate
French—Intermediate
Italian—Minimum working proficiency
Certifications
Interests
Reading books about human psychology
Learning foreign languages
Here's how to write a human resources specialist resume that will land you your dream job:
1. Format Your HR Specialist Resume Correctly
HR specialists manage employee compensation and benefits, performance review sessions, and recruitment processes, among other things. The main goal of your human resources specialist resume is to demonstrate that you're unsurpassed not only at hiring others but also at getting hired yourself.
Having seen hundreds of not-so-impressive resumes, you probably know what not to do. As well as how little time you spend looking at each job application.
Stick to the rules below to make good use of those few seconds that a recruiter will spend glancing at your resume:
Provide your contact information at the top of your resume.
Go for a reverse-chronological resume format. It's one of the best resume formats that you can use.
Pick your resume fonts wisely. Keep them readable, and don't use more than two. Use a font size that's easy to read. 10 to 12 points is fine.
An ideal resume shouldn't skimp on white space—it makes it more reader-friendly and aesthetically pleasing.
Save your resume as a PDF file unless the job ad states otherwise. This way, your resume will look exactly the same on all devices.
Now that you know what a human resources specialist resume should look like, it's time to focus on what it should consist of.
2. Create an HR Specialist Resume Objective or Summary
If you're like most recruiters, you probably look first at the candidate's resume profile.
It can come in the form of a resume objective or summary, but it always serves the same purpose—it's there to grab your attention and make you want more. In many ways, it's like an elevator pitch.
Have more than two years of experience? Go for a resume summary. Start with an adjective that perfectly describes you as an HR professional. Follow it with your job title and 2 or 3 key work achievements. Finish with a short sentence about what you plan to do for the company.
A resume objective is a better option if you're a recent graduate or in the middle of a career switch. It's pretty similar to a resume summary, but instead of focusing on work accomplishments, it highlights your academic achievements and relevant skills. Remember to mention how you plan to add value once you land that dream job.
Pro Tip: A resume personal statement should be carefully crafted for a specific job ad you're applying for. Tailor your resume to increase your chances of getting invited to an interview.
3. Showcase Your Human Resources Specialist Work Experience
As an HR specialist, you know it all too well—the work experience section is the "meat" of any resume.
On average, a recruiter spends just 7 seconds skimming a resume. That's why polishing your work experience section to perfection is so crucial.
How to take this part of your resume from "meh" to "marvelous"?
Stick to reverse chronological order.
List your job title, company name, and dates of employment in each entry.
Present your work achievements using bullet points on your resume. Limit yourself to a maximum of 6 per position. You can go for shorter bullet lists as you go back in time.
Present only your relevant work experience and tailor it to the job ad. Focus on your achievements instead of just listing your responsibilities. Quantify whenever possible and present tangible results.
Choose action words that convey professionalism and efficiency to make your work experience section more impressive.
Use the Problem-Action-Results formula to present your achievements. It's very similar to the STAR method.
Pro Tip: You've probably been relying on ATS software to make your life easier. Now it's time you find out exactly how to make an ATS resume.
4. Present Your Educational Background
When the resumes you've been swamped with could easily cover a few football fields, paying attention to every single education section is the last thing you feel like doing.
Nevertheless, you should include it in your resume, especially if you're wondering how to write a resume without work experience.
Are you an experienced HR specialist? List only your highest level of education. However, you can still opt for some bullet points if you've received a fellowship, a scholarship, a leadership post, or a sky-high GPA.
Pro Tip: Suppose you can't brag about your work accomplishments. In that case, you should expand on your education section and use a bulleted list to include things like relevant coursework, favorite fields of study, academic achievements, and extracurricular activities.
When making a resume in our builder, drag & drop bullet points, skills, and auto-fill the boring stuff. Spell check? Check. Start building a professional resume template here for free.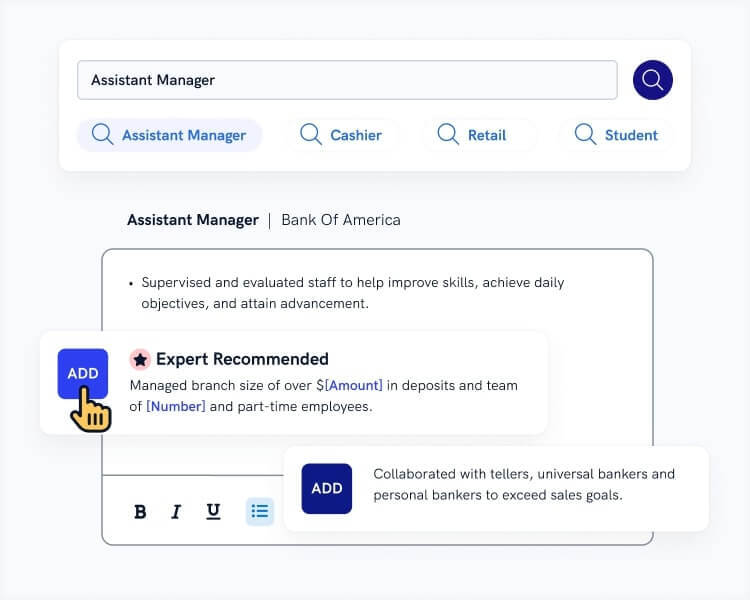 When you're done, Zety's resume builder will score your resume and our resume checker will tell you exactly how to make it better.
5. List Your Relevant Human Resources Specialist Resume Skills
If only you had a dollar for each time you stumbled upon a resume with a list of totally irrelevant skills, you'd be a billionaire by now, right? Set yourself apart from the other people looking for a new job and tailor your HR skills to match every job posting you have your sights on.
Here's how to do it:
Take a look at the list below for some inspiration:
Human Resources (HR) Specialist Resume Skills:
Employee relations
Emotional intelligence
Candidate sourcing & screening
Interviewing
Recruiting
Communication
Payroll and benefits management
Employee retention
Employee engagement
Leadership
Training
Business management
Problem-solving
Analytical thinking
Designing employee benefits
Multitasking
New hire orientation
Interpersonal skills
Performance management
Time management skills
Attention to detail
Read more: Satisfy your inner nerd with these HR statistics.
6. Make Your HR Specialist Resume Shine by Including Additional Sections
Do you know that numbing feeling when after a couple of hours of going through resumes, all of them start to feel exactly the same?
Well, if only more candidates knew how to grab your attention and wow you with additional sections… Set a good example by including your language skills, certifications, hobbies, or even volunteer work in your resume. If you've participated actively in any industry conferences or received awards, mention those too.
Read more: What to Put for Additional Information on a Resume.
7. Complete Your HR Specialist Resume With a Cover Letter
Humor our curiosity. Are you a team "Cover letter? It doesn't matter!" or a team "No cover letter? I can do better!"? Even if you chose the first option, your HR specialist resume could still end up in the hands of a recruiter who thinks otherwise.
That's why you should always attach a cover letter.
Writing a good cover letter is easier than you think. Especially because we've got you well covered (pun very much intended):
Keep it matchy-matchy: prove to them that you're their match made in heaven with a resume and a cover letter with the same header and graphic design.
Make sure you know how to format a cover letter: it should contain 3–5 paragraphs and fill less than one full page.
Pay attention to how to begin a cover letter: addressing the recruiter by their name and including an icebreaker will grab their attention.
Present your key work achievements and skills and tell them why you're the person they're looking for. Be confident and ask for a meeting or a call to discuss how you can be of use to the company.
Don't hesitate to send a follow-up email after the application. And don't be coy—send it every week for a month. Keep it short and attach your job application documents PDFs to make a fellow HR professional life a little easier.
Read more: How to Write a Cover Letter With Extra Tips & Examples.
Plus, a great cover letter that matches your resume will give you an advantage over other candidates. You can write it in our cover letter builder here. Here's what it may look like: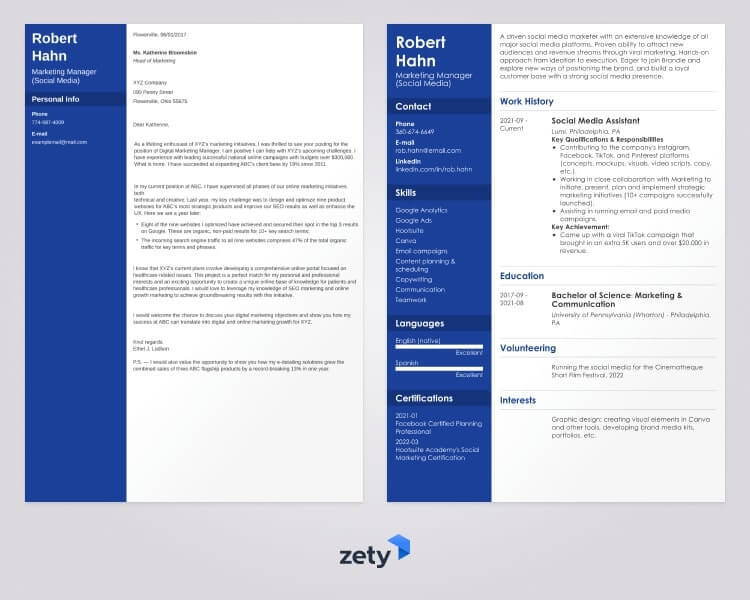 See more cover letter templates and start writing.
Now you're equipped with all you need to know to write an excellent human resources specialist resume.
But—
We're curious to hear from you.
Let us know what makes a great resume and what you find the most challenging about writing it. We're sure your insights will bring much value to others!
About Zety's Editorial Process
This article has been reviewed by our editorial team to make sure it follows Zety's editorial guidelines. We're committed to sharing our expertise and giving you trustworthy career advice tailored to your needs. High-quality content is what brings over 40 million readers to our site every year. But we don't stop there. Our team conducts original research to understand the job market better, and we pride ourselves on being quoted by top universities and prime media outlets from around the world.