Recruiting Coordinator Resume: Sample & Guide
You scout, vet, interview, and hire. But are you sure your own credentials are up to current industry standards? If not, our recruiting coordinator resume guide will fix you up!
You've worked in human resources and staffing for a while, you're a seasoned expert. When it comes to coordinating recruitment efforts, your boss isn't the boss, you're the boss.
Except—
The applications you send seem to fall flat. No calls, no interviews.
What's happening?
It's possible your resume-writing skills have fallen out of favor. No worries, time to dust off the learner's hat, and get to creating a picture-perfect recruiting coordinator resume!
This guide will show you:
A recruiting coordinator resume example better than 9 out of 10 other resumes.
How to write a recruiting coordinator resume that will land you more interviews.
Tips and examples of how to put skills and achievements on a recruiting coordinator resume.
How to describe your experience on a resume for recruiting coordinators to get any human resources job you want.
Want to save time and have your resume ready in 5 minutes? Try our resume builder. It's fast and easy to use. Plus, you'll get ready-made content to add with one click. See 20+ resume templates and create your resume here.
Sample resume made with our builder—See more resume examples here.
Check out our other related guides for more inspiration:
Recruiting Coordinator Resume Sample
Dolores Cramer
Recruiting Coordinator
248-270-9172
DoloresCCramer@teleworm.us
Linkedin.com/in/dolorescramer
Career Summary
Driven and detail-oriented HR professional with 8 years of experience. At SquaredCircle, increased employee retention by 45%, cutting company costs. Skilled at talent acquisition and thorough background checks. Seeking to join LevyNite to speed up hiring processes and boost employer branding scores on social media.
Work Experience
Recruiting Coordinator
SquaredCircle, Tucson, AZ
Jan 2012–Aug 2018
Key Qualifications and Responsibilities
Managed the company's social media recruitment efforts through sites like LinkedIn, Indeed, and Glassdoor.
Provided administrative support to over 400 on- and off-site employees.
Maintained a 100% flawless track record of employee trust.
Increased employee retention by 45% through introducing more in-depth phone screening processes.
Scheduled, at minimum, 30 monthly job interviews.
Key Achievement: Reevaluated company's recruiting standards, replacing them with more efficient and contemporary methods to attract 50+ qualified professionals.
Senior Staffing Associate
Balanced Group, Salt Lake City, UT
Sept 2010–Jan 2012
Key Qualifications and Responsibilities
Conducted background checks, assessments, and screenings for each candidate.
Provided organizational support for managers, increasing workflow efficiency by 33%.
Supported team members in implementing a college student internship program, which sealed the company's employee shortage.
Education
Bachelor's Degree in Business Administration
University of Toledo, Toledo, OH
2006–2010
Skills
Talent Management
Payroll Disbursement
Headhunting
Onboarding
Screening & Background Checks
Recruitee
Active Listening
Problem-Solving
Teamwork Skills
Communication Skills
Certifications
Certified Professional – Human Resources (IPMA-CP)
Human Resources Business Professional (HRBP)
Language Skills
Spanish: working proficiency
French: intermediate
You've seen the example, now it's time for the real deal. This is how to write a recruiting coordinator resume:
1. Select the Best Format for a Recruiting Coordinator Resume
Recruiting coordinators assist in scouting, interviewing, hiring, and training new employees. They may also be heavily involved in onboarding, payroll disbursement, and other, more corporate-oriented tasks. A good recruiting coordinator resume should show excellent communication skills and attention to detail.
With all that said—
I'm sure you don't pour over each detail on each resume that lands on your desks—and neither will other recruiters. So, you need to have a well-organized and easy-to-read resume that draws attention right off the bat.
Follow these resume formatting guidelines to get there:
The place of a three-page-long resume is in a closet or a museum. So, how many pages should a resume be? For candidates with fewer than 10 years of experience, the answer is one. Resumes that are two pages long are reserved only for the most seasoned pros in senior positions, with tons of relevant achievements to share.
Read more: What Does a Great Resume Look Like? Examples and Step-by-Step Guide
2. Write a Recruiting Coordinator Resume Objective or Summary
A good resume manages to grab the attention of the reader right away and hold on tight from the top to the bottom of the page.
You started with the correct formatting, now it's time to continue by writing a great resume intro section. It's a short paragraph condensing your professional history and prospective future into a few sentences that also highlight the best about you.
There are two types of resume profiles to choose from:
Resume career summaries highlight your experience and skills to demonstrate you're the best candidate for the job. They focus on emphasizing quantifiable achievements that help back up your claims. Choose this option if you have experience in recruiting.
If you're a fresher, on the other hand, write a resume career objective. While also stressing your skills and knowledge, the focus here lies on the potential you have to be a great addition to the recruitment team. Use transferable resume skills and achievements to prove your worth.
Don't beat yourself up if you can't come up with a satisfying paragraph right away. You can always write this section last, and begin instead with, say, the work experience section.
Read more: How to Write the Perfect Resume Profile (with Examples)
3. Describe Your Experience on a Recruiting Coordinator Resume
Efficiency.
Let's not beat around the bush—it's brutal out there. If your resume isn't efficient, meaning it isn't utilizing the brief amount of time the recruiter has to look over it, you're not getting the job.
A successful work experience section on a resume needs to score an 11/10 in efficiency, so boring descriptions won't cut it.
When describing past positions, you can tweak your professional title to fit the description of the job you're applying for. If they want a Senior HR Coordinator—that's who you are. Matching your resume to each job description like this is a golden ticket to an interview, use it every time!
Read more: How to Use Bullet Points on Your Resume: Guide to Effective Resume Bullet Points
4. Talk about Your Education on Your Recruiting Coordinator Resume
Whew, finally a bit of a breather!
But hang on, don't scroll down just yet! Some people believe the education part of a resume is useless.
And these people are wrong, so don't follow their advice. Although the majority of employers believe key skills are more important than your exact major, having a degree is still a requirement for those looking to work as recruiting coordinators.
It follows that your degree needs to make an appearance on your resume. If you're an experienced recruitment professional, limit yourself to vital information: your degree, institution, and years of attendance.
However, if you're short on professional experience, use your education section to your advantage. Here are some ideas on what you could include:
Read more: How to Put Your Degree on a Resume
5. Select the Right Skills on Your Recruiting Coordinator Resume
Did you know that 59% of recruiting professionals report some level of deficits in basic skills and/or knowledge among job applicants?
For you, as a recruiting pro, this means you should know exactly how to separate the wheat from the chaff based on the skills they claim on their application. If it's full to the brim with guff, you know they're probably faking it, or at the very least being dishonest.
Don't let that be you. That's the dumb way.
The smart way to go about adding skills to your resume is by cross-referencing your hard skills, soft skills, and all other job skills you can think of with the job posting itself. The wording there isn't random.
HR reps create the ads with specific keywords they have in mind to sync up with the Applicant Tracking Systems.
For example, if they're looking for a "communicative, well-mannered recruiting coordinator skilled inpayroll administration", you put communication skills, interpersonal skills, and payroll disbursement onto your resume.
Here's a sample list of skills to get a few ideas if you're still hazy on the deets:
Recruiting Coordinator Resume Skills
Talent Management
Payroll Disbursement
Headhunting
Onboarding
Screening & Background Checks
Social Media
Ethics
Emotional Intelligence
Compassion
HR Software
Recruitee
Google Suite
Recruiting
Health & Safety
Employee Evaluation
Read more: Top Skills Employers Look for In Job Candidates
When making a resume in our builder, drag & drop bullet points, skills, and auto-fill the boring stuff. Spell check? Check. Start building a professional resume template here for free.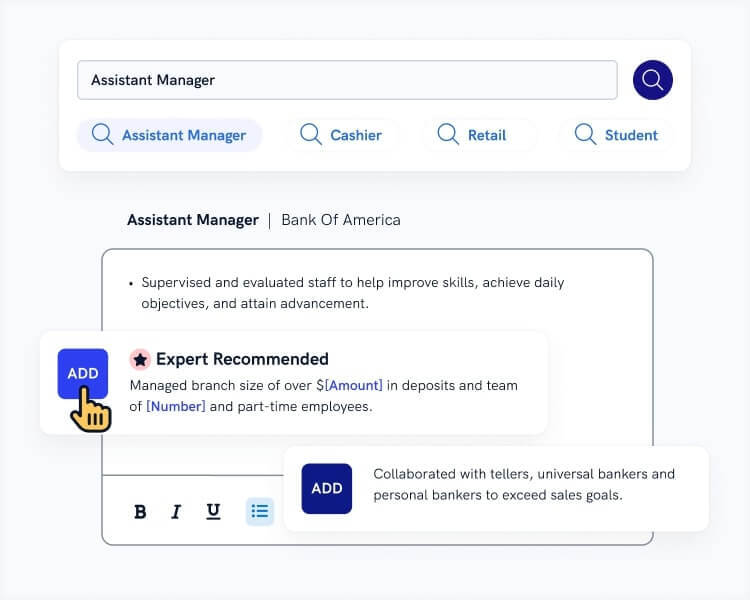 When you're done, Zety's resume builder will score your resume and tell you exactly how to make it better.
6. Get Creative with Extra Sections
Remember how I said a good resume grabs the reader's attention from start to finish?
Well, the several hundred other applicants also did that.
But they don't know the secret to a great resume—standing out.
Think about it: you wouldn't want to work with the guy whose whole personality occupies the surface area of his 22" monitor.
The resume you create needs to prove you're more than the sum of your skills, so add some of these sections to show off your unique side:
Memberships in relevant associations
Read more: Best Tips for Writing a Resume
7. Include a Recruiting Coordinator Cover Letter
This one you should be well familiar with.
Cover letters notoriously stir up heated debates in the HR industry, mainly concerning the very sense of their existence. Are cover letters really necessary in this day and age?
Turns out they are. As our HR statistics show, nearly half of all recruiters expect candidates to attach one with their job application. So there, debate settled.
Here are the basics of an HR-pleasing cover letter:
Read more: How to Write a Job-Winning Cover Letter
Plus, a great cover letter that matches your resume will give you an advantage over other candidates. You can write it in our cover letter builder here. Here's what it may look like: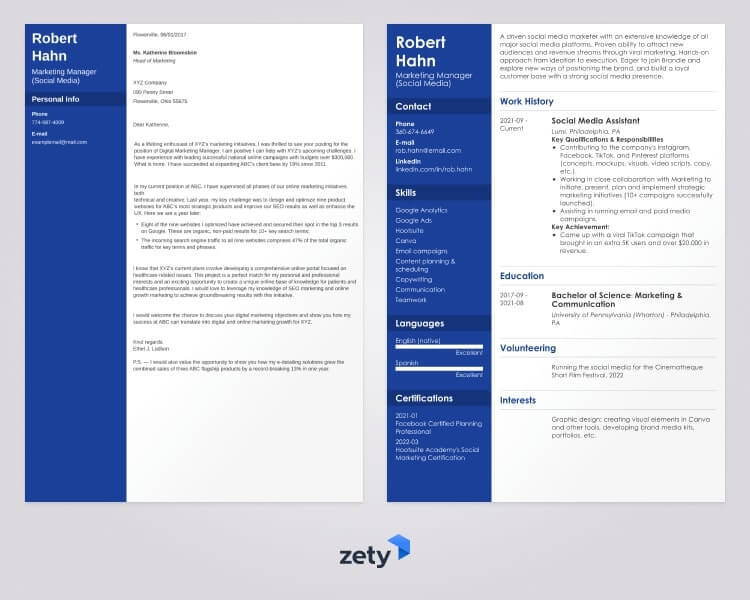 See more cover letter templates and start writing.
That's it!
You've successfully coordinated your way to an awesome resume!
Any lingering questions that our guide didn't fully answer? Maybe you're still not too clear about the education section? The emergency career hotline is always open for your queries in the comments below!