Human Resources (HR) Assistant Resume Sample [+Skills]
Are you aiming for the company's HR assistant role? Your resume has to be better than all others, as you'll be working with the HR manager. Here's how to nail it in no time.
Before you get to judge other people's resumes, you need to write your own. This is how the world works.
And just any resume won't do—even if you're applying to a junior HR role, you need to demonstrate that you know a thing or two about resume writing. If your resume isn't up to par, you'll look like a shoemaker who comes to a job interview barefoot.
Don't worry, though: just follow our guide for an HR assistant resume and you'll land that cushy HR job in no time.
This guide will show you:
An HR assistant resume example better than 9 out of 10 other resumes.
How to write an HR assistant resume that will land you more interviews.
Tips and examples of how to put skills and achievements on an HR assistant resume.
How to describe your experience on a resume for an HR assistant to get any job you want.
Want to save time and have your resume ready in 5 minutes? Try our resume builder. It's fast and easy to use. Plus, you'll get ready-made content to add with one click. See 20+ resume templates and create your resume here.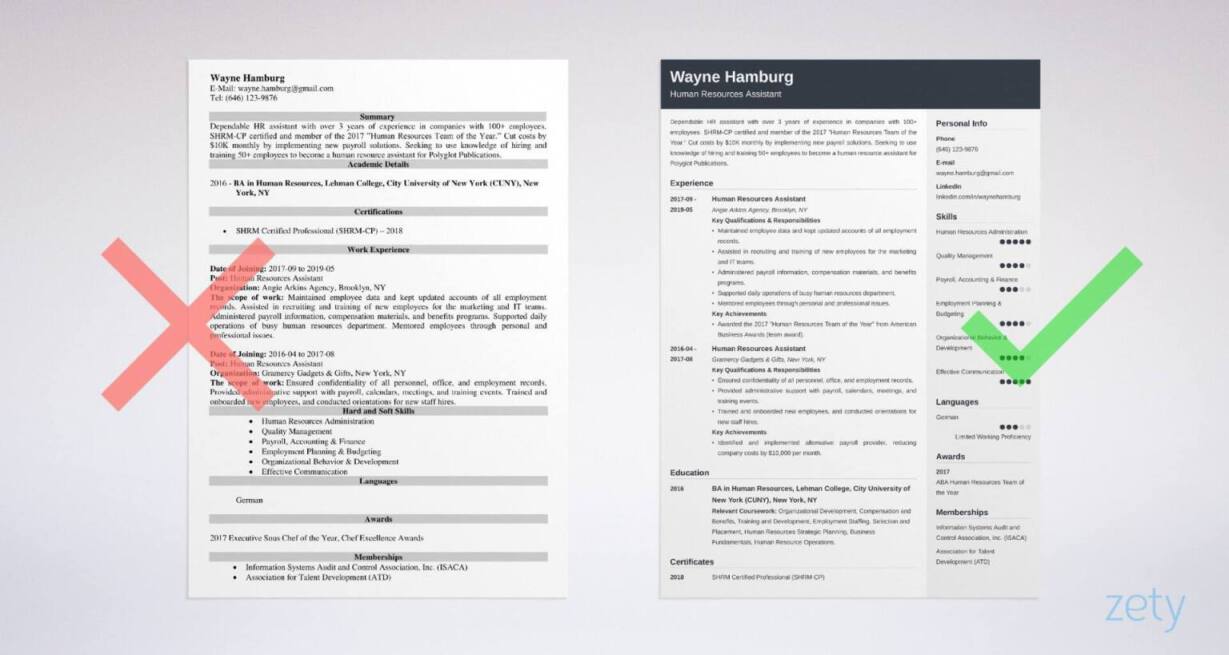 Sample resume made with our builder—See more resume examples here.
Check out other human resources-related resume guides:
Human Resources Assistant Resume Sample
Wayne Hamburg
Human Resources Assistant
wayne.hamburg@gmail.com
(646) 123-9876
linkedin.com/in/waynehamburg
Summary of Qualifications
Dependable HR assistant with over 3 years of experience in companies with 100+ employees. SHRM-CP certified and member of the 2017 "Human Resources Team of the Year." Cut costs by $10K monthly by implementing new payroll solutions. Seeking to use knowledge of hiring and training 50+ employees to become a human resource assistant for Polyglot Publications.
Work Experience
Human Resources Assistant
September 2017–May 2019
Angie Arkins Agency, Brooklyn, NY
Key Qualifications & Responsibilities
Maintained employee data and kept updated accounts of all employment records.
Assisted in recruiting and training of new employees for the marketing and IT teams.
Administered payroll information, compensation materials, and benefits programs.
Supported daily operations of busy human resources department.
Mentored employees through personal and professional issues.
Key Achievements
Awarded the 2017 "Human Resources Team of the Year" from American Business Awards (team award).
Human Resources Assistant
April 2016–August 2017
Gramercy Gadgets & Gifts, New York, NY
Key Qualifications & Responsibilities
Ensured confidentiality of all personnel, office, and employment records.
Provided administrative support with payroll, calendars, meetings, and training events.
Trained and onboarded new employees, and conducted orientations for new staff hires.
Key Achievements
Identified and implemented alternative payroll provider, reducing company costs by $10,000 per month.
Education
BA in Human Resources
Lehman College, City University of New York (CUNY), New York, NY
Graduation: 2016
Relevant Coursework: Organizational Development, Compensation and Benefits, Training and Development, Employment Staffing, Selection and Placement, Human Resources Strategic Planning, Business Fundamentals, Human Resource Operations.
Key Skills
Human Resources Administration
Quality Management
Payroll, Accounting & Finance
Employment Planning & Budgeting
Organizational Behavior & Development
Effective Communication
Certifications
2018 SHRM Certified Professional (SHRM-CP)
Awards
2017 ABA Human Resources Team of the Year
Memberships
Information Systems Audit and Control Association, Inc. (ISACA)
Association for Talent Development (ATD)
Languages
German: Limited Working Proficiency
Let's get down to it—
This is how to write an HR assistant resume:
1. Choose the Best Format for Your HR Assistant Resume
Before you start, remember, as an HR assistant, you'll be tasked with filtering out top resumes from the rest of the pile.
So—
You need to have a human resources assistant resume formatted to perfection.
A properly-formatted resume ensures your future colleagues in the HR department find it easy to read and understand.
Here's how to format a human resources assistant resume template:
Pro Tip: Send your resume in PDF format unless the job advertisement says otherwise. The PDF version ensures the HR manager or hiring manager can readily read your document on any device, browser, or operating system.
2. Write a Human Resources Assistant Resume Objective or Summary
Also called a resume profile, the resume objective or summary gives HR managers a quick elevator pitch by listing your skills, experience, and goals.
It's a 3- to 4-line paragraph, and it has to grab their attention from the start.
Which one to use?
The resume summary is best when you have plenty of HR experience. A summary statement identifies your past experience and skills, and it builds you up by giving them a numbered accomplishment.
The resume objective is best when you have little or no HR experience. A career objective identifies your career goals in place of experience. However, it still provides them with a key quantifiable achievement.
Pro Tip: Write your human resource assistant resume objective or summary statement last. This way you'll have the rest of your resume already written, enabling you to craft a better heading statement.
3. Create the Perfect HR Assistant Job Description for a Resume

As the company's HR assistant, work experience is your bread and butter.
So—
Pay close attention to writing a work experience description on your resume that shines.
Here's how to promote yourself in a human resources assistant job description:
Place your most recently-held job first, followed by the next job, and on from there.
Include the job title at the top, followed by employment dates, the company's name, and around 5 or 6 bullet points detailing your work duties and responsibilities.
Use power verbs (e.g., hired, coordinated, etc.) to start each bullet point.
Give them measurable achievements using numbers to prove you're as skilled as you say you are.
Pro Tip: Write a tailored resume targeted to this one HR assistant job. Your future boss, the HR manager, hates those spammy generic resumes.
4. Make Your Human Resource Assistant Resume Education Section Shine
The education section of a resume is a core part of your HR assistant job application.
How to get it right?
Teach them about your academic background by learning these rules:
Like your job description, start with your most advanced degree first.
Add your degree, graduation date, college name and location, and relevant coursework.
Don't be afraid to brag about any university achievements, Latin honors, or extracurricular activities.
If you've completed university, skip adding high school on your resume.
Pro Tip: Writing a resume with no work experience? Don't worry. If your education is more impressive than your work history, switch places and put your education section over your job experience. This gives them the most impressive details about you first.
5. Highlight Your Human Resources Resume Skills
According to the BLS, human resources specialists, assistants, and similar roles are projected to increase by 7% between 2016 and 2026.
That's almost 39,000 HR assistants to fight for the job.
How to outshine them?
Show the HR manager you're the perfect candidate with the best human resources resume skills section:
20 Top Human Resources Skills for a HR Resume
Human Resource Administration
Confidentiality
Performance Management
Employee Grievance & Dissatisfaction
Payroll Systems & Accounting
Compensation & Benefits
Recruiting & Hiring
Human Resources Information Software (HRIS)
Dispute Resolution & Management
Workplace Health & Safety
Job Interviews & Exit Interviews
Staff Training & Onboarding
Employee-Employer Relations
But wait a sec—
Don't just take this list of skills and add it straight into your human resource assistant resume.
That's a surefire way to get passed over.
Here's how to list HR skills for resumes for HR assistants:
Finally—
As a candidate for HR jobs, you probably know about the ATS.
Larger and more modern HR departments use these applicant tracking systems as an HRM tool to help them sort all the resumes they get daily.
HR department staff scan each resume into the ATS, type in resume keywords to search for, and receive a match percentage score in return.
If you match less than the other candidates, no HR assistant job!
Pro Tip: To make sure the ATS scores you highly, stick to the job description wording as much as possible. Don't go word-for-word, but if they say they want "communication skills," then write that you have "communication skills." Simple and effective!
When making a resume in our builder, drag & drop bullet points, skills, and auto-fill the boring stuff. Spell check? Check. Start building a professional resume template here for free.
When you're done, our professional resume builder will score your resume and our resume checker will tell you exactly how to make it better.
6. Add Other Sections to Your HR Assistant Resume
So far, you've written a standard resume with just the core sections.
How to make it awesome?
Add extra resume sections to make your HR job application stand out from the other human resources job candidates.
Here are a few great examples for a resume for HR jobs:
HR organization memberships
7. Attach a Human Resources Assistant Cover Letter to Your Resume

How necessary is a cover letter?
Most hiring managers say that resumes with no cover letters are a turn-off.
So—
Don't disappoint your HR manager boss before Day 1.
Here's how to write a cover letter for HR assistant jobs they'll adore:
To ensure it's perfect, read the definitive answer to how long are cover letters.
Pro Tip: Don't forget to send a follow-up email after sending your resume. When done right, hiring managers will appreciate it.
Plus, a great cover letter that matches your resume will give you an advantage over other candidates. You can write it in our cover letter builder here. Here's what it may look like: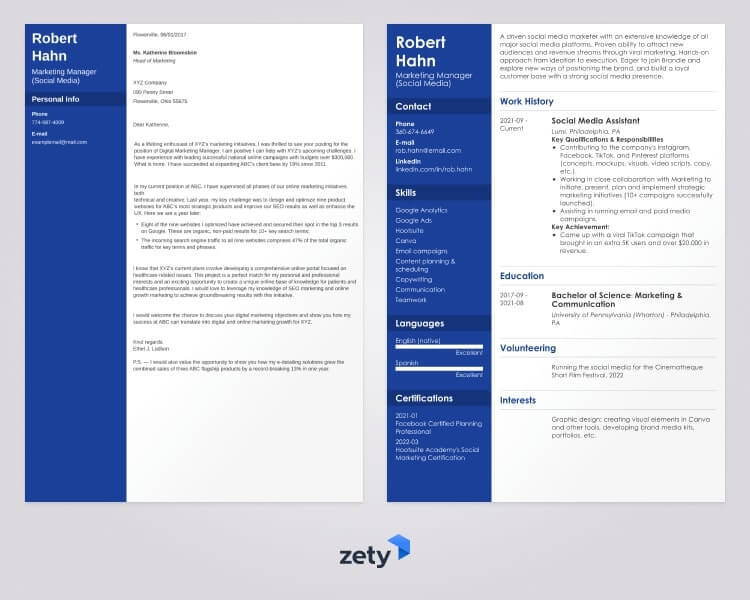 See more cover letter templates and start writing.
Need more help on how to write a human resources assistant resume? Still can't figure out how to promote your HR skills, work history, or human resource achievements? Let's chat in the comments below, and thanks for reading!
About Zety's Editorial Process
This article has been reviewed by our editorial team to make sure it follows Zety's editorial guidelines. We're committed to sharing our expertise and giving you trustworthy career advice tailored to your needs. High-quality content is what brings over 40 million readers to our site every year. But we don't stop there. Our team conducts original research to understand the job market better, and we pride ourselves on being quoted by top universities and prime media outlets from around the world.
Sources