We're about to make a great marketing resume. But first, say hello to Carolyn. She's the CEO of a Fortune 500 company. Treats the marketing staff like gold. Long vacations. Flexible schedule. Great pay.
And she's hiring. Trouble is, you're one of 600 marketing resumes on her computer. She doesn't even know you exist. How can you prove you're the next Seth Godin?
You may be born for this job like Rand Fishkin, but you'll still need a resume that sells it.
This guide will show you:
A marketing resume example better than 9 out of 10 other resumes.
How to write a marketing resume that will land you more interviews.
Tips and examples of how to put skills and achievements on a marketing resume.
How to describe your experience on a resume for marketing to get any job you want.
Here's a sample resume for a marketing manager made using our resume builder.
Want to save time and have your resume ready in 5 minutes? Try our resume builder. It's fast and easy to use. Plus, you'll get ready-made content to add with one click. See 20+ resume templates and create your resume here.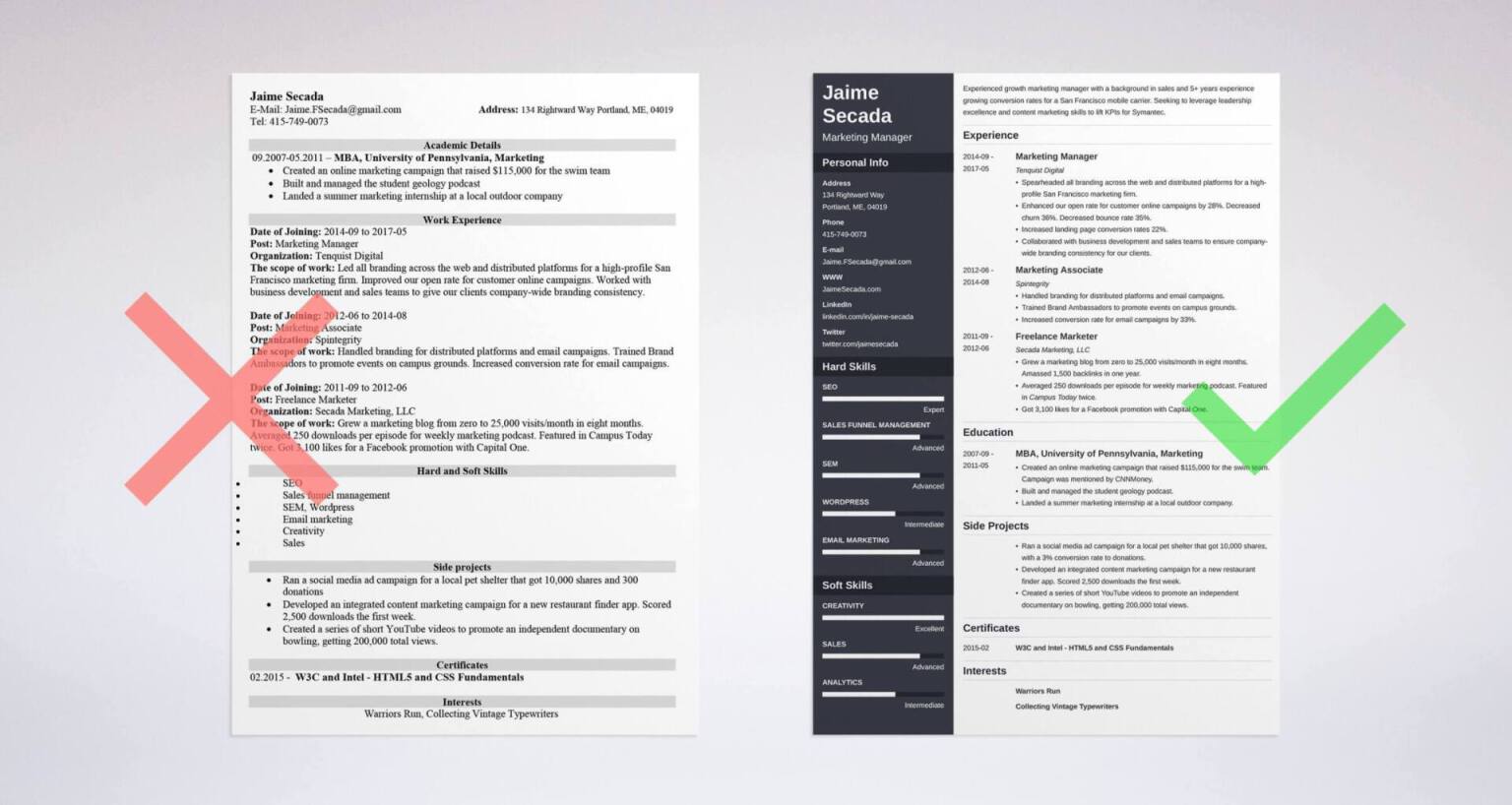 Sample Marketing Resume—See more resume templates here.
If you're targeting a more specific job in marketing or public relations, see one of our dedicated guides:
And make sure to give this piece a read for advice on how to write a resume for corporate, business positions:
Still looking for more examples? See:
1
What's the Best Format for a Marketing Resume?
Actually, in marketing, it is what you say and how you say it.
Try this: Walk into a presentation in dirty clothes, while chewing gum, and mumble. You might have the best message in the world, but nobody will listen.
Why should it be any different with your marketing resume?
Pick a well-respected, simple marketing resume format like the reverse-chronological layout. It lets hiring managers grasp your value proposition fast.
That's good, because the average resume only gets seven seconds in the recruiter's hands, according to our HR statistics report.
White space is your friend. So are clear, legible fonts and eye-catching headings.
Finally, save your resume in PDF format. PDFs preserve the layout. Other file types can scramble your careful resume architecture.
Want to make sure your resume will hook every recruiter and get you that interview? Get our free checklist and learn what makes a job-winning resume: 46 Things You Need To Do Before You Send Your Resume.
Pro Tip: PDFs are best, but double-check the job offer to make sure they're OK. Some employers will neg even an expert marketing specialist resume saved as a PDF.
"Marketers hate typos and most will judge you based on your font choice. Don't use comic sans." -Heidi Prior, Travel Media Sales and Marketing Executive, Miles Partnership.
Still not sure the reverse-chronological resume format is best? Check our guide: "3 Resume Formats: How to Choose the Best One [Examples]"
2
Contact Information Is Not as Basic as It Seems
Adding contact information to a marketing resume is easy, right? Just tack it on, and off we go.
Not so fast.
While the basics don't take much brain power, there's a lot more to contact info than the obvious. First, cover the classics.
Include:
Full Name
Updated Phone Number
Professional Email Address
Keep your info clean, not cluttered. The clips from two entry level marketing resume samples below show the difference.
right
Jaime Secada, Jaime.FSecada@gmail.com - 415-749-0073
wrong
Jaime Secada
125 Hillview Drive
San Francisco, CA, 94016
Email: markether321@aol.com
Phone: 415-749-0073
That's the bare bones, but don't stop there.
Add your LinkedIn profile. Make it great by following the tips in our guide to optimize your LinkedIn profile here.
Include a link to your portfolio site. Don't have one? Google "digital marketing portfolios" to get lots of great examples.
When used this way, your contact info can be a CTA to an entire marketing mix, instead of just a name and number.
Pro Tip: Have a Gmail account. This is huge. No Hotmail, no AOL, no Yahoo. If you don't do this one simple thing, you may unintentionally send a message you don't know your stuff.
Need more inspiration for your perfect marketer resume? Hunting for a professional resume template? See our guide: "How to Make a Resume: A Step-by-Step Guide (+30 Examples)"
3
How to Write a Marketing Resume Summary or Resume Objective
You should always start your marketing resume with a bang.
Imagine you're an recruiter. You get 250 resumes. They all look the same. But all of a sudden you see something that grabs your attention like a vise.
One candidate has just what you're looking for at the very top of her resume.
It's called a resume summary or a resume objective. But which one should you use?
Use a resume summary when you have plenty of experience and skills.
Use resume objective when you're just starting out, or switching careers.
Now let me show you how you write them.
Take a look at the two marketing manager resume samples below.
Marketing Resume Summary Examples:
wrong
Growth marketer with 5.5 years experience working for a mobile firm.
See? That could be absolutely anyone. It blends in like a white logo on a white background.
Now look at this:
right
Experienced growth marketer with a background in sales and 5+ years experience growing conversion rates for a San Francisco mobile carrier. Seeking to leverage leadership excellence to raise KPIs for Symantec.
See what the second marketing executive resume did? Now let me tell you why the second summary is so effective.
Since it's tailored to the job description, it reaches out and grabs the recruiter. Your marketing manager resume summary is the top of your sales funnel. It's your job to make it easy to fall in.
When making a resume in our builder, drag & drop bullet points, skills, and auto-fill the boring stuff. Spell check? Check. Start building a professional resume template here for free.
When you're done, Zety's resume builder will score your resume and tell you exactly how to make it better.
How to Write an Objective for a Marketing Intern Resume
Don't have experience? Use a resume objective. It works best for career changers, fresh graduates, and those seeking a new niche.
Look at these email marketer resume samples:
wrong
Inexperienced digital marketer willing to work hard and learn.
Yuck. Too generic.
Now feast your eyes on this:
right
Performance marketer passionate about KPIs and growing customer base. Seeking to leverage strong knack for quantitative measurement, data visualization and results tracking to gain experience with MC Crates.
That one really shows your passion for the job.
Lots of online experts say to skip the resume summary or objective in a digital marketing resume. What they mean is, don't make it generic. Generic = churn.
Pro Tip: According to Chamath Palihapitiya, CEO of Social Capital, marketing is understanding the value of a product, then moving customers to an "Aha" moment, fast. Your resume should do just that.
Want more advice? Need more professional resume examples? Check out our two guides: How to Write a Resume Profile (Examples)
4
How to Describe Your Marketing Experience
Remember Carolyn? The CEO with the tasty marketing job?
She's crazy about experience.
In fact, she'd rather hire one digital marketer with the right experience than ten with all the education and credentials in the world.
Start by fully researching the company and job. Then take a look into your past and ask, "Do I fit this company like Nike fits the swoosh?"
If the answer is "yes," your next job is to prove it.
In your marketing resume, list your most recent experience first. Make each position a value proposition. Quantify your achievements with metrics that build your case. (I'll show you how in a minute.)
See the two product marketing manager resume samples below.
The experience section below is tailored for a digital marketing manager resume. The position calls for skills in branding and handling distributed platforms. It also values increasing conversions and decreasing churn.
right
Digital Marketing Manager
Tenquist Digital
June 2014 - May 2017
Spearheaded all branding across the web and distributed platforms for a high-profile San Francisco marketing firm.
Enhanced our open rate for customer online campaigns by 28%. Decreased churn by 36%. Increased landing page conversion rates by 22%.
Collaborated with business development and sales teams to ensure company-wide branding consistency for our clients.
wrong
Digital Marketing Manager
Tenquist Digital
June 2014 - May 2017
Marketing manager for Tenquist Digital.
In charge of email campaigns and website management for our customers.
Collaborated with sales teams to ensure branding consistency.
Always quantify your accomplishments. For example, you could detail by how much you increased conversions on a particular ads platform or how many organic positions you increased the rank of key pages in Google results.
Tip: the first marketing manager resume example uses action words like spearheaded, enhanced, and collaborated. Need more? See our guide: "+80 Examples of Resume Action Words for Every Profession"
What if You Don't Have Marketing Experience?
Don't have experience?
Get some.
You can build your own blog to show off your marketing skills.
Not a good writer? Make it a video, a podcast, or a visual portfolio site.
Sound like too much work? Kick off your own PPC campaign on AdWords or Facebook. Target a certain market, then track the results.
With a little elbow grease, even a newbie can have a marketing resume experience section that stands out like the Absolut campaign.
Look at these two brand marketing resume samples:
right
Freelance Social Media Marketer
Secada Marketing, LLC
June 2016 - present
Grew a marketing blog from zero to 25,000 visits/month in eight months.
Average 250 downloads per episode for my weekly marketing podcast.
Got 3,100 likes for a Facebook promotion with Capital One.
wrong
Experience
Though I haven't yet worked in the marketing field, I'm a fast, energetic learner.
I've held mostly retail positions to date, but I've honed my marketing skills in those positions.
Think about the social media marketing resume examples above. What did the first candidate do right? She found a way to do some things that look impressive on a resume for marketing jobs.
Pro Tip: Want to be a marketer? Learn sales first. Take a look through marketing job postings on LinkedIn. Most of them require sales experience.
Need action words to make the best digital marketing resume you can? See our guide: "+80 Examples of Resume Action Words for Every Profession"
5
Is Your Education Section Underperforming? It Might Be
Getting a job in marketing is all about experience. That means your marketing resume education section doesn't matter. Right?
Wrong.
It's a great way to separate you from the crowd.
Make it presentable and original. Use it to show your personality and drive.
On your resume make sure to Include:
College Name and Location.
Years in School.
Degree.
Also, add any extra-curricular activities that show you're perfect for this job offer.
Look at the following example from a marketing coordinator resume:
Example
2011-2014 MBA
University of Pennsylvania
Created an online marketing campaign that raised $115,000 for the swim team.
Built and managed the student geology podcast.
Landed a summer marketing internship for a local outdoor company.
Maybe you didn't do all the things in the list above. The point is, if you dig a little, you'll find key items to put your education section on a fast conversion path.
Pro Tip: As an online marketer or growth marketer, your online presence is everything. Have you tried Googling your own name? Manage your reputation by culling anything unprofessional and adding relevant content. See this guide for online presence housekeeping tips!
Want to make your marketing resume education section pop like Neil Patel created it? Check out our guide: "How to Put Your Education on a Resume [Tips & Examples]"
6
How to Put Skills on a Resume for Marketing
Skills. You've got 'em. Flaunt 'em.
Remember: Your resume is a mini marketing campaign.
Research the company. Pay close attention to the job description.
Pick most of your skills from the job posting itself. This will happen naturally if you find a company you're passionate about.
Next, brainstorm. Look through online job postings to see what's valued.
Look at the table below. All the marketing skills there are the perfect keywords for a marketing resume.
Marketing Skills to Pick for a Resume
Marketing Resume Skills

| | | |
| --- | --- | --- |
| "Soft" Skills | Marketing-Specific Skills | Software Skills |
| Sales | SEO | HTML |
| Communication | SEM | CSS |
| Analytical | PPC | Adobe Premiere |
| Writing | CPC | MS Office |
| Negotiation | Email Marketing | Ms PowerPoint |
| Creative Thinking Skills | Email Automation | WordPress |
| Collaboration | CRO | Ahrefs |
| Business Acumen | A/B Testing | HubSpot |
| Work Ethic | Paid Social Media Advertising | Google Docs |
| Passion | Sales Funnel Management | MailChimp |
Once you've got a list of stellar skills, don't just stick them in your resume's skills section, willy nilly.
Weave them into your experience section. Show how you leveraged them to achieve each accomplishment.
Examples of Skills on a Marketing Resume
Here's the right and wrong way to put skills on a marketing resume. Imagine you're applying for a job that values teamwork, communication skills, and creativity.
The first snippet below, from a marketing director resume example, nails it. The second is a giant, leaky funnel.
right
Sales, Collaboration, Negotiation, Communication, Creativity, Passion for Meeting KPI's.
SEO (grew organic traffic by 78% in 12 months).
CRO and A/B Testing (optimized sign-up rates by 37%).
Social Media Advertising.
Sales Funnel Management.
Adept at Using HubSpot and Google Analytics.
wrong
Analytical, writing, business acumen.
PPC, CRO, SEO, SEM.
PowerPoint, MS Office, Google Docs, HTML.
Event marketing.
See how the first of the two marketing resume samples above shows metrics that match the job description?
Pro Tip: "After you send your resume, follow up. It shows you're really interested, not just applying to anything you see." -Heidi Prior, Travel Media Sales and Marketing Executive, Miles Partnership. See this guide to learn how.
Need your marketing resume skills section to positively glow? See our guide: 40+ Best Examples of Marketing Skills to Put on a Resume (Proven Tips)
7
How to Add Other Sections for an Effective Resume
What if your best features don't fit under Experience, Education, or Skills?
That's when you need to add a section.
Got certifications like the AMA Professional Certified Marketer certification or a Google Analytics Certification?
ProTip: If you complete courses on digital marketing from Hubspot Academy, you can pin a badge to your Linkedin profile.
What about interests, hobbies, side projects, or accolades?
Generally, too many sections will spoil a marketing resume. Pick one and stick with it. You could call it hobbies, projects, awards, or whatever best matches what you're trying to show off.
Whatever you add, make sure it fits your storyline. If it doesn't boost your message, cut it. It's like Volkswagen said in the 60's: Think Small.
right
Side Projects
Ran a social media ad campaign for the local pet shelter that got 10,000 shares, with a 3% conversion rate to donations.
Developed an integrated content marketing campaign for a new restaurant finder app.
Created a series of short YouTube videos to promote an independent documentary on bowling, getting 200,000 total views.
wrong
Side Projects
Coded a program to run a laser-based river gauge.
Rebuilt a Johnson 40 HP outboard motor.
Dug a 75 foot French drain for a neighbor.
Pro Tip: Link to examples of your work from your marketing resume. Telling the hiring manager about your wins is great. Proving them is better still.
Looking to add a section to showcase your personality? Check out our guide: "+20 Best Examples of Hobbies & Interests To Put on a Resume (5 Tips)"
8
Here's the Most Common Myth About Cover Letters
Your best friends will say you don't need a cover letter.
Your best friends are wrong.
If you listen, you'll turn off 45% of all recruiters before they even see your marketing resume.
A cover letter is a way to show your personality and your creative side. And you need to do that, because marketing is half analytical and half creative.
The cover letter lets you demonstrate that second part. It's where you flaunt your inner Jill McDonald.
Use the recruiter's name.
Bring up something about the company you like.
Explain specifically how you can use your marketing skills to benefit the company.
Create a shortlist from all the sections of your marketing resume. This is the cream of the crop. In this case, it fits a job posting that values branding and email campaigns, plus content marketing.
Example
Spearheaded all branding across the web and distributed platforms for a high-profile San Francisco marketing firm.
Enhanced open rate for customer online campaigns by 28%. Decreased churn 36%. Increased landing page conversion rates 22%.
Grew a marketing blog from zero to 25,000 visits/month in eight months.
Skilled in Sales, Collaboration, Negotiation, Communication. Highly creative and passionate.
Pro Tip: Add references when you send your resume. It instantly shows you're ready and you've done the preliminary steps.
Need some expert advice before you craft your marketing resume? See our guide: "How To Write A Cover Letter [Complete Guide With Examples]"
A Note About Sending and Tracking Your Marketing Resume
Making the perfect marketing resume is only half the battle.
Whether you're a digital marketer, a brand marketer, or a marketing communications manager, you've got to follow through.
Once your resume is finished, proofread it. Typos are a big no-no in the marketing world.
Next, follow up. That may mean finding the hiring manager's contact info. Use findthat.email.
Then, perfect your follow-up email title and know when it gets opened with a free install of MixMax.
Finally, consider placing a friendly follow-up call directly to the hiring manager a few days later. Your call could be just what it takes to pull your marketing resume to the top of the heap.
Plus, a great cover letter that matches your resume will give you an advantage over other candidates. You can write it in our cover letter builder here. Here's what it may look like: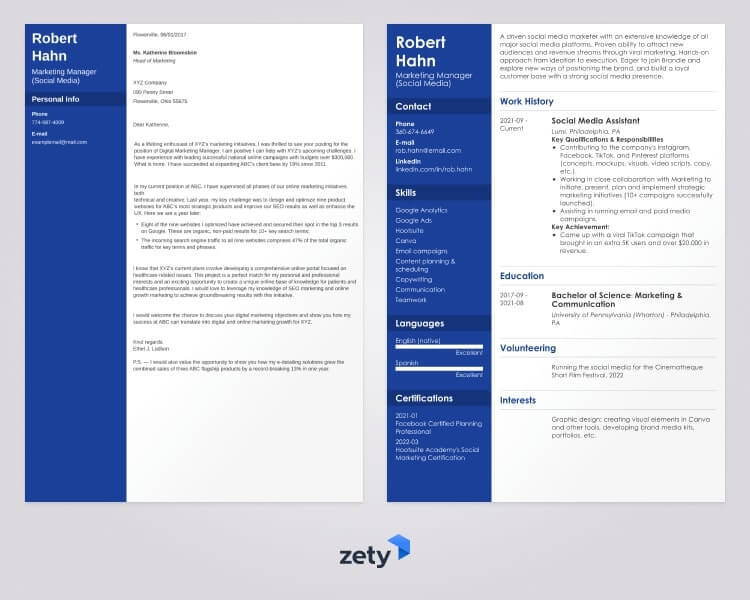 See more cover letter templates and start writing.
There's a great guide here that'll show you how to stand out like a lighthouse in a sea of boring. Because the best professional marketing resume in the world won't get you hired if you don't know how to send it, track it, and follow through.
And if you want to see a job-winning marketing manager cover letter, read our dedicated guide and learn how to write yours in no time: Marketing Manager Cover Letter: Sample & Full Writing Guide [20+ Tips].
Or read this guide if you are applying for a marketing internship: Marketing Intern Cover Letter Example & Guide.
Key Takeaway
Keep these points in mind as you create your marketing resume:
Know your target market. Research the company as much as possible and pay close attention to the job posting. Show that hiring manager you fit the job like Spandex.
Experience is king. Pick your best wins that match what the recruiter is looking for. That's true whether you're a junior associate or you're writing a marketing coordinator resume.
Source the skills in your resume from the job posting. Also, hunt in online postings, and from your own work history.
Do you have your own story or ideas about making the best marketing resume possible? Give us a shout in the comments section!