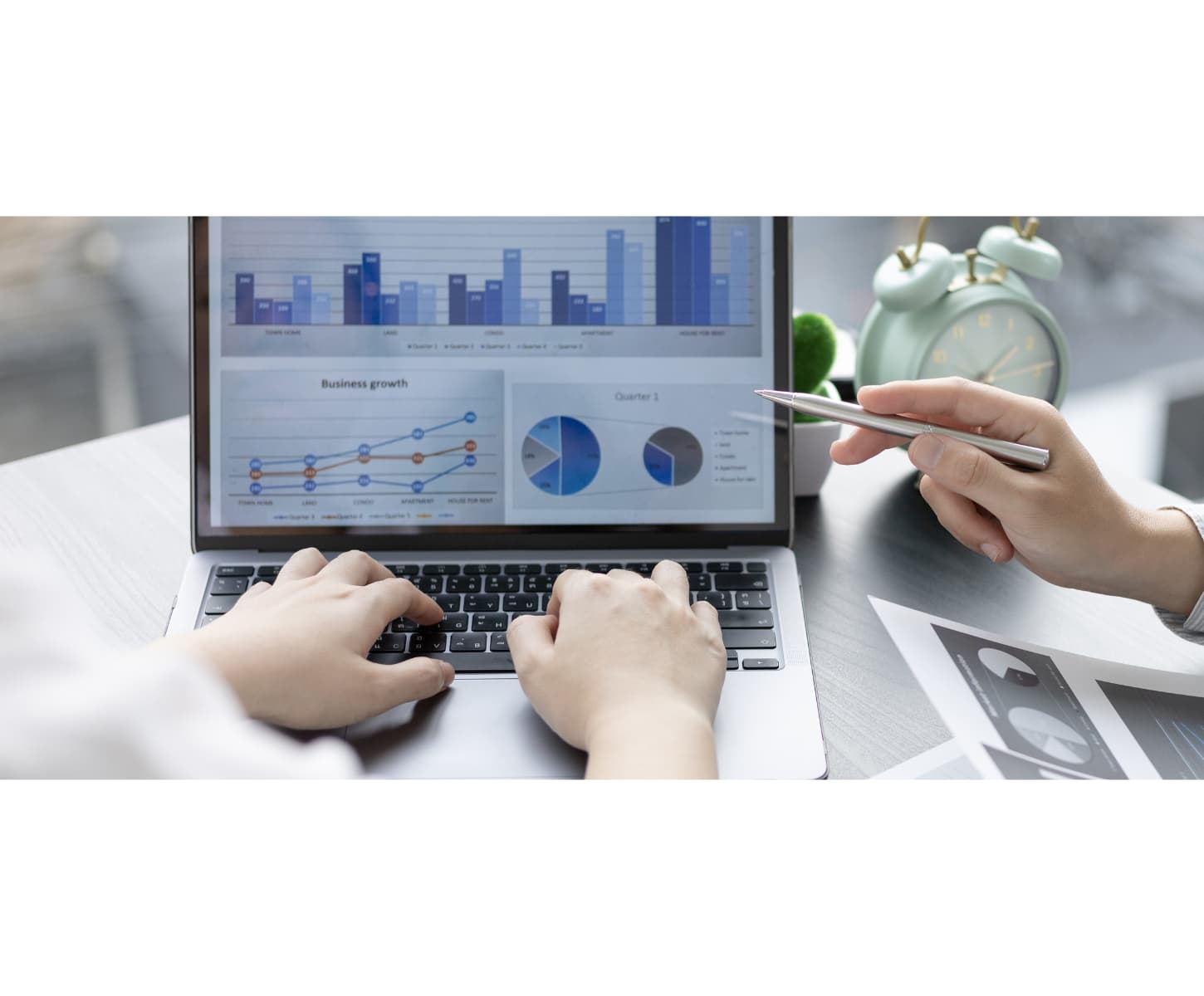 Marketing Intern Resume: Sample, Job Description & Guide
Developing a career in marketing could take you a long time, but an internship's always a good start. Learn how to cut that time down with our marketing intern resume guide.
Imagine the market as an open sea. The point is to sail (and sell) anywhere you can. But to get yourself on that boat and find or be a captain, you need a marketing intern resume to get afloat first.
We know that for first-timers that may often be intimidating. What belongs on a marketing intern resume? What doesn't? Will they laugh at that one year I joined the boy scouts?
Those are all valid questions. And today, we'll answer all of them, show you the ropes, and get sailing.
This guide will show you:

A marketing intern resume example better than 9 out of 10 other resumes.
How to write a marketing intern resume that will land you more interviews.
Tips and examples of how to put skills and achievements on a marketing intern resume.
How to describe your experience on a resume for a marketing intern to get any job you want.
Want to save time and have your resume ready in 5 minutes? Try our resume builder. It's fast and easy to use. Plus, you'll get ready-made content to add with one click. See 20+ resume templates and create your resume here.
Sample resume made with our builder—See more resume examples here.
And if you're after other positions, look up our similar articles below:
Marketing Intern Resume Sample
Mary C. Mohn
Marketing Intern
937-518-4542
mmohn@zetymail.com
Objective
Aspiring marketing expert and last year e-Commerce student at the University of Arizona Global Campus. Maintained a general GPA score of 3.5 and 3.7 in relevant subjects. During a previous marketing internship at Agilent Technologies, assisted in improving CRM processes and streamlining customer experience, leading to a 15% increased sales closing rate through select channels.
Education
Bachelor's Degree in e-Commerce
University of Michigan, Ann Arbor, MI
2019–2023 (expected)
GPA: 3.5
Relevant coursework: Global Marketing Techniques, Marketing Research, Digital Market Management, B2B Marketing, Macroeconomics, Principles of Finance
Extracurricular activities: Senior Editorfor 2 years for University of Michigan's monthly student business magazine
Work Experience
Marketing Intern
Agilent Technologies, Wilmington, WI
December 2020–December 2021
Wrote, edited, and published 250+ press releases.
Generated a 65% increase in lead generation through improvements to email campaigns.
Collaborated with design team to work on special marketing material for company's biggest client.
Key Skills
Digital Marketing
Optimizing Marketing Strategies
High-Level Interpersonal Skills
Managing Social Media Profiles
Creating Effective Copy
Time Management
Other Projects
Revitalized social media presence of friend-owned pet grooming shop, increasing brick and mortar revenue by 20% and preventing closure.
Self-taught UX Writing and Content Creation by offering freelance work to 6 Etsy sellers seeking to create Behance portfolios.
Language Skills
Alright rookie, let's get you up to speed on how to write a marketing intern resume:
1. Get Your Marketing Intern Resume Format in Order
Marketing interns assist in a company's marketing operations. Their responsibilities may include managing social media and creating smaller promotional material. A successful marketing intern resume will show communication & teamwork skills, and benefit from sales and writing.
On top of that, marketing as a field is ever-evolving, and there are many prospective future jobs that integrate marketing into their scope that you can look forward to.
So, if you want to get into it, now's a better time than ever.
And it all starts with a properly-formatted resume that could make the hiring manager think you're their next golden goose.
You'll want to include your contact information, like your email address and phone number at the top of the page, in the header area of your resume.
Make sure to mention the exact name of the position you're applying for, too.
Stick with elegant resume fonts, plentiful white space, and distinct section headings for easy reading. You're aiming for that premium UX that guides the eye across the page.
Write your resume using the reverse-chronological resume layout to highlight your relevant marketing strengths.
Limit your resume to one page only. You can go over to the second page once you've had 10+ years in the industry. Something to look forward to, right?
Once you're done, save your resume file as a PDF to make your application ATS-friendly. Go with a Word Doc only if specifically asked for one.
Read more: How to Get an Internship: Expert Tips
2. Start Your Marketing Intern Resume with a Crafty Resume Profile
Starting your resume is much like launching a marketing campaign—
You need to set a goal and establish purposeful messaging.
The first message your resume should send is… that of itself.
A resume profile is a succinct statement at the top, below the resume header, that summarizes your career.
But wait a second—
You're a beginner. You don't have a marketing career. What's there to summarize?
We'll get to that, but for now, let's focus on that goal. An objective, if you will. A resume objective.
Pick a few of your most relevant transferable skills from other jobs, school life,or freelance work. Mix in a healthy dose of ambition, add in some numbers and percentages to make it all the more palatable, and you're off to the races!
Read more: Resume Introductions: Tips and Examples
3. Make the Most of Your Education Section
Your education is the ace up your sleeve.
Thinking that lacking real marketing experience, like managing social media, being responsible for public relations, or devising marketing campaigns instantaneously deletes your chances is dead wrong.
The #1 resume tip for all kinds of jobs is always the same:
Play to your strengths.
This is how to capitalize on your education:
Graduated from college already? List your years of attendance, the school's name, and your degree.
Still finishing college? State the projected date of your graduation.
Add relevant coursework to your resume to convince the reader that although you're just an intern, you know your stuff. Focus on classes you excelled in and on those that are most closely related to the job you're applying for.
Outline your academic achievements. Diploma honors on a resume definitely make an impression, too.
Consider including notable extracurricular activities that show off your marketing skills or soft skills (like communication or teamwork—more on that later).
Pro tip: What about mentioning your GPA on your resume? Unsurprisingly, a higher GPA gets you better response rates for internships, so be careful about including it if it's not super high. We recommend including it only if it was 3.5 or higher, but it's your call.
4. Mention Past Work Experience on Your Marketing Intern Resume
Whether you're a college-level job seeker, a career changer, or an ambitious high schooler, learninghow to write a proper job description could tip the recruitment scales in your favor.
List the last position or internship you completed first.
Don't forget to include the names of these places, plusthe job title you went by!
Include tailored descriptions in bullet points that show your professionalism and your abilities in non-boring ways.
To add to that, use numbers and action words to keep the engagement levels of your text high.
Tailor your resume to each internship you apply for—companies can look for slightly different skill sets, or they may word their requirements differently. Adapt your job descriptions accordingly to boost your chances.
Pro tip: Speaking of internships, is it worth it going for unpaid ones? Studies show paid internships tend to have an overall better impact on your future career prospects, so unless the pool's really dry or you are head over heels for a particular company, try to seek out paid gigs.
When making a resume in our builder, drag & drop bullet points, skills, and auto-fill the boring stuff. Spell check? Check. Start building a professional resume template here for free.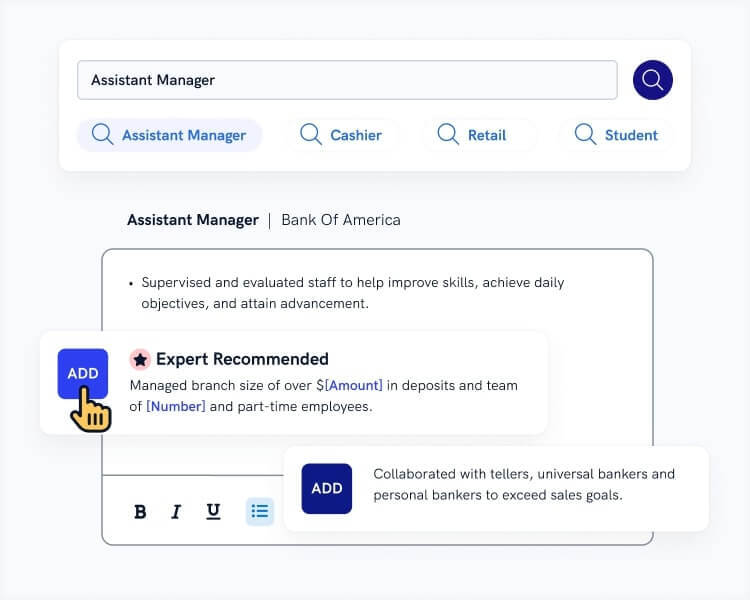 When you're done, Zety's resume builder will score your resume and tell you exactly how to make it better.
5. Prove Your Marketing Skill Set
What skills do you even need for marketing? MS Office, social media, maybe a lick of Photoshop, and you're good to go, right?
Well, it's a little more nuanced than that. Check out this example list of marketing skills:
Marketing Intern Resume Skills
Digital Marketing
Market Research
Storytelling
Willing to Learn
Adaptability
Presentation Skills
Creating Marketing Reports
Maintaining Social Media Presence
Press Releases
Creating Advertising Materials
SEO
SEM
Google Analytics
Facebook Paid Ads
Social Media Paid Marketing
WordPress
Creative Skills
Stack that up against a fresher's work history, though, and you will look like a botted Twitter page that gets fake interactions under every post. A little sus.
Instead, prove your marketing mettle through the tried and tested method of targeting your resume.
Once you've seen the job ad and the skills they require from hopeful applicants, compare them to your own. Whatever job skills match their descriptions should find their way onto your resume. That way you boost the ATS score, kind of like optimizing the search engine results.
Aim for a list of up to 10 skills, involving a mix of technical skills, soft skills, and hard skills.
Read more: Key Marketing Skills for a Job-Scoring Boost
6. Surprise Them in Your Extra Marketing Intern Resume Sections
By and large, you've likely created a respectable resume.
But like we said, paid internships are where it's at. And all the other entry-level marketing experts know that.
You may have read Gary Halbert's letter, even if you know it by heart, just that alone will not suffice.
Adding more elements to your resume can help score extra points and present you as a more passionate, personable character:
Volunteer work on a resume shows your commitment.
Personal projects on a resume convey you have a life outside of work, or, better yet, you keep sharpening your marketing skills on your off time, too.
Throwing in other special achievements, if you haven't found the right place to put them yet, is also recommendable.
Lastly, language skills show extra flexibility and problem-solving skills.
Read more: Common Internship Interview Questions and Answers
7. Attach a Cover Letter to Your Marketing Intern Resume
Should you write a cover letter for internships? Yes, you should, and it's non-negotiable.
By submitting a marketing intern cover letter along with your resume, you're giving yourself a much better shot at getting a call back. Your cover letter is your chance to inject more personality into your application and convince the recruiter you're the best candidate.
And this is how:
Pro tip: What's the perfect way to a great last impression? A standout cover letter title and an attention-grabbing P.S. at the very end!
Plus, a great cover letter that matches your resume will give you an advantage over other candidates. You can write it in our cover letter builder here. Here's what it may look like: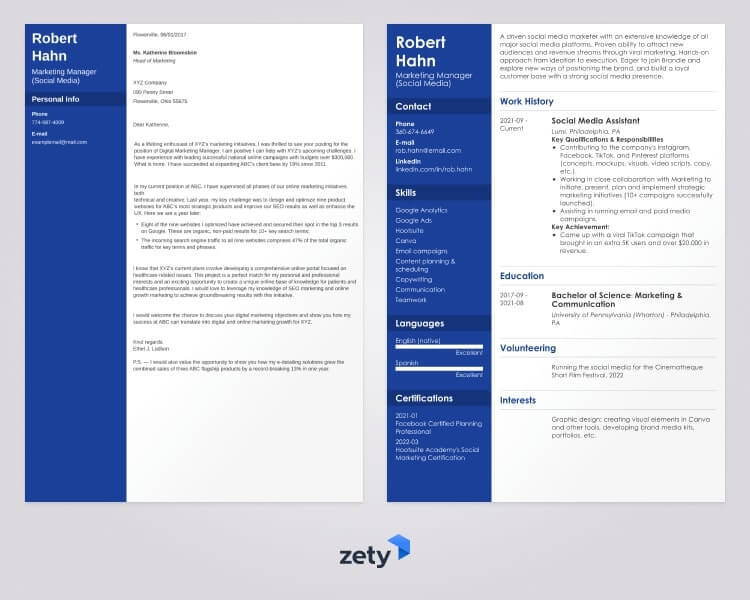 See more cover letter templates and start writing.
Now that's how you sell yourself!
Still unsure about any of the marketing intern resume elements? Did we miss any crucial tips? Got questions about the marketing intern sample up top? Come talk to us in the comment section below!
About Zety's Editorial Process
This article has been reviewed by our editorial team to make sure it follows Zety's editorial guidelines. We're committed to sharing our expertise and giving you trustworthy career advice tailored to your needs. High-quality content is what brings over 40 million readers to our site every year. But we don't stop there. Our team conducts original research to understand the job market better, and we pride ourselves on being quoted by top universities and prime media outlets from around the world.