Technician Resume: Examples, Template, & Writing Guide
Fixing things is your jam, be it electronic appliances, office equipment, or hydraulic components. Display those skills proudly on your technician resume to score your next job.
No matter what field you specialize in and let your hands do the magic, the reality remains the same. The demand for maintenance and repair jobs may be growing, but so is the competition. It almost feels like being choked out.
So, how do you beat the rest to end up top?
A few tweaks here, a circuit breaker reset there, and your technician resume should come out sparkling on the other end.
This guide will show you:
A technician resume example better than 9 out of 10 other resumes.
How to write a technician resume that will land you more interviews.
Tips and examples of how to put skills and achievements on a technician resume.
How to describe your experience on a resume for a technician to get any job you want.
Want to save time and have your resume ready in 5 minutes? Try our resume builder. It's fast and easy to use. Plus, you'll get ready-made content to add with one click. See 20+ resume templates and create your resume here.
Sample resume made with our builder—See more resume examples here.
Interested in specific technician jobs? Check these guides out:
Technician Resume Example
Jason Velasquez
Aerospace Technician
210-421-9802
JasonVelasquez@zetymail.com
Summary
Detailed and precise aerospace technician with 12 years of experience. Possess a blend of knowledge for various aircraft models and parts, including Boeing, McDonnell, and deHavilland Canada. Supervised 28 technicians in maintenance of rotor systems, engine units, and fuselage inspections. Maintained 15 aircraft in perfect working condition during a 7-month-long period of considerable staff shortage.
Work Experience
Aircraft Maintenance Technician
Spirit Airlines, Sacramento, CA
July 2012–September 2020
Key Qualifications & Responsibilities
Assisted Lead Maintenance Technician in organizing 25+ junior team members for purposes of vehicle maintenance, inspection, and adjustment.
Kept 100% up-to-date records and teaching material, including maintenance manuals, repair station manuals, and general operating procedures.
Conducted & supervised over 250 25-hour, 50-hour and 125-hour inspections on commissioned aircraft.
Reinvented hiring procedure, introducing an improved 12-week intense training program for new hires.
Trainee Aircraft Engineer
West Star Aviation, Sacramento, CA
February 2008–July 2012
Kept a working knowledge of FAA regulations when developing and implementing new concepts to original blueprints.
Performed thorough inventory checks of aircraft equipment.
Reviewed aircraft weight and balance records to compute optimal load distribution.
Education
Master's Degree in Aeronautical Engineering
Boston University, Boston, MA
2002–2004
Skills
Maintenance Tools
Safety Regulations
Mechanical & Electrical Systems
Keeping Repair Logs
Identifying Signs of Wear
OSHA and FAA
Aircraft Avionics
Engineering Methodology
Attention to Detail
Certifications
Special Airworthiness Certificate, FAA, 2016
Certified Aerospace Technician Core, SpaceTEC, 2012
Certified Control Systems Technician, ISA, 2005
Airframe and Powerplant Mechanic, Fox Valley Technical College, 2000
Language Skills
Interests
Restoring vintage cars in spare time and displaying my work at car shows—currently working on my fourth vehicle
History of nautical, locomotive, and aviation engineering
This is how to write a pro technician resume:
1. Format Your Professional Technician Resume Template Correctly
Technicians are responsible for repairing, installing, and servicing various different types of equipment or systems. Your technician resume has to demonstrate an aptitude for working in your field while maintaining safety precautions, working in a timely manner, and having a keen eye for detail.
And, oh boy, there are loads of types of technician niches you can fill. If you were to look at wind turbine technicians, the growth in that field is off the charts—an astronomical 68%! Sixty-eight!
Regardless of your field of expertise, though, you'll likely do yourself a favor if you bust out your toolkit to fix your resume format, first.
Pro Tip: Not convinced? Feel free to explore other resume types and see if you find those to be more to your liking.
2. Write a Technician Resume Profile
The purpose of your resume's introductory statement, also called a resume profile, is to give the recruiter a lightning-fast rundown of your professional merit.
You can think of it like an HVAC specification sheet, except condensed into no more than 3 or 4 sentences.
Choose between a resume objective and a resume summary, depending on your experience: objectives are for fresh grads and career-changers, summaries are for experienced technicians.
Regardless of your choice, though, don't forget to include numbers next to your most impressive achievements, and a positive adjective of sorts to describe yourself (like enthusiastic, reliable, or experienced).
Read more: How to Start a Resume: Examples and Tips
3. Describe Your Technician Work Experience
Your technician resume's work experience section needs to be so electrifying, it'll blow out the circuit breakers in their entire building!
Follow these steps to turn up the voltage like Ben Franklin:
List your previous positions in reverse-chronological order: most recent first.
Use your job title, dates worked, and the name and location of the company.
For every position, describe your primary duties and achievements in 5 or 6 bullet points.
At the start of each bullet, use an action word for added effect.
Reinforce your achievements by putting numbers next to them to make them more relatable and tangible.
Tailor your resume to the job you're applying for. Your resume isn't a one-fits-all solution—imagine trying to repair a broken washing machine the same way you would approach a malfunctioning jet engine. It just doesn't work.
Pro Tip: If you're a beginner technician with scant experience, focus on transferable skills from other jobs, and consider placing the education section before your work experience.
4. Make the Most of Your Education on a Technician Resume
Well done, you've made it past some tough stuff. But don't wipe the grease off your hands just yet.
You don't need a formal education to be a technician, but ignoring your resume's education section altogether means your resume ends up in the scrapyard.
Here are some tips to prevent that:
First, list some basics such as your highest completed degree, name of the school, and graduation year. From here, we branch out.
Second:
Are you a fresh technician? Tinker with your education by including extra info like extracurricular activities, workshops you excelled at, or majors and minors.
If, on the other hand, your toolbox is full of experience, you can proceed to the next section.
Pro Tip: If you've completed any courses and are a certified repairman of <insert brand/appliance name>, this would be a good moment to mention that.
When making a resume in our builder, drag & drop bullet points, skills, and auto-fill the boring stuff. Spell check? Check. Start building a professional resume template here for free.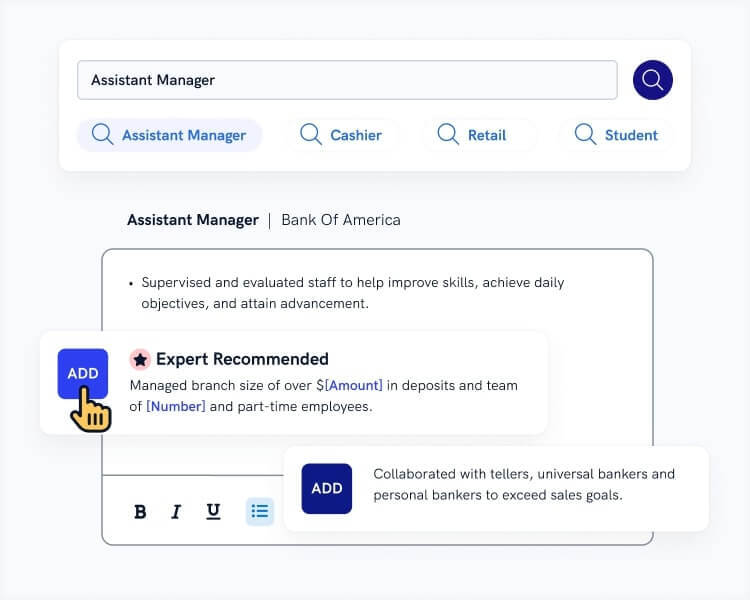 When you're done, our easy resume builder will score your resume and our resume checker will tell you exactly how to make it better.
5. Demonstrate Your Technician Skills on Your Resume
Pharmacy, automotive, lab, and all other kinds of technician resumes require the same thing:
An excellent range of skills that guarantees service without compromising quality.
For example, aviation technicians may or may not know that Boeing attributes the cause of roughly 15% of major accidents to poor maintenance.
No matter who your dream employer is, though, you need to prove your skills will put you well outside that 15%.
Here's how:
That way, you get a tailored resume that's not bloated with skills you kind of have but kind of don't.
And if you're still not sure, here's a sample list of great technician skills to have regardless of industry:
Technician Resume Skills
Electrical Installations
Troubleshooting
Safety Measures
Physics Knowledge
Honesty
Mechanical Aptitude
PLC
Working with High Voltage
Test Equipment
Preventative Maintenance
Servicing Malfunctioning Installations
Documenting and Recording Information
Inspecting Equipment, Parts & Materials
Collecting Data
Physical Ability
Power Tools
Math Skills
Pro Tip: For an added spark, pepper in those skills required in the job ad into your job description section!
6. Shock Them With Surprisingly Great Extra Sections
Extra resume sections are your go-to when trying to set yourself apart from the legion of other candidates (nail) gunning for your job.
Here are a few ideas on what to include on a technician resume:
Read more: What Should a Great Resume Look Like?
7. Write a Technician Cover Letter to Go with Your Resume
Yes, it's crucial, in fact.
Cover letters are no joke, and recruiters agree. Most of them simply won't give you a chance without one.
Let's get you up to speed on how to write a compelling cover letter:
Set up the right cover letter format before you start writing.
Start the cover letter on a strong note: mention a couple of your most impressive, relevant professional achievements in the first paragraph.
Use the middle section to brag about your technical skills and best achievements.
Convince them you're not going to treat the job as a stepping stone—that's an instant rejection.
Close the cover letter with a compelling call to action.
Lastly, how many pages should a cover letter be? You're in luck: the answer is one, never longer.
Plus, a great cover letter that matches your resume will give you an advantage over other candidates. You can write it in our cover letter builder here. Here's what it may look like: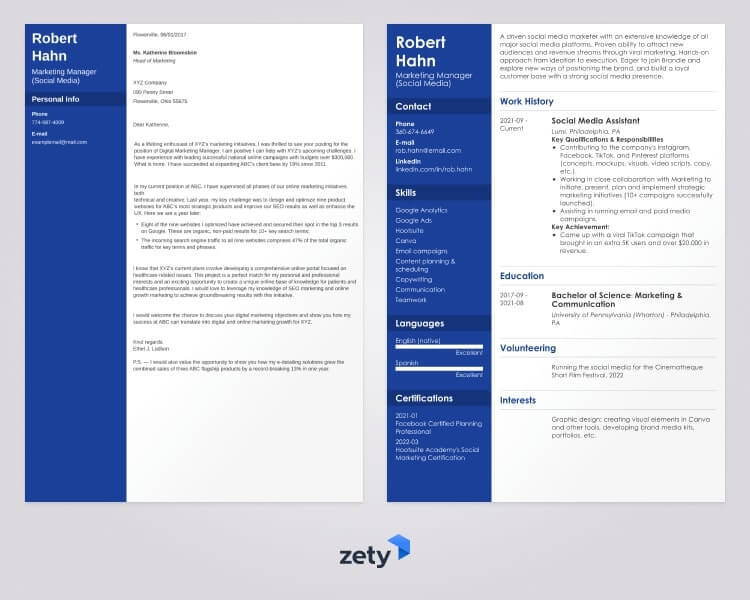 See more cover letter templates and start writing.
Are there any questions you still have about writing a technician resume? Need some assistance with listing your skills, technician experience, or electrical achievements? Our comments section is always open if you are. Thanks for reading!
About Zety's Editorial Process
This article has been reviewed by our editorial team to make sure it follows Zety's editorial guidelines. We're committed to sharing our expertise and giving you trustworthy career advice tailored to your needs. High-quality content is what brings over 40 million readers to our site every year. But we don't stop there. Our team conducts original research to understand the job market better, and we pride ourselves on being quoted by top universities and prime media outlets from around the world.