You're about to write the most outstanding delivery driver resume in history. First, though, let's consider:
Balancing heavy parcels on your shoulders—no problem.
Organizing orders and getting them out on time—you got that on lock.
Bringing joy to people's faces by on-time deliveries—you in a nutshell.
A courier job seems packaged just for you.
But!
Competition's as tough as selling on the Amazon Marketplace.
If you want to deliver the goods as a driver, you'll first have to deliver the goods with a perfectly-written resume.
This delivery driver resume guide will show you:
A delivery courier resume example better than 9 out of 10 other resumes.
How to write a delivery driver resume that will land you more interviews.
Tips and examples of how to put skills and achievements on a delivery resume.
How to describe your experience on a resume to get any delivery job you want.
Want to save time and have your resume ready in 5 minutes? Try our resume builder. It's fast and easy to use. Plus, you'll get tips and right vs. wrong examples while writing your resume. See +20 resume templates and create your resume here.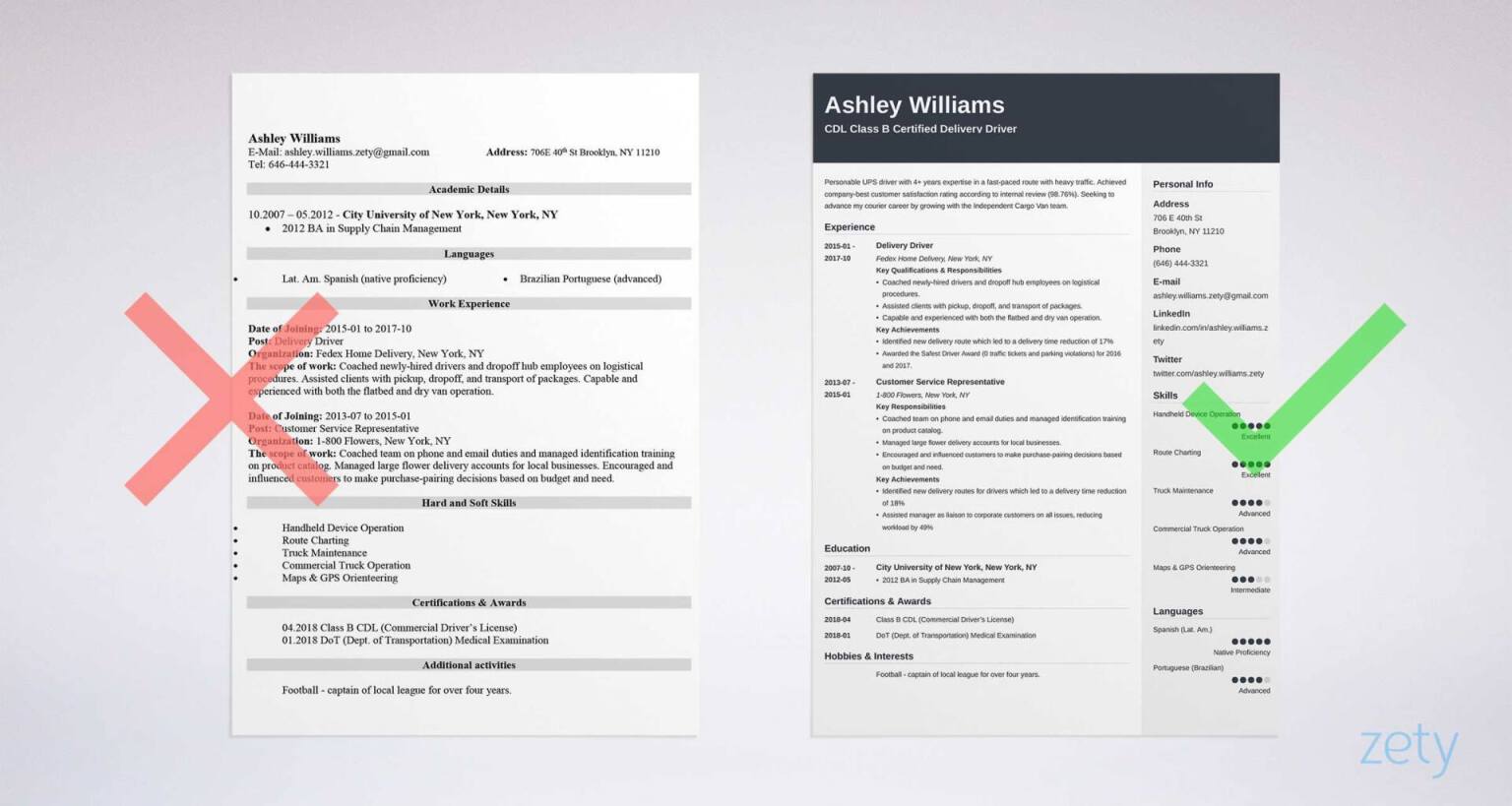 Sample Delivery Driver Resume - See more templates and create your resume here.
Considering other driving jobs? Maybe also a career in general logistics? See one of our dedicated guides:
1
What's the Best Format for a Delivery Driver Resume?
Just like a customs manifest, your courier resume have to be well-structured and easy to scan.
It's not so tough at all:
Use the reverse-chronological format, which is the most popular and has the HR stamp of approval.
Under your heading statement, list your work history. Start with your latest and move back in reverse-chronological order from there.
However, if you don't have experience in delivery (or any at all), lower the position of (or remove completely) your experience section, giving your education a nudge up.
Pro Tip: Save your resume as a PDF. You know how schlepping boxes around keeps you in shape? That PDF format keeps your resume in shape, as well.
Not sold on using the reverse-chronological format for your FedEx or UPS resumes? See our guide: Best Resume Format & How to Choose It [Guide with Examples]
2
How to Write Delivery Driver Resume Summary or Resume Objective?
Remember that day when you were driving around the neighborhood for 2 hours trying to find the recipient's address?
What a waste of time!
Scanning a three-page resume to find the key points is a waste of time for the recruiter, too.
Make their life easier by writing a heading statement at the very top of your resume.
That introduction is a brief paragraph which comes in two flavors: the resume summary and the resume objective.
Delivery Driver Resume Summary
If you have experience, such as holding FedEx ground driver jobs, Amazon drivers jobs, or UPS truck driver jobs in the past, then use the resume summary.
In a summary statement, your delivery work history gets summed up to highlight your achievements.
Use numbers to quantify achievements listed, and tailor it to just this job ad. Make it 2-4 sentences in length, so that it makes up a nice 3- or 4-line paragraph right at the top.
Here are examples of delivery messenger resume summaries:
right
Personable UPS driver with 4+ years expertise in a fast-paced route with heavy residential traffic. Achieved company-best delivery satisfaction rating according to internal review (99.96%), as well as reduced fuel costs by over 30% through identifying new delivery routes to take.
wrong
I have held a UPS driver job for the last 4 years. I have a vast knowledge of delivery duties, including loading, unloading duties, truck maintenance, package sorting, reviewing orders, and communicating with the dispatcher.
See, that "Wrong" one shows you have delivery experience, but it doesn't prove how great you were at the tasks. You simply listed delivery driver duties rather than your accomplishments.
In the "Right" example, you didn't even need to tell them your duties—they can see you're the best delivery candidate because you gave them numbers to quantify your work.
Delivery Driver Resume Objective
For the rest of you, you'll use this space to craft a resume objective statement.
This career objective is perfect for entry-level delivery drivers or those without any experience.
Like the summary, use numbers to back up what you're saying. Here, you'll pair that with your career goal and how this specific company will benefit by your employment.
Here are objective examples for delivery driver resumes without experience:
right
Diligent customer support representative with 3+ years experience at high-volume call center. Seeking to leverage fast-paced work ethic with top-rated customer service (100%) to help DHL grow and meet future demand as the new delivery driver.
wrong
I am a customer support rep keen on becoming a DHL delivery driver. Coworkers usually say that I am a quick study, so my lack of delivery driving experience should not be a problem for you. On top of that, I would love to have a job where I have some freedom of movement.
That "Right" example shows relevant skills from a past job and how they could be used in a new role as a van driver. Numbers are used so they immediately understand what you bring to the table.
Pro Tip: Just because your resume introduction gets read first does not mean it has to be written first! Consider saving this until the end so you have all your other resume sections in order to help inform your writing of the intro statement.
Need more advice on choosing a resume summary or resume objective for delivery jobs? Check out our guides: 20+ Resume Summary Statement Examples & How to Write One and 20+ Resume Objective Statements for Any Career [+General Proven Tips]
Our resume builder (you can create your resume here) will give you tips and examples on how to write your resume summary or any other section. You can easily copy them straight into your resume - it will save you a ton of time.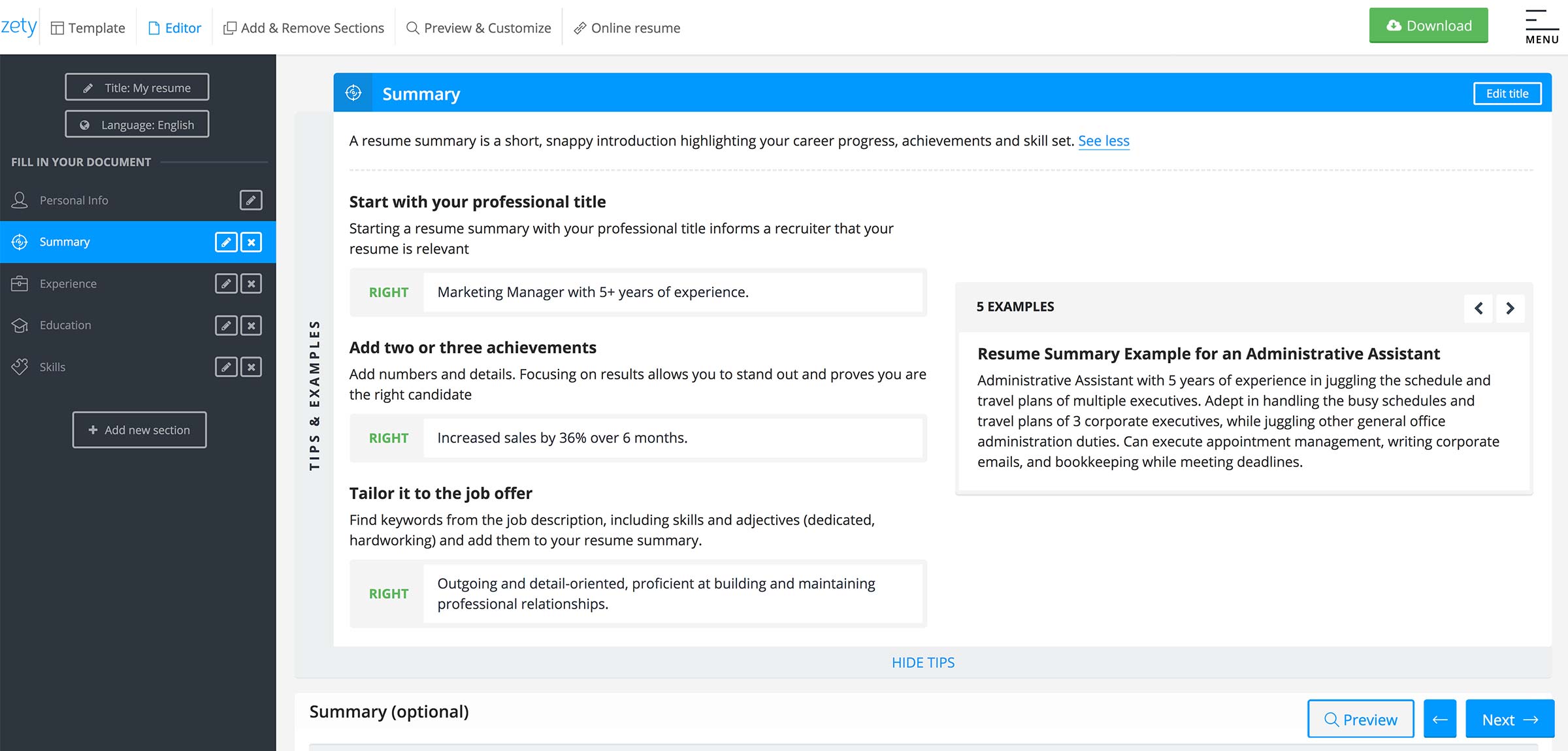 Inside Zety's resume tool you will find tips and examples for your resume.
3
How to Describe Your Delivery Job Experience
You know that feeling you get when you receive a surprise Amazon Flowers delivery?
Neither do I, but I imagine it feels wonderful.
Similarly, we need a work history section which delivers the same feeling to the employer.
Sample Delivery Driver Resume With Experience
Have a look at these FedEx driver job description examples:
right
Delivery Driver
January 2014–December 2017
FedEx Home Delivery, New York, NY
Key Qualifications & Responsibilities
Coached newly-hired drivers and drop-off hub unloaders on logistical procedures.
Assisted clients with pickup, drop-off, and transport of packages.
Capable and experienced with both flatbed and dry van operation.
Key Achievements
Identified new delivery routes which led to a distribution time reduction of 15%
Awarded the Safest Driver Award (0 traffic tickets and parking violations) for 2016–2017.
wrong
Delivery Driver
January 2014–December 2017
FedEx Home Delivery, New York, NY
Key Responsibilities
Delivered packages to customers.
Carried heavy boxes upstairs.
Brought unwieldy parcels downstairs.
That "Right" example follows up on your perfect resume intro statement by giving them key achievements with numbers so they can see you in the role.
The other one is just a list of delivery driver duties, and if they wanted that, they can just look at their job ad again.
Sample Delivery Driver Resume Without Experience
Only delivery experience you have is when you emerged from the womb?
No problem.
right
Customer Service Representative
January 2015–December 2018
1-800 Flowers, New York, NY
Key Qualifications & Responsibilities
Instructed team members and new recruits on phone and email duties.
Implemented and managed identification training on extensive product catalog.
Supervised large flower delivery accounts for local businesses.
Key Achievement
Reduced managerial workload by 25% through acting as an unofficial intermediary.
In this example, you show that, though you have no experience for this job, you have experience relevant to it. You picked the resume achievements and responsibilities that best match you for this delivery job.
Pro Tip: As you're writing the delivery work experience section, have the original job ad handy. Use it to make sure you're adding the bullet points and achievements that they value most. That's called tailoring, we'll talk about shortly.
4
Is Your Education Section Underperforming? It Might Be
Whether you're writing a FedEx Freight resume or a pizza delivery driver resume, you need to list your education.
Always put your highest level first, which could be high school, a degree, or a degree partially-completed.
Here's how to include a completed degree:
BA in Supply Chain Management
Brooklyn College, Brooklyn, NY
But what if you are still finishing up your college degree?
Here's how to list a still-in-progress degree:
Majoring in Supply Chain Management
City University of New York, New York, NY
Expected Graduation: 2020
And what if all you have is a high school diploma?
List your high school, styling it like this:
Townsend Harris High School, Flushing, NY
Graduated 2012
If you've completed a degree, don't add your high school. A degree-in-progress should have a completed high school listing after it to back it up, however.
Also remember that, if you have no work experience, this section gets swapped with the experience resume section.
Pro Tip: Most FedEx truck driving jobs (and the other carriers) don't have a minimum education requirement. However, skipping the academic section would still hurt your chances!
What if you haven't finished high school? How about if you have a GED?No worries, just check out: Education Resume Section: How to List High School & College Education.
5
How to Put Skills on a Delivery Driver Resume
Having skills is important to getting work whether they're FedEx home delivery jobs or food delivery driver jobs.
But, which skills?
First, make a list of some generic hard skills and soft skills related to conveyance. Hard skills are those abilities you can learn and number (e.g., Handheld Delivery 4.2 Software), while soft skills are life-learned traits (e.g., communication skills).
Here are some example delivery driver skills:
Delivery Driver Resume Skills

| | |
| --- | --- |
| Delivery Driver Hard Skills | Delivery Driver Soft Skills |
| Handheld Device Operation | Attention to Detail |
| Route Charting | |
| Truck Maintenance | Hand-Eye Coordination |
| Commercial Truck Operation | Work Well Under Pressure |
| Maps & GPS Orienteering | Customer Service |
However, instead of trying to come up with skills you think they want, why not add skills you know they're looking for?
You've got the answers right there in front of you—in the job ad.
Here's a sample of package delivery driver resume job description skills and requirements (for the United Parcel Service):
This is a physical, fast-paced, outdoor position that involves continual lifting, lowering and carrying packages that typically weigh 25-35 lbs. and may weigh up to 70 lbs. [1]
A DOT physical exam is required. [2]
Package Delivery Drivers must have excellent customer contact and driving skills. [3]
Some UPS facilities may require the ability to drive a delivery vehicle with a standard (manual) transmission. [3]
Qualified applicants must have a valid driver's license issued in the state that they live.
Now that we know what UPS is looking for, we can write a tailored skills section:
right
Physically fit and active, able to continuously carry over 100 lb loads [1]
Valid Department of Transportation (DOT) physical examination [2]
Terrific driving skills on both manual and automatic transmission [3]
wrong
Strong upper-body musculature, including lats, pecs, and delts.
Driving skills honed through rally racing hobby.
Customer service knowledge.
When you take a look at the job ad, it tells you exactly what they're searching for in a candidate.
Want more tips for writing the perfect resume skills list for shipment and distribution employment? See our guide: 99 Key Skills for a Resume (Best List of Examples for All Types of Jobs).
6
How to Add Other Sections for an Effective Delivery Driver Resume
You've covered all the core resume sections, but guess what?
So did all the other candidates.
To make your resume shine like your delivery truck's high beams, add some extra resume sections.
Here are some of the best bets:
Volunteer Work—Adding some unpaid labor to your resume will only benefit you, especially if you don't have any other work experience. However, make sure it's relevant!
Languages—Knowing another language is impressive to anyone you ask, and that is doubly true for hiring managers at the sorting facility.
Certifications—If you got a Class A, Class B, or Class C CDL (Commercial Driver's License), you've got a head start!
Hobbies & Interests—Group sports show you can function well on a team, an important trait for carriers who need fast-paced teamwork.
That's not all! We've got a great list of things to add to a resume, as well as a complete guide on resume parts (sections and categories.)
7
How About a Delivery Driver Cover Letter?
Is a cover letter necessary, even if the job ad says, "cover letter optional?"
It is if you want the to get in that driver's seat!
A resume without a delivery driver cover letter is incomplete, like a package without an address label.
Here's how to wrap up a cover letter that'll get you the green light:
Make a cover letter specifically for this job, just like your resume.
Personalize your cover letter with the hiring manager's name and company name.
Show how hiring you will benefit them and their current company goals.
Pro Tip: Your cover letter is usually the first impression you'll make on your prospective employer, so it's crucial you get it right. Starting a cover letter right is definitely not something to slack on!
Did you know our resume builder will also help you write a professional cover letter for a courier job? See these articles: 35+ Successful Cover Letter Tips, Advice & Guidelines (With Examples) and How to Write a Cover Letter in 8 Simple Steps (12+ Examples)
Plus, a great cover letter that matches your resume will give you an advantage over other candidates. You can write your cover letter in our resume builder here. Here's what it may look like: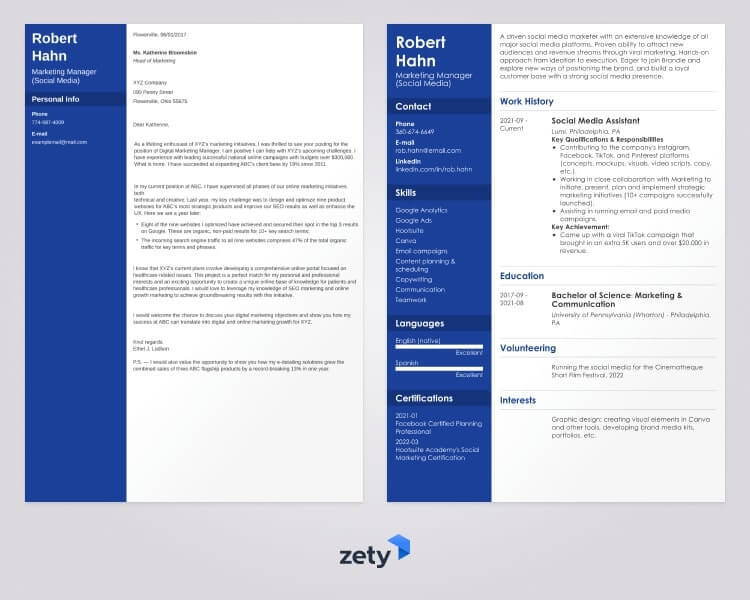 See more templates and create your resume and cover letter here.
Key Takeaway
To write the best resume for delivery drivers, keep in mind:
Choose the right resume format and keep the job ad out throughout your writing.
Make your heading statement compelling, whether it's a summary or objective.
List achievements with your work history to prove how good you are.
Choose 5 or 6 skills that are relevant to the delivery driver job.
Add an extra resume section or two to stand out from your competition.
Use a cover letter!
Now THAT'S a resume that delivers!
Got any questions on how to write a delivery driver resume? Not sure how to describe your delivery-related skills or achievements? Get at us in the comments below, and thanks for reading!