Driver Resume—Sample, Job Description & Template With Skills
Breaking news! Vehicular transport isn't going anywhere, but without a good driver resume, neither will you. Make sure you're up to speed with our driver resume guide.
Whether it's cargo or passengers, you always make sure they reach their destinations safely and on time.
But can you say the same about your driver resume?
If you're applying to be an Uber driver, a forklift operator, or good ol' Mister Jones driving kids to school, your resume needs to check all the boxes.
And we'll show you how.
This guide will show you:
A driver resume sample better than 9 out of 10 other resumes.
How to write a driver resume that will land you more interviews.
Tips and examples of how to put skills and achievements on a driver resume.
How to describe your experience on a resume for a driver to get any job you want.
Want to save time and have your resume ready in 5 minutes? Try our resume builder. It's fast and easy to use. Plus, you'll get ready-made content to add with one click. See 20+ resume templates and create your resume here.
Sample resume made with our builder—See more resume examples here.
Are you revving your engine in hot pursuit of other careers behind the wheel? See below:
Driver Resume Sample
Richard Montoya
Driver
361-367-5576
Rich.montoya@Zetymail.com
Resume Objective
Personable and enthusiastic fast food worker seeking to leverage 3+ years' experience in customer service and time management to become a new driver for Bob's Refrigeration. 7-time Employee of the Month at Chick-fil-A with a 98% positive customer review score. Obtained learner's permit for driving at age 14, scoring 100% on the test.
Work Experience
Customer Service Representative/Server
Chick-fil-A
Received customer orders and served them while exhibiting a fully positive and friendly attitude.
Communicated with clients and rest of team to efficiently and correctly distribute 50+ simultaneous orders during busy hours.
Successfully filled in as delivery driver in times of driver shortage, delivering 100% of orders accurately and on time.
Key Achievement:
7-time Employee of the Month with 98% positive customer review score.
Education
Klamath High School, Klamath, TN
September 2016–June 2019
GPA: 3.9
Captain of school basketball team
Vice-president of student union
Skills
Driving safety
Time management
Teamwork & communication
Working under pressure
Car maintenance
Friendliness
Other
Local amateur basketball league player
Volunteering at food bank
Class B driver's license
This is how you can write a driver resume as great as that one:
1. Pick the Best Driver Resume Format
Drivers are responsible for delivering goods and transporting people to and from places in a safe and timely manner. Depending on the exact nature of your employment, your driver resume needs to show you provide excellent customer service and that you're stress-tolerant on top of being punctual and well-organized.
Proving the latter is easy to do, at least partially, via a properly formatted resume. Here's how:
Pro Tip: Send the resume as a PDF instead of MS Word. It's less prone to accidents on Internet roads.
2. Choose Between a Driver Resume Summary and Resume Objective
A resume profile is the elevator pitch of the resume. Its task, much like yours, is to take the recruiter from point A to point B. Naturally, "A" stands for "Do I really need a driver?" and B is for "Be my driver, now!"
And there are two ways to handle it:
Resume summaries bring together the juiciest highlights of your career to present you in the best light and entice the reader to keep going.
Resume objectives take your transferable skills and past achievements from non-driving jobs to the forefront and prove that even without experience, you'd be an excellent driver to have in the fleet.
Regardless of what you choose, outfit it with numbers to make a good impression. They really do a lot of heavy lifting.
Read more: Resume Structure & How to Organize It
3. Prepare a Professional Driver Job Description for Your Resume
Automation poses a threat to your job security, with between 2 and 3 million jobs projected to be lost among long-haul drivers alone.
On the other hand, this study claims automation doesn't automatically (pun intended) mean that robots will steal your job from under your nose.
So who should you listen to?
Neither.
You can't predict the moderately-distant future.?
You can, however, shore up your defenses for the immediate future by creating a perfect job description to avoid having Elon Musk taking your job away.
And that means writing an excellent work experience section:
Pro Tip: Target the resume each time you send an application for an optimal success chance. Generic resumes are like brown station wagons in the 80s—recruiters see them far too often.
4. Mention Your Education on a Driver Resume
True: you don't actually need formal education of any kind to get a job as a driver.
False: not stating your degree for the above reason is a good idea
Why don't you start by putting down your school name, years spent in school, and the obtained degree?
But don't stop there, the light is still green.
If you think leaving your education like that would be the right move, you're definitely in the wrong lane.
Instead, add some extra school wins that imply you're hard-working, have great people skills, or excel at safety—again, all dependent on the exact nature of the gig you're applying for.
Read more: How to List Education on a Resume
When making a resume in our builder, drag & drop bullet points, skills, and auto-fill the boring stuff. Spell check? Check. Start building a professional resume template here for free.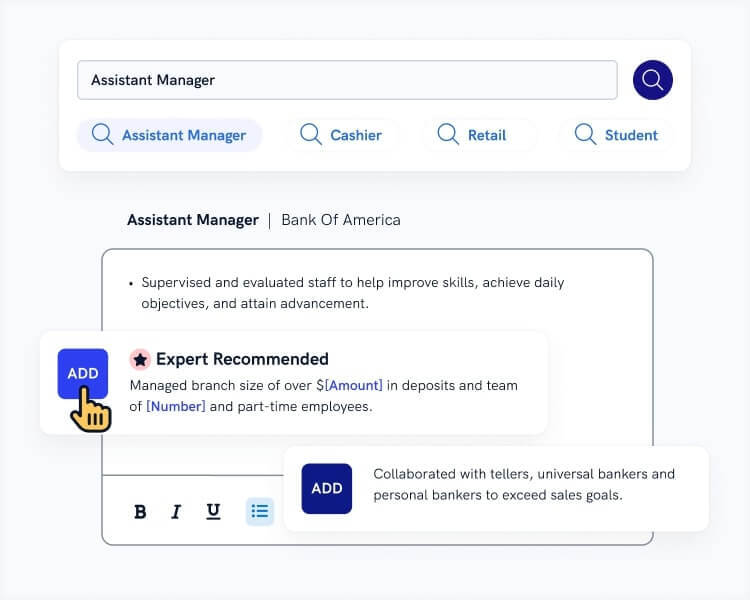 When you're done, our online resume builder will score your resume and our resume checker will tell you exactly how to make it better.
5. Drive the Point Home With a Great Skills Section
A poor skills section is like a gaudy paint job. Yikes. And you do want to suit your recruiter's taste.
So take a look at the sample list here:
Driver Resume Examples—Skills
Road Safety
First Aid
Car Repairs & Maintenance
Ability to Work Under Pressure
Patience
Navigation & GPS
Knowledge of City Streets & Addresses
Accident-Free Record
Efficiency
Physical Fitness
Familiarity With Traffic Laws & Regulations
Brake!
You can't simply put all of that on your resume—the recruiter would fall asleep at the wheel reading all of that. There's a better way.
First, make a list of all of your relevant behind-the-wheel skills.
Then, the job ad. Look through its description and find what the company will need of you.
Seek matches between your list and their descriptions. Boom, the stuff you get like this will boost the ATS score of your resume and bump you up in the rankings.
Pro Tip: To score even higher, weave those same skills you decide to put in this section into your job description. That way, you provide legitimate proof of your ability.
6. Put Extra Sections on Your Driver Resume
Currently, your neat and tidy resume is a good one.
Among many, in a seemingly endless convoy of all the same-y looking cars.
The idea behind additional information on your resume is to change that. Consider their role to be to impress the recruiter with your passion for what you do. Maybe you want to include your hobbies and interests on your resume, such as collecting matchbox cars when you were a kid, or that you're an avid F1 viewer, or even simple stuff, like foreign language skills.
The takeaway: Figure out what could be good for your story.
Read more: What NOT to Include on Your Resume
7. Send a Cover Letter With Your Driver Resume
Your destination is on your right.
But hold on, don't kill the engine just yet. Can't forget the cover letter.
Job application statistics say that every other recruiter won't like it if you don't submit one. Why risk it?
To write a great driver cover letter, you can follow these steps:
Read more: General Tips for Writing a Cover Letter
Plus, a great cover letter that matches your resume will give you an advantage over other candidates. You can write it in our cover letter builder here. Here's what it may look like: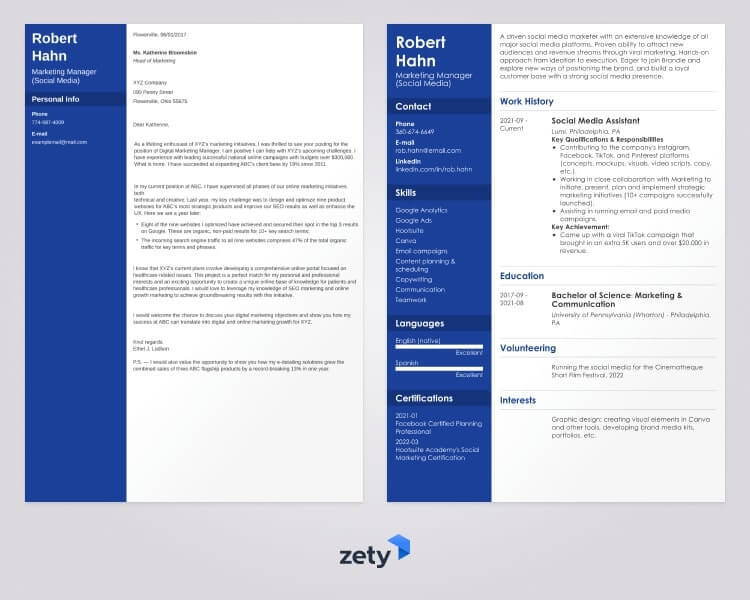 See more cover letter templates and start writing.
Got any extra advice for writing a driver resume? Maybe you still need some help to beef up your driver job description section? Head straight to the comments, and thanks for reading!
About Zety's Editorial Process
This article has been reviewed by our editorial team to make sure it follows Zety's editorial guidelines. We're committed to sharing our expertise and giving you trustworthy career advice tailored to your needs. High-quality content is what brings over 40 million readers to our site every year. But we don't stop there. Our team conducts original research to understand the job market better, and we pride ourselves on being quoted by top universities and prime media outlets from around the world.