Business Manager Resume Example & Guide
You can hire, fire, plan strategies, give pep-talks, and steer the ship to unprecedented success without a hitch. Prove it with this one-of-a-kind sample business manager resume.
As a business manager, you're used to being the boss. But when it comes to your resume, are you ruling with an iron fist? Don't let an outdated resume prevent you from conquering new career horizons.
With our guidance, you'll create a business manager resume that's unstoppable and ready for action.
This guide will show you:
A business manager resume example better than 9 out of 10 other resumes.
How to write a business manager resume that will land you more interviews.
Tips and examples of how to put skills and achievements on a business manager resume.
How to describe your experience on a resume for a business manager to get any job you want.
Want to save time and have your resume ready in 5 minutes? Try our resume builder. It's fast and easy to use. Plus, you'll get ready-made content to add with one click. See 20+ resume templates and create your resume here.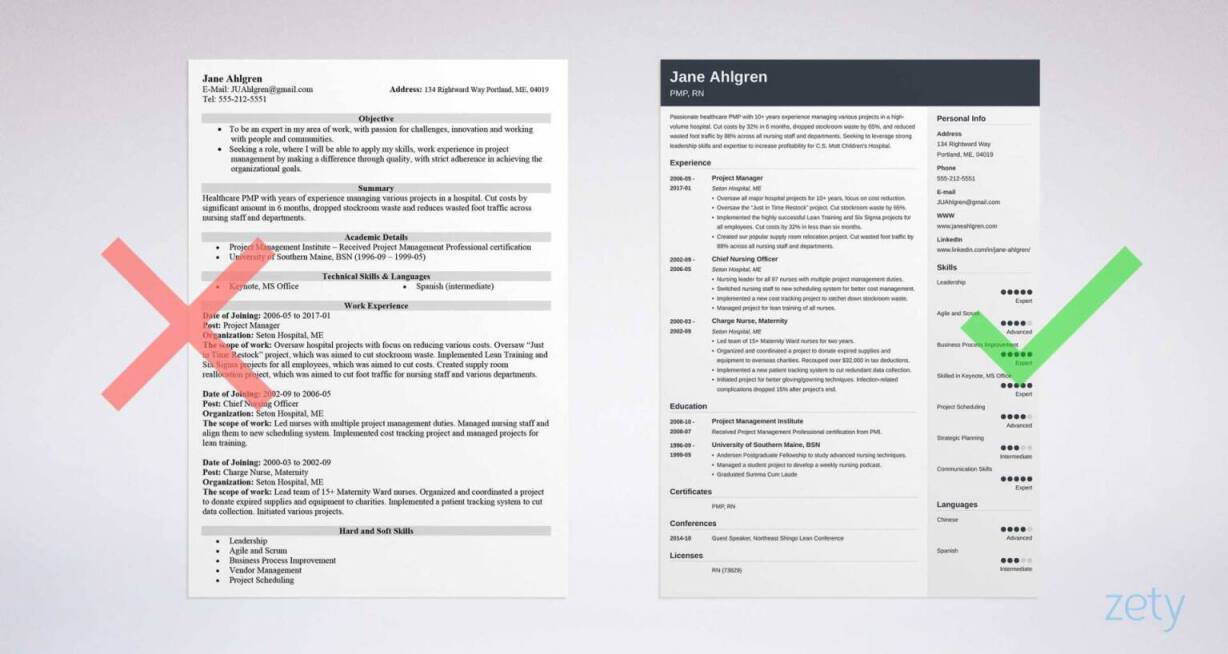 Sample resume made with our builder—See more resume examples here.
Is a resume for business managers your only choice? See our guides:
Business Manager Resume Example
Kate Naomichi, Business Manager
kate.q.naomichi@gmail.com
linkedin.com/in/kateqnaomichi
337-297-3232
Professional Summary
Effective business manager with 7+ years of experience. Skilled in marketing and financial management. Seeking to increase profitability by 35% at Superior Beverage. At Hex National Group, raised profits 35% in 4 years by controlling costs through directed employee idea programs at all business levels and strategic product development. Created sales-training program resulting in a $2.4M jump in annual revenue in 2 years.
Work Experience
Business Manager
Hex National Group
April 2014–May 2019
Increased profitability by 35% in 4 years.
Slashed costs 18% through creating businesswide idea program that generated 250,000 employee ideas per year and implemented 100,000 of them.
Led a strategic product development drive that created 30 new high-margin products in a 2-year period.
Developed and implemented a sales training program focused on best practices and upselling. Created a $2.4M rise in yearly revenue in 2 years.
General Manager
Swamp Based Outfitters
April 2012–March 2014
Worked as General Manager of busy outdoor retailer and adventure camp. Managed 37 staff, including guides, cooks, housekeepers, maintenance, lodging, and retail.
Raised profitability by 15% through focusing on better retail management and marketing.
Education
2008–2012 Tulane University
Bachelor of Science in Business Administration
Pursued a passion for financial management coursework.
President, Student Business Association, 2011–2012.
Skills
Technical Skills: Financial management, marketing, sales, business strategy, coaching
Soft Skills: Leadership, interpersonal skills, communication, time management
Activities
Volunteer business manager, BSA Evangeline Area Council
Avid sport fisher
Here's how to write a business manager resume that gets jobs:
1. Use the Best Business Manager Resume Format
Business Managers create and implement strategy. They guide companies to higher ROIs by directing sales, marketing, development, and production teams to higher levels of efficiency. A business manager resume must prove strong interpersonal skills, as well as analytical, leadership, financial management, and communication skills.
Your resume for business manager jobs sends an unspoken message:
It tells the hiring team you care (or don't).
So—use the best resume format for business managers.
That's the reverse chronological order resume.
Manage it like this:
Start with a header with your name and resume contact information. Put a phone number, email address, and LinkedIn in business or office manager resume headers.
Add the right resume parts in the right order: experience, education, then extras like activities or volunteering.
Use a resume PDF format to keep your work from looking sloppy on the hiring team's screen—unless the posting says to use MS Word.
Pro Tip: What size font for a resume for managers? Use 10, 11, or 12-point. The best font choices are Cambria, Helvetica, and Arial because they're easier to read.
2. Write a Business Manager Resume Objective or Resume Summary
You don't have long.
Our HR statistics report specifies how hiring teams spend only a few seconds with each business manager resume.
That means you've got to give an elevator pitch of yourself up top.
To write a good summary for resumes for business manager positions, add:
A single adjective ("efficient" or "talented")
"Business Manager"
Years of experience
Goal ("increase profitability by X%")
A few skills from the posting
A few achievements to prove those skills
Is this your first resume in the business management world?
Write a resume objective statement. Those put more weight on transferable skills like marketing or negotiation. Prove you've got them with accomplishments from non-business-manager jobs.
Pro Tip: The length of your resume matters. Aim for a single page. The exception? If you've been at this for more than seven years or have dozens of unique achievements, make it longer.
3. Join Your Resume to the Business Manager Job Description
Here's the challenge:
You send your business manager resume to 200 jobs online.
You get three replies.
It's time to raise that average.
Do it with a better work experience description on your resume for business manager jobs.
Follow these steps for writing a targeted resume:
Give each past position a job title to match the new job.
Add achievements for your resume bullets. Example: "slashed costs 18%."
Select achievements carefully. If the online ad wants product development, list a product development accomplishment.
Use numbers like "250,000" or "$2.4M" to impress.
Pro Tip: Sprinkle your bullets with resume action verbs like increased, slashed, and developed. Show what you improved, not what you were "responsible for."
When making a resume in our builder, drag & drop bullet points, skills, and auto-fill the boring stuff. Spell check? Check. Start building a professional resume template here for free.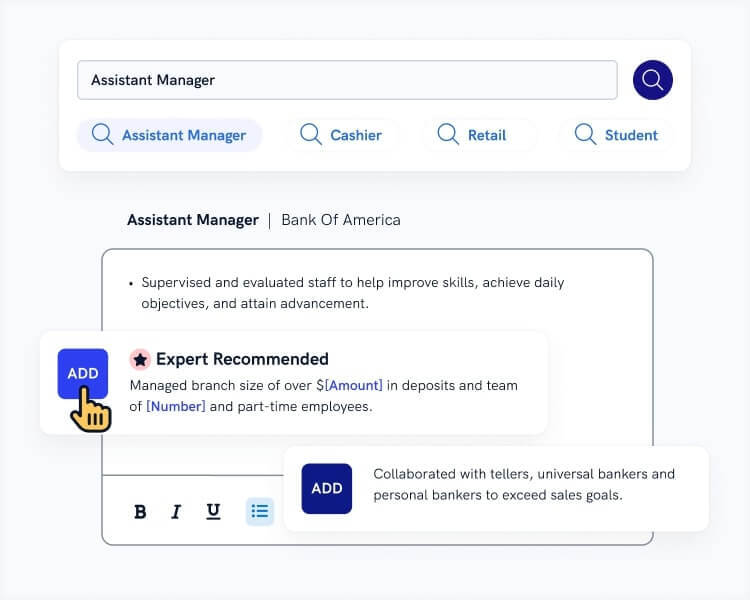 When you're done, Zety's resume builder will score your resume and our resume checker will tell you exactly how to make it better.
4. Manage Your Business Manager Resume Education Section
Attention:
Listing education on a resume isn't as clear-cut as you think.
Yes, write your school, degree, and graduation date.
But—
Use the space to prove your skills.
How?
With more business manager achievements on your resume.
Were you in a student business group? Did you enjoy finance management classes?
Include those as education bullets in your business manager resume.
Pro Tip: Just launching your business manager career? Your education section can use more resume real estate. For instance, one school project can show 3–5 accomplishments.
5. List Business Manager Skills in Your Resume
Here are some skills to list on your resume for business manager jobs:
Business Manager Resume Skills
Choose from these examples of technical skills for business manager resumes:
Financial management
Business networking
Sales
Negotiation
Business planning
Budgeting
Business strategy
Giving presentations
Coaching
Providing feedback
Consider these resume soft skills for business managers:
Delegation
Efficiency
Detail oriented
Pro Tip: Don't cram your resume with all those business manager skills. The hiring team will think you're bragging. Instead, spot the most important in the posting and list those.
6. Add Bonus Sections to Your Business Manager Resume
Show you're deep and powerful.
Do it with bonus sections on your business manager resume.
Choose from:
Activities
Conferences
Media mentions
Sports or fitness
Wondering where to put certifications on a resume like PMP or CSM? Put job-central certs in a "Certifications" section under your education section. Add others further down.
Pro Tip: Adding volunteer work to a resume is a smart move. If you were a volunteer business manager, list that under work experience. Put other volunteering in a lower section.
7. Send a Cover Letter With Your Business Manager Resume
Do you need a cover letter for a resume for business manager jobs?
Yes.
But a cover letter for a job needs passion.
Use these cover letter formatting rules:
Get attention with your cover letter opening. "When I drove our sales team to $2.4M in additional revenue..." will win.
Prove you've earned the business manager title in the middle, with achievements. Make sure they'd make this hiring team happy.
Know how to conclude a cover letter with a CTA and offer. "Can we talk about raising your profitability by 35%?" is a nice touch.
For a business manager job, how many paragraphs should your cover letter be? There should be three of them, about 100 words each.
Pro Tip: Follow up on a job application once a week. You don't have to write an essay. Be brief, but remind them of a few reasons you fit the business manager position.
Plus, a great cover letter that matches your resume will give you an advantage over other candidates. You can write it in our cover letter builder here. Here's what it may look like: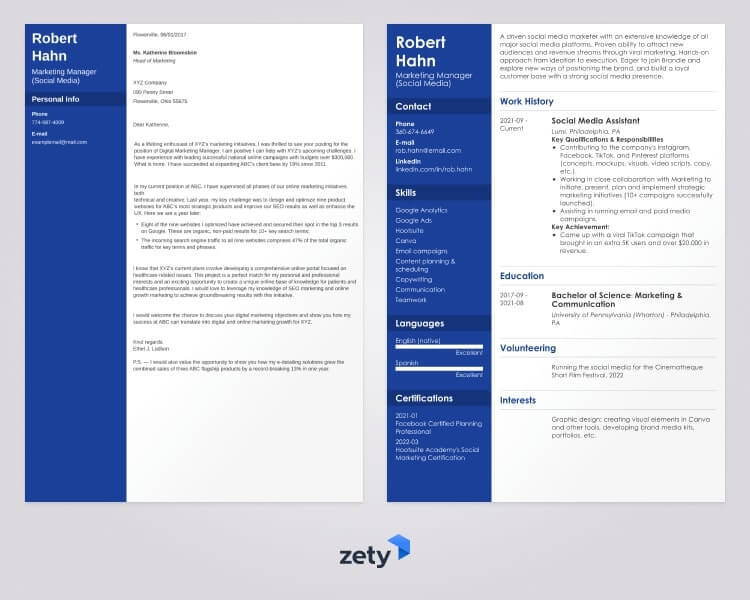 See more cover letter templates and start writing.
That's it!
That's how to write a business manager resume.
What do you think is missing from your business operations manager resume? Why do you think managers don't read resumes for business manager jobs carefully? Give us a shout in the comments. We'd love to talk!
About Zety's Editorial Process
This article has been reviewed by our editorial team to make sure it follows Zety's editorial guidelines. We're committed to sharing our expertise and giving you trustworthy career advice tailored to your needs. High-quality content is what brings over 40 million readers to our site every year. But we don't stop there. Our team conducts original research to understand the job market better, and we pride ourselves on being quoted by top universities and prime media outlets from around the world.
Sources