Our customers have been hired by:
You've got the sales skills to charm the socks off any client, but landing that dream account executive job feels like chasing a unicorn. The culprit? Your resume. It's time to give it a makeover and transform it into a deal-closing machine.
With our guidance, you'll create an account executive resume with hiring managers saying, 'Sold!'
This guide will show you:
An account executive resume example better than 9 out of 10 other resumes.
How to write an account executive resume that will land you more interviews.
Tips and examples of how to put skills and achievements on an account executive resume.
How to describe your experience on a resume for an account executive to get any job you want.
Want to save time and have your resume ready in 5 minutes? Try our resume builder. It's fast and easy to use. Plus, you'll get ready-made content to add with one click. See 20+ resume templates and create your resume here.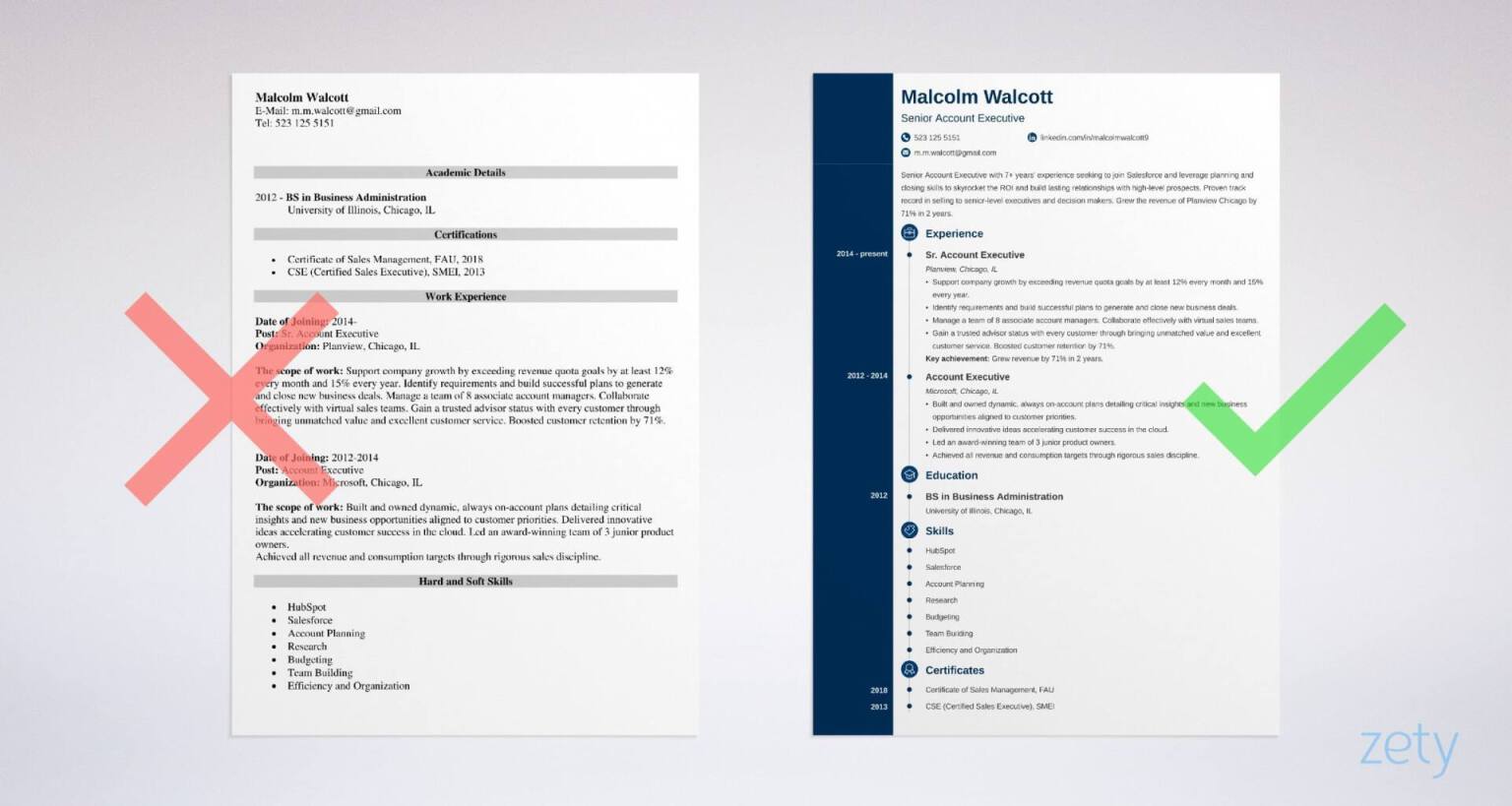 Sample resume made with our builder—See more resume samples here.
Targeting other jobs in marketing, sales, or general management too? See our other guides:
Not to mention our general business resume guides you might want to check out:
Still need more examples? Find a Resume Example for Any Job.
Account Executive Resume Sample
Malcolm Walcott
Senior Account Executive
523 125 5151
m.m.walcott@gmail.com
linkedin.com/in/malcolmwalcott9
Summary
Senior Account Executive with 7+ years' experience seeking to join Salesforce and leverage planning and closing skills to skyrocket the ROI and build lasting relationships with high-level prospects. Proven track record in selling to senior-level executives and decision makers. Grew the revenue of Planview Chicago by 71% in 2 years.
Work Experience
Sr. Account Executive
Planview, Chicago, IL
2014–
Support company growth by exceeding revenue quota goals by at least 12% every month and 15% every year.
Identify requirements and build successful plans to generate and close new business deals.
Manage a team of 8 associate account managers. Collaborate effectively with virtual sales teams.
Gain a trusted advisor status with every customer through bringing unmatched value and excellent customer service. Boosted customer retention by 71%.
Key achievement: Grew revenue by 71% in 2 years.
Account Executive
Microsoft, Chicago, IL
2012–2014
Built and owned dynamic, always on-account plans detailing critical insights and new business opportunities aligned to customer priorities.
Delivered innovative ideas accelerating customer success in the cloud.
Led an award-winning team of 3 junior product owners.
Achieved all revenue and consumption targets through rigorous sales discipline.
Education
BS in Business Administration
University of Illinois, Chicago, IL
2012
Key Skills:
HubSpot
Salesforce
Account Planning
Research
Budgeting
Team Building
Efficiency and Organization
Certifications
Certificate of Sales Management, FAU, 2018
CSE (Certified Sales Executive), SMEI, 2013
Here's how to write a good account executive resume:
1. Choose the Best Format for Your Account Executive Resume
You want the hiring manager to grasp your top selling points fast.
The best way to do it is to pick a good template for your account executive resume. One that:
Is elegant and legible.
Makes relevant information about your career easy to spot.
To get there, follow these rules:
Pro Tip: Pro Tip: Switching careers from customer service or sales? Use the combination resume format. It'll help you show key achievements from non-account-exec jobs.
2. Write an Account Executive Resume Summary or Objective
It's that short paragraph at the top of your resume. Works like a sales pitch: its purpose is to explain why you're just the account executive they've been looking for.
Got more than 2 years of experience? Use a resume summary. Highlight your career progress and skills set.

Writing a resume for an entry-level account exec? Go for a resume objective. Show what you've already learned and how well you'd fit in.

Whichever one you choose, though—

Don't write about what you want out of the job. Focus on what you have to offer instead.
Pro Tip: Although this section comes at the top of your resume resume, write it once you're done with the rest of your resume. Pick the best bits and put them in the resume profile.
3. Create the Perfect Account Executive Job Description
Here's what will either make or break your account executive job application—
The job descriptions on your resume's work history section.
Employers ask for a resume basically for the sole purpose of reviewing your work history.
The twist? Most candidates don't know how to write this section.
Ready?
Here's how to nail your account executive job descriptions:
Start with your current or most recent job, then add previous ones chronologically descending.
Include: your job title, the company name, dates worked, and up to 6 bullet points outlining your account executive responsibilities and showcasing achievements.
Start each bullet with a resume action verb.
Show off achievements that can be quantified. Numbers pop!
Tailor your resume to match the job ad. Focus on what's most relevant for the employer.
When making a resume in our builder, drag & drop bullet points, skills, and auto-fill the boring stuff. Spell check? Check. Start building a professional resume template here for free.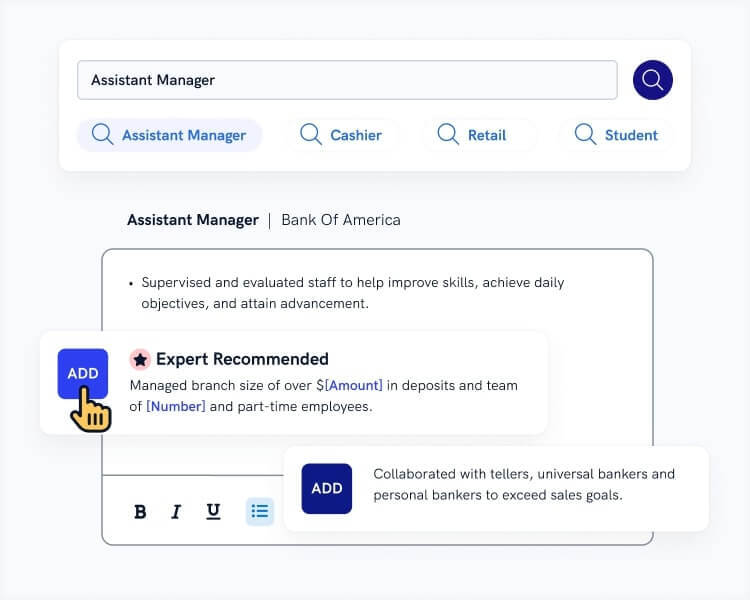 When you're done, Zety's resume builder will score your resume and our resume checker will tell you exactly how to make it better.
4. Make Your Account Executive Resume Education Section Shine
Good news!
The education section is usually the easiest one to write on an account exec resume.
Over 5 years of experience? Add only: your degree, major, minors, college name, graduation year.
Barely starting out in advertising and sales? Include also: academic achievements, extracurricular activities, relevant coursework, or favorite fields of study.
Pro Tip: Graduated within the last 2 years and haven't had a job in the industry yet? Put your education section above the work experience.
5. Highlight Your Account Executive Skills
If you want to know how to list skills on a resume for account executive position, we'll cover that in a moment.
Just came to get inspired by a list of good skills to put on ad resumes? Check this one out:
Key Account Executive Skills
Technical and Job-Specific Skills:
HubSpot
Salesforce
Account Planning
Project Management
Data Analysis
Social Media Skills
Email Skills
Research
Budgeting
Transferable and Soft Skills:
Interpersonal Skills
Relationship Building
Communication
Negotiation
Efficiency
Organization
But remember: raw lists of skills are useless. Think about this—
Imagine Porsche asks you to develop their ad campaign. Would you try to sell the 918 saying "1000+ HP, four-wheel drive and four-wheel steering?" Hell no.
You'd go more along the lines of "As fast as you can go without having to eat airline food." (Alright, you'd do better than this, but hey, it's your job, not mine.)
Features don't sell. Benefits do. List your skills as benefits hiring you would grant the future employer.
Start with a spreadsheet with all your skills: soft skills and hard skills, as well as purely technical skills.
Read the account executive job description and note out skills-related keywords.
Check how many of these are there in your spreadsheet. Quite a few? Great. That's your skills list.
Don't just put the names of your skills in a separate list. Provide evidence throughout all other sections of your resume.
Pro Tip: Want to know what marketing and sales skills are hot right now? Check out this state-of-the art guide we've written: 40+ Marketing Skills Everyone Should Master.
6. Add Other Sections to Your Account Executive Resume
Candidates lie on resumes and hiring managers know that. But—
You can make them actually believe your sales account executive resume. Add an extra section that shows off your unquestionable achievements:
Plus, a great cover letter that matches your resume will give you an advantage over other candidates. You can write it in our cover letter builder here. Here's what it may look like: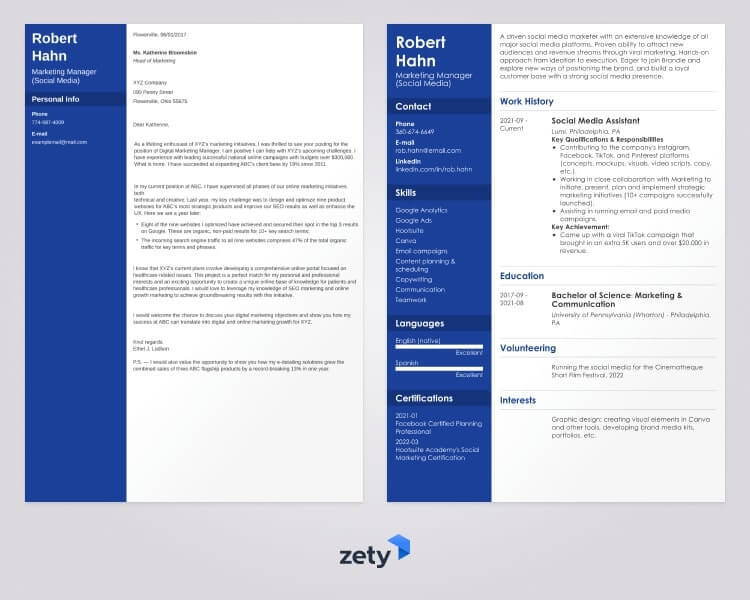 See more cover letter templates and start writing.
7. Attach Cover Letter to Your Account Executive Resume

Cutting down on advertising expenses to save money is like stopping your watch to save time. It just doesn't make sense.
And it's the same thing with choosing not to write a cover letter.
You still need a cover letter. One in two recruiters will automatically dismiss your resume if you haven't attached an account executive cover letter.
Here's how to write a cover letter for a resume in advertising:
Pro Tip: Applied for the job and still no call-back? Follow up on your resume and cover letter! Most advertising and sales pros stop calling after their fourth attempt. Most prospects, on the other hand, make up their mind no nooner than after the fourth call. A well-placed follow-up can make all the difference!
So there you have it—
Everything you need to know about writing a pitch-perfect resume for account executive positions.


Got more questions? Need further assistance? Drop me a line in the comments, I'll straighten out all your queries!
About Zety's Editorial Process
This article has been reviewed by our editorial team to make sure it follows Zety's editorial guidelines. We're committed to sharing our expertise and giving you trustworthy career advice tailored to your needs. High-quality content is what brings over 40 million readers to our site every year. But we don't stop there. Our team conducts original research to understand the job market better, and we pride ourselves on being quoted by top universities and prime media outlets from around the world.