Salesforce Resume Samples (Analyst, Administrator or Dev)
Whether you're a Salesforce developer, administrator, or business analyst, you need to prove you know CRM inside and out. Do it with this winning sample Salesforce resume.
Who doesn't want to be a Salesforce expert? The pay is good, remote work opportunities are plentiful, and the demand for Salesforce professionals is on the rise. And… that's the problem.
Since everyone wants to be a Salesforce pro, there are so many candidates for every Salesforce job that your resume simply gets lost somewhere on recruiters' desks. So, you've got to outsmart the competition and develop a Salesforce resume that won't remain unnoticed.
This guide will show you:
A Salesforce resume example better than 9 out of 10 other resumes.
How to write a Salesforce resume that will land you more interviews.
Tips and examples of how to put skills and achievements on a Salesforce resume.
How to describe your experience on a resume for a Salesforce expert to get any job you want.
Want to save time and have your resume ready in 5 minutes? Try our resume builder. It's fast and easy to use. Plus, you'll get ready-made content to add with one click. See 20+ resume templates and create your resume here.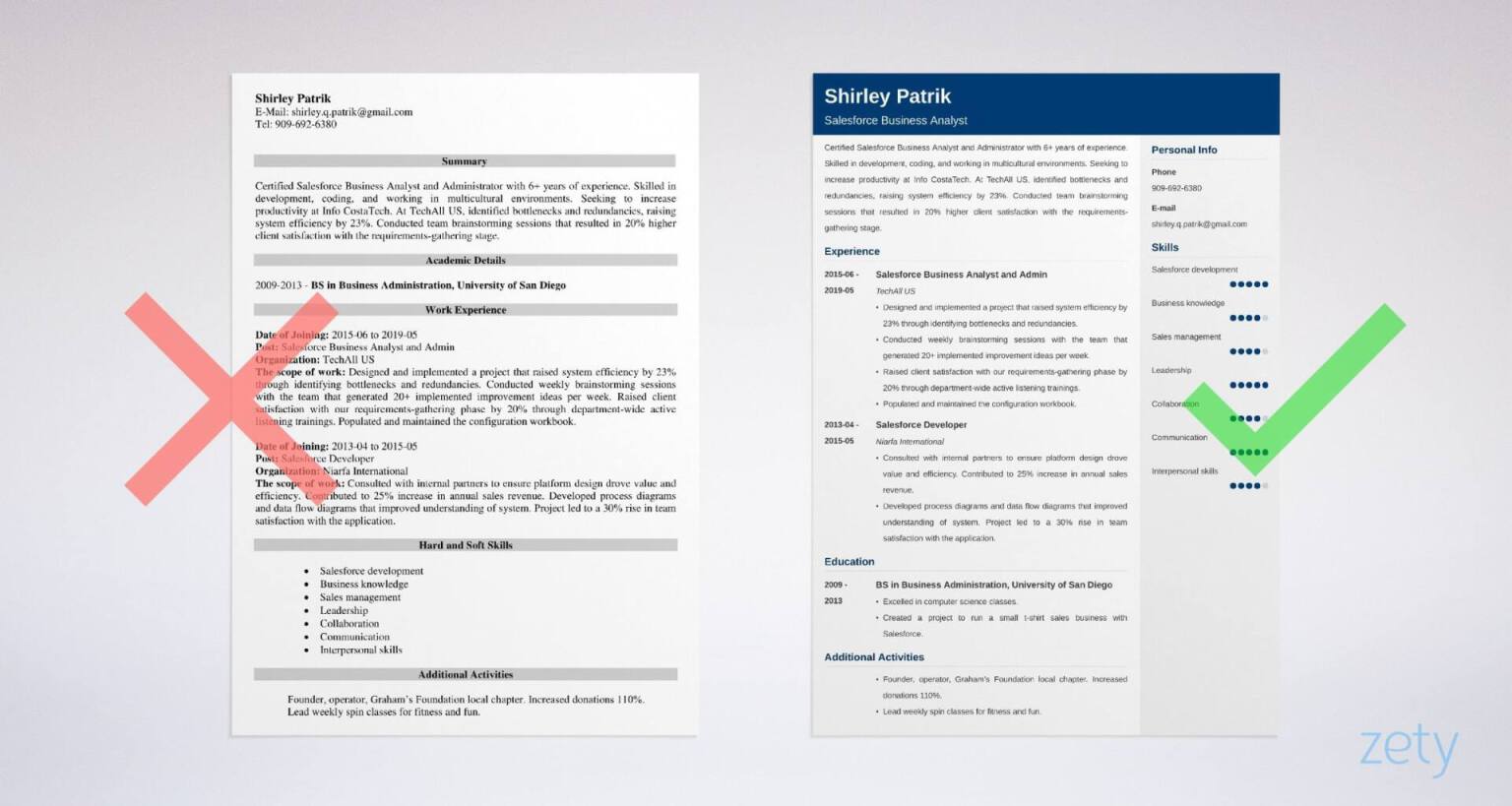 Sample resume made with our builder—See more resume examples here.
Looking for other jobs that combine business and IT? Try our other guides:
Salesforce Resume Sample
Shirley Patrik, Salesforce Business Analyst
shirley.q.patrik@gmail.com
909-692-6380
Professional Summary
Certified Salesforce Business Analyst and Administrator with 6+ years of experience. Skilled in development, coding, and working in multicultural environments. Seeking to increase productivity at Info CostaTech. At TechAll US, identified bottlenecks and redundancies, raising system efficiency by 23%. Conducted team brainstorming sessions that resulted in 20% higher client satisfaction with the requirements-gathering stage.
Work Experience
Salesforce Business Analyst and Admin
TechAll US
June 2015–May 2019
Designed and implemented a project that raised system efficiency by 23% through identifying bottlenecks and redundancies.
Conducted weekly brainstorming sessions with the team that generated 20+ implemented improvement ideas per week.
Raised client satisfaction with our requirements-gathering phase by 20% through department-wide active listening trainings.
Populated and maintained the configuration workbook.
Salesforce Developer
Niarfa International
April 2013–May 2015
Consulted with internal partners to ensure platform design drove value and efficiency. Contributed to 25% increase in annual sales revenue.
Developed process diagrams and data flow diagrams that improved understanding of system. Project led to a 30% rise in team satisfaction with the application.
Education
2009–2013 University of San Diego
BS in Business Administration
Excelled in computer science classes.
Created a project to run a small t-shirt sales business with Salesforce.
Skills
Technical Skills:

Salesforce development, business knowledge, sales management

Soft Skills:

Leadership, collaboration, communication, interpersonal skills
Activities
Founder, operator, Graham's Foundation local chapter. Increased donations 110%.
Lead weekly spin classes for fitness and fun.
Here's how to write a Salesforce resume that gets jobs:
1. Choose the Best Salesforce Resume Format
Salesforce developers work on web and mobile apps in businesses. They may integrate Salesforce with other platforms, or customize Salesforce to specific organizational needs. A salesforce developer resume should show data modeling and security tasks, with a good grasp of Salesforce, Lightning, and Apex.
Salesforce business analysts dig into the data and deliver top-line business insights that help guide the sales team and company to higher revenues and ROI. A salesforce business analyst resume proves you can track and evaluate, solve problems, and suggest the best course of action.
Salesforce administrators handle basic administrative functions in a Salesforce environment. That includes generating reports, maintaining dashboards, performing user account maintenance, and managing data feeds. A salesforce administrator resume should prove you can do all this, plus generate creative solutions, often working across business levels.
Salesforce workers have to pay attention to detail.
A phoned-in Salesforce resume will cross you off the list.
Use the best resume writing format for Salesforce jobs. For example a chronological resume puts your most relevant work history first.
Pro Tip: The best font for resume use is Cambria, but we like Arial, Georgia, and Helvetica too. Why? They're easy to read and hiring managers like that.
2. Write a Salesforce Resume Objective or Resume Summary
You need to sell them fast.
Here's how to write a resume profile that gets noticed:
Write a paragraph near the top of your Salesforce resume that pulls in all your best bits.
Say whether you're a Salesforce Business Analyst, Admin, or Developer.
State your mission (increase efficiency or boost revenue).
Add a couple Salesforce skills like sales management or business knowledge.
Important: List a couple Salesforce achievements that really helped your company.
If you're experienced, this section is called a profile summary. If not it's called a career objective. Objectives give more weight to skills and goals than to experience.
Pro Tip: The best time to write a summary in a resume for Salesforce jobs is last. It's much easier to summarize your resume if you've got plenty to summarize.
3. Link Your Resume to the Salesforce Job Description
Make the hiring team want you.
Here's how:
Connect the work experience in a resume for Salesforce jobs to the position you want.
Here's how to tailor a resume for a specific job:
Add business titles, companies, and dates to every job.
Add a few bullets to each job too. Fill them with Salesforce achievements that show key skills.
Use numbers like "20+" or "30%" to give your work some heft.
Pro Tip: How can you keep the hiring team from snoring as they read your salesforce resume? With zippy resume synonyms that grab them like the Lightning Platform.
4. Juice Up Your Salesforce Resume Education Section
There's a trick to listing education on a resume.
Yes you need dates and the name of your school. But—
Add key Salesforce achievements.
For example, playing sports shows teamwork. Leading a club shows leadership in a Salesforce resume.
In a resume with no experience, expand your education section.
Pro Tip: Don't list your GPA unless it'll knock their shoes off or unless you just got out of school. Your Salesforce developer resume should show great achievements only.
5. Show Salesforce Skills in Your Resume
You need Salesforce skills in a resume for Salesforce jobs.
Salesforce Resume Skills
Hard Skills:
Salesforce experience
Business knowledge
Working in multicultural environments
Documentation
Analysis
Requirements gathering
CRM implementation
Sales
Apex
Software design
Soft Skills:
Detail oriented
Efficiency
Perceptiveness
But—
Don't use every skill in your Salesforce business analyst resume or Salesforce administrator resume.
Hit the ones from the job ad, plus some extras.
Pro Tip: The best hard skills for a resume will come from the job posting. If they mention Apex in the ad, you'd better believe you need bullet points that prove you've mastered it.
When making a resume in our builder, drag & drop bullet points, skills, and auto-fill the boring stuff. Spell check? Check. Start building a professional resume template here for free.
When you're done, our easy resume builder will score your resume and our resume checker will tell you exactly how to make it better.
6. Add Other Sections to Your Salesforce Resume
This will make the difference.
Add bonus Salesforce resume categories.
They'll make the hiring team want to talk to you.
Include:
Activities
Conferences
Publications
Media appearances
Clubs or associations
Sports and fitness
Honors/awards
Volunteering
Here's how to list languages on a resume: Add them as skills, then show how you've used them to help the bottom line at former companies.
Pro Tip: List resume volunteer work like another job if it shows big Salesforce skills like leadership or teamwork. Otherwise, put it in an "Activities" section.
7. Send a Cover Letter With Your Salesforce Resume
Do you need a cover letter with a Salesforce resume?
Certainly.
The Salesforce cover letter is your chance to catch their eye.
To write the best cover letter for a resume for Salesforce jobs:
Send a follow up email for a job application in 3 days, a week, and then in two weeks. Each one is a free ticket for another chance.
Plus, a great cover letter that matches your resume will give you an advantage over other candidates. You can write it in our cover letter builder here. Here's what it may look like: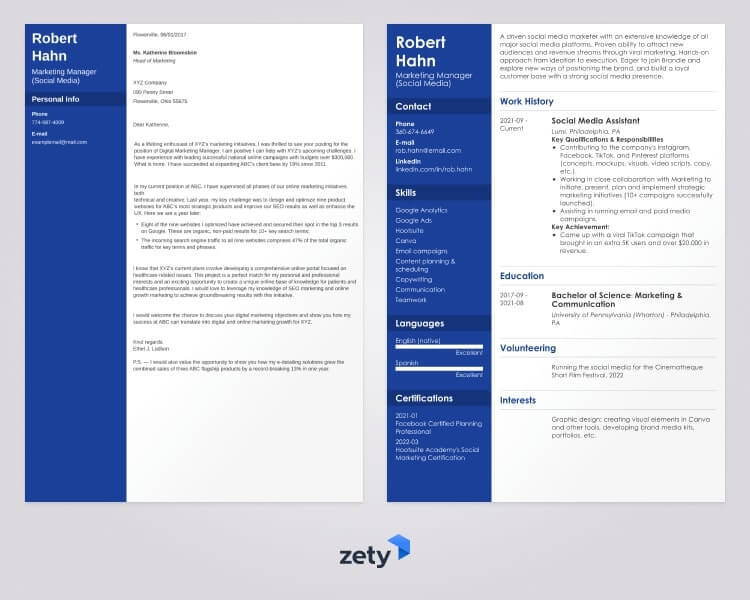 See more cover letter templates and start writing.
That's it!
That's how to write a Salesforce admin or Salesforce developer resume.
Is your resume for Salesforce jobs too wimpy? Does your salesforce resume make you want to crawl into a hole? Give us a shout in the comments. We'd love to talk!
About Zety's Editorial Process
This article has been reviewed by our editorial team to make sure it follows Zety's editorial guidelines. We're committed to sharing our expertise and giving you trustworthy career advice tailored to your needs. High-quality content is what brings over 40 million readers to our site every year. But we don't stop there. Our team conducts original research to understand the job market better, and we pride ourselves on being quoted by top universities and prime media outlets from around the world.