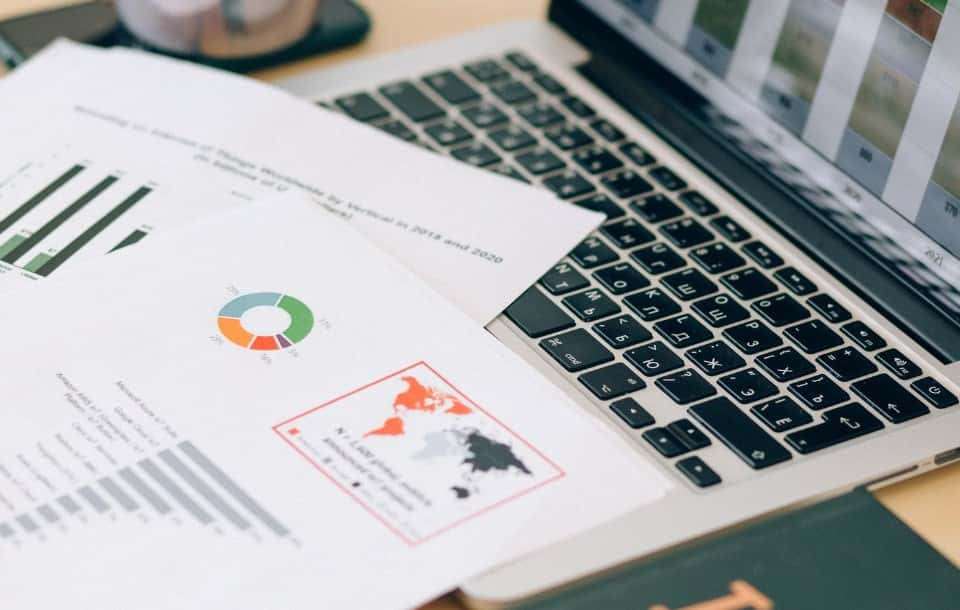 Salesforce Business Analyst Resume: Sample and Guide
You know Salesforce like the back of your hand and can't wait to use it to grow and improve companies. Time to optimize the performance of your Salesforce business analyst resume!
You've spent so many hours polishing your Salesforce skills on Trailhead, you started having nightmares about that little raccoon. (It is a raccoon, right…?) You should be settling into your brand-new office by now—
Instead, you're stuck sending 20 job applications a day to no effect. Was it all a huge waste of time? No way! You just need a Salesforce business analyst resume that puts the force in Salesforce!
This guide will show you:
A Salesforce business analyst resume example better than 9 out of 10 other resumes.
How to write a Salesforce business analyst resume that will land you more interviews.
Tips and examples of how to put skills and achievements on a Salesforce business analyst resume.
How to describe your experience on a resume for a Salesforce business analyst to get any job you want.
Want to save time and have your resume ready in 5 minutes? Try our resume builder. It's fast and easy to use. Plus, you'll get ready-made content to add with one click. See 20+ resume templates and create your resume here.
Sample resume made with our builder—See more resume examples here.
Considering applying for similar positions? Check out these guides:
Salesforce Business Analyst Resume Sample
Jennifer Smith
Salesforce Business Analyst
954-437-1554
jennifer.b.smith@gmail.com
linkedin.com/in/jennifer.b.smith
https://trailblazer.me/id/jennifer-smith
Summary
Proven Salesforce Business Analyst with 5+ years of experience and Ranger Trailblazer rank. The insights I extracted from Salesforce data saved Mahall Co. over $10,000/month and increased sales by 7%. Saved 1000+ employee hours with 4 proprietary Salesforce apps. Seeking to apply my expertise towards driving ROI and customer satisfaction for Arand Co.
Experience
Salesforce Business Analyst
Mahall Co.
September 2019–April 2021
Key Qualifications & Responsibilities
Drove ROI and customer satisfaction through active monitoring and analysis of business performance data using Salesforce solutions.
Built 4 Salesforce apps for tracking and measuring customer satisfaction and sales performance, saving 1000+ employee hours/week across 3 departments.
Made 20+ improvements to existing Salesforce solutions, increasing the data collection efficiency by 14% and introducing 5 new metrics.
Introduced the practice of integrating blockchain solutions into the company's Salesforce use.
Key Achievement:
Saved the company over $10,000/month in unnecessary expenses and increased sales by 7% through extracting actionable insights from Salesforce data.
Salesforce Administrator
Sidesk
July 2016–September 2019
Maintained the Salesforce platform and its use, performing updates, running APEX tests, documenting error reports.
Created 500+ new user-profiles and resolved 20+ user issues per week with a 100% success rate.
Introduced changes to internal Salesforce processes, decreasing the incidence of errors by 27%.
Integrated 5+ additional cloud-based tools into Salesforce, including Marketo and Netsuite.
Education
BS in Information Systems, Utah State University
2012–2016
Skills
Data analysis
Marketo
Oracle EBS
Ring Lead
AppExchange
CRM
Automation
Communication
Problem-solving
Time management
Certifications
Professional Scrum Master I (PSM I)
Scrum.org, 2019
Salesforce Platform Developer I
Salesforce Trailhead, 2018
Salesforce Administrator
Salesforce Trailhead, 2016
Salesforce Superbadges
Process Automation Specialist (2020)
Apex Specialist (2018)
Business Administration Specialist (2017)
Here's how to write a job-winning Salesforce business analyst resume:
1. Choose the Right Format for Your Resume
Salesforce business analysts monitor the performance and efficiency of a company's Salesforce processes in order to identify areas for improvement. Your Salesforce business analyst resume should show your Salesforce expertise, but also prove you're a data-driven professional able to extract insights from complex data.
So—
It all starts with the right layout for your resume. Using a professional format will let recruiters know straight away that you're an organized professional with an eye for visualizing large batches of information in a clear, concise way.
Here's how to format your Salesforce business analyst resume:
Well done!
You now have a resume template that's clear and organized like a professional dashboard. Time to fill it with job-winning components!
Having trouble with your wireframing? Read more: How to Format Your Resume: Full Guide to Best Resume Formats
2. Write a Salesforce Business Analyst Resume Objective or Resume Summary
Just like most Salesforce applications, recruitment processes are optimized for efficiency. That's great for them, but not so much for you—
It means you only have about 6 seconds to impress the recruiter and get them to read your resume in full.
How?
By grabbing their attention with a strong resume profile. The introductory paragraph of your resume should immediately show your value and expertise.
If you have more than 2 years of relevant experience, write a resume summary. Here's what to include:
Your job title, years of experience, and a couple of relevant professional skills
A sentence or two describing your biggest achievement(s) as a Salesforce professional
An offer to help the company achieve a specific goal
If you're writing an entry-level Salesforce business analyst resume, write a resume objective. Focus on your determination to succeed in the role. Prove your suitability by mentioning some of the following:
Your academic accomplishments, including Trailblazer achievements and Trailhead certs
Transferable skills and experience (particularly for career-change resumes)
What you can offer to the company, e.g. how you can contribute to driving profit or customer satisfaction
If you're encountering errors, leave your introduction blank for now and come back to it at the end. Write your work experience section first—it'll give you a strong data set from which to extract your best achievements!
Read more: Resume Introductions: Guide, Tips & Examples
3. Create the Perfect Salesforce Business Analyst Experience Section
The experience section of your resume is where you describe your duties from previous jobs, right?
Absolutely not.
To make your resume stand out like a 20% spike in profits, you need to focus on measurable achievements, not duties. Instead of describing your daily tasks at each job, tell the recruiter what you achieved in each position. After all, efficiency should be your middle name!
Here's how to create a job-winning work experience resume section:
Pro tip: Make sure to get your capitalization right! The correct spelling is Salesforce, not SalesForce. High-end recruiters have been known to reject resumes because of this error.
4. Make Your Resume Education Section Shine
Your next critical update involves adding details of your education to your Salesforce business analyst resume. Even if the requirements in the job ad don't mention a degree, it's still worth mentioning!
If you have a few years of relevant experience, stick to the basics: include your degree, college name, and years of attendance.
However, if you're an entry-level candidate, it's a good idea to put your resume education section to good use.
Include a few additional bullet points with:
Do your minors and majors offer different insights? Read more: How to Put Minors and Majors on a Resume: Guide & Templates
5. List/Highlight Your Salesforce and Professional Skills
Resumes that don't mention skills relevant to the job risk getting a negative auto-response—
Especially since most applications nowadays get pre-screened for keywords by ATS (Applicant Tracking System) software.
To show your understanding of the Salesforce business analyst position and avoid getting a demotion from ATS, include a list of relevant skills in a separate section of your resume.
Here's how to come up with a list of skills for a resume:
Compile two datasets: one containing your best skills and proficiencies, and the other listing the skills mentioned in the job ad.
Remember to include both hard skills and soft skills, plus relevant computer skills.
Analyze the two datasets and extract a list of matching entries.
Add 10 most relevant skills that match your experience and the job ad to your resume.
If you get stuck, check out the Salesforce business analyst resume sample above—it features a great list of skills. For more inspiration, here's a skills list from a Salesforce consultant resume:
Salesforce Business Analyst Resume Skills
Salesforce development
Salesforce tools & integrations
Lightning Platform
Business development
Project management
Marketing Cloud
Communication
Presentation and public speaking
Problem-solving
Teamwork
When making a resume in our builder, drag & drop bullet points, skills, and auto-fill the boring stuff. Spell check? Check. Start building a professional resume template here for free.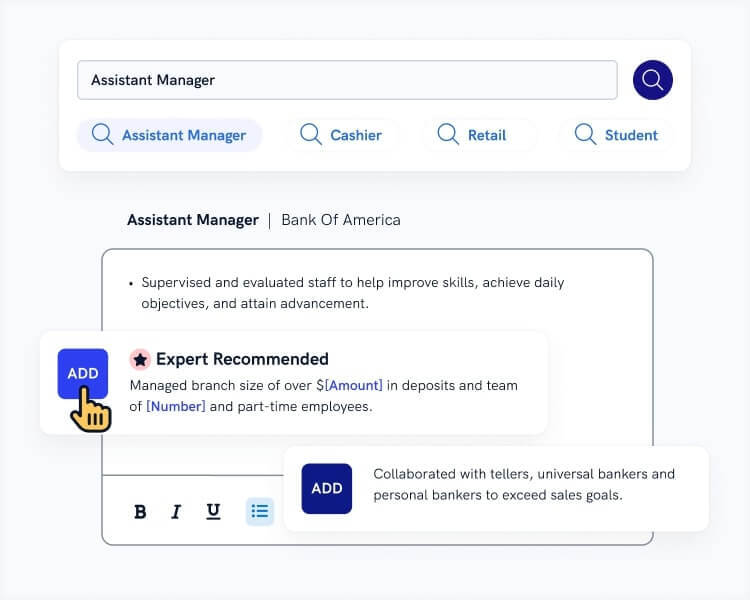 When you're done, our easy resume builder will score your resume and our resume checker will tell you exactly how to make it better.
6. Add Other Sections to Your Salesforce Business Analyst Resume
Almost done—
You're just a few points away from reaching the next level in your career!
All that's left is adding bonus sections to your resume, including:
Certifications on a Resume: here's your chance to use those hard-earned badges! Mention any Trailhead certs you've obtained, as well as relevant Superbadges. And of course, remember to list your non-Salesforce certifications, like Scrum Master or Excel certs.
Languages on a Resume: if you speak any foreign languages, list them on your resume—indicating your level of proficiency, e.g. fluent or intermediate.
Volunteer Work on a Resume: volunteering experience shows you're a proactive team player.
Memberships: being active in a professional association like the International Institute of Business Analysis can give you a real edge over the competition.
Awards: Ever get official recognition for a project? Definitely worth mentioning! As an added bonus, it'll give you a great talking point during your interview.
Is your hobbies and interests package worth uploading? Read more: How to Put Hobbies on a Resume: Guide and Examples of Resume-Worthy Interests
7. Attach a Cover Letter to Your Salesforce Business Analyst Resume
Hey, Resume Ranger!
Looks like you've finished analyzing your career and presented your findings on a world-class resume.
Well done!
Just one last thing left to do: writing a matching cover letter.
Yeah, no one's happy to hear that. But attaching a cover letter is necessary: neglecting to do so would really hurt your chances of landing a job. But hey—
Don't worry! It's much easier than writing a quarterly performance report.
Here's how to write the perfect cover letter for a Salesforce business analyst:
Make sure to use the right cover letter format.
Open on a big achievement: start your cover letter on a strong note to grab the reader's attention.
Prove yourself in the middle of the cover letter, showing you have the right skills to succeed in the Salesforce business analyst role and bring specific value to the company.
End your cover letter on a call to action. Make them want to find out more about you!
See? It's far less daunting than it sounded at first. Plus, it doesn't have to go on for pages on end: the best cover letter length is under one page.
Plus, a great cover letter that matches your resume will give you an advantage over other candidates. You can write it in our cover letter builder here. Here's what it may look like: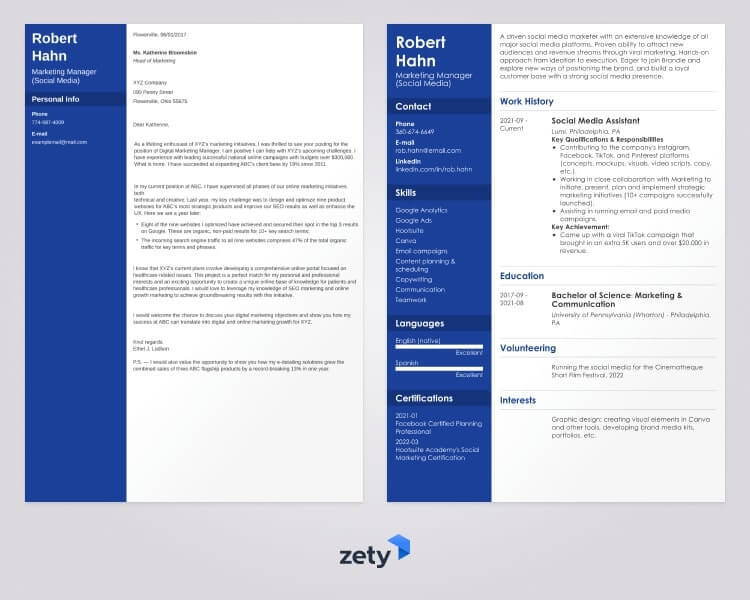 See more cover letter templates and start writing.
That's it!
Congrats on writing your brand-new resume and cover letter. You're ready to blaze a trail to your dream job!
Thanks for reading! How was writing your resume? Is it difficult to pick the most relevant skills for a Salesforce business analyst resume? Drop us a line in the comments below!
About Zety's Editorial Process
This article has been reviewed by our editorial team to make sure it follows Zety's editorial guidelines. We're committed to sharing our expertise and giving you trustworthy career advice tailored to your needs. High-quality content is what brings over 40 million readers to our site every year. But we don't stop there. Our team conducts original research to understand the job market better, and we pride ourselves on being quoted by top universities and prime media outlets from around the world.
Sources