CRM Resume: Example, Writing Guide & Tips for All Levels
Whether it's Salesforce or Microsoft Dynamics, your customer relations get managed at the next level. See how to translate that on a CRM resume and secure your next job in a flash.
A happy customer is a returning customer, and no one takes better care of your client base better than you do.
Even if some of it is through automated management processes running the pipeline for you. Shame there's no way of automating your CRM resume!
There are a few necessary steps to take if you want to succeed in the hiring manager's eyes. You're about to learn how.
This guide will show you:
A CRM resume example better than 9 out of 10 other resumes.
How to write a CRM resume that will land you more interviews.
Tips and examples of how to put skills and achievements on a CRM resume.
How to describe your experience on a resume for CRM positions to get any job you want.
Want to save time and have your resume ready in 5 minutes? Try our resume builder. It's fast and easy to use. Plus, you'll get ready-made content to add with one click. See 20+ resume templates and create your resume here.
Sample resume made with our builder—See more resume examples here.
Are you staring down the wrong pipeline? Check these articles out instead:
CRM Resume Sample
Matthew A. Heaton
CRM Manager
504-793-7376
MattHeaton@zetymail.com
Linkedin.com/in/12matt.heaton
Summary
Empathetic and reliable CRM expert with 3 years of experience in managing customer relations. Implemented a push notification and e-mail campaign targeting inactive users, increasing engagement among target group by 28%. Kept key stakeholders in the loop about all relevant KPIs. Generated more than $1.5M in revenue in 2021.
Work Experience
CRM Manager
Frontdoor, Seattle, WA
September 2020–present
Increased engagement among inactive users through a push notification and e-mail campaign by 28%.
Responsibly handled escalated cases and complaints by irate customers, reducing loss of business incidents by 40% more than company average.
Assisted senior leadership in making guided and informed decisions based on industry knowledge.
Reduced staff turnover by 15% through implementation of improved productivity measures, as well as a revised training manual and performance review system.
Customer Support Specialist
DraftKings, Salem, OR
September 2019–September 2020
Served as first-line POC for customers calling/writing in, handling up to 150 contacts daily.
Received the "Friendliest Rep" award for outstanding work performance and propensity for successful de-escalation.
Drove improvements to the company's CRM initiatives by interfacing with CRM managers and admins through scheduled bi-weekly meetings.
Education
Associate's Degree in Marketing
Kent State University, Ohio
September 2017–June 2019
Minors: Psychology & e-Commerce
GPA: 3.5
Relevant coursework: Business Development, Workplace Psychology, Sales Tactics
Skills
CRM systems (Salesforce, MS Dynamics)
Content Writing/Creation
Customer Service
Empathy & Communication
Emotional Intelligence
Business Strategizing
Conversion
Identifying KPIs
Interests
Cryptocurrency & Index funds
Inclusive & conscious business development
This is how to write a great CRM resume, step-by-step:
1. Pick the Right CRM Resume Format
CRM experts interact with the customers to ensure full satisfaction using customer relationship management (CRM) software. They assess customer needs and measure success. Thus, a great CRM resume should prove efficient communication and ability to make process improvements.
So, let's assume you send in a resume, and it flops.
Why?
Well, there could be many reasons, so let's start with the basics: your resume formatting might need some work.
Here's how to fix it:
Pro Tip: Naturally double, or even triple-check your resume for poor formatting and spelling mistakes. These things can break even the best-looking resume.
2. Introduce Yourself with a Neat CRM Resume Profile
You don't have much time.
The customer—uhh, manager, is getting upset.
He looked at your resume, and it's just fluff. A wall of text.
If you think he's got time for that, you're dead wrong.
Save on his frustration by crafting an adequate resume profile:
If you're an expert in relationship management, summarize yourexperience in 1–2 sentences where you describe how many headaches you resolved and the satisfaction ratings (with numbers/percentages) you increased.
Freshers, career changers and those with >2 years should opt for a resume objective.Concentrate on your ambitions and how you would quickly adapt and learn to apply yourself as a customer relationship manager to ensure total satisfaction.
Read more: Resume Summary Examples & Tips
3. Mention Relevant Experience in the Work History Section of Your CRM Resume
For sure, you know about CRM best practices?
AgileCRM is probably your homepage, so of course, you do.
If you employ them daily, that's great! Salesforce's very own report has found that almost 90% of consumers will return if their customer service experience was positive.
"Positive customer service experience"? By gosh and by golly, that's what you provide!
But if you awkwardly list that on your resume's work experience section, it's not going to pan out.
Remember reverse chronology? Hopefully! List the current/last job first, and work your way back.
Include job titles, company names, years spent working at each company, and up to 5 or 6 bullets listing your duties and responsibilities.
Start each bullet point with a resume action word, like achieved, boosted, or managed, for maximum impact.
Pro Tip: How to turn a good resume job description into a great one? By using numbers! Numerical values and percentages make it way easier to relate to your past accomplishments.
4. Bring Education into the Fold on Your CRM Resume
You don't learn about CRMs in school, so why bother mentioning education?
That's the antithesis to a good CRM resume.
Education on your resume often ends up being the dark horse. You don't expect it to do much, but it can swing things in your favor.
Improve your resume with a great education section
If you're an expert at CRM-ing, list only:
Your degree
Year of graduation
The name of the school/university
With less than 5 years of resolving customer problems, fill in the gaps with relevant coursework, your GPA score (if it was 3.5 or higher), student club memberships and diploma honors.
Read more: How to List Your Degree on a Resume
When making a resume in our builder, drag & drop bullet points, skills, and auto-fill the boring stuff. Spell check? Check. Start building a professional resume template here for free.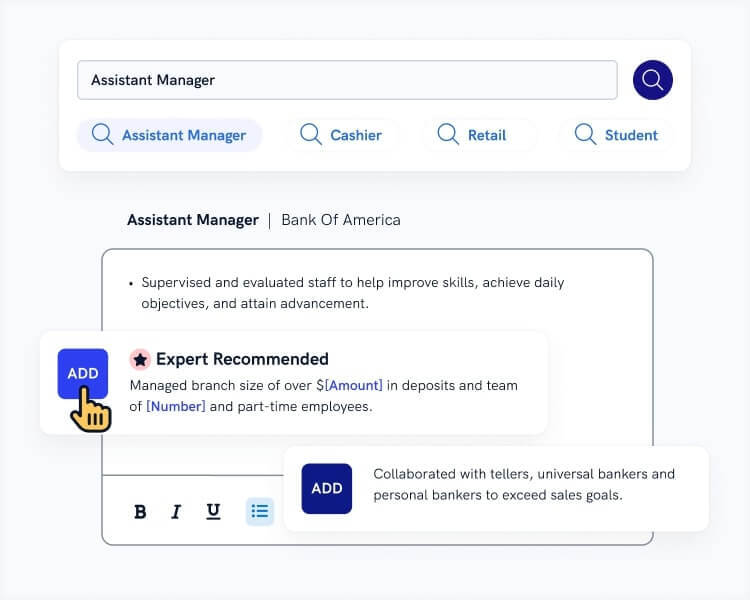 When you're done, our online resume builder will score your resume and our resume checker will tell you exactly how to make it better.
5. Showcase Proper CRM Skills
Feast your eyes upon this sample list of CRM Skills:
CRM Resume Skills
Innovative Strategies
Customer Service
Technical System Integration
Data Analysis
Purchasing Behavior
Customer Development
Market Analysis
Help Desk Software
CRM Software (Salesforce, MS Dynamics etc.)
Working Under Pressure
Front-End Supervision
Escalation Management
Product Knowledge
Client Support Tickets & Ticketing Systems
Patience & Understanding
Empathy
Cost-Reduction Strategies
That's perfect, right?
Except however tempting it may be, if you don't tailor your resume skills section to the hiring manager's expectations, you're not going to go far either way.
Instead, scan the wording in the job ad to see what hard skills, soft skills, and technical skills they are looking for. Trust me, those are in there for a reason, not just put in randomly.
Pro Tip: While you're at it, insert extra skills and abilities into your work experience section. It's a double whammy of a tip, since an ideal skills section won't exceed 10 skills, but in this way, you can kind of sneakily cheat the system.
6. Add Other Sections to Your CRM Resume
CRM positions need to show your propensity for handling customers in the best way possible.
That requires character and lots of empathy—that's how you sort out even the toughest complaints, and that's the entire objective of CRM.
A great example of showing that elsewhere, i.e., not through your skills or work experience, is through volunteer work. It fits the bill perfectly.
But not everyone is a volunteer, and that's fine. There are other resume sections to consider adding as a way of distinguishing yourself from the rest.
And keep in mind, CRM systems are on the rise, meaning the numbers of candidates you're up against will keep increasing for the foreseeable future.
Spice up your CRM resume with these extra sections:
Read more: 50 Best Tips for Writing a Resume
7. Send a Cover Letter to Go with Your CRM Resume
In the modern professional landscape, a cover letter is an absolute necessity.
Confused?
That's the simple reality—almost every other recruiter expects to see a letter attached to each resume.
But writing a cover letter is way less daunting of a task than dealing with a difficult customer over MS Dynamics 365 chat.
Start by formatting your cover letter. Use proper cover letter spacing and margins, and pick a professional cover letter font.
Then, do a little research to find out the name of the recruiter most likely to read your application. Address your cover letter directly to them—it'll make you stand out in a positive way.
Begin the cover letter with a bold and attention-grabbing statement to secure their attention. Use the middle to elaborate on your successes. And finally, end the cover letter by making an exciting offer and promise to reveal more during the interview.
Plus, all of that should not go past ~250 words in length. The ideal length for a cover letter is under one page.
Plus, a great cover letter that matches your resume will give you an advantage over other candidates. You can write it in our cover letter builder here. Here's what it may look like: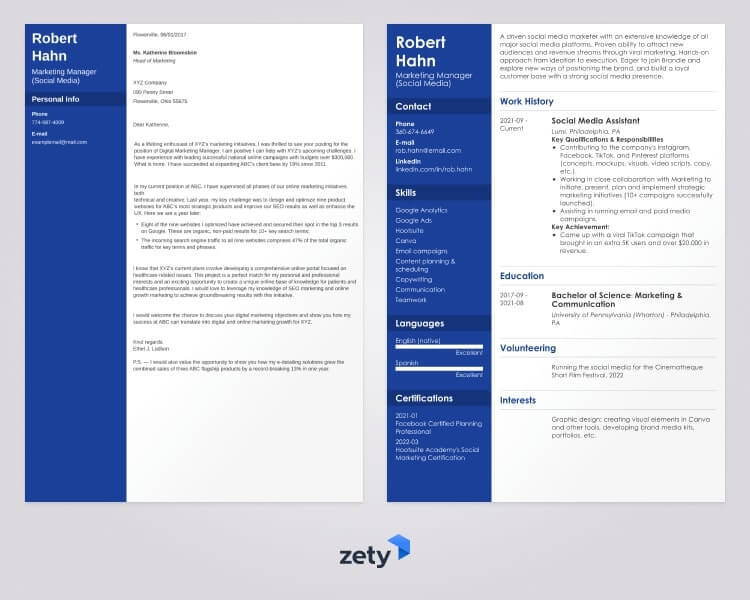 See more cover letter templates and start writing.
Thanks for reading. What do you think about this article? Still have questions about the proper way of listing CRM skills or job experience? Hit us up in the comments below!
About Zety's Editorial Process
This article has been reviewed by our editorial team to make sure it follows Zety's editorial guidelines. We're committed to sharing our expertise and giving you trustworthy career advice tailored to your needs. High-quality content is what brings over 40 million readers to our site every year. But we don't stop there. Our team conducts original research to understand the job market better, and we pride ourselves on being quoted by top universities and prime media outlets from around the world.