Cloud Engineer Resume: Examples & Writing Guide
AWS, Azure, or Google Cloud. The system is secondary, what matters is—you own it. But to write a great cloud engineer resume, you need to get your head out of the clouds first.
You're about to upgrade the infrastructure of your cloud engineer resume beyond recognition. And let's be real here for a moment—
The pandemic has moved our lives to the digital sphere in one large leap. Cloud systems play a bigger role than ever. So does their data security, scalability, storage capacity, the list goes on.
It's your task to prove your acuity in all of these departments in order to take the next step in your career.
This guide will show you:

A cloud engineer resume example better than 9 out of 10 other resumes.
How to write a cloud engineer resume that will land you more interviews.
Tips and examples of how to put skills and achievements on a cloud security engineer resume.
How to describe your experience on a resume for a cloud engineer to get any job you want.
Want to save time and have your resume ready in 5 minutes? Try our resume builder. It's fast and easy to use. Plus, you'll get ready-made content to add with one click. See 20+ resume templates and create your resume here.
Sample resume made with our builder—See more resume examples here.
Take a look at these guides if they are more up your alley:
Cloud Engineer Resume Sample
Rafael Roberston
Cloud Engineer
702-505-6730
RafRobertson@zetymail.com
Linkedin.com/in/12rafael.robertson
Summary
Dedicated cloud engineer with 6 years of experience managing the cloud architecture at Infracise Ltd. Well-versed in principles of PaaS and SaaS. Removed over 30+ potential vulnerabilities and planned remediation. Utilized setup and monitoring to improve speed of issue identification by 19%.
Work Experience
Cloud Engineer
Infracise Ltd., Kirkland, WA
March 2016–June 2021
Documented operational procedures and processes summarized in bi-weekly executive meetings with network and security departments.
Improved monitoring alerts, metrics and log readings to increase speed of issue identification by 19%.
Combined usability of Google Cloud and OpenStack per client specifications to deliver 98% of projects on time in a fast-paced, dynamic environment.
Automated 12 Git-based deployment processes, allowing company to divert resources elsewhere.
Virtualization Expert
vCloud, Houston, TX
April 2013–January 2016
Partnered with application managers to develop capacity requirements for a total of 79 projects.
Devised complex plan of SQL server virtualization.
Built strong relationships with senior business leaders to align vision and direction for vCloud's technology team.
Education
B.Sc. in Information Technology
Seattle University, Seattle, WA
2009–2013
Key Skills
Cloud Infrastructure (Google Cloud, Azure, OpenStack)
Git
DevOps
Collaboration Skills
Linux
Cloud Security
Database Management
Virtualization
Analytical Skills
Programming Languages
Java, JavaScript
Python
PHP
Python
Ruby
Node.js
Certifications & Licenses
Cloud Architect Masters Program, Edureka, 2020
Microsoft Certified: Azure Developer Associate, 2019
Google's Cloud Digital Leader Certification, 2018
This is how to write a cloud engineer resume:
1. Pick the Right Cloud Engineer Resume Format
Cloud engineers work with, develop, upgrade, and secure cloud systems for companies, depending on their specialization. It is crucial for a great cloud engineer resume to demonstrate familiarity with different systems, as well as programming skills, communication, and problem-solving.
According to reports, cloud computing is seeing a boom in all possible senses of the word. Popularity, spending, future plans—all look to increase the share of cloud usage for companies and users alike.
For you, this means both more job opportunities and more competition.
That leaves no room to slack on your resume structure:
And how many pages should a resume be for cloud engineers? One page is the gold standard, but if your experience is stacked and puffy like a stratocumulus, consider opting for two pages.
Read more: Full Guide to Resume Formats
2. Write a Cloud Engineer Resume Profile (Objective or Summary)
Picture this: your boss—let's call him Larry—asks you for help in picking the company's cloud solution.
You know he knows next to nothing, so you have to dumb it down for him and present all viable solutions in a nutshell.
IaaS, PaaS, SaaS, Azure, AWS, GCloud, Public, Private, Hybrid—you know them all, but if you can't describe them in a digestible way, it won't matter.
The same principle applies to your resume, so utilize the resume profile for this purpose.
In an elevator pitch-like statement, describe your biggest strengths, assets, and experience.
Write a resume summary if you've been a cloud engineer for more than 2 years. To breathe some life into your descriptions, use numbers—they're more attractive and exciting, plus they show your real agency.
With less than that, a resume objective will let you keep the focus on your transferable skills and knowledge while propping yourself up with extras like school achievements or your fiery ambitions.
Read more: How to Write a Summary of Qualifications
3. Describe Your Work Experience as a Cloud Engineer
A perfect resume work experience section is your ticket to that easy six-figure salary. The hard part is preparing it with some thought, so listen up:
Describe work experience, beginning with your most recent job, and going back in time from there.
Use your former job title and give them the basic info on the company, like its name and location.
Create tailored descriptions that show you have prior experience in dealing with the challenges the company you're applying to is facing.
To do this, write 4–6 bullet points for each job, providing descriptions of relevant experience that starts with action words for added impact.
Remember to target your resume every time. Generic resumes are the bane of HR reps' existence worldwide, and they won't give you any pleasant looks for them.
Pro Tip: A "cloud engineer" can mean many different things. If the job ad states "cloud software engineer" or "cloud database administrator", and you fit that bill, make sure to tailor the job title you go by as well. It requires next to no effort but significantly boosts your application's relevance.
4. Learn How to Perfect Your Cloud Engineer Resume Education Section
Let's face it, your IT/CompSci degree on its own probably isn't worth much to the hiring manager.
So… surprise them with an education section that will knock their socks off!
Have you been moving things on and off the cloud for more than 5 years? Stick to providing them just the name of your school, your degree, and graduation year. Do this only for your highest completed level of schooling—so, if you have a degree, don't list your high school.
Not quite that experienced? That's totally fine, just bribe their eyeballs with extras. Think about including elements such as school achievements, relevant coursework (machine learning comes to mind), or honors on your diploma.
Read more: Listing Extracurriculars on a Resume: Best Examples
When making a resume in our builder, drag & drop bullet points, skills, and auto-fill the boring stuff. Spell check? Check. Start building a professional resume template here for free.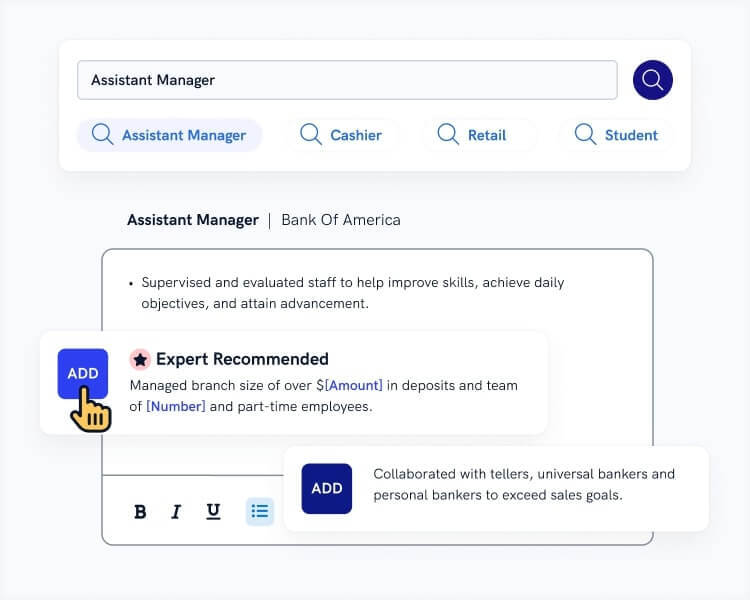 When you're done, Zety's resume builder will score your resume and our resume checker will tell you exactly how to make it better.
5. Demonstrate Tailored and Relevant Skills on Your Cloud Engineer Resume
68% of IT departments utilize public cloud infrastructure.And that report is from 2019, so it's probably a little higher now.
In any case, with a field developing as dynamically as this, skilled cloud engineers are worth their weight in gold. How do you prove you're a real one?
With an astounding (but believable!) skills section.
Some people stick it choc-full of every skill under the sun. That will lag the employer's brain and cause the whole architecture to come crashing down before they take that bait.
The smarter and recommended way includes making a list of all of your relevant job skills. Technical skills, soft skills, and hard skills, plus the programming languages you're well-versed in.
When that's ready, take a look through the descriptions they provided in the job posting. Try to extrapolate what skills the company is actually looking for.
When you find any matches between that and your skills, put them on your resume, and reap the rewards—they'll see you as their savior.
Below is a sample list of great cloud engineer skills for you to take inspiration from:
Cloud Engineer Resume Skills
Linux
DevOps
IaaS, PaaS, SaaS
Cloud Platforms (MS Azure, AWS, Google Cloud, DigitalOcean, Salesforce)
Multi-Cloud Integration
Virtualization
Application Programming Interfaces (APIs)
Database Management (SQL/NoSQL)
Network Management
Machine Learning & AI
Security
Data Storage
Containers
Task Automation
Performance Testing & Analysis
QA Testing
IaC
Read more: What Skills to Put on Your Resume (99+ Key Examples)
6. Add More Sections to Your Cloud Engineer Resume
To distinguish yourself from the crowd of "AWS engineer" this and "no-name cloud expert" that, utilize extra resume sections.
They can come in handy in more ways than one. I've already mentioned bringing a bit of uniqueness. The second way is showing off flair and passion for the job, like with a cool hobby, a personal interest, or a programming side-project. Run a podcast on new updates in cloud technology? Share it!
Lastly, if you have any cloud engineering certifications to mention on your resume, here's the place to do it. Likewise, listing programming languages on a resume is also a must, provided you didn't state them in the skills section above. While we're at it, make sure to also mention any foreign languages you speak—these can always come in handy!
Read more: What Hobbies And Interests to Put on Your Resume
7. Attach a Cloud Engineer Cover Letter
No application is complete without a cover letter.
People will tell you that a cover letter isn't really needed, butour HR report disagrees.
Most recruiters expect to see a cover letter.
Here's how to write a cover letter at least as good as your brand-new resume:
Question: should you talk about the salary you'd expect in a cover letter?
Answer: definitely not, that's more of a topic for the interview, if anything.
Read more: 35+ Cover Letter Tips From Career Experts
Plus, a great cover letter that matches your resume will give you an advantage over other candidates. You can write it in our cover letter builder here. Here's what it may look like: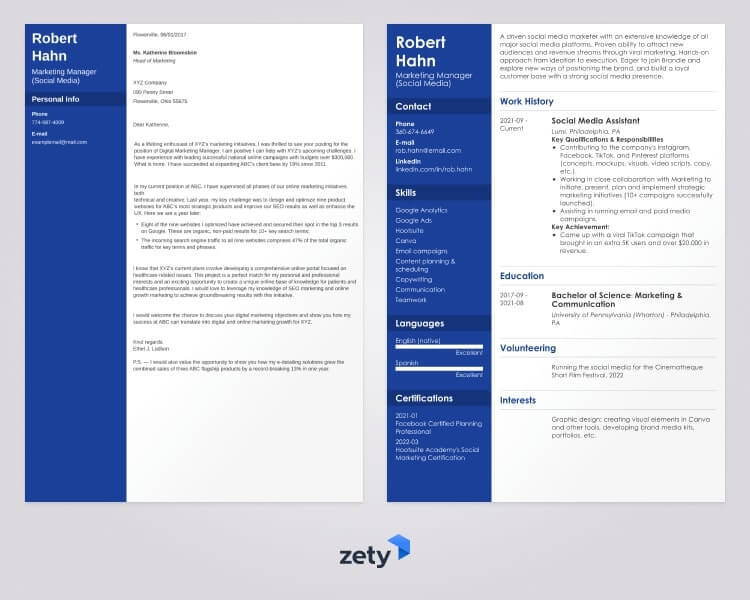 See more cover letter templates and start writing.
Thanks for reading. Did you enjoy this article? Or maybe you've got unanswered questions about perfecting your cloud engineer resume? Hit us up in the comments!
About Zety's Editorial Process
This article has been reviewed by our editorial team to make sure it follows Zety's editorial guidelines. We're committed to sharing our expertise and giving you trustworthy career advice tailored to your needs. High-quality content is what brings over 40 million readers to our site every year. But we don't stop there. Our team conducts original research to understand the job market better, and we pride ourselves on being quoted by top universities and prime media outlets from around the world.