You're about to see a perfect MBA resume sample. Better yet?
In 7 minutes, you'll learn all you need to know to write an equally great MBA resume yourself.
The best MBA programs are insanely competitive—they attract thousands of aspiring, talented professionals from all over the globe. Some of them might have more business experience than you. Some might have graduated from more prestigious colleges.
The good news?
You're going to beat them all.
How?
Just apply the key resume writing strategies I'm about to share with you.
This guide will show you:
An MBA resume sample better than 9 out of 10 other resumes.
How to write an MBA application resume even if you have little experience.
Tips and examples of how to put skills and achievements on an MBA resume.
How to describe your experience on a resume for MBA applications to get any job you want.
Here's a sample MBA resume made using our resume builder.
Want to save time and have your resume ready in 5 minutes? Try our resume builder. It's fast and easy to use. Plus, you'll get tips and right vs. wrong examples while writing your resume. See +20 resume templates and create your resume here.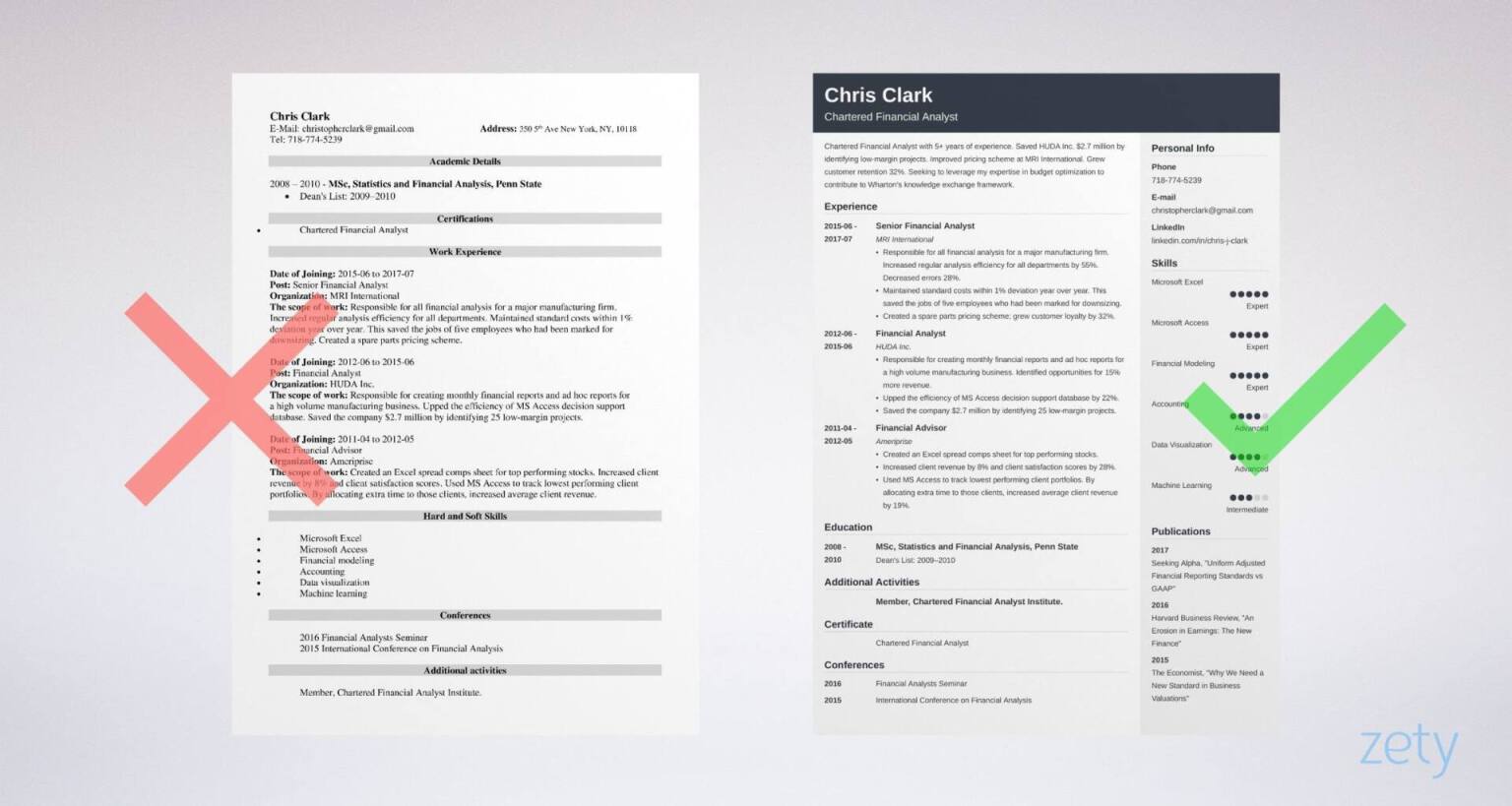 MBA Resume Templates - See more templates and create your resume here.
Looking to get funding for your MBA program? Check out how to write a scholarship resume: Scholarship Resume: Sample & Writing Guide



Writing an MBA graduate resume? Learn how to put MBA on a resume with help from: Resume Education Section: What to Include and How to Do It
Or switch over to business resume examples like:
1
What's the Best MBA Resume Format?
Admission committees have to review thousands of MBA applications.

That's why they don't actually read every document they receive. They skim them to find what's most relevant.
You have to make it easy for them.
How?

Choose a proper MBA resume template.


Begin with dividing your resume into sections.
Got years of professional experience? Lead with your work history. Use the following template:
Sample MBA Resume Template (Experienced Candidates)
Contact Information
Professional Profile
Work Experience
Education
Skills (Optional)
Awards, Certifications, Additional Achievements
Applying for an MBA program without much experience in the big business world? Here's a proper template for you:
Sample MBA Resume Template (Less Than 2 Years Experience)
Contact Information
Resume Objective (or a Career Goal)
Academic Experience
Work Experience
Awards and Honors

In each section, list your experience in reverse chronological order, starting with your current or most recent activities.
Pro Tip: Certain schools only accept resumes written using their predefined MBA Word resume templates available on their websites. If such is the case: you have to play by their rules. Also, make sure to read all application requirements carefully. Usually, admissions committees will ask candidates to submit their resumes using a uniform file name template, for instance: FirstName_LastName_Resume.
For more information on resume formatting, visit our dedicated guide: How to Make the Most of Your Resume Format
2
How to Write a Master of Business Administration Resume Objective or Professional Profile
Here's some food for thought:
MBA programs don't only educate.
Their purpose is to bring together a group of future leaders and global executives. MBAs offer a unique networking opportunity.
What does it mean for you?
That your business school resume has to show what value you'll bring to the network of alumni.
The best place to convey this message is at the very top of your resume—in a section called Professional Profile or a Resume Objective.
It's a short, snappy paragraph that summarizes your best achievements.
Write a Professional Profile if you're experienced. Give an outline of your career and sum up what you've accomplished.
Little experience? Go for a Resume Objective. Discuss what you've learned so far and how this knowledge can contribute
Let's see some examples.
Sample MBA Resume Professional Profile
right
Chartered Financial Analyst with 5+ years of experience. Saved HUDA Inc. $2.7 million by identifying low-margin projects. Improved pricing scheme at MRI International. Grew customer retention 32%. Seeking to leverage my expertise in budget optimization to contribute to Wharton's knowledge exchange framework.
See that? "I'm a successful professional with data-backed results and I wish to grow professionally while sharing my expertise with others." That bottom line will impress every MBA admissions committee.
I know what you're thinking—not everyone's trophy case is equally impressive.
If you don't have a proven business track record yet, here's an example of what your MBA resume objective should sound like:
MBA Resume Example: Resume Objective
right
Anytown University's MSc in Business Management graduate (3.9 GPA) with two years experience as a freelance financial advisor. Created an Excel spread comps sheet for top performing stocks that increased client revenue by 14%. Used MS Access to identify and improve on low-performing portfolios. President of the Undergraduate Student Board (2016–18). Seeking to offer unique insights on investment trends amongst millennials while developing my skills in leadership and management.
WOW, right? "I might not have as much experience as other candidates, but I have something unique to offer: helping you understand what my generation is willing to spend their money on."
The gist of it?
Proving you're unique.
Most of your competitors have similar job titles and background. The key for your MBA resume is to show you've got something no one else has.
Pro Tip: Wondering if pursuing an MBA is really worth it? Consider this: a recent report found that MBA alumni saw an 80% increase in their salaries upon graduation. Motivating, isn't it?
Our resume builder (you can create your resume here) will give you tips and examples on how to write your resume summary or any other section. You can easily copy them straight into your resume - it will save you a ton of time.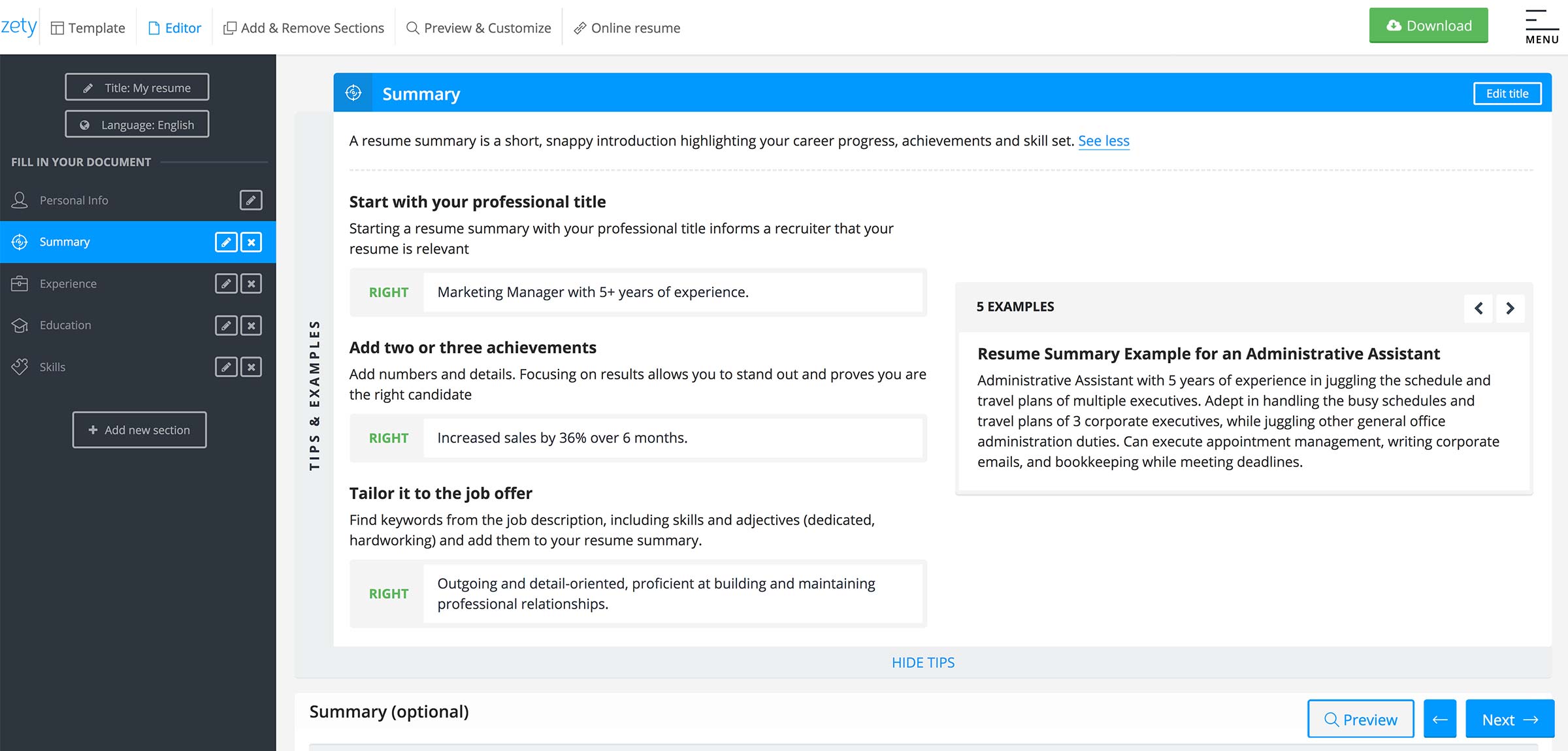 Inside our resume builder you will find tips and examples for your resume.
Looking for more inspiration on how to craft a great professional profile or an objective? Read: Resume Profile Examples for Every Profession and Sample Resume Objectives that Get Jobs
3
How to Describe Your Experience on an MBA Application Resume
Here comes the crucial part of your resume for business school programs. Your work experience.
This is where you have to prove you really mean business applying for an MBA.
This is what to do, step by step:


How to Write a Resume for an MBA Application: Work History Section
List your jobs in reverse-chronological order. Start with your current or most recent position, follow it with the one before it, and so on.
Underneath each position, add up to 5 bullet points: keep them focused on how you do your job better than someone else with the same title. Focus on achievements, not just day-to-day duties.
Quantify whenever possible. Don't say you "significantly increased sales." Say how much exactly. Numbers pop!
But enough theory. Time to see how it work in practice:


MBA Resume Examples: Work History
right
Business Development Associate
Amazon Corporate, 2009–2018
Seattle, Washington


Redesigned fulfillment processes and customer communication protocols, saving the company a minimum of $15 million annually.
Implemented a customer service process that reduced refund requests by 32% and direct labor costs by $2.5 million.
Completed in-depth analyses for business optimization projects boosting revenue by 11.8%.
right
Assistant Financial Manager
MRI International
2015–2017
Responsible for all financial analysis for a major manufacturing firm. Increased regular analysis efficiency for all departments by 55%. Decreased errors 28%.
Maintained standard costs within 1% deviation year over year. This saved the jobs of five employees who had been marked for downsizing.
Created a spare parts pricing scheme that increased customer loyalty by 32%.
Pro Tip: How long should your MBA resume be? Unlike a regular resume you'd use to land a job, you don't need to stick to a one-pager. Two-page resumes are OK for an MBA application—you don't want to skip important details about your career. They might just make all the difference.
For more information on how to make sure your resume work history section dazzles every reader, see: Work Experience on a Resume: Job Description Bullet Points Samples and Templates
Don't have the wealth of experience of our candidates from the above samples?
Pay attention. The following resume section is going to be the make-or-break moment of your MBA application:
4
Is Your Education Section a Strong Sell? It Might Be...
As I've written above: if you're not an experienced business professional, your education is your best asset to showcase on an MBA resume.
If such is the case, put it above your work history.
List:
Your degree
Your major
Your minors (if applicable)
Graduation date
Your GPA
But don't stop there! Include extra details such as your favorite fields of study or extracurricular academic activities.
Just like this candidate did:
MBA Resume Sample: Education
right
2016–2017 MSc in Applied Economics
University of Pennsylvania
3.87 GPA
Created an online marketing campaign that raised $115,000 for the swim team.
Built and managed the student economics podcast.
My paper "Socially responsible investing in the United States" (2016) was published by the Penn Press.
But—
If you've got more than 2 years of professional experience, in your education section, limit yourself to the basics: your degree, your college, and the graduation date. If you've been awarded Dean's List Honors or graduated Magna Cum Laude—mention that, of course. But don't go on droning about additional, unnecessary details (no matter how proud of them you are).
5
Should You List Your Skills on an MBA Resume? How to Do It?
You've already learned that this resume section is optional.
Your MBA resume is different from a regular resume you'd use to apply for jobs: it's more about painting a unique picture of your career progress than it is about resume keywords and tailoring your resume to a specific job offer.
Your skills should shine through all your other resume sections—you should construct your resume in a way that proves you're skilled in your field.
If you do decide to include a skills list: make it short and sweet. List software you're proficient in and the most important industry skills.
But don't make a list of soft skills.
"Leadership," "Time management," "Communication skills"? These might be a fine weapon for battling through ATS. But MBA selection committee members would just give them a condescending smile.
Skills lists are arbitrary. Here's what isn't:
6
Additional Sections on an MBA Admissions Resume
(And I don't mean your hobbies & interests.)
This part could well be the best selling point of your whole resume.
It's where you list your unquestionable wins. Have a look:
What To List in an MBA Resume Additional Sections
Industry awards
Certifications
Publications (both online and in print)
Industry blog
Additional training
Participation in conferences
What about extra resume sections for MBA applicants without much professional experience?
Focus on what you've accomplished during your college years.
Include:
Honor Rolls inclusions
Dean's Lists
Subject-related awards
College fair awards
Publications in student journals
Volunteer-related awards
For more ideas on how to make the final section of your resume truly stellar, give this handy guide a read: Resume Accomplishments to Prove Your Skills: Tips & Examples
Key Takeaway
Your MBA resume will get you accepted for that dream MBA program if you follow these key strategies:
Put a Professional Profile or a Resume Objective at the top of your resume. Show off your best achievements and highlight your strengths.
In your work history section, focus on what sets you apart from the rest of the field.
Elaborate on your education if you're not experienced. Leave the education section succinct if you are.
Include additional sections that showcase your verifiable accomplishments: awards, certifications, conference participation, etc.
All check?
I hope your MBA experience is going to be one hell of a ride!
Got any more questions? Need further help? I can't wait to hear your thoughts! Drop me a line in the comments and I'll get back to you right away. Let's chat!